Whilst enjoying your Perrier-Jouët Belle Époque…
Banks playing catch-up
Readers will be aware that the Chief Teller of the Reserve Bank announced on Tuesday that he was hoisting interest rates by 0.5% points at 2.30pm.
Usually, the big banks would announce a rise in mortgage rates at 2.31pm.
And any rise on the other side of the balance sheet, i.e. deposit rates, would come weeks later and only on 'introductory' deposit offers. A nice little earner for the banks.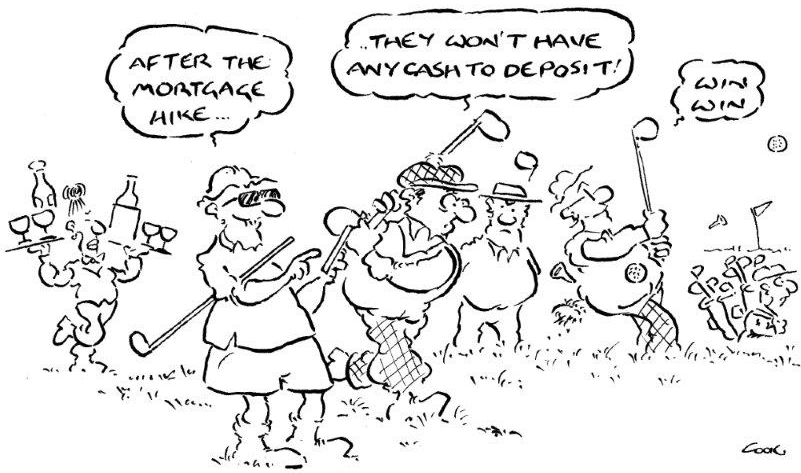 However, for the first time in Wry & Dry's memory the big banks, after a delay, have acted on raising interest rates on both sides of their balance sheets. Happy days?
Err, no. Readers shouldn't send a Christmas hamper to their banker. The banks are playing catch-up. Since May, the RBA has raised rates by 1.75% points.
Predictably, the banks have raised mortgages by the same 1.75% points.
But, but, but. The average rate for online deposit accounts has risen by only… 0.66%. And for bonus saver accounts by 1.27% points.1
And those deposit rate increases are after this week's 0.5% point increase.
Don't let anybody tell Readers that there is an outbreak of banks' munificence.
1 Data source: RateCity
43% is the new black, for now
Wry & Dry wonders for how long Albo's new 43% emissions reduction by 2030 target will be remembered.
Does it matter? The bill passed the House and will now go to the Senate in September. Where it will pass. It's good to have an aspirational target.
There are two issues. Firstly, like an economist's forecast, by the time the forecasted event comes around, the original forecast is either forgotten or other events have intervened.
Readers will recall what happened when arguably the world's most famous economist, John Maynard Keynes, was queried on a forecast turning out not to be accurate. He angrily retorted, "When the facts change I change my forecasts. What do you do, Sir?"
So, Wry & Dry will confidently forecast that by 2030 the facts on achieving the 43% reduction target will have changed. Because the facts, whatever facts, will have changed.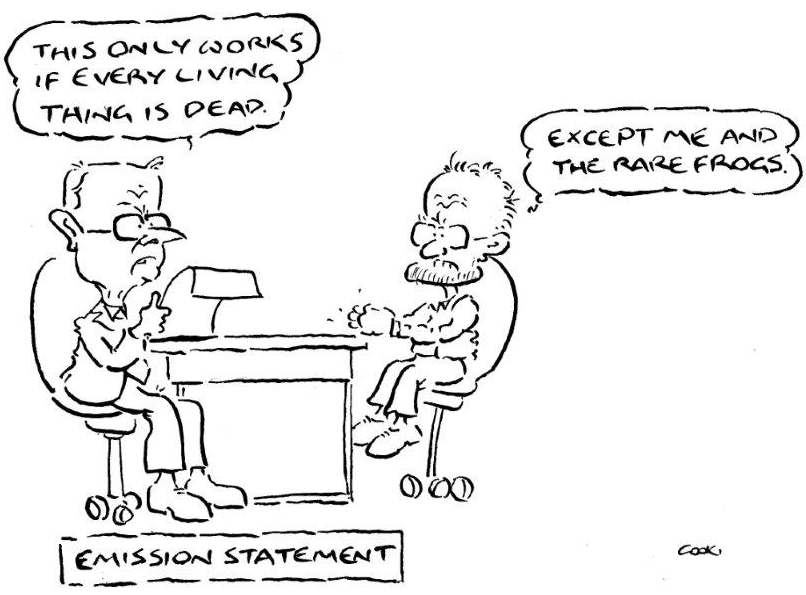 Secondly, Wry & Dry will confidently forecast that, all other things being equal, unless a more efficient form of renewable energy (i.e. a lot more efficient than wind and solar power) is available, Australians must learn to live with a higher cost of living than otherwise.
Which is why 43% is the new black. Like all new black things, there will always be a newer black.
France's inflation trick
It seems weird. Why is France's inflation rate (for June) so much lower than other similar countries?
The OECD average inflation rate for developed economies was 10.3%. The rate for countries around France vary only a little: Spain 10.2%, Belgium 9.6%, Portugal 8.7% and the UK 8.2%.
France's June CPI: only 5.8%. What's going on?
Well, in February, the French government imposed price controls on electricity and gas, capping annual increases at 4%. Nice work, if you can get it.
So, who is going to pay? At the end of the power line is the French taxpayer, as the government will have to bail out EDF2 and other utilities. The government pumped more than €2 billion into EDF in February after ordering it to sell power below cost.3 And will have to pump in more dosh.
But the taxpayer won't see the cost, it will be borrowed, to be paid for by future generations. And the French can ignore the price signals that discourage waste and encourage conservation.
French government subsidies are even more the nouvelle tendance.
2 Électricité de France S.A. (literally Electricity of France) is 83% owned by the French government with 15% listed in Paris.
3 And thereby helping M Macron get re-elected. But, well, this is France.
Sleepy Joe and Taiwan
"The military thinks it's not a good idea right now."
This was Sleepy Joe's response when he heard that House Leader Nancy Pelosi was going to visit Taiwan.
Hold the phone! Aside from the curiosity as to whom is the military4, has he abdicated decisions to "the military?" Does he not have advisers? Or his own mind?
What is the messaging around all of this? He might have said, "We prefer not to have high-level visits to Taiwan, we know they're not productive. But, aw shucks, a one-time Speaker's visit every 25 years, what's the big deal?"
Wry & Dry's messaging is clear. Dementia.
4 Perhaps a collective noun?
Something is rotten in this state
Well, all states.
State governments have always been a haven for do-gooders, megalomaniacs and ideologs who were not good enough – or who couldn't count numbers well enough – to make the federal sandpit.
So they get elected to get the keys of the local kingdom.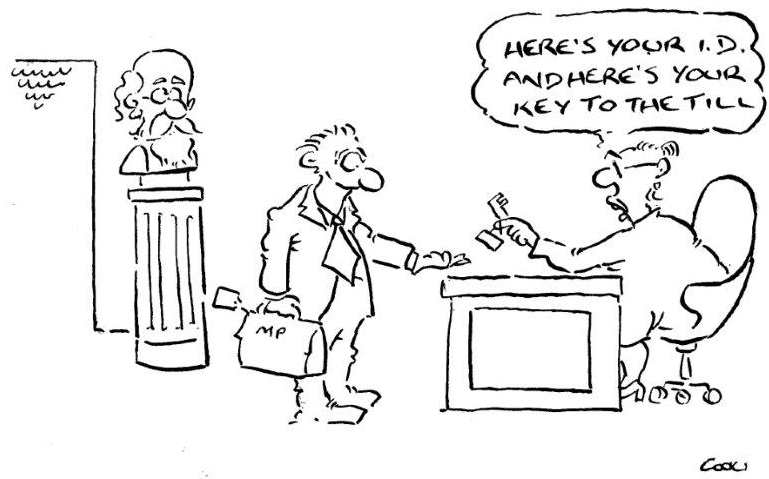 Wry & Dry's roving reporter reports from around the nation:
New South Wales: a textbook 'jobs for the boys' scandal, where 'the boy' was a former deputy premier, had all of the hallmarks of the glory days of Kristina Keneally. It will lead, eventually, to the third cabinet minister to get the DCM. That person being the premier.
Victoria: to prove that scandals are not confined to Chairman Dan's government, the Chief of Staff to whatshisname, the Opposition Leader, was given the DCM for considering asking a party supporter for a bit of extra dosh on the side. Whatshisname had no idea what was going on, which surprised nobody. And he didn't give himself the DCM. This compares to Chairman Dan, who knew everything that was going on. He didn't give himself the DCM.
Queensland: a government corruption stench has arisen that has not troubled Queenslander's fine nostrils since the heady days of Jo Bjelke-Petersen.
South Australia: the state premier has made a deal with the devil (the CFMEU) to get a $125,000 donation. Really?
Western Australia: a government is only as good as its opposition. As there are only two opposition MPs, that sums it up.
Tasmania: the big issue seems to be the significant matter of how far the government is prepared to go to fund the proposed Tasmanian AFL team.
When can we-the-people abolish these archaic, corrupt fiefdoms?
USA – the people vote
In a vote that surprised many, on Tuesday the citizens of the US state of Kansas voted to retain abortion rights (62% to 37%). The vote was surprising in view of the fact that the state is somewhat Republican, having overwhelmingly voted for Trump in 2020.
Some voters on the losing (i.e. anti-abortion) side, might very well say that "…I've a feeling we're not in Kansas anymore."5
The other significant voting outcome was in a Michigan Republican preselection for a House seat. There, the incumbent who voted to impeach the Trumpster got the DCM from those who voted him in, just 20 months ago.
It's a weird world.
5 Said by Judy Garland, playing Dorothy, in The Wizard of Oz (a 1939 musical fantasy movie).
"Due to operational reasons…"
The words that no traveller wishes to hear are recently being heard more frequently. Airlines are cancelling flights. The reason?
Well, it's no longer climate change. It's covid, the now universal blamee for any problem, anywhere.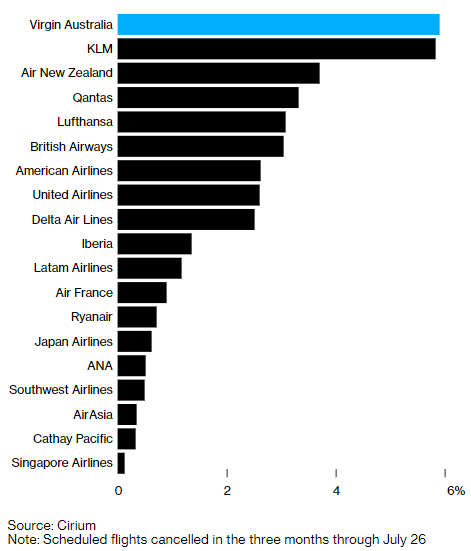 Readers will remember those covid pandemic policies: airlines laid off tens of thousands of pilots, flight crew, baggage handlers and security staff. And now the free-range chickens are coming home to roost. If pilot Peter phones in with a hangover, there is little redundancy.
Wry & Dry just wishes that Australia had a high-speed train service, like Europe's, as an alternative.
Skin care franchise risk
The Speaker of the US House (of Representatives) is in need of extra cash. So, she is acting as an agent for a skin care treatment company, the products of which she uses (see photo). And decided that Asia was a market she might well tackle.
So this week she embarked upon a (Lieutenant) Cook's tour of Asia. On the itinerary was a stop in Taiwan.
This has caused Emperor Xi much discombobulation, that has been widely commented upon.
Wry & Dry can only assume that he thinks he has the Taiwanese franchise for a competing product. And is doing what he can to prevent her from eating his lunch, as it were. "A visit to Taiwan by her would constitute a gross interference in China's internal affairs … and lead to a very serious situation and grave consequences," Chinese Foreign Ministry spokesperson Zhao Lijian said on Monday, conflating Emperor Xi's personal interests with China's internal affairs.
Emperor Xi has taken a leaf from victim seekers in the West. And gets hurt feelings over the slightest slight. Surely it would be better to use the massive Orwellian media apparatus at his beck and call to mock Ms. Pelosi's trip for what it is.
Unclear on the concept
Greens leader Adam Bandt and rookie Teal MP Allegra Spender have called for a 'super-profits' tax on LNG exporters to subsidise domestic energy users.
Ah, never let the facts get in the way of a virtue-signalling story. These companies are now only making profits that hardly offset prior period losses and capital investments made.
The return on equity (ROE) over the life of these LNG projects is about 5% p.a., which is much below the industry benchmark of 12% p.a.
Over the past five years the average ROE of the ASX top 10 companies was 16.3%.
Will Mr. Bandt and Ms. Spender now call for a super profits tax on these 10 companies?
The deeper issue is that these turkeys are effectively single-issue MPs. Which is okay – as far as it goes. Wry & Dry expected Mr. Bandt to maintain a low level of business illiteracy, but expected better from a Teal.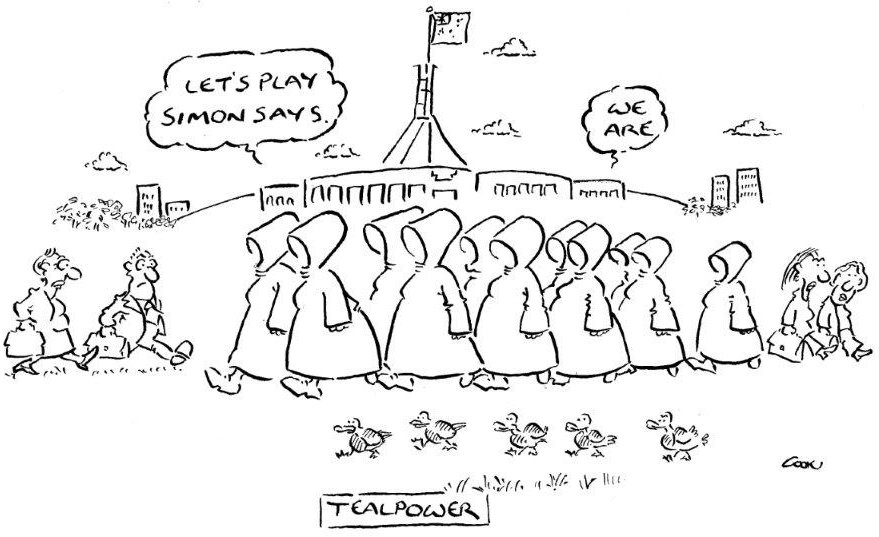 Cadence correction
Wry & Dry erred enormously last week. A former member of the Australian armed forces phoned in to say the Australian army's daily beer ration levy was not one but two cans, i.e: two cans, per man, per day, perhaps.
Shark attack
A shark has, for the first time in 175 years, attacked a swimmer off the British coast. The female snorkeller was bitten on the leg and survived.
Wry & Dry is waiting for Adam Bandt to proclaim that Australia's climate change policies caused the attack.
Habits: Top 200
Rolling Stone, that iconic rock magazine, this week announced the Top 200 Dance Songs of All Time. Thereby confirming that Wry & Dry lives in a time warp.
Consider the following artists on the list:
The KLF
Deadmau5 and Kaskade
UK Apachi and Shy FX
L'Trimm
YMCA came in at #139; Stayin' Alive #129. No Rolling Stones. No Australian Crawl. Just one Donna Summer. And no Nutbush.
Sigh.
Bad Habits
Greens Senator Lidia Thorpe suffered a severe case of RDS6 on Monday.
This is serious. And shows the extreme lengths some people will go to create an impression that he/she is relevant. Wry & Dry was surprised that men/ women in white coats didn't take her away to be kept at Her Majesty's pleasure.
The Senator labelled HM the Queen as a 'coloniser' while reciting the oath of allegiance that is mandatory for all parliamentarians. And in so doing she raised a clenched fist that reminded Wry & Dry of the Mexico City Olympics of 1968.7
Her knowledge of history matches her courtesy. Australia was colonised when George III reigned. Of course, had Lieutenant Cook8 not discovered Australia for the British, the French surely would have.
Jean-François La Pérouse landed in Botany Bay on 26 January 1788, but by then Governor Phillip had sailed around to Port Jackson and started the colony of New South Wales. La Pérouse sailed on, only to be shipwrecked just north of New Hebrides, where he died.
The next French sailor to visit was Nicolas Baudin, who actually met Matthews Flinders in 1802 in Encounter Bay. One of Baudin's officers wrote a report to Napoleon on ways to invade and capture the colony of New South Wales.
It's sliding doors, but had La Pérouse made it back to France, or Napoleon accepted the plan to invade New South Wales, Senator Thorpe might now be insultingly bleating in French about M. Macron. To anybody who might listen. Or care.
And she would be using electricity generated by nuclear power. How about that?
Or, if Australia was forever ignored by those colonisers, then Senator Thorpe would be living a life less comfortable; at best without microphones and media to salve her need for publicity.
6 Relevance Deprivation Syndrome.
7 During the 200 metre medal ceremony, two African-American athletes, Tommie Smith (gold) and John Carlos (bronze) each raised the black power salute during the playing of the US national anthem. Australian Peter Norman (silver) kept his hands by his sides.
8 'Captain' Cook discovering Australia is one of the great historical errors. James Cook was a lieutenant when he discovered Australia in 1770. It wasn't until 1775 that he was appointed 'post-captain,' a now obsolete alternative form of a captain.
Snippets from all over
1. Pass on energy costs
The IMF has urged European governments to pass on rising energy costs to consumers to encourage "energy saving" and a shift towards greener power while protecting poorer households. (Bloomberg)
Wry & Dry comments: The former Australian PM (Scott Morrison, if Readers have forgotten his name) decided that vote-winning was the better part of sensible fiscal management. And cut the fuel excise, benefitting rich and poor alike. And he lost the election to boot.
2. Hong Kong in recession, again
Hong Kong's economy has slipped into its second recession in three years as tough Covid-19 restrictions battered the Chinese territory. (Financial Times)
Wry & Dry comments: Hong Kong suffered its first recession in a decade in 2019 after anti-government protests prompted a crackdown by authorities and emptied the city of tourists, who previously arrived from mainland China in the tens of millions.
3. Other peoples' money
BP's profits tripled to $8.5 billion (A$12.3 billion) in the three months to June, the highest in more than a decade, as it benefited from soaring oil, gas and fuel prices. (The Times)
Wry & Dry comments: The profit announcement led to cries in the UK for BP to share some of its profits with the average Brit. Or for a special super profits' tax. Good grief. By way of comparison, CBA made A$2.2 billion a quarter last year. And BP is in a business that is lot more volatile.
4. Seven years to think about it
A [US] federal judge on Monday sentenced Guy Reffitt, the first defendant to go on trial in the sprawling criminal inquiry into the January 6 attack, to more than seven years in prison, the longest sentence to date in a case stemming from the Capitol riot. (New York Times)
Wry & Dry comments: He still doesn't get it. Mr. Reffitt, in statements from jail, repeatedly described himself and other rioters who stormed the capitol as "patriots."
5. Germans shut their wallets
German retail sales fell at the largest annual rate since records began in 1994, highlighting the scale of the economic challenges facing the eurozone's largest economy. (Financial Times)
Wry & Dry comments: Flattening Berlin in 1945 wasn't enough for Tsar Vlad.
Data
Australia's trade surplus hit a record $17.7 billion in June, driven by coal and gas exports.
The Chief Teller of the RBA raised the official cash rate by 0.5% points to 1.85%.
OPEC and its allies have agreed to increase oil production by 0.1% of global demand.
US initial jobless claims reached the highest level in six months.
And, to soothe your troubled mind…
"My goodness me. Astonishing scenes here."
UK football (i.e. soccer) commentator, as England's Chloe Kelly ripped off her jersey in celebration after scoring the winning goal against Germany in the European Championship final.
Q. Did the commentator's reference to "astonishing scenes" refer to:
a. the ecstatic crowd reaction to the goal; or
b. Ms. Kelly displaying her, err, athleticism; or
c. Ms. Kelly's inability to wash her undergarment. Just look at that dirt mark:
Close. But no cigar. The correct answer is a. The crowd went nutzo and spent the next three minutes hugging and high-fiving each other. By then Ms. Kelly had, err, re-attired. But the sponsorship deals will start coming in. Could be Nike. Or perhaps La Perla?
PS The comments in Wry & Dry do not necessarily reflect those of First Samuel, its Directors or Associates.
Cheers!
Anthony Starkins