Enjoy Wry & Dry: a cynical and irreverent blend of politics, economics and life.
Seven stories you may have missed
Russian rebellion – the real issue
Irony
Upsetting the Treasurer 101
Bidenomics? Spare me.
'Ardship
Rankings
Iced down
Russian rebellion – the real issue
The real issue from this week's aborted anti-Tsar Vlad rebellion was not the rebellion. It was a highway.
Today, there isn't a person in the world who is not familiar with Russia's highway M4. And that it starts on Rostov-on-Don (more-or-less) and finishes in Moscow, some 1,100 kilometres away to the north.
It was along this stretch of mostly wide and smooth asphalt that Yevgeny Prigozhin's private army (Wagner Group) commenced its threat to Tsar Vlad's restful night's sleep. It left the difficult terrain and unfriendly people of Ukraine for the ease of a paved road and reasonable cafes. And got within 200 kilometres of Moscow (but not quite as close as either Napoleon or Hitler) before its mad leader decided to call the whole thing off and flee to Belarus.
Russian state television on Saturday showed local patriots digging up the M4 in an attempt to stop the convoy of tanks and trucks reaching Moscow. Noble stuff, indeed. Worthy of the Order of Lenin, perhaps. But Wry & Dry is not sure that deliberately dug potholes would stop a 50-tonne tank. But, well, after all, these were Russian tanks, so worth a try.
By Monday it was "as you were," and the M4 had to contend with normal peak-hour traffic of trucks, cars and cart horses. And it came to pass that those same television channels were now showing the same local patriots filling in the holes that only two days earlier they had dug.
What the global media missed was the irony of the situation. Only eight days earlier, on 16 June, Tsar Vlad had ceremoniously opened (remotely, of course) a new 65 kilometre section of the M4 highway near Rostov.1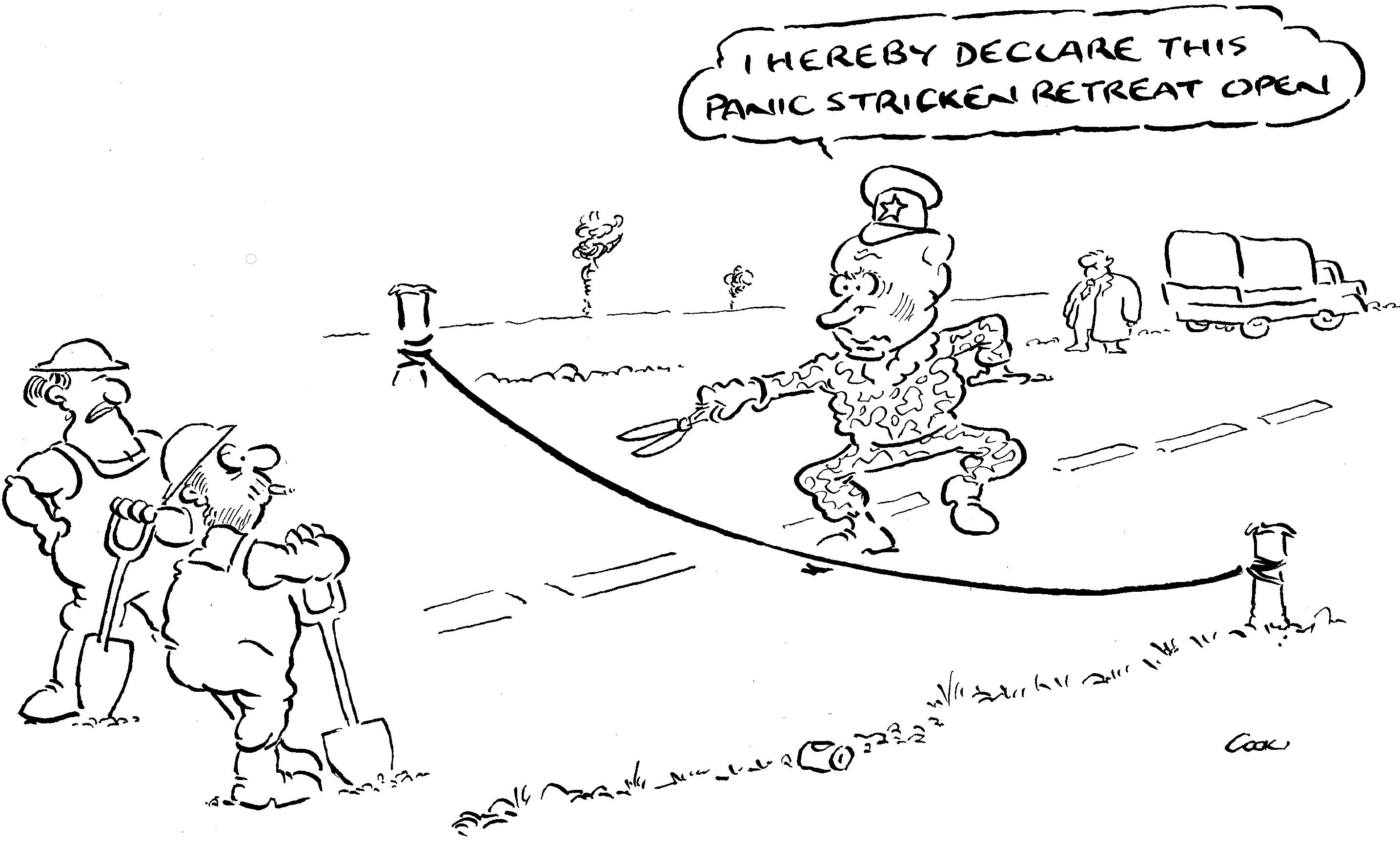 1 It's a fact. See Opening of new sections of M-4 Highway in Rostov Region and Krasnodar Territory • President of Russia (kremlin.ru), with photos.
Irony
Readers will recall that earlier this year a Chinese spy balloon lazily and quietly drifted across the USA. Disguised as a weather balloon, it was eventually shot down off the Atlantic coast after taking thousands of photos for Emperor Eleven's upcoming slide night.
The irony is that it has now been revealed that the balloon had been carrying US-made surveillance equipment.
Upsetting the Treasurer 101
The enemy for any treasurer is not those who sit opposite. But the spendthrifts behind him. Students of history will be aware that ministers of any political persuasion will wish to spend their way to glory. Look no further than Barnaby Joyce, who extracted vast sums for his rural base.
Which brings us to William Shorten, who is still trying to sell the unhung curtains measured up for The Lodge in 2019. William is the minister responsible for the NDIS. He said on Wednesday that the limit of NDIS growth to 8% p.a. (Australia's population is growing at about 1.6% p.a.) was a target, not a cap.
Perhaps William knows something that few others do: at its current rate of spending, the NDIS will exceed its June 2024 target by December 2023.
Oops, no-one told the Treasurer that the cap was now a target. So on Thursday, he said that the 8% p.a. growth was locked into the budget recently delivered. Williiam has not yet clambered out from under the bus.
Wednesday must have been a bad day for the Treasurer. Y'see, the federal Minister for Education, Jason Clare announced that childcare will become a "free essential service", like Medicare, under long-term reforms planned by Albo.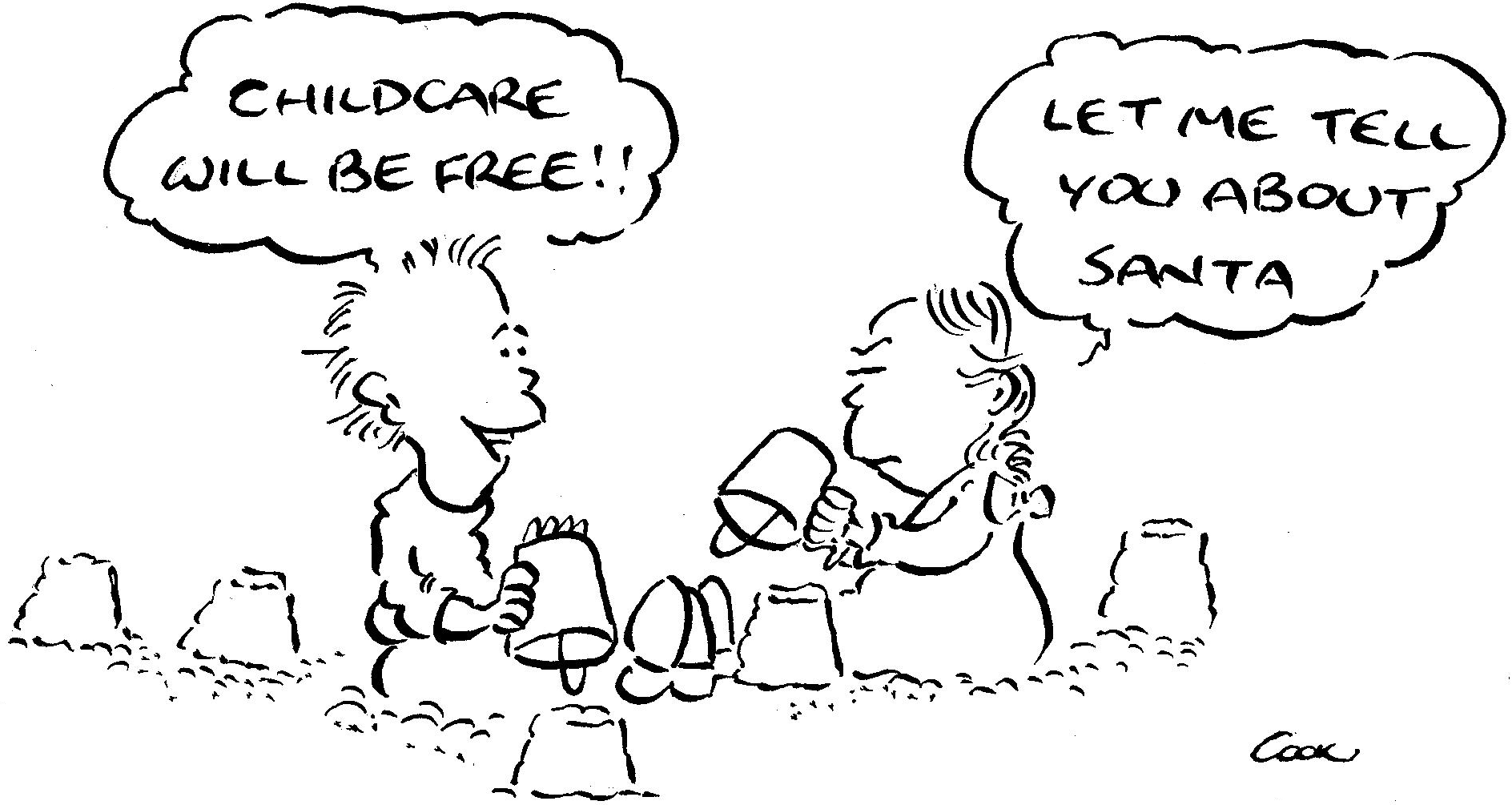 So far, no put-down from the Treasurer. Surely it will come. Who is going to pay? And, what, no means test?
Wry & Dry suspects a Trojan Horse. Or the thin end of the wedge. Or a Bennite solution.2 Next will be free baby-sitting. Which will upset the Treasurer.
2 Apologies to Yes, Prime Minister.
Bidenomics? Spare me!
Sigh.
What is it with political spin-doctors? First it was Reaganomics. Now 'Bidenomics'. Good grief. Well, this is what Sleepy Joe's aides are calling his trillion-dollar spendathon.
Ronald Reagan might have been politically astute, but didn't have the brains to spell economics, much less think of an economic concept. If they put his brain into a bumble bee, the bee would still fly, but backwards. Which would accurately represent Reaganomics.
Sleepy Joe is politically astute, he remembers. This week he said, "Putin is losing the war in Iraq." This would have been news to Iraqis. They recall that the most recent invader was not led by Tsar Vlad, but by George W Bush. Dubya's take on Iraq was eloquently put: "When the final history is written on Iraq, it will look like just a comma."
When the final history of Sleepy Joe is written on Bidenomics, it will look like part Fairy Godmother, part Marx. Karl or Groucho, take your pick. Not a great combo.
'Ardship
No sooner was the coronation crown put into storage for future use, than the value of the properties in the custody of its wearer fell by half a billion pounds. 'Ardship.
Properties in London held by the King's public estate (known as the Crown Estate3) fell by 6.5% last year, to GBP7.2 billion.
The problem is that 20% of the retail properties in the portfolio are vacant.
But Wry & Dry senses that Chuck won't be losing too much sleep. Y'see, the overall value of the Crown Estate rose to GBP15.8 billion. Net income from the Crown Estate is paid to the UK Treasury.
3 The Crown Estate was established in 1760, when George III agreed to surrender to Parliament the net income from Crown lands and hereditary revenue in return for a fixed annual payment.
Rankings
There were many bottles of champagne opened in the dusty corridors of Australia's universities this week.
Some of them had leapt many rungs in the QS World University Rankings, with University of Melbourne now ranked 14th in the world (up 19 places); Sydney =19th (+22); UNSW =19th (+26) and Monash 42nd (+15)4.
But Readers will know that (a) rankings of anything depend upon the factors used; and (b) a massive change in a ranking means that the factors have changed.
What has happened is QS has changed its factors, which has significantly assisted Australian universities. And has added, for example a measure of sustainability and reduced the importance of faculty-numbers to-student ratio. The reality is that nothing much has changed with the Australian universities.
It is international students who essentially make the funding difference to the larger universities. Hence the drive to improve global rankings. And to flood the market with media releases.
The other issue is that these rankings are not relevant to Australian students. What is more relevant is the federal government-backed Student Experience Survey of 42 Australian universities.
Sydney, UNSW, and Melbourne were respectively ranked 39th, 38th and 37th.
4 QS is Quacquarelli Symonds, one of the three major global rankings of universities. The others are Times Higher Education and Shanghai Ranking. Their respective rankings are Melbourne: 34, 33; Sydney: 54, 69; UNSW: 71, 65; and Monash: 44, 80. All not quite as accolade worthy for Australia as QS.
QS' top five are: MIT, Cambridge, Oxford, Harvard and Stanford.
Times' are: Oxford, Harvard, Cambridge, Stanford and MIT.
Shanghai's are: Harvard, Stanford, Cambridge, MIT and Berkeley.
Iced down
Wry & Dry spotted an alarming chart in this week's The Economist;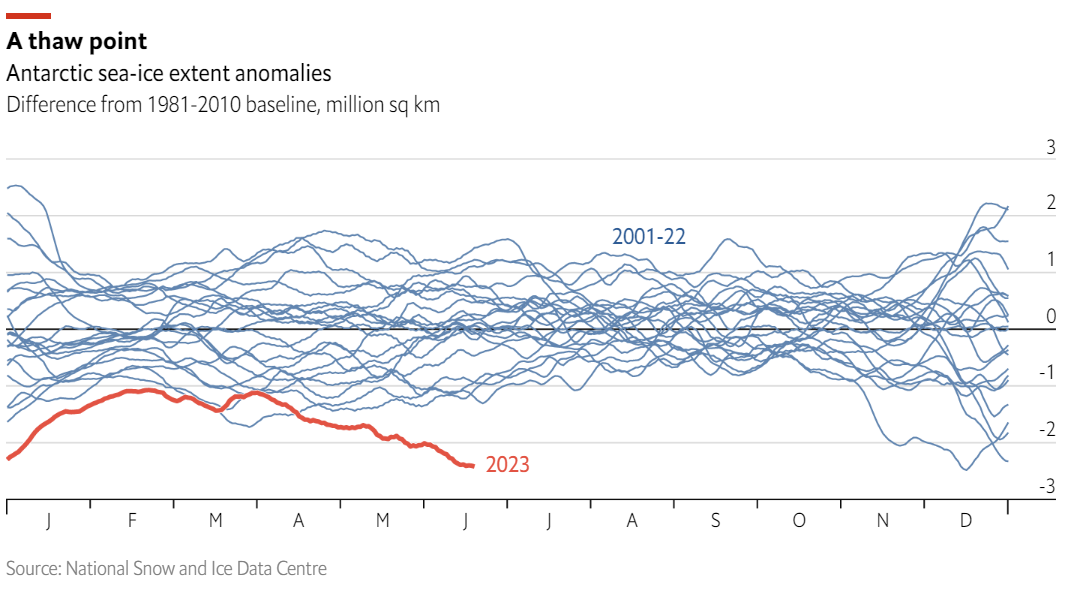 In mid-June, the continent's sea-ice covered 10.7m square kilometres. That is 1.15m square kilometres below the previous minimum and 2.3m square kilometres below the average for the 30 years to 2010.
Readers cannot blame Chairman Dan for this. Although, one is tempted.
Time to build that sea wall?
"Well, he would say that, wouldn't he?"
Speaking of universities, Readers will recall that last week Duncan Maskell, the Vice Chancellor (i.e. CEO) of University of Melbourne, called for tertiary education to be free.
He was supported by student unions (no surprises there) and the Greens (even less of a surprise, anything to increase its attractiveness to naive and acned students).
His argument was all about the increase in student debt brought about by higher inflation. "Student debts…are too burdensome to students," he cried. Well, student debt is never burdensome to students. Debt repayment only comes when the person is well past being a student, i.e. is working and earning more than about $50,000 p.a.5
The issue worked its way to an online survey conducted by the AFR. There, 73% of those responding supported free university education. Smart Readers will observe two flaws in the survey.
Firstly, the question assumed unlimited funds are available. A rider to the question should have asked what will you/ the government give up to pay for the increased cost? Always remembering that the current size of student debt in Australia is about $70 billion!
Secondly, the survey would be biased by those who wish to respond to the survey, seeking to tilt the result. An unprompted survey would be better (i.e. ask 2,523 people to respond to a poll without telling them the questions prior to their participation).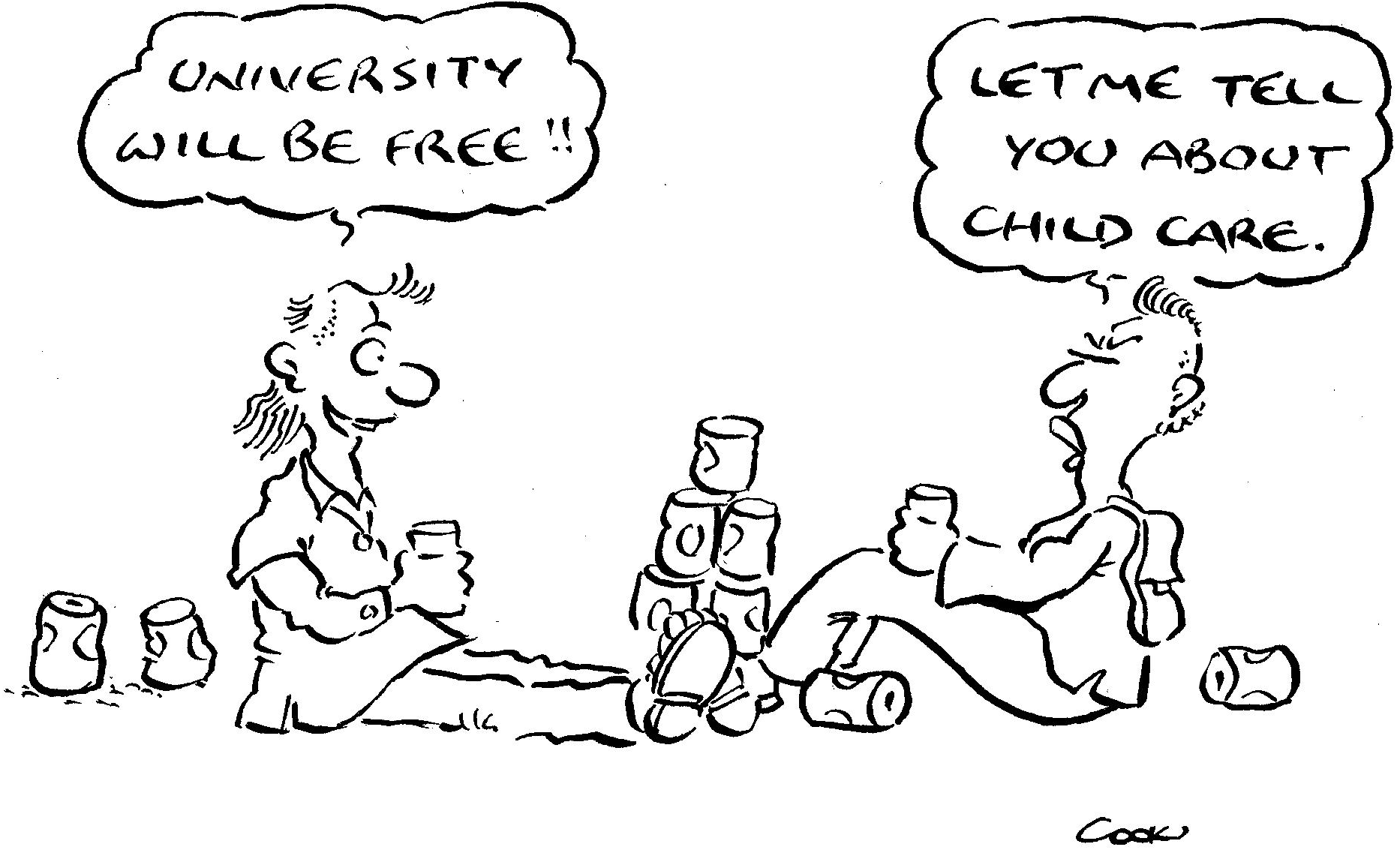 Curious Readers who wish to read the economics of why students should pay university fees might wish to go to: Why free university tuition doesn't make economic sense (theconversation.com).
5 We-the-taxpayer fund about 50% of the cost of a student's tertiary education. The balance is paid by the student, either up-front, or via a loan programme called HELP. HELP debt balances increase by the inflation rate. There is no interest cost. Repayments are collected through the tax system. The percent of the loan to be repaid increases past $48,361 – the more a person earns, the higher the capital is to be repaid. For example, a person earning $90,000 p.a. with a $50,000 HELP debt will have an additional amount to pay to the ATO of $3,000.
Spin
Readers have to hand it to Yevgeny Prigozhin. He initiates an armed rebellion and orders his 25,000 troops to drive north to take Moscow.
He then calls off the whole thing. And then takes credit for having avoided bloodshed.
Masterful. Chairman Dan would be proud.
Save your Voice
This week's Voice poll6 showed that, for the first time, No votes were higher than Yes: 47% to 43%. And with four states (all except Victoria and New South Wales) with a higher No vote.
Before the Nays get too excited, or the Yays too gloomed, the vote is four months way. And there is still 10% of undecided voters.
Having said that, if 6 weeks out and the No vote stays at these levels or increases, Albo and his team will need to confront some electoral reality. At the extreme risk of jumping ahead, it's no longer about the Voice, it's about the next election.
Firstly, the encirclement of Labor inner city seats by the Greens will continue. A referendum failure may reflect that Albo/ Labor didn't try hard enough. The Greens will benefit. If the Liberal party gives preferences to the Greens ahead of Labor, both Albo's and Tanya Plibersek's seats will be at risk in New South Wales and so too Labor seats of Canberra, and Wills and Cooper in Victoria.
Secondly, more broadly, a referendum failure will be a negative to Albo. Hitherto, he has been the Face of the Voice. He will have to decide whether to put other sacrificial lambs in the media for the last six weeks. And allow himself to be diverted by nuclear powered submarines, wind farms or social housing.
Or cost-of-living pains. Remember that Albo holds government by two seats. A loss of those puts him into a minority government.
6 NewsPoll, published Monday 26 June in The Australian.
Snippets from all over
1. Doomsday
The largest US banks would lose $541bn in a hypothetical doomsday economic scenario but still have more than enough capital to absorb the losses, according to annual stress tests conducted by the Federal Reserve. (Financial Times).
Wry & Dry comments: Wry & Dry assumes that a 'doomsday scenario' is the election of the Trumpster as president.
2. Rallies
North Korea has held rallies across the country to mobilise hatred against the United States and South Korea in a renewed hardening of its propaganda effort. (The Times)
Wry & Dry comments: just gotta take the minds of they-the-people off the chronic food shortage.
3. Paris Olympics 2024
The headquarters of the two organizations behind the Games, Paris 2024 and Solideo, have been raided as part of investigations into 'favoritism' and 'illegal conflict of interest.' (Le Monde)
Wry & Dry comments: Looking for any Olympic Games that didn't involve favours, broadly defined. No, can't find any.
4. Trumpster diverts donations
Facing multiple intensifying investigations, former President Donald J. Trump has quietly begun diverting more of the money he is raising away from his 2024 presidential campaign and into a political action committee that he has used to pay his personal legal fees. (New York Times)
Wry & Dry comments: no surprises here. When in the White House, he regularly used Trump-owned properties for State purposes.
5. Lack of productivity
The Duke and Duchess of Sussex have left executives at Spotify and Netflix "underwhelmed" by their lack of productivity. (Wall Street Journal)
Wry & Dry comments: Slow day at the WSJ?
6. "Fly over my house? That'll be 20% more."
Vladimir Putin is increasing airline charges to use Russian airspace by a fifth as he scrambles to raise hundreds of millions of dollars more for the war against Ukraine. (UK Telegraph)
Wry & Dry comments: In normal times, Tsar Vlad raises more than US$1.7 billion from charging airlines for flyover rights.
Data
Australia's inflation rate fell to 5.6% in the year to May.
UK inflation rate fell to 8.7% in the year to May.
Germany's inflation rate rose to 6.8% in the year to May.
And, to soothe your troubled mind…
"BHP will not be investing any further growth dollars in Queensland."
Mike Henry, BHP's CEO, after the state's abrupt increase in coal royalties, suggesting the changes were unpredictable and unreasonable.
Does anyone really think that the Premier of Queensland gives a toss? Well, she doesn't. Her response was "We have a lot more other investors in Queensland. Our exports to countries have increased dramatically." Or maybe she doesn't understand.
PS The comments in Wry & Dry do not necessarily reflect those of First Samuel, its Directors or Associates.
Cheers!
Anthony Starkins