Other peoples' money. Join the dots. Charts aplenty.
Whilst pouring your Perrier-Jouët Belle Époque…
Chief Teller didn't fall on his sword
Other peoples' money
Voters: join the dots
Ukrainian tourism
RDS recurs
Giving to Ukraine
"Well, they would say that, wouldn't they?"
US Supreme Court raises eyebrows
Processing minerals
At the bookies'
History: 1,000 of Europe
People: Princess Princess
Habits: Lingerie
Whilst enjoying your Perrier-Jouët Belle Époque…
Chief Teller didn't fall on his sword
The Chief Teller of the Reserve Bank didn't fall on his sword, as he might when he raised interest rates by 0.25% points on Tuesday. After all, he did say last year that rates wouldn't rise until 2024. Only missed by, well, two years.
And let Wry & Dry give Readers the whisper, Tuesday's rate rise will not be the last this year.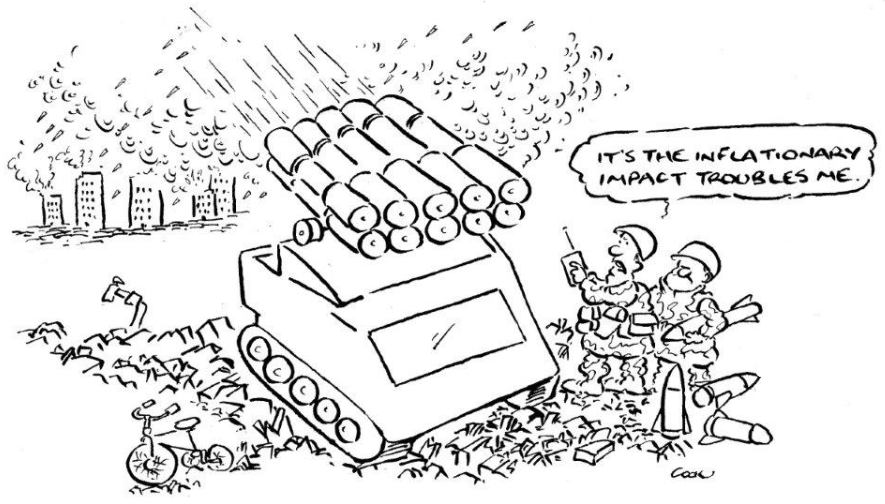 And the Chief Teller of the US Federal Reserve made no apologies for increasing US rates ('Fed funds target rate') by 0.50% points on Wednesday.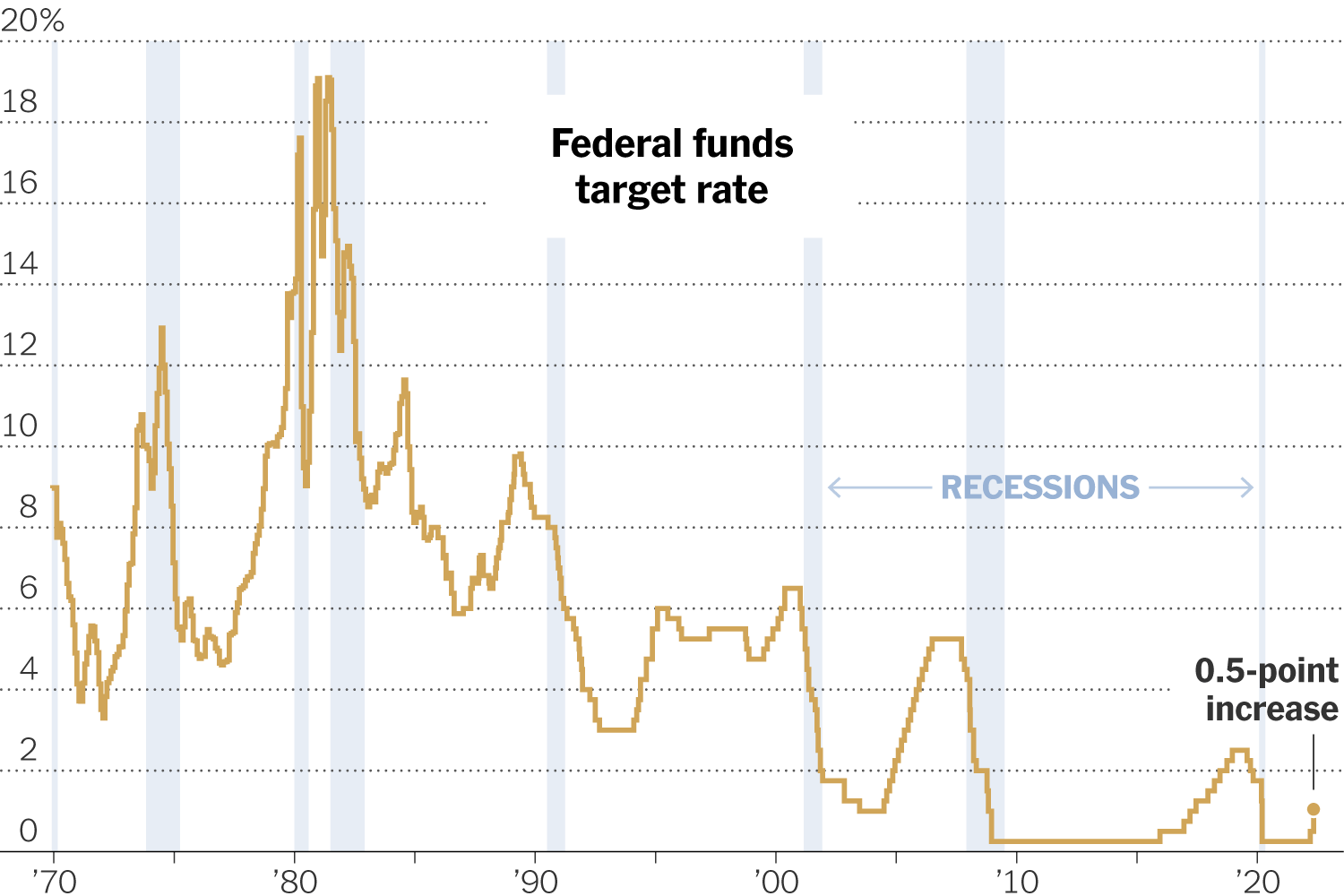 It's now a reasonable question to ask how does increasing interest rates drive down the price of oil – the primary driver (along with (a) the accumulated outcome of too-low interest rates and (b) covid-related supply chain problems) of inflation?
The answer is not much. Because the RBA's and Fed's decisions are not about oil, but about managing consumer expectations about inflation. If people believe that inflation is rising or going to rise even more, they will act accordingly. Already large unions have beaten their ploughshares into swords.
One thing is for sure, the party for tech-stocks is over on Wall Street. Driven by low interest rates, the bubble has well and truly burst. This calendar year: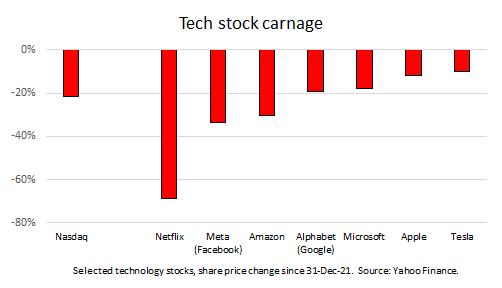 Other peoples' money
Oh, Death. Where is thy sting?
It was sad Wednesday viewing. The so-called debate between Treasurer Josh and Wannabee Treasure Chalmers.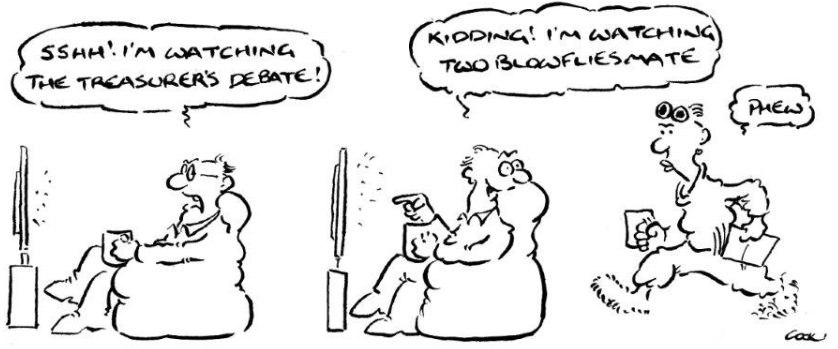 Each effectively admitted that (a) Australia has a structural fiscal deficit of at least 1.5% of GDP and (b) the spending policies of each party were, well, extravagant. And then each said they would do nothing about each problem. Sigh.
And on the same day Chairman Dan's government delivered its budget. Ignoring debt ballooning above $100 billion from $44 billion two years' ago, Dan handed out money to causes that seemed worthy. Well, every cause is worthy.
Even ignoring possible worthiness, why waste money? Consider $250 to low-income households that register on a power-price comparison website. Or borrowing up to $5 billion to part-finance a Victoria Future Fund? Seriously?
And Chairman Dan's budget is already dead in the water because of rising inflation and public sector wage demands.
As someone famous once said, "Sooner or later, you run out of other people's money."1
1 Former UK Prime Minister Margaret Thatcher.
Voters: joining the dots
As the election is now just 15 sleeps away, it's time to ask the question that has been on the minds of Readers for months. And to answer it.
Why has the Coalition's two-party preferred2 vote collapsed from a high of about 52%3 in October 2020 to 46% just 12 months later?
The below chart tracks the 2pp vote for the major parties since the last election. It uses the data from the major pollsters: Newspoll, Roy Morgan, Essential and Resolve. The red and blue lines are the moving averages and the size of the dots the number of voters polled.
It may be just coincidence, but the blue curve turned downwards in October 2020 soon after Jimmy Morrison said that Christine Holgate's (Auspost CEO) bonus award to her senior executives of Cartier watches didn't pass "the pub test"4 and she should resign.
Wry & Dry is always careful of the post hoc ergo propter hoc5 fallacy. But couldn't help noticing the trio of unfortunate events followed, also involving women. There was no connection between them, other than (subsequently unproven) allegations of connections to government ministers.
The media feeding frenzy that followed focussed not so much on the treatment of the women, as it should have. But on the political considerations of the allegations. Jimmy's old-fashioned responses did nothing to ameliorate the increasing perception that he portrayed himself as a politician with an outdated view of women.
The chart tells a story. Once the slide began, it was like Footscray versus Melbourne from the 18-minute mark in the third quarter in last year's AFL Grand Final6. Like Footscray's defence, the Coalition's 2pp vote collapsed, to 45% from 51.5%.
Politics is all about perception and momentum. If a politician has both running against him/her for long enough, then maybe it's time to fall on your sword.
But it's now too late for Jimmy. The polls show that women have made up their mind. Which probably explained why Climate 20 has chosen only women to challenge Liberal candidates in safe seats.
When the election post-mortems come in, the conclusion will be that the result was about climate change, net zero, blah, blah. Wry & Dry posits that it will be about how young women felt about Jimmy.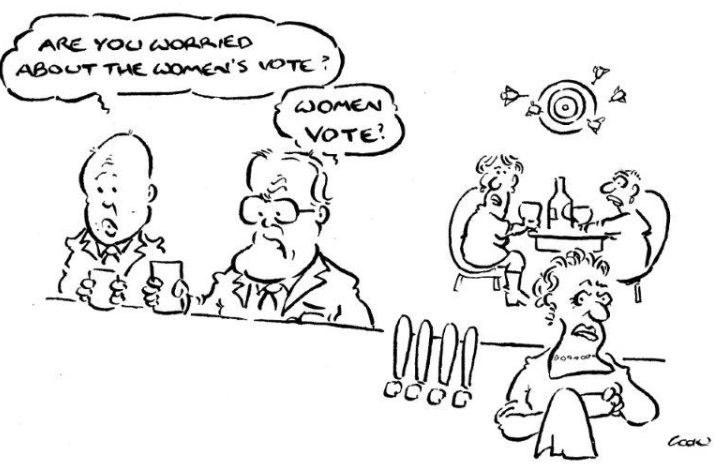 2 "Two-party preferred" (2pp) polling is where the pollster ask the voter "for which party would you vote?" This is the "primary vote". And then asks "which party is your second preference?" The parties are ranked by the number of primary votes received. The lowest ranked party is eliminated and the 2nd preferences of the voters who chose it are then "distributed" according to that preference. The parties are then re-ranked. The now lowest of those remaining parties is eliminated and their voters' second preferences are distributed. And so on, until two parties are left. This gives the "two-party preferred" voting intention. And is how actual votes are counted.
3 For consistency, Wry & Dry will draw on Newspoll as the primary data source.
4 A test of unknown provenance, presumably relating to a trivia quiz at the local hostelry.
5 "After this therefore because of this."
6Footscray allowed Melbourne to score a galactical record of 12 unanswered goals to be comfortably, well, flogged.
Ukrainian tourism
Ukraine and thereabouts now seems to be the place to visit.
Nancy Pelosi, the well-botoxed 82-year-old Speaker of the US House of Representatives, decided too many other people were getting the headlines from Tsar Vlad's invasion of Ukraine. So she decided the best thing to do was arrange an on-site photo-opp. Probably unaware of the irony, she visited Kyiv to meet with Ukraine's president on 1st May. Her stay in Ukraine lasted just three hours, from touchdown to take-off. That's sincerity for you.
She then trotted off to Poland.
Not to be outdone, Jill Biden, wife of Sleepy Joe, has booked a seat on whatever airline flies to Slovakia, to visit Ukrainian refugees this weekend. Would Sleepy Joe visit?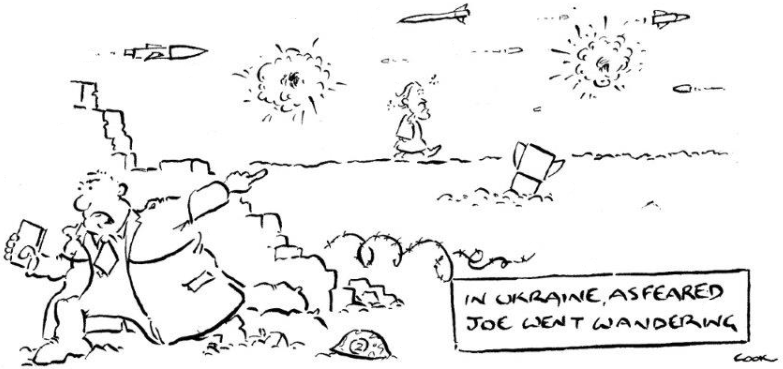 Wry & Dry ponders that surely it's time for that sufferer of chronic RDS7 clotheshorse Julie Bishop to do the same.
Imagine a photo of Ms. Bishop in army fatigues, wearing Jimmy Choo shoes, in front of a burned out Tsar Vlad tank. And claiming that Jimmy had robbed her of being Australian prime minister.
7 Relevance Deprivation Syndrome.
RDS recurs
Wry & Dry sadly notes that Croesus Turnbull has suffered another nasty bout of RDS.
Speaking at the Washington Harvard Club this morning, Melbourne time, Croesus dumped excrement from a great height on the party that he led as Prime Minister. And he loudly campaigned for voters to vote for 'teal' candidates.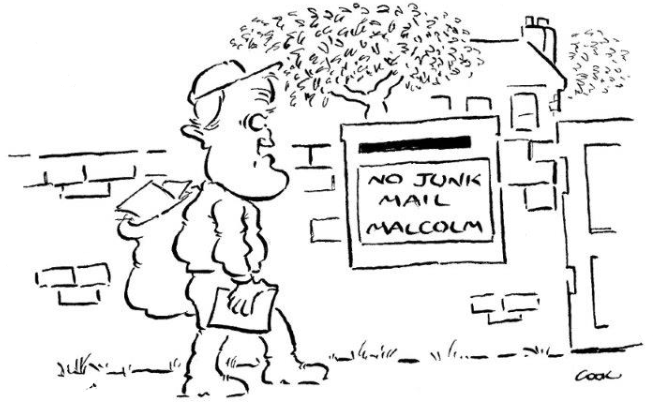 Two matters spring to mind. Firstly, he knows that his bile venting will have virtually no effect on the election outcome. And that it is all about revenge against Jimmy and his erstwhile colleagues. Which leads to a clear diagnosis of a severe case of RDS.
Secondly, he pre-released the text of his speech to the Melbourne Age and related tabloids. Those journals dutifully made the story its page one leader. This would ensure an orgasmic surge for Croesus: "Hey, Lucy, I made page one!"
"That's nice, dear. Would you like a Bex and a good lie down?"
Giving to Ukraine
The hat has been passed around western countries to support Ukraine. Unsurprisingly, the US has given the most, some $11.2 billion. However, the USA has deep pockets. Perhaps the focus should be on the widow's mite8, as it were.
Consider instead the giving to Ukraine as a percentage of GDP. And a different picture emerges (chart courtesy of The Economist):
As Readers might expect, those countries which are most vulnerable to Tsar Vlad's whimsical and belligerent behaviour have given most. And note that the data doesn't include assistance such as refugee acceptance; Poland has taken over 3 million displaced Ukrainians.
Germany's contribution is about 0.05% of its GDP; France's is not disclosed but is believed to be at least the same as Germany's.
Australia contribution has not been overlooked in the chart: $290m of military and $30m of humanitarian aid amounts to 0.022% of GDP, about one-third of that of the US.
8 The lesson of the widow's mite (the least valuable Judean coin) is presented in the gospels, in which Jesus is teaching at the Temple in Jerusalem. Many rich people gave large sums. A poor widow also came and put in two small coins. Jesus said, "…this poor widow put in more than all the others. For they have all contributed from their surplus wealth, but she, from her poverty, has contributed all she had."
"Well, they would say that, wouldn't they?"
"Labor's policy to help low and middle-income earners buy homes through a new government-backed scheme was won approval from the Australian property sector…"
US Supreme Court raises eyebrows
Readers will have seen reports of an alleged draft of an upcoming decision of the US Supreme Court on abortion. The report says that abortion is a matter for the states (some 19 of which have effectively made abortions illegal), has caused discombobulation probably not seen since the days of the Vietnam war.
Wry & Dry makes no comment on the merits or otherwise of the case. Other than why is everyone so surprised: the court has five 'conservative' members who seem to have been expressly chosen for the purpose.
Allow Wry & Dry to present without comment a chart that Readers might find interesting (thanks to GL, a UK Reader).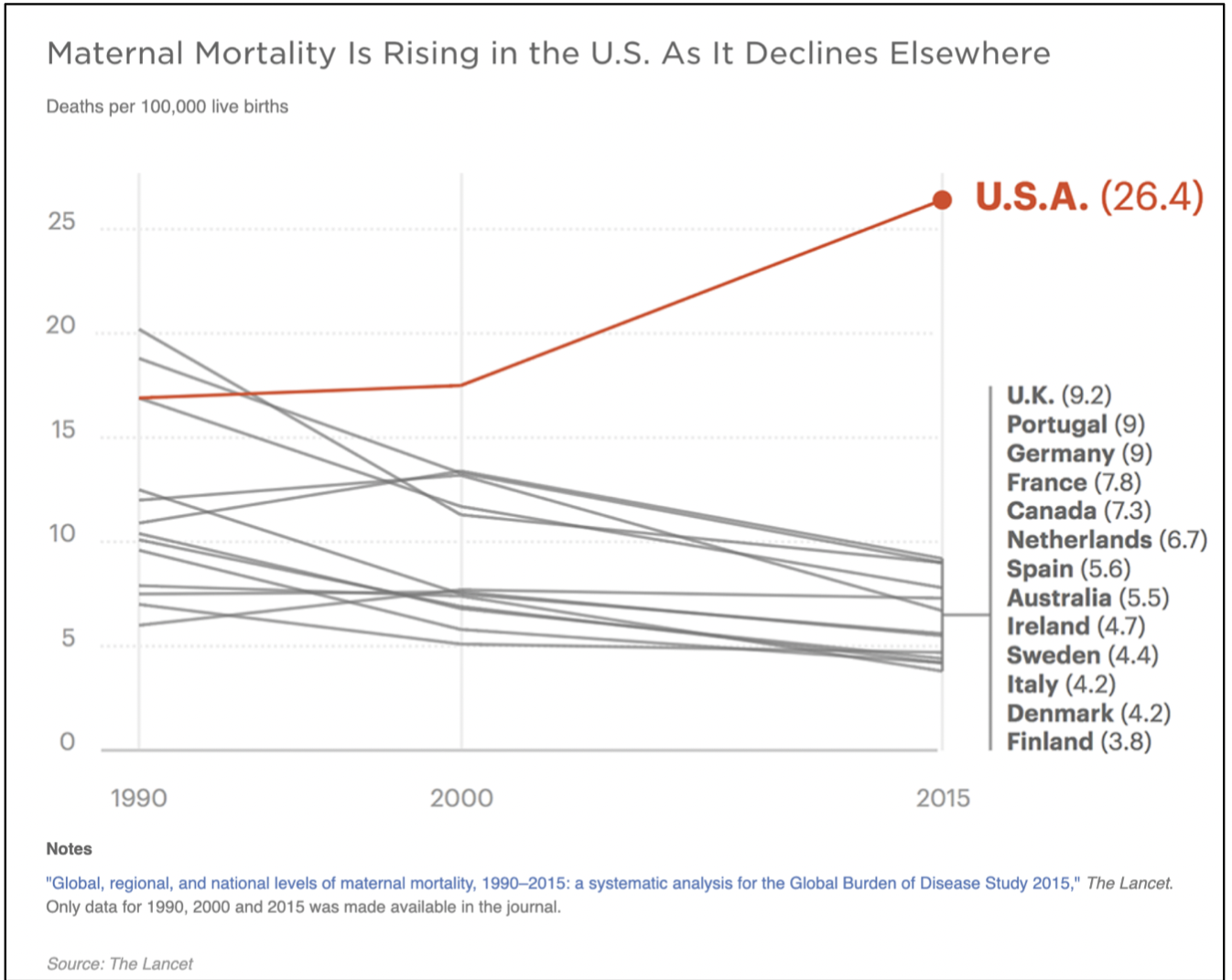 Processing minerals
Russia monopolising the source of oil and gas to Europe is a problem for Europe. But China's monopoly of strategic minerals' processing is a problem of another magnitude. The below are some of the key minerals that are needed for green manufacturing, especially battery production.
Readers should consider that electric cars use six times the amount of battery metals that a conventional car needs; an onshore wind farm requires nine times more than a gas plant. For the world to reach net-zero emissions by 2050, the World Bank has estimated that production of these key metals would need to rise by 500 per cent by mid-century.
The good thing is that China doesn't control the source minerals. The largest suppliers are (adding copper, which is needed for the wire):
Nickel: Indonesia, Philippines. Australia 5th.
Copper: Chile, Peru. Australia 6th.
Cobalt: DR Congo, Australia
Graphite: China, Mozambique. Australia 7th.
Lithium: Australia, Chile.
Manganese: South Africa, Australia.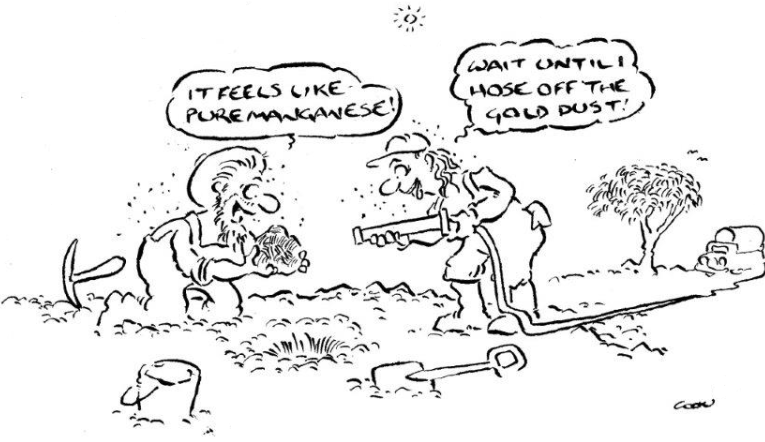 It seems to Wry & Dry that Australia should be in the battery business9, as it mines at least 50% of the world's supply of all of the critical ingredients.
9 Australia is, sort of. Wesfarmers is building a new lithium refinery in Perth, to manufacture lithium hydroxide, the critical compound of electric vehicles and batteries.
At the bookies'10
Jimmy Morrison's odds have shortened dramatically this week, from "not a snowflake in hell's chance" to "an outside chance".
	            This week	Last week
		
Coalition majority	$4.00	$6.00
Coalition minority	$5.50	$5.00
Labor majority	        $1.90	$1.77
Labor minority	        $3.75	$3.65

10 Source: Sportsbet
History: 1,000 years of Europe
History buffs may not have seen the below video. It shows how the map of Europe has changed over the last millennium. Enjoy.
People: Princess Princess
Princess Princess must be crying a river.
Netflix has given Pearl, her animated series, the DCM. Pearl was trumpeted in 2021 as the initial outcome of the $100m development deal signed by Princess Princess and her husband, Princess Harry.
Fiscal reality has hit Netflix, its share price has fallen by 72% in the past 12 months.
Also crying must be Steve Carell, who was being paid $1m per episode for the now DCM'd Space Force.
Habits: Lingerie
Parliamentary expense allowances are meant to be used on expenses related to official duties.
It makes Wry & Dry wonder what official duties French MP Coralie Dubost was undertaking, so that she spent more than EUR2,000 per month on lingerie and clothing. She was seen as a rising star in Macron De Gaulle's La République En Marche! party. What caused her star to rise?
Wry & Dry can reveal, so to speak, that the average French woman aged between 15 and 24 spends EUR200 p.a. on lingerie.
Perhaps her spending is just that of a statistical outlier.
Snippets from all over
1. Abortion decision to turn political
A backlash over US Supreme Court's draft abortion ruling offers an opportunity for Democrats in November mid-term elections. (Financial Times)
Wry & Dry comments: The Democrats were going to be dead in the water in both the House and Senate after November's mid-term elections. But if the alleged draft abortion ruling is realised Democrats will have a cause for which to fight.
2. Qantas orders long-distance
Australian airline Qantas Airways has ordered a dozen aircraft to offer customers some of the world's longest passenger flights from Sydney to London and New York by 2025. (New York Times)
Wry & Dry comments: So, it's come to this: SYD/LHR, and not MEL/LHR. Clearly the CEO of Qantas thinks that Victorians will be so impoverished by 2025 that they will not be able to afford the extra costs of the non-stop flight. It will be MEL/DRW/SIN/BOM/BAH/FCO/LHR on a Boeing 707.
3. Wind power companies in record tender
The US's biggest offshore wind lease sale attracted record bids of more than $4bn, outstripping any oil and gas auction in American waters, as renewable energy developers compete to secure a prime location to install turbines. (Financial Times)
Wry & Dry comments: What a great way to reduce the budget deficit! For the 488,000 acres auctioned, that is about $9,000 per acre.
4. Germany warns EU of economic cost
Germany has warned that EU consumers should brace for a big economic hit and higher energy prices as Berlin said it was willing to back an embargo of Russian oil to punish Moscow for its war on Ukraine. (Financial Times)
Wry & Dry comments: The problems of weaning off Russia are now becoming real: EU member states are still split. Hungary said it would block a deal unless it could be guaranteed supplies from elsewhere; without a port it has few alternative sources.
5. Woodstock of capitalism is back
Thousands of Berkshire Hathaway shareholders and other investors flocked to Omaha, Nebraska, this weekend to hear Warren Buffett and Charlie Munger speak at an event known as the "Woodstock of Capitalism". (Wall Street Breakfast)
Wry & Dry comments: While the S&P 500 has dropped more than 13% YTD, Berkshire's stock is up more than 7%.
Data
ANZ bank's measure of Australian consumer confidence fell sharply to 90.7 from 96.5.
The Chinese April manufacturing index fell sharply to 47.4 from 49.5.
The Bank of England raised interest rates by 0.25% points to 1%.
Turkey's inflation rate hit 70% in the 12 months to April.
European Central Bank board member said, "The European economy is de facto stagnating."
And, to soothe your troubled mind…
"As much as they respect the former KGB man [Putin] for being a strong leader, the Russian general staff are going to be made scapegoats for his mess."
An unnamed Russian cabinet minister, pontificating on who is going to get the blame for Tsar Vlad's adventurism.
Perhaps the word Lubyanka (the prison where 'interrogations' by the KGB took place) will resume occupancy not seen since the days of Stalin.
PS The comments in Wry & Dry do not necessarily reflect those of First Samuel, its Directors or Associates.
Cheers!