Sure you want to win the election? Better ask Chairman Dan. When the cat's away…
Whilst pouring your Perrier-Jouët Belle Époque…
Australian election: Are you sure you want to win?
China locks down: Better ask Chairman Dan
When the cat's away…
Twitter and Tesla
Unclear on the concept
Tsar Vlad turns off the gas
At the bookies'
History: Marshall Plan
People: spot the common factor
Habits: turn off the camera
Whilst enjoying your Perrier-Jouët Belle Époque…
Are you sure you want to win?
With headlines normally reserved for the death of a princess (or the marriage of one), the media feverishly leapt on Wednesday's news that Australia's inflation hit 5.1%, the highest since, well, the last time it was this high.
Who to blame?
Much as Shadow Treasurer Jim Chalmers tries, he can't really blame the government. Well, sort of. It's mostly about the price of oil, supply chain disruptions caused by covid, especially in China (see below), and consumer demand-backlog from the lockdowns.
It's also about the Chief Teller of the RBA channelling King Canute1 and ignoring the tide of inflation coming in. Interest rates should have commenced increasing last year.
But PM Jimmy Morrison is holding the petrol hose, pouring fuel on the inflation fire: the government's spendthrift fiscal policies (ditto Albo's) will underpin inflation further down the track.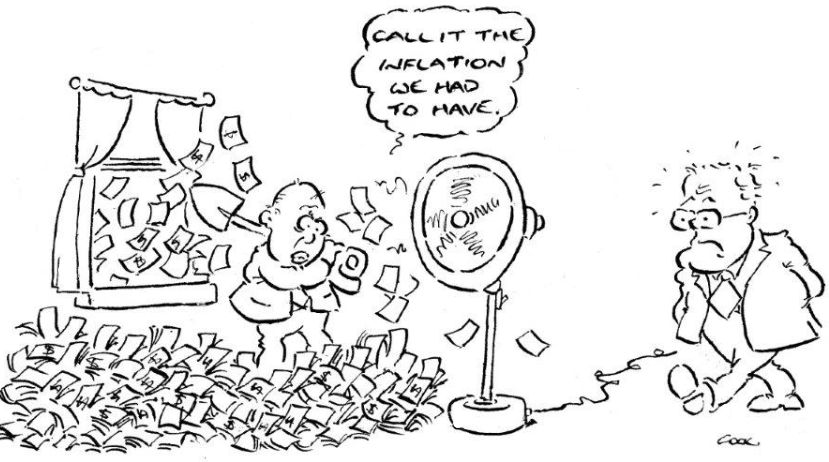 Still, it is what it is. And what it is, to repeat last week's refrain, is a poisoned chalice. How happy is the following scenario for an incoming government?
Interest rates rising, meaning mortgage rates increasing
Cost of living increasing
Wage increases only modest
Wry & Dry predicts a surge of union activity to increase real wages. And then some.
To quote Yogi Berra2, this is déjà vu all over again. Some Readers will remember the Western world's wage-price spiral of the 1970s. High oil prices, high consumer demand. Expect higher inflation for longer.
The trouble is, of course, that unless productivity improves, it's a death spiral. The Labor party certainly won't entertain making the industrial relations regime more effective. And the Liberal Party doesn't have the courage so to do.
By the way, Readers can add to the unhappy list the small Tsar Vlad effect: global stagflation. As well as managing Emperor Xi's inexorable takeover of the Pacific.
Be careful for what you wish. And for whom you vote.
1Canute (there is a four letter alternative spelling) was a Danish warlord who become king of England in 1016, king of Denmark in 1019 and king of Norway in 1028. He is known for the event where flattering courtiers claimed he was so powerful he could hold back the tide. He put them to the test. And got his feet wet.
2Yogi Berra was a legendary American baseball catcher, manager and coach. Berra quit school after the eighth grade. He was known for his malapropisms as well as pithy and paradoxical statements, such as "It ain't over 'til it's over". He once simultaneously denied and confirmed his reputation by stating, "I really didn't say everything I said."
China locks down. Better ask Chairman Dan
Emperor Xi has a problem. The people of Shanghai are not happy about being locked down. It's now been four weeks without a stroll along the Bund3.
And this is not a Chairman Dan-type lockdown. This is a you-cannot-leave-your-home-for-any-reason lockdown.
The soothing and tidy propaganda from Propaganda Central that all is well has now been overwhelmed by public anger. The usual playbook of censoring critical online posts, inundating state media with positive stories and blaming foreign forces has run out of petrol.
But maybe Emperor Xi has no choice. Firstly, having set his mind on a "no-covid here" policy, he's not one for changing that mind. Too much face to lose. Secondly, only 51% of people aged over 80 are double vaccinated. And less than 20% triple vaccinated. And that is on top of the Sinovac vaccine being the least efficacious of leading vaccines.
If covid gets out of the bag in China it will be devastating. The question is: is keeping it in the bag worth it? Perhaps a call to Chairman Dan could provide some guidance.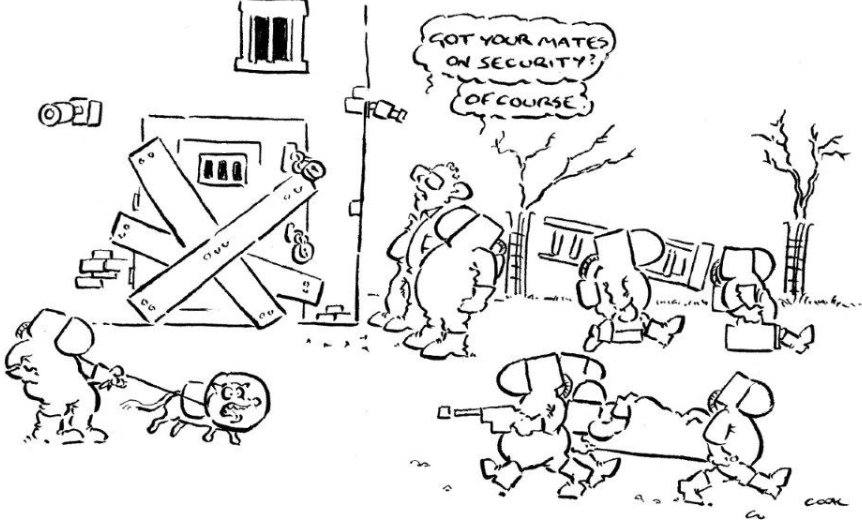 3 The Bund is the famous waterfront district of Shanghai, with beautiful buildings of character. From the 1860s to the 1930s it was the powerful centre of foreign establishment and business in China.
When the cat's away…
Last week Wry & Dry mused that Albo being away with covid was as bad for PM Jimmy Morrison, as it would give Jimmy a gap of uncontested airtime to say silly things.
Well, Wry & Dry was wrong. Jimmy has been remarkably sensible.
But the uncontested gap was filled by National Party Senator (for Queensland, where else) Matt Canavan.
The good Senator, never one to put the interests of the government ahead of his parochial views, told ABC viewers that "net zero is dead…"
Even Barnaby Joyce told him to pull his head in.
But, too late. Climate 200 candidates (see below) couldn't believe their luck. And hit social media and the airwaves.
Canavan has form for making his own arrangements – surely it's time he was given DCM by Barnaby. But Barnaby needs his vote in the party room.
Twitter and Tesla
Wry & Dry does not use Facebook or Twitter. But not even he could avoid noticing that the world's wealthiest man, Elon Musk, of Tesla fame, has, all by himself, purchased Twitter.
Wry & Dry is moved not to ask why spend $44 billion on an investment. But why spend $44 billion on a profitless dysfunctional company?
Listed on the New York Stock Exchange for just under nine years, Twitter has posted a net loss every year, except 2018 and 2019 when it made a profit of just over $1 billion. The company's reason for being seems to have been to provide a gravy train for senior insiders to have lavish lifestyles, funded by stock-based compensation.
In 2012 Twitter had 103.5m shares outstanding; in 2013 472.6m shares and by 2021 799m shares outstanding. Investors have been diluted to fund senior insiders' vacations in Paris.
Twitter says it has 217 million 'monetisable' users (i.e. those who are exposed to ads) – small beer compared to Facebook's 1.93 billion users.
In establishing Tesla, Musk had a little money, a lot of imagination and a clean sheet of paper. With Twitter, he has lots of money, a little optimism and a drawer stuffed with torn paper.
Wry & Dry wishes him well with his project.
Chairman Dan up to no good
In an occurrence as rare as Barnaby Joyce spouting common sense, the left-of-centre Melbourne Age4 yesterday headlined that Chairman Dan, the far-left-of-centre premier of Victoria, had been up to no good. Which in itself tells a story.
The Victorian Independent Broad-based Anti-Corruption Commission (IBAC) has found that Chairman Dan had presided over a party that was guilty of, inter alia, "misuse of public funds, nepotism…"
The weird thing is that IBAC chose to question Chairman Dan privately. This compares to what happened in New South Wales. Readers will remember that premiers Barry O'Farrell (bottle of wine) and Gladys Berejiklian (boyfriend) were each grilled in public. And each resigned without being charged with any offence (although Gladys should be charged with being stupid).
Anyway, Chairman Dan's influence is pervasive. But, this interim finding will come as no surprise to Readers – the stench has been lingering for years.
It will also come as no surprise that Chairman Dan has put up the shutters to the media about the findings. And refuses to answers any questions.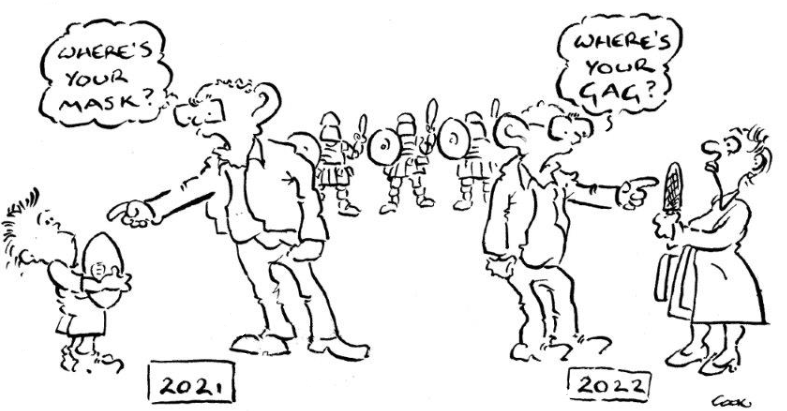 Wry & Dry reminds Readers of his comments when he dismissed out of hand any action over the 'Red-Shirts rort' in 2015, "I take responsibility for each and everything that happens under my leadership of the Labor Party and my leadership of the government."
So far, any evidence of Chairman Dan taking responsibility is scant.
4 A daily tabloid with a strong bias towards left-wing social issues, a moderate bias towards fiscal common sense and an aim for excellence in sports' reporting. It appears that it can no longer afford to pay for quality journalists.
Unclear on the concept
It didn't take long for Croesus Turnbull's big-head to lift above the election parapet. In an interview on ABC Radio National, the former Liberal prime minister he did his best to ensure that the current Liberal prime minister would not be re-elected, saying, inter alia, that the security pact between Solomon Islands and China was an "absolute failure of foreign policy."
Somehow, he forgot that the government of which he was:
a cabinet member cut foreign aid to Solomon Islands;
communications minister killed off Australia Network and soft diplomacy to Solomon Islands;
prime minister killed off Radio Australia's Solomon Islands short-wave frequencies allowing China to take them over;
prime minister allowed the foreign minister to ignore the Solomon Islands (and nearby countries) and focus instead on Washington, London and Paris.
Croesus Turnbull's observations were greeted by the media with the same response as those by former Liberal leaders, Fraser and Hewson: the sound of crickets.
Tsar Vlad turns off the gas
In a most unfriendly move, Tsar Vlad has turned off the gas tap to Poland and Bulgaria. This is because he wants to be paid in roubles, not euros or US dollars. Or maybe he's just not happy at the minute.

Both countries are happy to pay in euros or dollars, as specified in their supply contracts. However, payments in roubles breach the EU imposed sanctions, and also benefit Gazprom as Russia determines the exchange rate at which currencies are converted into roubles.
But the Rinnais across Poland and Bulgaria will not die. Although 45% (Poland) and 80% (Bulgaria) of their gas currently comes from Tsar Vlad, summer is on its way and each has alternative supplies (LNG and gas from Azerbaijan, respectively). And each had decided not to renew their contracts with Russia from December this year.
The game of chicken gets broader. Germany, thanks to the possibly corrupt thinking of former Chancellor Gerhard Schröder and the Pollyanna thinking of his successor Angela Merkel, is stunningly dependent on Russia for its energy.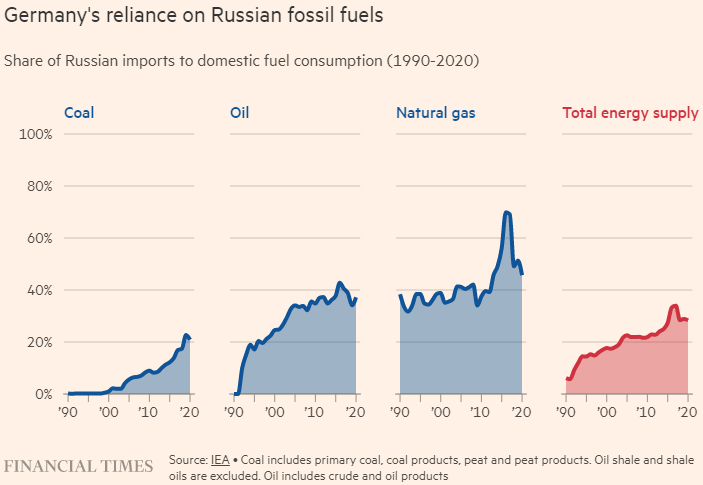 Germany's next payment for Russian gas is due in late May. It has no immediate supply alternative. Will it pay in euros and risk having the gas turned off? Or find a loophole in the sanctions' fine print and pay in roubles? And will Tsar Vlad risk losing billions of euros/ dollars/ roubles if he cuts of the gas?
Already the screenwriters at Netflix are bent over the typewriters.
At the bookies'5
	            This week	Last week
		
Coalition majority	$5.00	$2.95
Coalition minority	$6.00	$5.00
Labor majority	        $1.77	$2.40
Labor minority	        $3.65	$3.75

5 Source: Sportsbet
History: Marshall Plan remembered
Readers will recall the success of the Marshall Plan. This was the generous scheme of the US to help finance the reconstruction of Europe after the Second World War. Spearheaded by Secretary of State George Marshall, it gifted about $115 billion (in today's value) to Western European countries. Stalin forbade any funds going to eastern bloc countries.
Now the cries are being heard for a Marshall Plan for Ukraine. Borisconi is an early advocate (the Boris Plan?). And Ukrainian billionaire Rinat Akhmetov has vowed to finance the rebuilding of Mariupol.
There's a lot of rebuilding to do, some $800 billion by some estimations. Not that that amount will be on the table. Expect the US and UK to stump up most, France and Germany some, with Japan and Australia as outsider contributors.
However, Wry & Dry sees three problems.
Firstly, admire the fighting spirit of its people as Readers should, but Ukraine is almost as corrupt as Russia6. Imagine how much of the dosh might find its way into the hands of Ukrainian oligarchs.
Secondly, there are limits to how much cement will be available.
Thirdly, imagine the 'strings' attached to the funding. Everything must be environmentally sustainable; use of labour paid at ILO rates; use of an ethnically diverse work force; equal representation of women on all committees; etc.
And better make sure that Tsar Vlad knows that he's lost the war before presenting the rebuilding plans to the local council.
6 Ukraine is ranked 122nd (with 1 being the least corrupt) and Russia 136th.
People: spot the common factor
What do the following names have in common: Kate, Jo, Claire, Georgina, Monique, Zoe, Despi, Nicolette, Sophie, Kylea and Allegra. They are all:
a. Names of Greek gods
b. Former contestants in The Bachelorette
c. Former girlfriends of Shane Warne; or
d. Candidates for 'Climate 200' standing in safe Liberal seats.
Close. But no cigar. The correct answer is d. Climate 200 is not a political party, but a 'public interest group' sponsored by Simon Holmes a Court. Mr. Holmes a Court was shrewd enough to inherit a fortune from his billionaire father, Robert. He is also shrewd enough to choose attractive, articulate, relatively young and highly educated women as his candidates.
Is this the future of Australian politics? What? No male candidates for safe seats? Would it be churlish to accuse Mr. Holmes a Court of sexism, ageism and other isms?
Mr. Holmes a Court has been described as the 'Clive Palmer of the left'. Which is extremely rude.
Habits: better to turn off the camera
A new study published in the journal Nature yesterday found that video meetings make it harder to generate creative ideas.
Researchers paired up 1,490 engineers to brainstorm creative uses for two common items: Frisbees and bubble wrap. Some pairs were in the same room, and some were meeting via video call. The study found that groups meeting in person came up with one more idea on average than their virtual counterparts.
And when the researchers tracked eye movements, they observed that the virtual pairs hardly looked away from their screens, whereas the face-to-face pairs let their eyes and minds wander.
Thanks to Reader PF for the source of the above.
Snippets from all over
1. Macron wins
French president Emmanuel Macron easily won the presidential election, defeating right-wing challenger Marine Le Pen 55% to 45%. (Various)
Wry & Dry comments: Clearly the hairy chest made a difference. But the celebration didn't last. Yesterday, he was pelted with tomatoes during a surprise visit to a working-class suburb in Paris.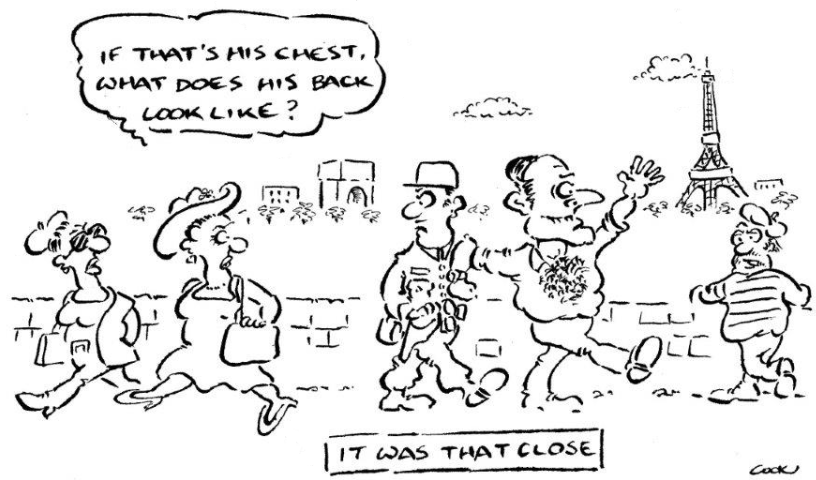 2. US dollar booms
A global rally in the US dollar is ripping through markets as investors bet most central banks will lag behind the pace of rate rises from the US Federal Reserve. (Financial Times)
Wry & Dry comments: The dollar is at its highest since 2017. The euro has particularly suffered: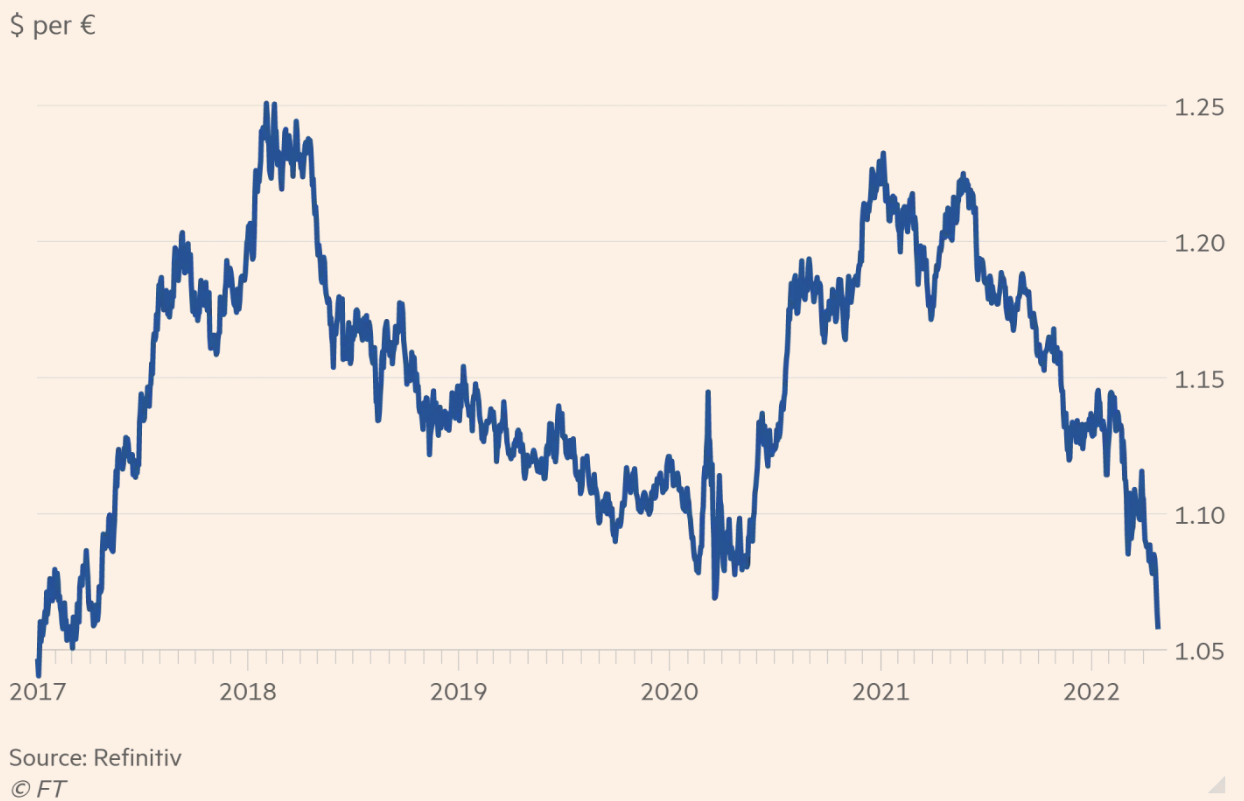 3. Sleepy Joe opens America's wallet for Ukraine
US president Joe Biden has asked Congress to provide $33bn in military, economic and humanitarian aid for Ukraine, more than double the $13.6bn it approved for Kyiv last month. (Financial Times)
Wry & Dry comments: Congress will say yes. The funds are expected to last until September.
4. Gazprom senior executive flees to Ukraine
Igor Volobuyev, a senior Gazprom executive, has vowed revenge against Russia after fleeing the country to join Ukraine's territorial defence forces. (UK Telegraph)
Wry & Dry comments: He'd better employ a food taster.
5. Trump's new Air Force One costs Boeing plenty
Boeing said its losses widened in the first quarter as it took a $1.2bn hit tied to the war in Ukraine and the Air Force One replacement programme it negotiated with former US President Donald Trump. (New York Times)
Wry & Dry comments: Boeing took a $660m charge for the construction of two Air Force One jets. Boeing quoted $3.9 billion to provide the two aircraft. Costs have risen.
Data
US GDP unexpectedly fell in the March quarter, down 0.4%.
The Russian finance minister said Russian oil production may drop as much as 17% this year.
US mortgage applications have fallen sharply to be 44% lower than the 12-month average.
India has urged its states to increase coal imports for the next 3 years to cope with rising electricity demand.
And, to soothe your troubled mind…
"The best thing of all is to take the enemy's country whole and intact; to shatter and destroy it is not so good"
Sun Tzu, The Art of War.
Just pondering Tsar Vlad's methods. And thanks to Reader JZ for the quote.
PS The comments in Wry & Dry do not necessarily reflect those of First Samuel, its Directors or Associates.
Cheers!
Anthony