Is this as good as it gets? French election: war chest. Pacific Minister?
Whilst pouring your Perrier-Jouët Belle Époque…
Australian election: Is this as good as it gets?
French election: war chest
Minister for… the Pacific? Really?
Albo's smaller target
Unclear on the concept 1
Dan's trams
Sleepy Joe's bunny
At the bookies'
History
Geography
People
Habits
Whilst enjoying your Perrier-Jouët Belle Époque…
Is this as good as it gets?
Wry & Dry chose sorting his sock drawer over watching the first election debate between PM Jimmy Morrison and Wannabee PM Albo.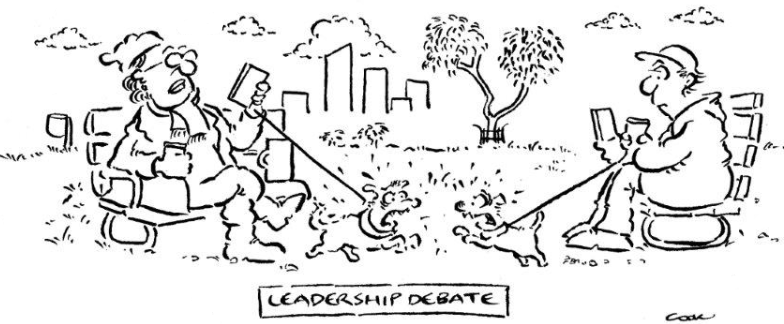 And having read the media reports on the wordfest, he senses he made the right decision. And is moved to ask the question, "Is this is as good as it gets?"
So it seems.
As Readers know, Jimmy is an accident-prone, accidental PM; a late-in-the-night compromise between Croesus Turnbull and Yee-ha Dutton.
Albo is a different kettle of fish. Or is it just Buggins' turn?1 He got his role as Leader of the Opposition because of seniority – he is the longest serving Labor MP in the House (along with Joel Fitzgibbon, who is retiring at this election), and has risen without trace in his 26 years in parliament.
Trouble is, winning the election is a poisoned chalice. The halcyon days of low interest rates are over. Inflation is set to launch. And seriously tough decisions need to be made on how to pay for the inevitable increased defence bill and the explosive costs of the NDIS.
Actually, no. "Tough decision" is no longer in the lexicon of government. Jimmy's last seriously tough decision was whether to give Barnaby ten or twenty billion dollars for National Party electorates. And Albo's was whether to choose the hound's-tooth or pin-stripe new suit in his recent makeover.
The bigger issue is how each is going to pretend that the upcoming change in the national language of the Solomon Islands to Mandarin from English is not portentous.
Sigh.
1A disparaging British term for appointment to a position on the basis of seniority rather than merit.
French election: war chest
Macron De Gaulle, the French President, has introduced a new election tactic: a hairy chest that would do credit to King Kong.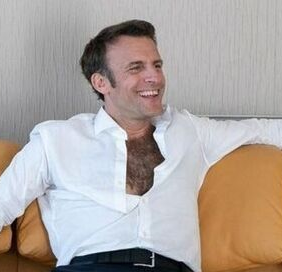 The second round of the French presidential election is on Sunday. And Macron De Gaulle is facing Marine Le Pen, the somewhat right-wing politician and erstwhile Tsar Vlad champion. The polls are close.
So Macron De Gaulle decided to capture the young/ female vote and soften his image by revealing body areas hitherto not visible to the naked eye. So to speak.
Readers will recall that former PM The Abbott bared considerably more than a hairy chest when he successfully campaigned, wearing nothing but budgie smugglers2.
Wry & Dry considers that this is an election tactic that Jimmy Morrison could adopt. Well, almost. Jimmy's girth has expanded over the journey, it seems. So perhaps just XXXL pair of board shorts will do. Chosen by Jenny, of course.
2A colloquial Australian noun that refers to a pair of tight-fitting men's swimming trunks. Whilst it was thought (by men) to turn every bloke into Greek statuary with a fig leaf of nylon covering, it mostly revealed male vanity. Speaking of which, former PM Bob Hawke also fancied the item, and certainly wasn't shy in releasing the budgie from its covering. Budgie is an abbreviation for budgerigar, a small native parrot.
Minister for the Pacific? Really?
Did Readers know that Australia has a Minister for the Pacific? Wry & Dry shamefully admits that he did not.
Senator Zed Seselja3 is the man person. Well, so it appeared after articles in the media just before Easter:
"Minister for the Pacific Zed Seselja has flown to the Solomon Islands in a last-ditch bid to convince Prime Minister Manasseh Sogavare not to sign a security pact with China…"
It seemed that PM Jimmy Morrison had located both the Solomon Islands and this hitherto unknown minister. And leapt into action.
Wry & Dry might be forgiven for asking what has this Minister been doing all this time? Not that it now matters. The rot started, as Wry & Dry has so often stated, when Julie Bishop, the former foreign Minister decided that the shopping was better in Paris than in Honiara. So Australia disappointed the Solomon Islands as a cargo cult4 fulfillment service.
But Emperor Xi did not. He instructed his mandarins to use the same technique successfully used in parts of Africa: b*****y.5 It was in 2019 that the Solomon Islands dropped its recognition of Taiwan. Since then there has been action aplenty.
The signing of the security pact was announced on Tuesday not by a Solomon Islands' person, but by a Chinese foreign minister spokesman. Which shows who now pulls the strings.
Wry & Dry gives Emperor Xi five weeks to dock the first ship containing Chinese infrastructure building accoutrements and 'security forces'. And then Barnaby will be able to see China from his bedroom window.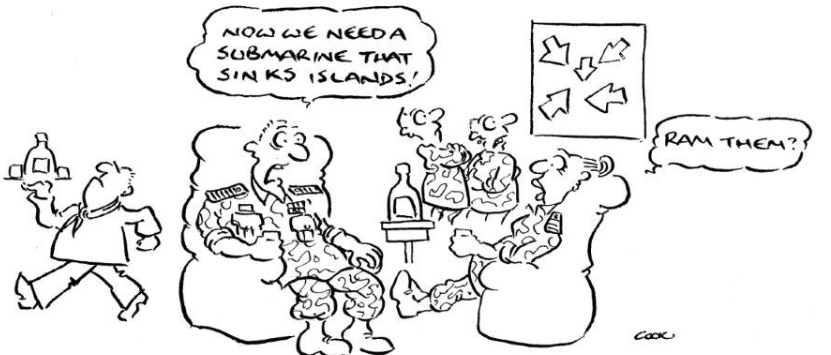 3Zed is a former Chief Minister of the ACT (as is the other ACT Senator, Katy Gallagher – better known as one of the 'Mean Girls'). His place on the political spectrum is best described as being the same as former PM Abbott, although he is a Republican.
4A Melanesian system of belief based around the expected arrival of ancestral spirits in ships bringing cargoes of food and other goods.
5Readers can fill in the blanks. Of course, there is nothing corrupt about China contributing to the National Development Fund, a slush fund controlled by the Sogavare government; or providing MPs with all expenses-paid, including daily cash allowances, trips to China; or other, err, arrangements.
Albo's smaller target
The news today is that Wannabee PM Albo has covid. And therefore is self-isolating.
Contrary to media thinking, Wry & Dry considers this a plus for Albo. It gives Jimmy Morrison seven days to campaign on his own.
And seven days to have his regular gaffes be the sole item on the evening news.
Unclear on the concept
Former leader of the UK Labour Party, Jezza Corbyn, said that NATO should be disbanded to enhance the prospect of peace.
Wry & Dry suggests that Jezza flies to Mariupol and organises a leafleting campaign among the Russian soldiers. That should do the trick.
Dan's trams
In last year's Victorian government budget, $1.48 billion was allocated to the purchase of 100 new trams.
The government this week signed the $1.85 billion contract.
Sensible fiscal management would suggest that the government hold the price paid to $1.48 billion quoted and reduce the number of trams purchased.
Silly, Wry & Dry. This is Chairman Dan's government. Hang the expense!
By the way, at $14.8m for each tram, that is about one quarter of the cost of a new Boeing 737-800 series aeroplane. Wry & Dry can only assume that as the trams are not required to fly they must be really, really, special. Perhaps each having a first class compartment; uni-sex/gender toilets; a galley; bar service and tram attendants smartly dressed in Yarra Trams livery.
Sleepy Joe's bunny moment
The White House continues to be creative in trying to stop Sleepy Joe from making off-the-cuff gaffes remarks.
At an annual White House Easter event, Sleepy Joe began to talk about Afghanistan and Pakistan. "Pakistan should not and Afghanistan should be — people should be free…" he started, before a giant Easter bunny stepped in front of him and ushered him away.
It is refreshing that the Easter bunny is now directing the President of the USA. But how will Sleepy Joe manage between now and Thanksgiving, when a turkey will then guide his mind?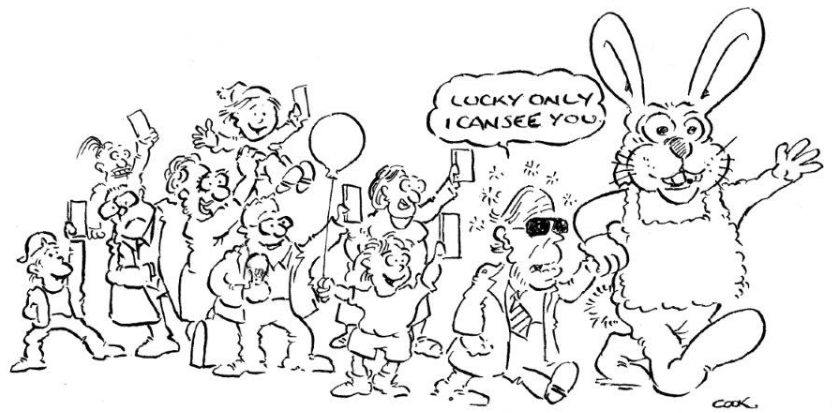 At the bookies'6
It's time to get serious about the election. And win some dosh. The below are some of the latest odds.
Coalition majority $2.95
Coalition minority $5.00
Labor majority $2.40
Labor minority $3.75
6 Source: Sportsbet
History: Pakistan's all in the family
Well, the Prime Minister of Pakistan, former test cricket great Imran Khan, has had his middle stump uprooted, so to speak. Khan instantly blamed a US-backed conspiracy. Of course. In the same way that if Albo loses the upcoming Australian election, a US-backed conspiracy will be blamed. Or Rupert Murdoch.
Mr. Khan has been succeeded by Shahbaz Sharif, the brother of a former Prime Minister. Sharif's task will not be easy. Readers will remember that Pakistan has the world's second largest Muslim population and has nuclear weapons. Inflation is soaring and there are a couple of million Afghan refugees to house and feed. Wry & Dry wishes him well with his projects.
Meanwhile, Mr. Khan is now down at the Lahore CentreLink office, filling in forms.
Geography: China's peak population
Last week Wry & Dry reviewed Russia's population plight. That plight is a declining population caused by net emigration, low fertility rate and falling life expectancy.
This week, it's China's turn to go under the microscope. Essentially, experts now say that its population will peak this year, a decade ahead of forecast. The problem is a blend of a low fertility rate and a decline in the number of women of child-bearing age (16-44).
The global gender ratio of those years is 102 men to 100 women. In China there are 109 men to every 100 women.
Of course, Emperor Xi has a solution. Do what Tsar Vlad did: annexe a plot of land nearby. Taiwan is the objective. This would add 24 million souls to China.
People: Ukraine – the reason why?
In universities across the globe, beard-wearing, pipe-smoking, self-assured and earnest academics of both sexes and all genders are furiously penning dissertations on the theoretical context of the Russo-Ukrainian war. Why?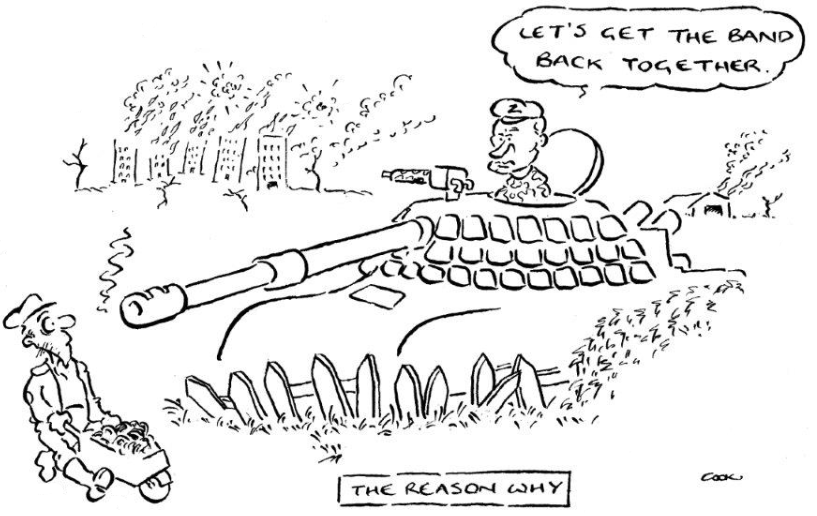 Is it of Dallmayr's (Civilizations and World Order) competing cultures? Maybe, but Russians and Ukrainians are culturally similar.
Or of Fukuyama's End of History? Maybe, but democratic capitalism's triumph is not yet assured.
Or of Makinder's Heartland theory? Maybe, but he didn't foresee technology overbalancing geography.
Or of Huntington's Clash of Civilizations? Maybe, but he didn't foresee the alignment across civilizations that the war has caused.
Let Wry & Dry give these fine academic folk the whisper. There is no theoretical context. The reality is that the world doesn't make sense.
Ultimately, it's not about theories, ideas or values. Countries and those who lead them only have interests. Surely it's better to understand those interests rather than posit a theoretical framework.
Oh, where is Lord Salisbury9 when needed?
9 Lord Robert Cecil, 3rd Marquess of Salisbury was a late 19th century politician and arguably, Britain's greatest Foreign Secretary. A brilliant, if somewhat aloof pragmatist, he preferred diplomacy over war. But recognised the importance of force as a kernel of diplomacy. He successfully juggled Britain's interest in a world of lopsided multipolarity. He was also thrice Prime Minister, and the only one to sport a full beard. At 193cm, he was also the UK's tallest prime minister.
Habits: stamps
The latest Ukrainian postal stamp sold out in a week. It shows a Ukrainian soldier raising a middle finger at a Russian warship.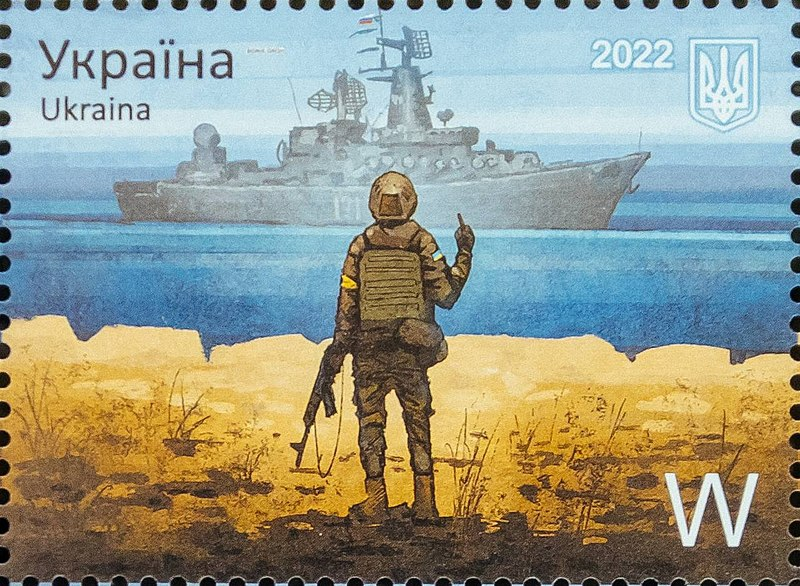 The image relates to an incident early in the conflict, when a Russian warship demanded the surrender of a small group of Ukrainian fighters guarding a rocky island in the Black Sea.
The gesture by the fighter was a visual representation of the profane phrase one of the island's defenders used in a radio transmission, in which he told the warship where to go.
The stamp's face value is under $2, but they are already selling on eBay for $1,000.
Snippets from all over
1. US rates up by 0.5%?
[Fed Chairman] Mr. Powell said… that raising interest rates by half a percentage point at next month's meeting will be "on the table." (New York Times)
Wry & Dry comments: The S&P500 fell by 1.5% last night, in response.
2. China's GDP forecast slashed
The World Bank cut its global growth forecast for China for 2022, to 3.2% from 4.1%. (Financial Times)
Wry & Dry comments: The bank pointed its finger at Russia's invasion of Ukraine. With friends like Tsar Vlad, does Emperor Xi need enemies?
3. Sri Lanka's debt woes
Sri Lanka's finance ministry has suspended payments on its government bonds. (New York Times)
Wry & Dry comments: Sri Lanka is now a failed state, with a government decision to cut taxes compounded by an economic downturn and a reliance on tourists from Russia and Ukraine causing bare coffers. It is seeking to renegotiate debt with its creditors, the largest of which is China.
4. Borisconi a criminal
Boris Johnson became the first British prime minister found to have committed a criminal offence while in office, after police fined him for an illegal birthday party held at Downing Street during a Covid-19 lockdown. (Financial Times)
Wry & Dry comments: Borisconi will wear the epithet with pride.
5. Trump's son-in-law in the gravy
Jared Kushner secured a $2 billion investment in his private equity firm from Saudi Arabia's sovereign wealth fund just six months after the end of the Trump presidency. (The Times)
Wry & Dry comments: He married well.
Data
Inflation in New Zealand hit a 32-year high of 6.9%.
Inflation in the US hit 8.5%, the highest since 1981.
Netflix reported that it lost 200,000 users in the December quarter. It's share price dropped 25%.
And, to soothe your troubled mind…
"How can you negotiate with a crocodile when it's got your leg in its jaws?"
Boris Johnson, UK Prime Minister, speaking of the difficulty of Ukraine negotiating with Tsar Vlad.
Borisconi seemed to be channelling his hero, Winston Churchill. Churchill said of the appeasers of Hitler before the Second World War, "An appeaser is one who feeds a crocodile, hoping it will eat him last."
PS The comments in Wry & Dry do not necessarily reflect those of First Samuel, its Directors or Associates.
Cheers!
Anthony