Enjoy Wry & Dry: a cynical and irreverent blend of politics, economics and life.
Seven stories you may have missed
Sleepy Joe's real reason for not coming to Australia
How to paint a debt ceiling
Cane toads
Two views on China
Unclear on the concept
Nikkei starts to catch up
Albo losing his Voice
Sleepy Joe's real reason for not coming to Australia
Sleepy Joe has decided to cancel his trip to have gumnut tea and a lamington with Albo. His acolytes say it's all about the need to remain close to home to negotiate the raising of America's 'debt ceiling' (the fuss about which is entirely the fault of the Democrats – see more, below).
Nuh.
The real reason is the worry that Sleepy Joe might fall victim to the food on the Jetstar flight to Sydney. And return to the US in a more horizontal position than is usually found on Jetstar. Then follows Armageddon: Kamala Harris would get the gig in the White House, at which she has already been measuring up curtains.
Readers will recall the final years of Ronald Reagan's presidency (he was 73 on starting his second term). Reagan gave every indication of being a marionette, controlled by invisible strings directed by unknown hands; with Nancy, his wife, on hand as a mobile ventriloquist.
Now look closely at Sleepy Joe (who will be 82 if he is elected for a second term). His speech seems not to be synchronised with his lips, much like pilot Scott Tracy in the Thunderbirds (with Jill Biden as Lady Penelope).
Gotta keep him alive for anther 20 months. Or insert one of those new memory chips…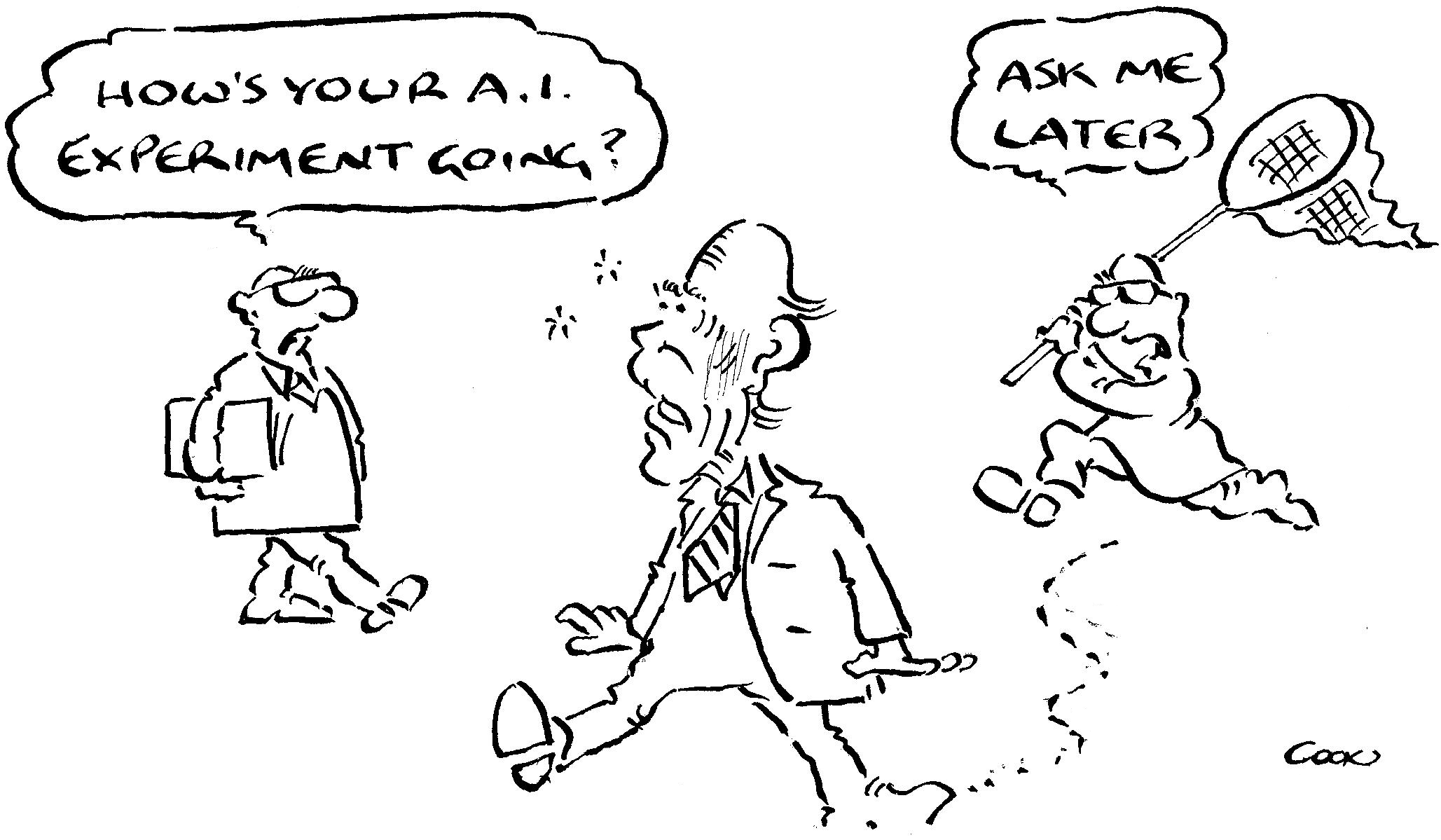 How to paint a debt ceiling
It's much ado about nothing. Actually, it's about a lot: US$31.4 trillion. The problem is that the US government keeps on borrowing. And has hit its self-imposed debt ceiling1.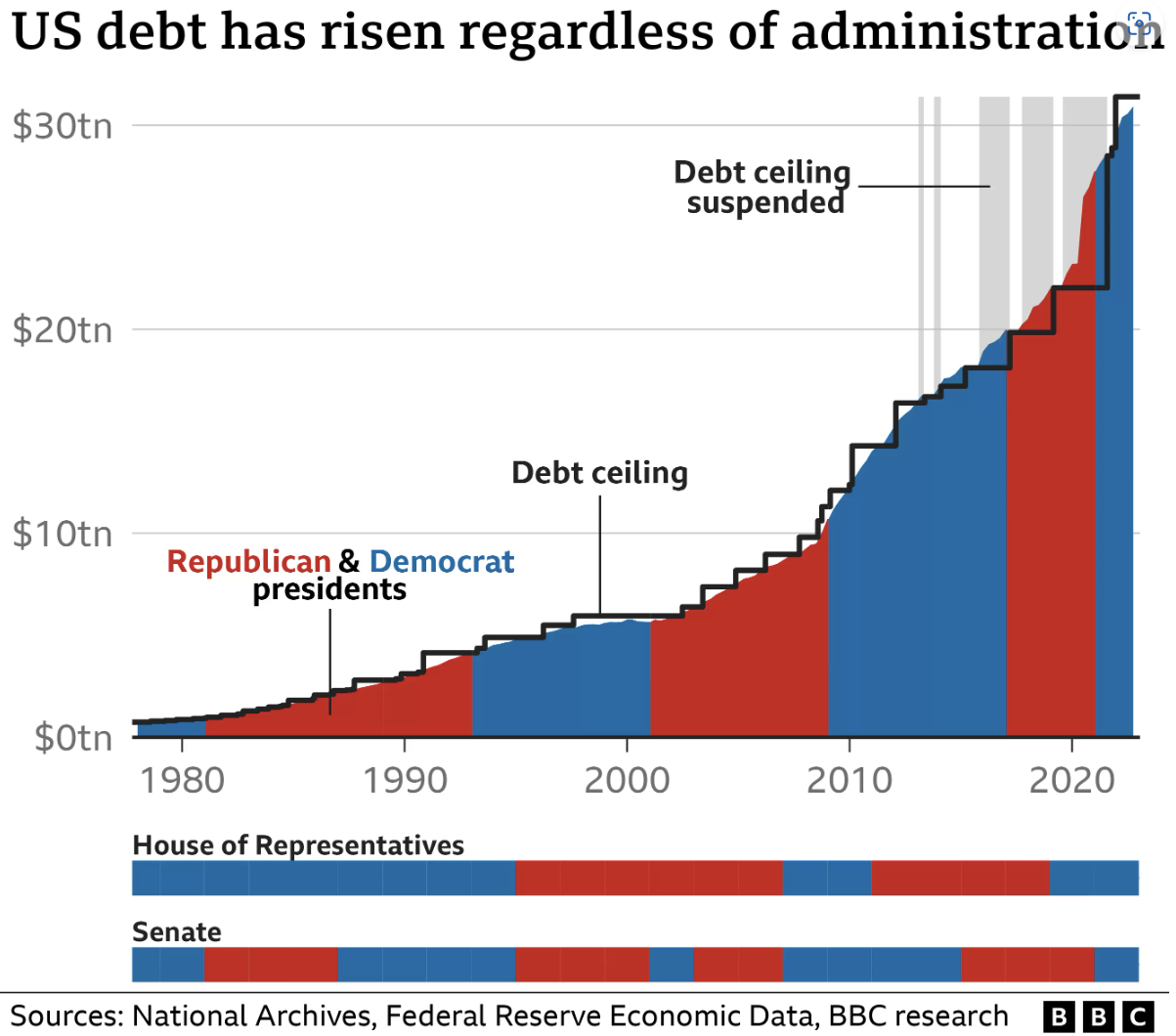 If the debt ceiling isn't re-painted, i.e. raised, the government cannot administratively pay its bills. Importantly, this is different from being unable to pay its bills. The land of the free and the brave has the wherewithal to pay.
It's a Mexican stand-off. On the left of the corral is Sleepy Joe and his Democrat congress-people. To the right are the Republican congress-people. All agree the ceiling must be lifted.
Those on the right want $4.8 trillion of spending cuts over 10 years and the evisceration of Sleepy Joe's Inflation Reduction Act (IRA).
The IRA is a "moonshot package of tax credits and bungs for electric vehicles, energy storage, clean fuels, solar, hydrogen, smart grids, and carbon capture." And those on the left will defend it with their lives. Or, more accurately, the pockets of their children.
The technical reality is that this standoff is the fault of the Democrats – they could have raised the debt ceiling when they controlled Congress last year. But they didn't.
The fiscal reality is that it's the fault of incompetent presidents. Both the Trumpster and Sleepy Joe ruined the balance sheet of America, the former with tax cuts, the latter with spending largesse.
The repair of that balance sheet will happen with the next intersection of a competent president and a fiscally sensible Congress. That means… never.
1 This ceiling limits the total amount of money the government can borrow to pay its bills. This includes paying for federal employees, the military, Social Security and Medicare, as well as interest due on the national debt.
Cane toads
Next Tuesday, cameras will zoom in on the depleted coffers of the Peoples' Republic of Victoria in Chairman Dan's state budget.
Q. What will Chairman Dan blame for what will be Victoria's record debt?
a. Policies enacted to save Victorians from covid;
b. Higher interest rates;
c. Federal government not chipping-in more funds;
d. Scott Morrison for his GST deal that favours WA;
e. Queensland cane toads;
f. Aliens; or
g. Uncontrolled spending prior to covid and a massive increase in public servants.
A. Close but no cigar. The correct answer is all of the above, except g. But, really, this is politics. Any leader in his position would do the same. And not remember why…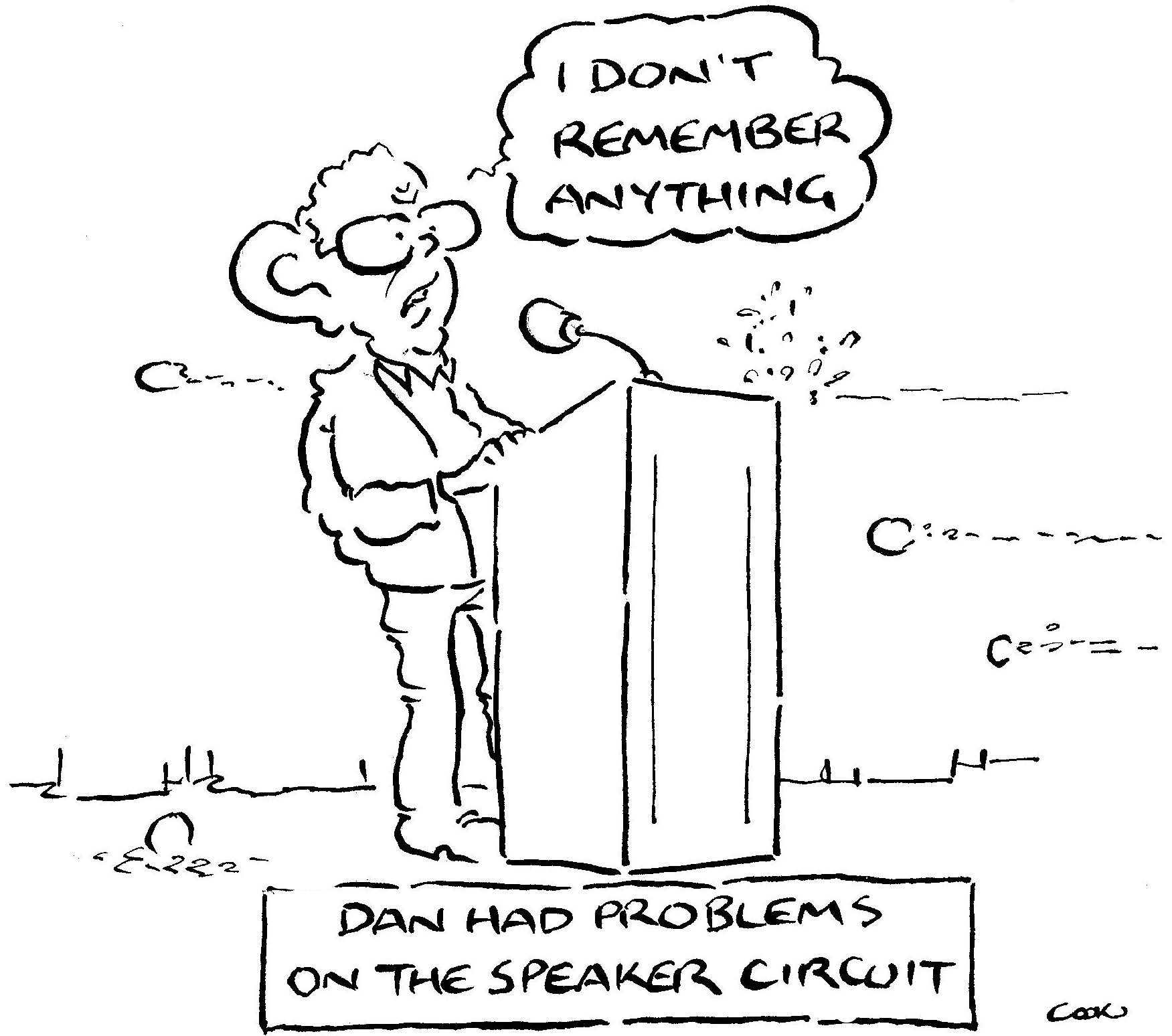 Two views on China
Readers interested in China's role in the world might be well served by comments from two experts. The first is one of the leading historians of the modern era. The second, arguably, the world's greatest diplomat since the nineteenth century.
So, firstly, Niall Fergusson focussing on China and Australia's defence preparedness.

Secondly, Henry Kissinger more broadly on China. Readers should read this week's compelling article in The Economist. Wry & Dry offers the on-line link: Henry Kissinger explains how to avoid world war three (economist.com), but suspects only subscribers will be able to access it. It will be worth a trip to the newsagency to buy a copy.
The key takeaway from the article is that Kissinger warns against misinterpreting China's ambitions. In Washington, he says, "They say China wants world domination…" Kissinger's view is that they in China just want to be powerful. China's not heading for world domination in a Hitlerian sense. "That is not how they think or have ever thought of world order."
Wry & Dry, still ploughing through Kissinger's latest book, Leadership: Six Studies in World Strategy, and having read his On China, senses he (Kissinger) has a misplaced view of China's intentions. In particular his views on China are shaped by his advice to Nixon for the latter to trade away Taiwan's future to save Nixon's election chances. 2
Readers can make up their own minds. Enjoy both.
2 Mao Zedong and Zhou Enlai comprehensively out-negotiated Nixon and Kissinger (although the latter would never concede this) on Nixon's first visit to China in 1972. Nixon was desperate to bring a closure to the war in Vietnam before the 1972 elections, by trying to wedge China and Russia. China was prepared to agree, but only on the basis of recognition of Beijing 'owning' Taiwan. Nixon folded, Taiwan was sacrificed, Russia was wedged, Lec Du Tho (North Vietnam's key diplomat) came to the table, and peace negotiations almost finalised before the 1972 US presidential elections. Nixon won in a massive landslide.
Unclear on the concept 1
Italy has been granted €200 billion of the EU's Covid-19 recovery funds. Many of the projects are worthy: new railway lines, health clinics, etc.
But Italy is, well, Italy. Some €148.5m of bids for stadium projects in Florence and Venice (a floating stadium?) have already been axed by the EU. Consider some of the projects that are still in the pipeline:
€1m to build a new solar-powered health facility for stray dogs and cats;
€800,000 to finish a horse racetrack that was started 30 years ago;
€125,000 for a new Christmas nativity scene; and
€200,000 to renovate a grappa museum in a village of 242.
Gotta love the waste.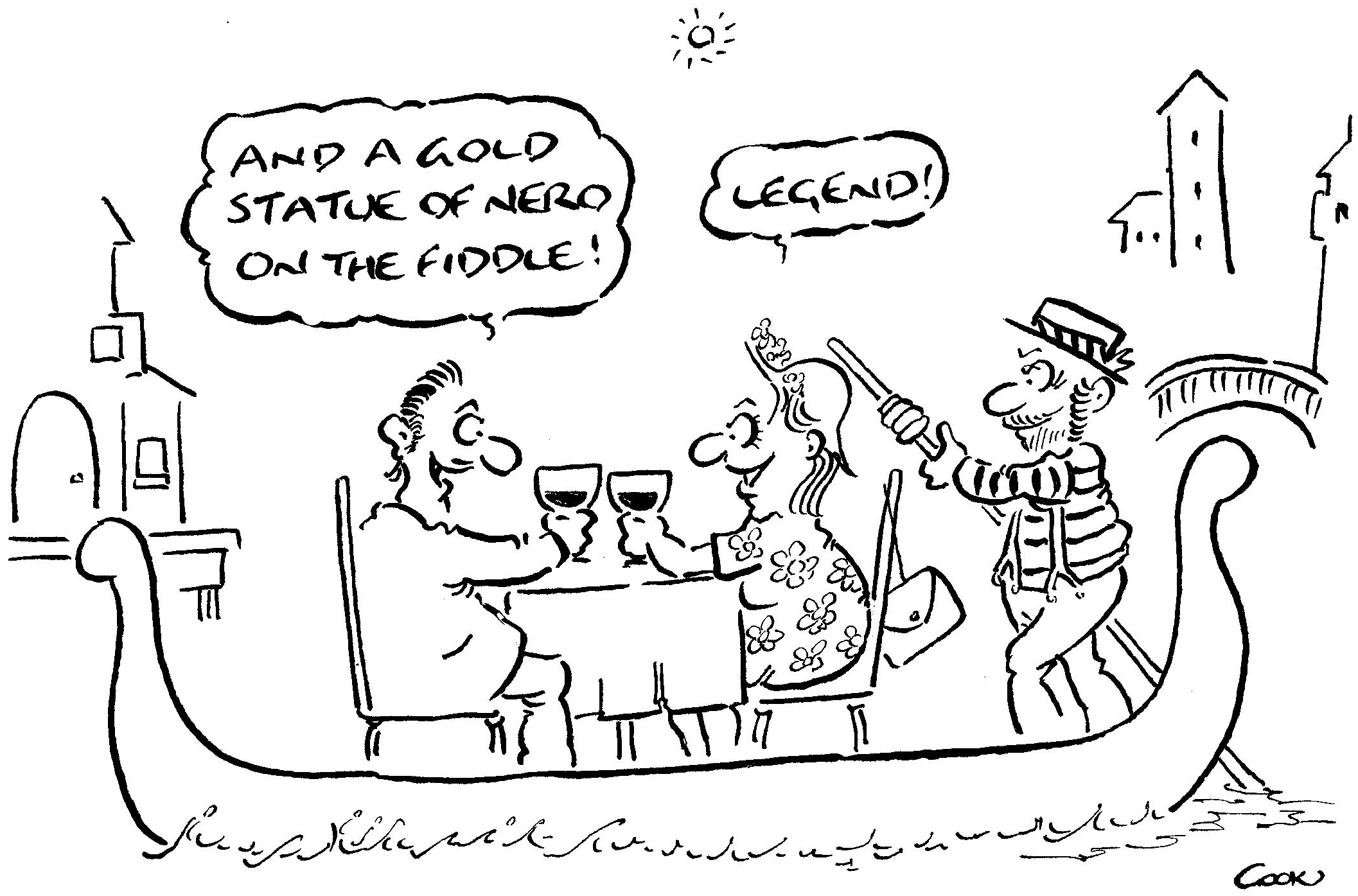 Unclear on the concept 2
Paris is hosting the 2024 Olympic Games. M. Macron promised that the games would be the "People's Games."
The cheapest seat for the opening 'pageant' will cost €2,700 (A$4,300).
Nikkei starts to catch up
The headline was slightly misleading, if factual: "Japan stock index hits 33-year high."
Indeed, it did. But, as Readers can see, the Nikkei (Japan's rough equivalent to the ASX300 or the S&P 500) never really recovered from the 1989 crash. Or the Tech-Wreck. Or the GFC for that matter.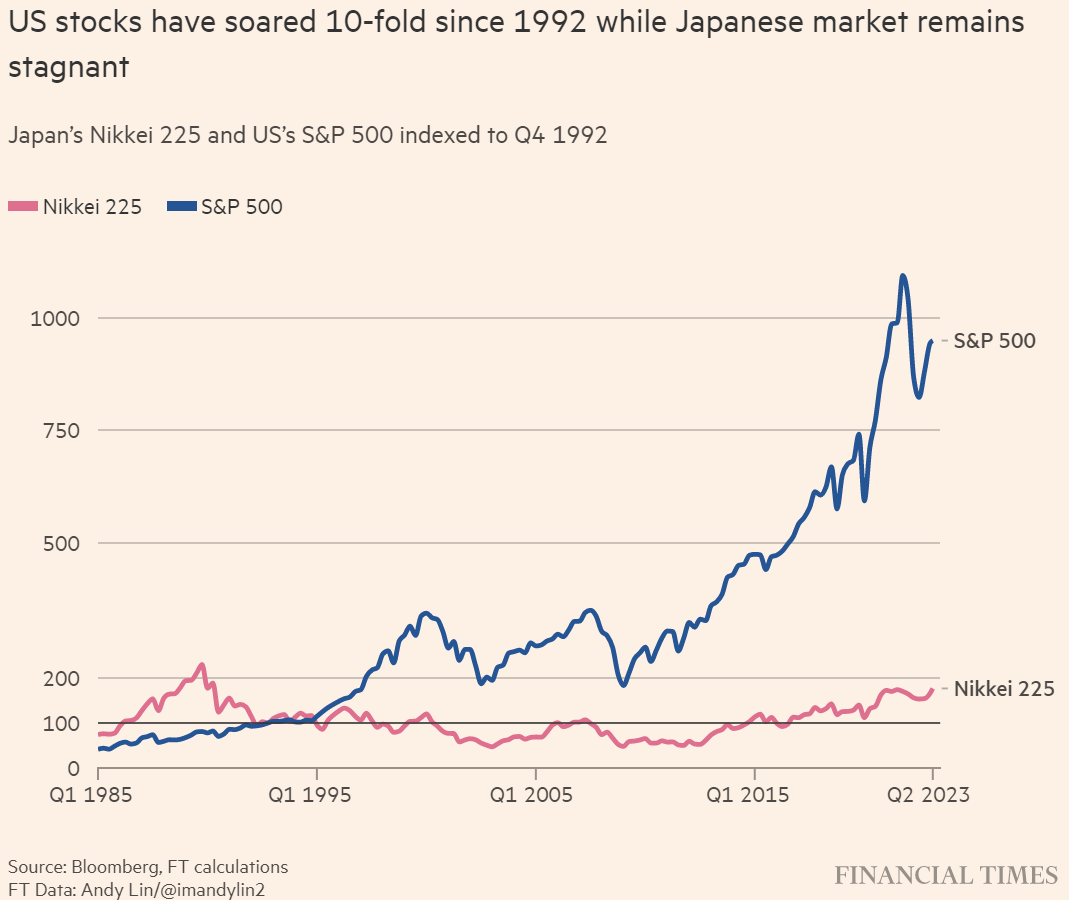 Japan seems to be benefitting from the fact that it's not China. Readers should hope that it is not a false dawn of the rising sun.
Albo losing his Voice?
Readers would have seen the polling in Wednesday's Nine newspapers (Age and SMH) that showed support for the Voice has fallen sharply to 53% from 58% a month ago.
The Yes vote is worse than it seems. To succeed, the Yes vote must have a majority of voters in a majority of states. Queensland is already voting No and Tasmania and South Australia just above 50% for Yes.
Wry & Dry posits that a continuation of these trends will see Albo postponing the vote until after the next election.
Hats off to Chairman Dan…
…well, for one day.
Reports emerged from Chairman Dan's Treasury bunker on Tuesday that plans are afoot to replace once-off property stamp duty with an annual land tax. This is a very good idea. It's about time that some of the boffins in Treasury started looking at an alternative to the progressive, un-indexed, price escalating and mobility restricting tax.
Over a third of Victoria's revenue comes from property stamp duty. The problem is, of course, that it is a very volatile revenue source.
Readers shouldn't worry that a change to a land tax would cause a hole in the state's budget. Aside from the fact that the budget hole is bigger than Zimbabwe's, there are solutions. Any smart investment banker worth his Porsche would have already been down to Spring Street to tell the lads and lasses that the problem is easily fixed: a regular issue of bonds to match the revenue forgone, with the interest paid by the hypothecation of the new land tax.
Sadly, on Wednesday, Chairman Dan squashed the idea even before the ink was dry. Hero for a day.
Princess Harry legal update
Wry & Dry is concerned that Princess Harry's predilection for lawyering-up is beginning to cost him a bit of dosh. Consider that he is suing five groups in separate actions:
The UK Home Office, for not paying for his bodyguards
Mirror Newspapers, for unlawful information gathering
News Group Newspapers, for unlawful information gathering
Associated Newspapers, for unlawful information gathering
Associated Newspapers, for libel
Who was the character of Cervantes?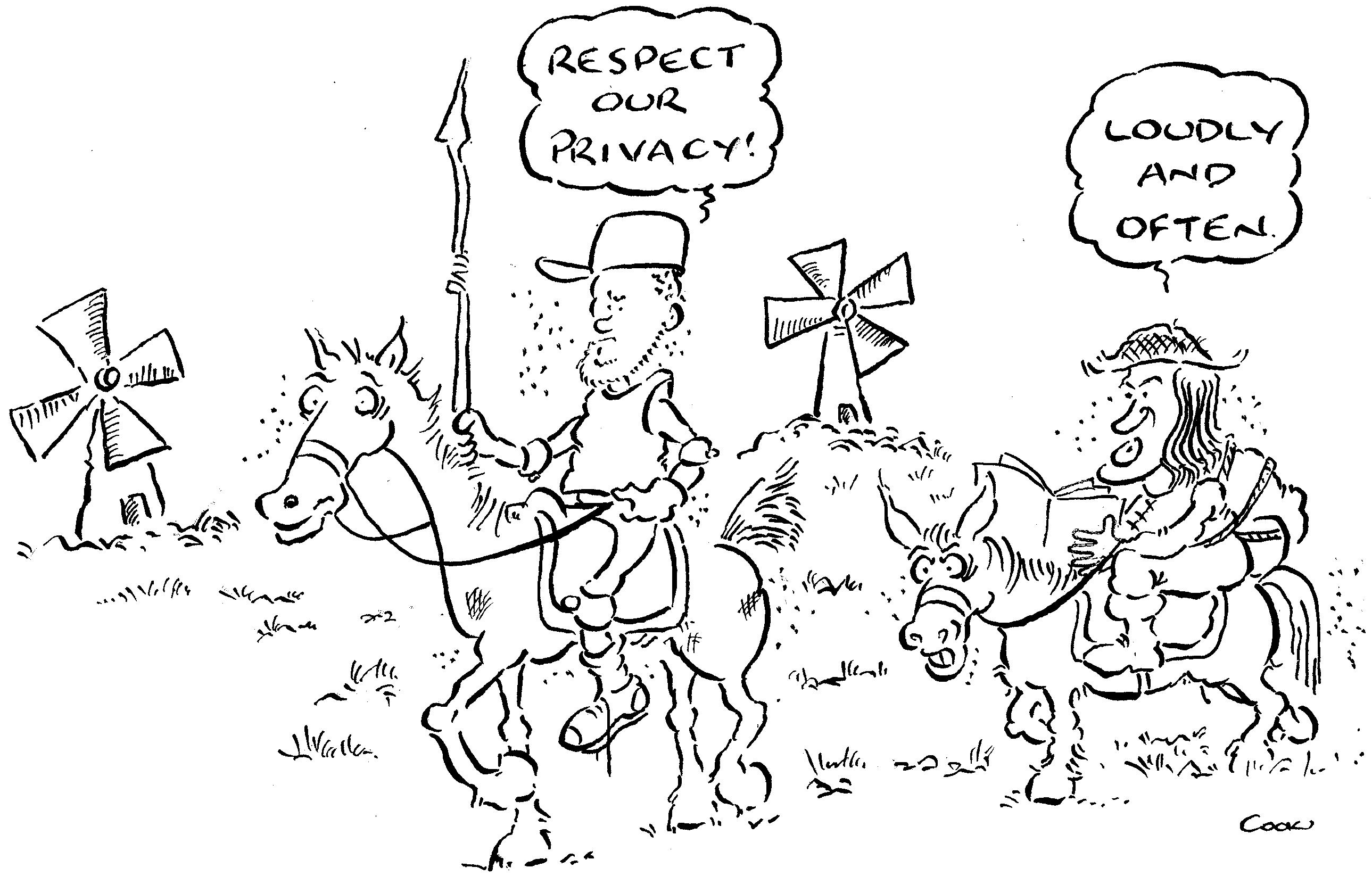 Experts observe that even if he wins all five and is awarded costs, he will not get back all his costs. And could find his wallet thinner by £500,000 (A$940,000).
But that, it seems, is not his biggest problem. And that problem is one that he failed to recognise in the past: he is not interested in settling the four cases against the media (as his brother has done in past), preferring to air as much dirty laundry as possible. Which, similar to his faux autobiography, reduces feelings of warmth in that sceptr'd isle.
The end of the BBQ in Victoria?
Chairman Dan's expert advisory panel on emission reductions has effectively recommended the banning of BBQs from 2035.3
This is because it wishes to phase out the use of natural gas. Over two million Victorians use natural gas in their homes and businesses. And in their BBQs.
Wry & Dry guesses that this now means Readers (in Victoria) will have to go out and chop down trees, to use the wood as fuel. Or have electric BBQs. Really?
3Independent Expert Panel for the Victorian 2035 Emissions Reduction Target
Contests
Wry & Dry thought that Eurovision was one of those retail eyewear companies.
But no. Apparently, it's an awful and cheesy song contest for European countries from all over the globe. Consider the geography: Australia, Georgia and Israel had entrants.
But there was an obvious omission. Where was the entrant from the Vatican? Clearly, such an entrant was prohibited, on grounds of discrimination. Really, for fear of divine assistance.
Sweden again provided the winner, making it a record-equalling (with Ireland) seventh time. Its first success came in 1974 with an obscure band named ABBA.
Nice work, if you can get it
Borisconi earned £164,080 when he was prime minister.
Since getting the DCM he has earned nearly £5 million, including a £2.5 million advance from a speakers agency. He has also been paid a £510,000 advance for his memoirs.
He might consider giving some of his earnings back to they-the-British-people for the damage he did to them.
Snippets from all over
1. SQ pays staff bonus of 8 month's salary
Singapore Airlines will pay staff a bonus of around eight months' salary after posting a record annual profit. (Bloomberg).
Wry & Dry comments: Just waiting for Alan Joyce, Qantas' CEO, to make a similar announcement following Qantas' record profit. Waiting. Waiting… [cue sound of crickets].
2. Central banker on the run
France issues an international arrest warrant for Lebanon's central bank chief. (Le Monde)
Wry & Dry comments: In March 2022, France, Germany and Luxembourg froze assets worth €120 million ($130 million) believed to belong to him. Excellent investing, of course.
3. Trumpster's lawyer sued for lots
Rudy Giuliani is being sued by a former employee who accuses the former New York mayor of "wide-ranging sexual assault and harassment". (The Times)
Wry & Dry comments: Notice the trend?
4. The ghost of Jeffrey
A. Elon Musk has been subpoenaed in connection with a lawsuit accusing JP Morgan of facilitating late sex offender Jeffrey Epstein's human trafficking operation in the US Virgin Islands. (New York Times).
B. Deutsche Bank has agreed to pay $75m to settle a lawsuit brought by an unnamed woman who alleged the lender had benefited from human trafficking by retaining Jeffrey Epstein as a client despite numerous red flags. (Financial Times)
Wry & Dry comments: An early lesson from law school is to sue the deep pockets. JP Morgan and Deutsche Bank have very deep pockets.
5. China sentences 78-year-old to life
An American in his late seventies has been sentenced by a Chinese court to life imprisonment for spying. (The Times)
Wry & Dry comments: John Shing-Wan Leung, a permanent resident of Hong Kong, has already been held for two years.
6. Greece is the word
More than a decade after bailouts and austerity measures pulled Greece from the brink of bankruptcy and a eurozone exit, the country has rebounded and is on the cusp of regaining its investment-grade rating. (Financial Times)
Wry & Dry comments: A full upgrade would put Greece at triple B minus, the lowest investment grade rating.
Data
Australia's unemployment rate rose to 3.7%, well above the expected 3.5%.
Westpac's index of consumer confidence dropped 8%, reflecting a "disappointing federal budget" and the surprise RBA interest rate increase.
Japan's economy grew at an annualised rate of 1.6% in the March quarter, much higher than the expected 0.7%.
And, to soothe your troubled mind…
"Covid debt's a bit more like a credit card, and we have to get that balance back down to zero…"
Dan Andrews, Premier of Victoria, speaking ahead of Victoria's state budget on Tuesday.
Chairman Dan clearly failing to realise that debt is debt.
PS The comments in Wry & Dry do not necessarily reflect those of First Samuel, its Directors or Associates.
Cheers!
Anthony Starkins