Budget: what if…? Sleep-talking. Not since a Jimmy Choo shoe was lost.
Whilst pouring your Perrier-Jouët Belle Époque…
It's a bumper issue, again, this week. There's been a lot going on:
Budget: what if petrol excise was zero?
Sleepy Joe: sleep-talking
Not since a Jimmy Choo shoe was lost…
Who: would stay & fight?
Mr. Zelensky: comes to Canberra
China: wants to talk trade. The EU doesn't
Unclear on the concept
Would the last person leaving Melbourne…
This pork barrel contains…
History: Pakistani cricketer in trouble
Geography: Go south, young man!
Money: how to get rich
Habits: revenge, a dish best served…
Whilst enjoying your Perrier-Jouët Belle Époque…
The Budget: what if …?
Of course the budget was full of election goodies. Good grief, why are the media surprised? That's not to say that it didn't raise some concerns in Wry & Dry's rheumy eyes:
Road and rail
Queensland, New South Wales and South Australia get billions for road and rail projects. Victoria gets $3.1 billion for an 'Intermodal Terminal Package'. It's difficult for Wry & Dry not to be excited about an Intermodal Terminal Package. Really excited. Really. Um, what's an 'inter-modal terminal package'?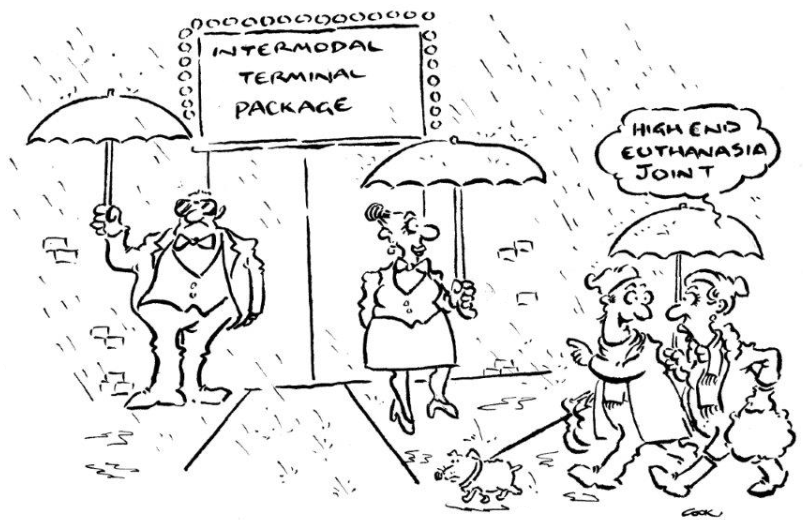 Cost-of-living
Billions will be wasted because the 'cost-of-living' has gone up (see below). Does this mean when the cost-of-living goes down we will have to pay more to the government?
GST top-up
Windfall gains from higher iron ore and coal prices (via company taxes paid by BHP, etc.) have not been 'banked', but rather sent to Western Australia to pay for the $4.4 billion 'GST top-up' deal negotiated by Jimmy Morrison when he was Treasurer in 2018.
Pork Beef barrel
Readers might have heard of Rockhampton, in the heart of the Deep North of Queensland. Which sits on the border the federal electorates of Capricornia and Flynn.
There was an 11% swing to the Coalition at the 2019 election to win Capricornia from Labor, based solely on One Nation preferences. Similarly with Flynn, where One Nation preferences pushed the Coalition over the line.
Tuesday's budget earmarked $6m for Beef Week 2024, in Rockhampton. Wow!
Wry & Dry can only assume that One Nation voters are beef producers/ eaters/ breeders. And waits for the announcement of $6m for Vegan Week in electorates of Kooyong and Higgins.
Imagine….
…there was no petrol excise. And the price of petrol sharply rose because the price of oil did the same (for whatever reason). Would the government provide a cash subsidy to car drivers of $0.22 per litre, costing some $8 billion?
Nuh. Why not? Surely, the principal is the same… That example shows just how bereft of sanity is the government's action. It's nuts. And the benefit will be wiped out overnight if the price of oil again rockets.
And it gets worse: The Man Who Never Was1 says he will pass this item in the budget. Well, no surprises there. Fiscal rectitude has never been a hallmark of Labor.
PS Wry & Dry expects Jimmy Morrison to visit Buckingham Government House this weekend.
1Anthony Albanese
Sleepy Joe sleep-talking, but who cares?
Just when Tsar Vlad had seemingly painted himself in a public relations/ military/ economic corner, someone provided the instant dry. An ad-libbing comment of Tsar Vlad that "for God's sake, this man cannot remain in power," seemed a perfectly sensible idea.
Tragically, the speaker was Sleepy Joe. Err, tell me Mr. President, how do you propose to undertake this change? Ask the Brits to send in James Bond?
Actually, it didn't matter. Macron De Gaulle gave his two franc's worth a nano-second later. And then the sound of crickets.
Y'see, this is the type of comment that is now expected of Sleepy Joe. He is in office, but not in power. Rather like an unemployable member of the British aristocracy, who has wealth aplenty. A Botoxed Bertie Wooster, as it were.2
A menagerie of members of cabinet and senior bureaucrats now run the USA. The menagerie has a difficult task: pretend until November 2024 that Sleepy Joe's mind still has a semblance of cognitive capacity. Because if it were proven otherwise, Veep Kamala Harris gets the top gig.
2Bertram Wilberforce Wooster is a fictional character in the comedic Jeeves stories created by British author P.G. Wodehouse. Bertie was an amiable English gentleman and one of the idle, but not very bright, rich. See below, Money, for current and actual example.
Not since a Jimmy Choo shoe was lost…
Readers will recall that last week Wry & Dry alerted the world to the impending 'security deal' between Emperor Xi and Chief Sogavare of the Solomon Islands. And the consequential military implications for Australia.
Well, the fit then really hit the Shan in Australia's Foreign Affairs' Department. Not since former Minister Julie Bishop, Cinderella-like, lost a left Jimmy Choo shoe somewhere in London has there been so much activity.
Maps of the Solomon Islands were called for. Messengers were sent to ministerial archives to find out when the last Australian had visited. Encyclopedia Britannica was dusted off from the dusty shelves. The local Sir Humphrey Appleby was briefed, ready to brief his/ her minister, who in turn would brief PM Jimmy Morrison on what next to do.
Jimmy, after speaking with wife Jenny, of course, thought that the Solomon Islands were part of Australia, just off the coast of north Queensland. And, after speaking with Deputy PM and Infrastructure Minister Barnaby Joyce (who thought the islands were in his electorate), proposed building a $3 billion dam and connecting the islands to the NBN.
"Reports that we have seen are not a surprise to us…" said Jimmy Morrison. Which means they were.
Yesterday, the Solomon Islands signed the security deal with China.
This is a security and foreign affairs' disaster without mitigation, with massive long-term implications. Senior bureaucrats in the Foreign Affairs department should be given the DCM.
Invade between the flags. Please.
Who would stay & fight?
The world has admired the Ukrainians for their willingness to stay & fight – to defend their country against that nasty Tsar Vlad. And Ukrainians have rushed back to their homeland to fight for it.
It seems that Australians wouldn't do the same for Australia.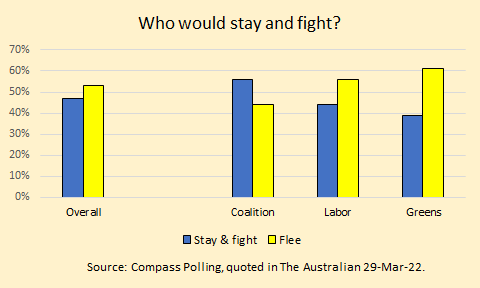 Wry & Dry thinks this is a great result. Those who wouldn't fight for their country can flee. And leave it to those who would.
In fact, why wait for the battle? Better they pack up their bags. And go, now.
Mr. Zelensky comes to Canberra
Yesterday, it took a foreigner to give Australia's federal MPs some spine. They stood to a man person and loudly cheered after the Ukrainian President gave a rousing but measured speech.
Mr. Zelensky pleaded for arms. Jimmy Morrison pledged "… our prayers but also our weapons."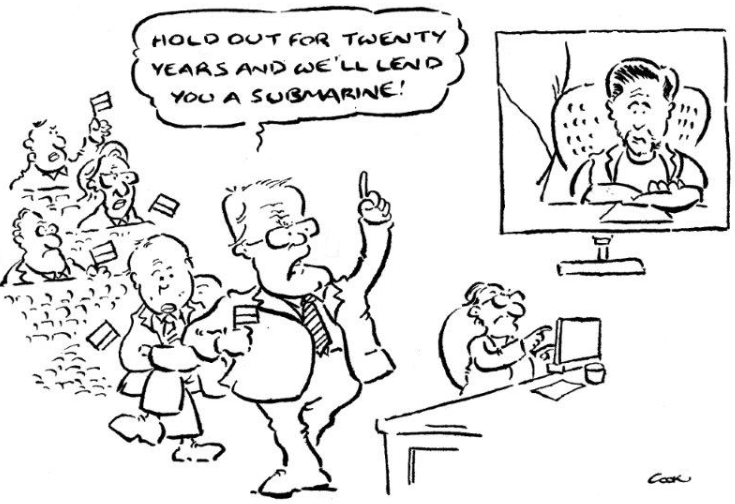 Weapons? Specifically the Australian designed and built "Bushmaster", a muscular, four-wheel drive infantry mobility vehicle.3
Wry & Dry wonders how many of those cheering MPs would jump into a Bushmaster and stay and fight for Australia?
3The Bushmaster is built in Bendigo, Victoria by a Thales Australia, a French company. Shhh, don't tell Jimmy.
China wants to talk trade, but the EU doesn't
Tonight a summit commences between the EU and China.
China wants 'business as usual'.
In a u-turn from the past 16 years, the EU doesn't want to talk about trade agreements. It has foreshadowed that Emperor Xi would be told that China will face a serious cost if it helps Russia circumvent sanctions or supply it with military aid.
Chinese officials told the EU not to threaten their leader. Oh, petals.
Who will first blink?
Unclear on the concept
In the UK men are being asked if they are pregnant before undergoing scans at National Health Service facilities.
A bureaucrat in the UK government removed the word 'female' from regulations governing medical procedures and replaced it with 'individuals'.
Would the last person leaving Melbourne…
The former World's Most Liveable City Only has, under Chairman Dan, become the most deserted in Australia.
In 2021 Melbourne lost 60,500 people, significantly ahead of second-placed Sydney, which lost just 5,200 residents.
To where did those fleeing Chairman Dan's gulag go? Well, only 15,700 went to regional Victoria. The balance to a mixture of other states.
To lose one person, Chairman Dan, may be regarded as a misfortune; to lose 60,500 looks like carelessness4 monumental incompetence.
4To paraphrase Lady Bracknell in The Importance of Being Earnest, by Oscar Wilde.
This pork barrel contains nation-building infrastructure…
The election campaign is a wonderful reason to toss We-The-Taxpayer's dosh at pork-barrelling nation-building/ state-building/ critical infrastructure projects. And why bother with a business case if an electoral case exists?
Which is what happened in the last two federal elections:
It remains to be seen how many Labor election projects will be promised that are yet to have a business case. The Coalition has already nailed some of its pork to the mast, as it were. And with a larger regional constituency (i.e. the Nationals) the pork needs a larger barrel.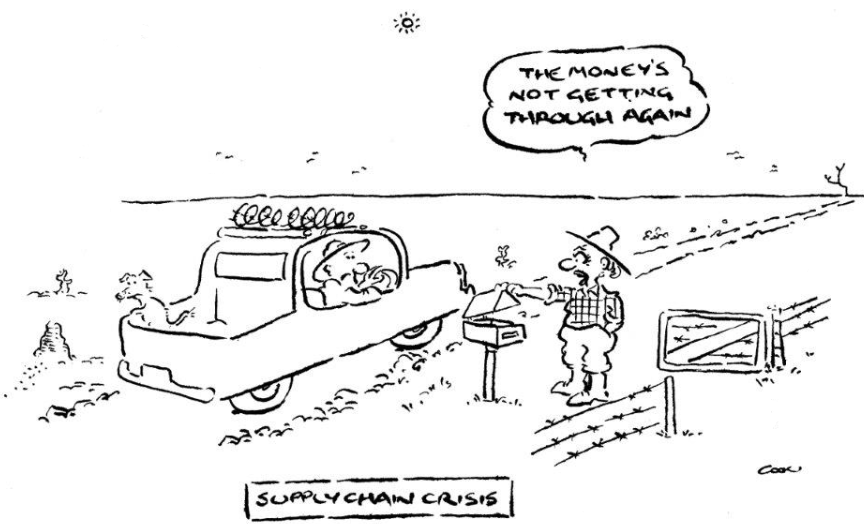 Over which barrel Barnaby Joyce has PM Jimmy Morrison.5
5A $20 billion pork barrel, in fact. This is the price of the Nationals agreeing to support Jimmy Morrison's Net Zero 2050. The barrel contains $7.4 billion for dams in Queensland and New South Wales; a $7.1 billion regional fund for Western Australia, Queensland, Northern Territory and New South Wales and $5 billion to extend the Inland Railway from Toowoomba to Gladstone. And nothing for Wry & Dry's electorate.
History: Pakistan
No sooner does Pakistan lose a test series to Australia, than its President faces getting the DCM.
The irony, of course, is that Prime Minister Imran Khan was one of the worlds greatest all-round cricketers6. But now his government is facing defeat after a key coalition partner turned its coat. A vote of no-confidence is being debated as Wry & Dry writes. Was the loss by its cricket team the reason?
Not one of Pakistan's 22 Prime Ministers has a lasted a full term.
6 He scored over 3,800 test runs and took over 360 wickets. He captained Pakistan to win the1992 World Cricket Cup.
Geography: go south, young man!
It is a truth universally acknowledged that California combines European level taxation with third-world public services.
Which is why folk from California, and also from New York and Illinois, are voting with their feet. In the 12 months to July 2021, over 700,000 people fled these states. And in the same time period almost 80% of the population growth in the USA happened in just 10 counties, seven of which were in Texas and Florida.
What's going on? Well, it seems it's all about people wanting less government.
California, New York and Illinois have a state income tax (on top of federal income tax); strongly vote Democrat and are known for bureaucracy.
Texas and Florida have zero state income taxes; strongly vote Republican and are known for radical red-tape reduction.
The personalisation of the change is probably Elon Musk, who moved Tesla's corporate HQ from California to Texas.
Is this a reflection of the increasing bifurcation of the USA?
You betcha.
Money: how to get rich
Be smart enough to know whom to bribe
Roman Abramovich, the billionaire Russian oligarch and sort-of owner of the Chelsea football club,7 made his first millions trading timber, sugar and food stuffs. In 1995, he seized the oil company Sibneft from the Russian government in a rigged auction for around $250m. By 1996 he had become a close friend of President Yeltsin and was the first person to recommend to Yeltsin that Putin should be his successor. The relationship between Tsar Vlad and Abramovich is reportedly like that between father and son.
Abramovich sold Sibneft back to the Russian government for $13 billion in 2005.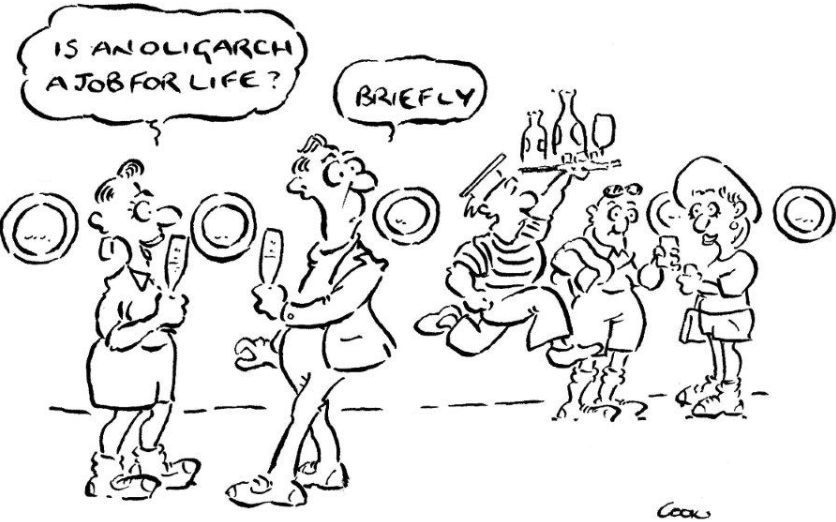 Nice work, if you can get it.8
Be smart enough to inherit a title
Prince Andrew, disgraced second son of HM Queen Elizabeth II, since he left the army has always struggled to make ends meet, notwithstanding his £250,000 p.a. stipend from his mother's Civil List. So he resorted to using his title.
Somehow, he was given more than £1 million by an alleged fraudster and is now embroiled in a UK High Court battle over missing money (according to the UK Telegraph).
The Duke of York and Sarah Ferguson, his ex-wife, received "suspicious" payments on the orders of Selman Turk, a former Goldman Sachs banker, as part of a £40 million international fraud, it is alleged.
Nice work, if you can get it.
7 Being a Russian oligarch doesn't mean one is immune from problems. Last week, whilst assisting with peace talks in Kyiv, Abramovich was poisoned, along with two Ukrainian negotiators. He survived, but question are being asked at to whom to point the finger.
8 Memories of the late Kerry Packer: "You only get one Alan Bond in your lifetime." He was referring to his sale to Bond of the Nine televison network for $1 billion and then his buying it back for $250 million three years' later.
Habits
Readers know that an election is in the air when disgruntled MPs vent their spleen at real or imagined slights.
This week's cream-pie-in-the-face was friendly fire. Liberal Senator Concetta Fierravanti-Wells hurtfully, and in parliament, called Jimmy Morrison:
a bully
ruthless
an autocrat
unpleasant
Ouch. All undeniably true. But no Mean Boys here, it's just Mean Jimmy on his own. What's going on?
Well, firstly, last weekend, the senator lost a preselection for the Senate. Revenge: a dish served hot.
Secondly, in 2007, she actively supported a Michael Towke for preselection for the safe Sydney seat of Cook. Towke won 82 to 8. The pre-selection loser complained, alleging all sorts of dirty tricks (all later disproved). Liberal HQ overturned Towke victory and handed the pre-selection to his opponent.9
The loser who became the winner was… Jimmy Morrison.
Revenge: a dish best served cold.
9 The preselection was a disgrace, with lots of skullduggery undertaken by all sorts of people to get Morrison over the line. Mind you, Ms Concetta was described by Croesus Turnbull as "a case study in treachery, ingratitude and bitterness."
Snippets from all over
1. Russia's GDP forecast to collapse
S&P Global, a ratings company, has forecast that Russia's GDP will shrink by 8.5% this year. The European Bank of Reconstruction and Development forecasts a 10% decline.
Wry & Dry comments: Thus taking Russia back to at least 2007. And thereby eliminating all of the economic recovery that Tsar Vlad achieved in his early years.
2. Heineken sells out of Russia
The Dutch brewer Heineken is to exit its business in Russia at a cost of €400 million. It is the third-largest brewer in Russia.
Wry & Dry comments: Which contrasts with France's Mulliez group, which owns the retailers Auchan and Decathlon. Yves Claude, Auchan's CEO said it would be "unimaginable" to halt its business in Russia where it has 41,000 staff.
3. No gas
Germany and Austria have taken the first formal steps towards gas rationing as officials rushed to avoid a potential halt in deliveries from Russia because of a dispute over payments.
Wry & Dry comments: Russia supplies 50% of Germany's gas and 80% of Austria's. The payment's dispute is because Tsar Vlad is demanding payment in roubles, rathe than euros.
Stop Press: Tsar Vlad says that he will cut off Europe's gas supplies tonight, if payments are not made.
4. Lockdown
Shanghai, China's largest city (population 25 millions), has been 'plunged' into lockdown.
Wry & Dry comments: Good luck with your projects.
5. Wealth tax
Sleepy Joe will call on Congress to introduce a new minimum tax rate of 20%, targeting the investment income of the wealthiest Americans.
Wry & Dry comments: The plan includes taxing unrealised capital gains. Elon Musk (Tesla) would pay an extra $50 billion in tax, Jeff Bezos (Amazon) $35 billion. The plan will fall at the first hurdle, if not before.
Data
Stock prices down in US: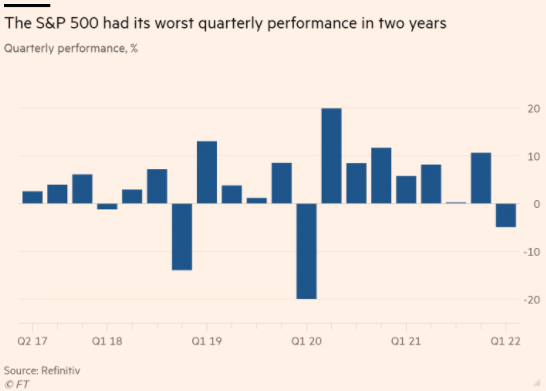 But wait, there's more. The US bond market has just had its worst quarter since 1973.2.
Consumer prices up in Russia:
And, to soothe your troubled mind…
"The Oscars supported Ukraine for as long as it took to change the set."
Hadley Freeman, an American-British journalist, based in London.
No surprises there. The Oscars are all about narcissism (see everywhere else about the slap that was watched around the world) and making vast amounts of money whilst pretending to care about needy others.
PS A reminder that the opinion and comments in Wry & Dry may or may not represent the views of First Samuel, its Directors or Associates.
Cheers!
Anthony