Enjoy Wry & Dry: a cynical and irreverent blend of politics, economics and life.
Seven stories you may have missed
Disaster: Chairman Dan's DCM
Trumpster the fraudster
PwC: oh, dear
Qantas just won't go away
Meanwhile, in California
Sleepy Joe's quiet victory
Oops, someone forgot Timor
PS: Wry & Dry arrives one day early this week, as Friday is a public holiday in Melbourne. This is because it is AFL Grand Final Eve (the holiday will give Collingwood supporters time to arrange their day-release papers, attend the dentist, visit the cobbler and check with the tattoo parlour for the latest art).
PPS: Wry & Dry will be on vacation next week, back Friday 13 October.
Disaster: Chairman Dan's DCM
In a DCM-move that surprised many, Chairman Dan gave himself the DCM on Tuesday. This is a disaster of great magnitude.
Cartoonists all over Australia, if not China as well, have lost a subject that yielded the Everest of political satire and ridicule. They feasted on the opportunity provided by arguably the most hated politician since Julius Caesar, whose DCM, unlike Chairman Dan's, was not self-inflicted and caused by 27 knife wounds from six grumpy conspirators.
Emboldened by his own outstanding oratory and aided by an Opposition as weak as the Wallabies and as divided as post-war Germany, a fawning media and an upper house cross bench that were easily bought, he bestrode the political world like a colossus.
Chairman Dan unilaterally decided to turn Victoria into an exemplar of The Woke State. Elsewhere, he failed at almost everything he touched. The major exceptions reflecting what must have been a childhood fascination with trains and tunnels: being his successful railway crossing eliminations and the Metro and Westgate tunnels. Rather like a spoiled child of wealthy parents, he had no regard for other peoples' money. And would pretend he had spent $5 at the lolly shop when in fact he had spent $30.
But the need to hide the truth from his parents led him to develop an ability to be economical with the facts. And to brutally deny responsibility for any failures.
These traits led him, logically, into state politics. The rest is history. And so is Victoria.
His lasting legacies will be twofold: (a) the enduring societal, educational, business and fiscal harm caused by his Covid lockdowns; and (b) fiscal ineptitude to rival that of Argentina. Had Victoria its own currency, it would be called the peso.
Like Qantas' Alan Joyce, Chaiman Dan has left his successor an almost irretrievable mess.
He will be missed…. by cartoonists. And to that end, Wry & Dry has plumbed the archives for the best of Patrick Cook's work: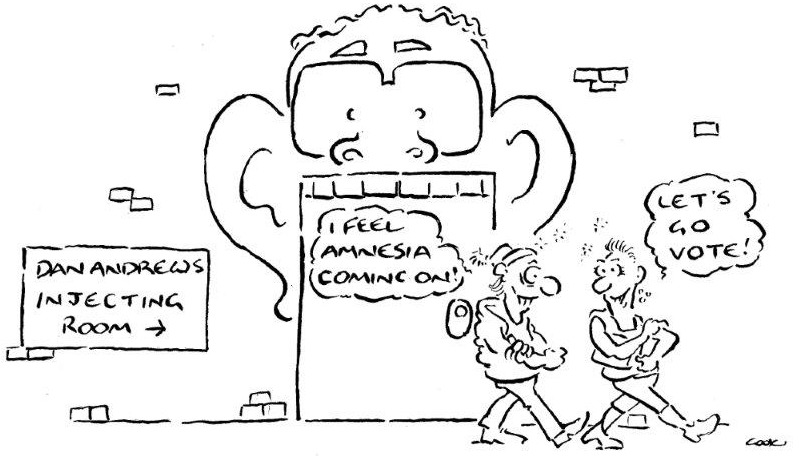 Injecting rooms, before the last state election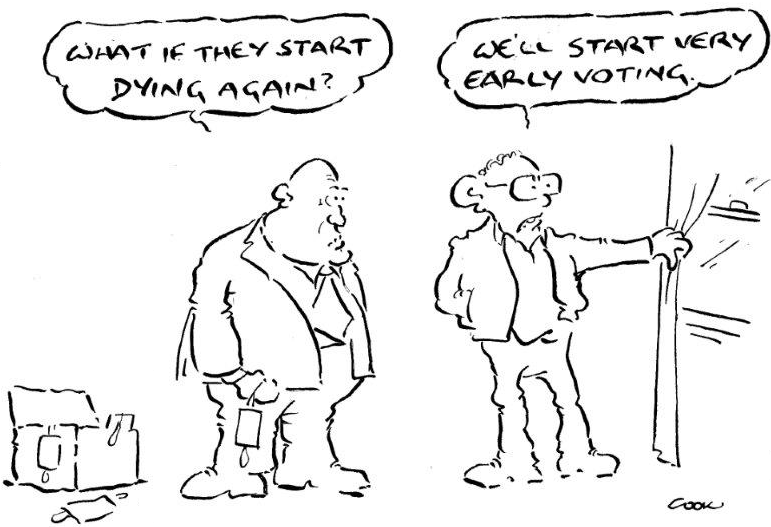 Possible Covid recurrence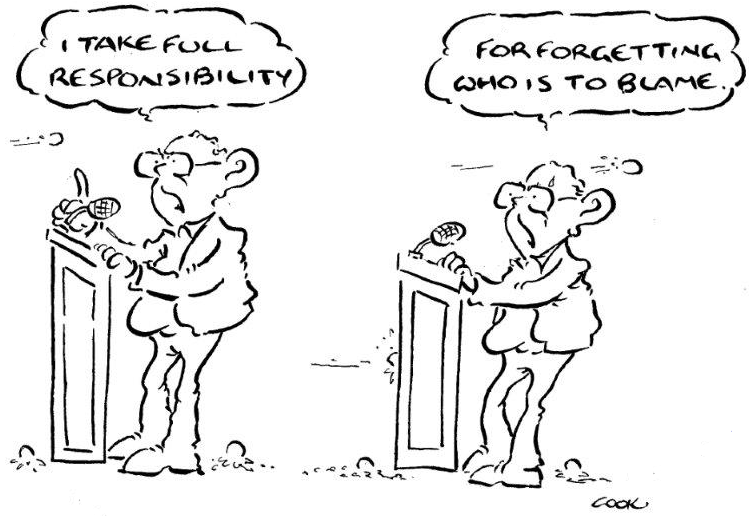 After the Covid quarantine enquiry that found no-one decided
After the cancellation of the Commonwealth Games
Another memory fade
Trumpster the fraudster
In a valuation for a bank loan, the Trumpster stated that the size of an apartment in Trump Tower was 30,000 square feet (about 2,800 m2), when it was actually 11,000 square feet.
What else has be boasted about?
Anyway, nice work, if you can get away with it. He didn't, in the end. And the same for so many of his other, property, assets. The total over valuation was about $2.2 billion.
Weirdly, the banks accepted his valuations. And lent him the dosh. Which he subsequently repaid. That's not the point, the judge told his lawyers.
A New York judge has ruled that he, his oldest sons and his business organisation are liable for orchestrating a "persistent and repeated fraud." And stripped him of control over some of his signature New York properties. The judge is also seeking a penalty of $250m in a jury trial that might commence on Monday.
Whilst not as critical to the Trumpster as his four upcoming criminal trials, if not overturned on appeal, the decision would not only be costly, but also crush the operation of his businesses.
The Trumpster called the judge "deranged."
The first chicken may have come home to roost.
PwC review: oh, dear
Wednesday was a lucky day at PwC. The Qantas CEO and Chairman were fronting the Senate and the world was still digesting Chairman Dan's decision to give himself the DCM. And so a couple of blistering reviews of PwC were quietly released.
Qantas' perfidious behaviour, whilst not forgotten, will soon not command pages 1, 3 and 5 of the broadsheet dailies, whether tabloid or not. Chairman Dan's profile will disappear until Emperor Eleven appoints him Global Chairman of China's Belt & Road Initiative.
No such luck for PwC.
In one review (by Ziggy Switkowski), the partners of PwC were found to have overlooked rule-breaking by 'rainmaker' colleagues in the pursuit of profit. Ouch.
In another review (by law firms King & Wood and Linklaters), at least six former partners were found to be involved in leaking confidential information from Treasury, the ATO and Board of Taxation to colleagues and clients. Oh, dear. This is really, really serious.
Repeat. Rinse. This is really, really serious. There is a sniff of criminal behaviour here.
Wry & Dry suspects that some partners have already lawyered-up.
Qantas just won't go away
Monday's message was that Qantas was going to spend $80m on 'customer improvements'. Yawn. Qantas' annual expenses, excluding fuel, are $10.7 billion.
That's an 0.74% increase.
And how about the spin in a release to the ASX, when writing of increasing fuel costs, Qantas "…will monitor fuel prices in the weeks ahead and, if current levels are sustained, will look to adjust its settings."
"…adjust its settings?"
Really? Why not just say, "increase air fares"?
The penny still hasn't dropped.
Meanwhile, in California…
…seven wannabe Republican presidential nominees argued it out in the GOP1 second debate. Of course, The Trumpster wasn't there – he was sorting out his sock drawer.
The debate was a bit of a dog's breakfast. But, as a sifting process, Readers can scratch Burgum, Scott, Pence and Christie from their tally sheets. DeSantis was better than in debate #1, but, ye gods, he is wooden. DCM.
Which leaves Squillionaire Ramaswamy and former UN Ambassador Nikki Haley. But the former shows that his total lack of political experience, much less holding political office, is lead in his saddlebags. Still, They-The-People elected the Trumpster, who also had neither. But Ramaswamy has more money and less distractions from pesky law suits.
The Wry & Dry sifting machine comes to Ms. Haley. Again. But hard to get too excited, too early.
1 Grand Old Party i.e. the Republican Party.
Sleepy Joe's quiet victory
It is strange how people's political orientation biases their view of political success. Maybe it shouldn't.
Consider this: Sleepy Joe has had some major domestic economic and international successes. And the left liberals see only that. On the other hand, the right conservatives and swing voters see only higher food and petrol prices, higher mortgage rates, urban decay (see below), an immigration crisis that only seems to get worse and a visibly feebler president (see any edition of Wry & Dry).
The truth, as always is somewhere in between. Petrol and food prices, mortgage rates are mostly out of Sleepy Joe's control, urban decay is very much a local and state matter (see below). But the immigration crisis is rightly at his feet. And he doesn't have the wit to make a virtue of his age (as Reagan did his).
Which brings to Reader's attention a Sleepy Joe success that is currently ignored but will eventually emerge. Sleepy Joe met with Israel's PM Benjamin Netanyahu last week. It was all smiles. The serious side was an administration leak that Sleepy Joe delivered an ultimatum: rebuild the extremist cabinet you've built to keep yourself out of jail and replace it with a decent unity coalition, or blow up the chance for peace with Saudi Arabia.
Israel desperately needs to be recognised by Saudi Arabia, not least of which is to balance Iran. And only a unity coalition will agree to Saudi's demands for West Bank settlement concessions. There is, of course, a lot more going on. Such as nuclear power in Arabia, initially controlled by the US (remember Aramco).
Perspective: this is bigger than Chairman Dan's DCM. Or the AFL Grand Final.
Oops. Someone forgot Timor
Foreign Minister Penny Wong is one of Wry & Dry's favourite ministers. She is intelligent, measured, proactive and always across her brief. And her successes have dwarfed those of her predecessors.
But not even such as Ms. Wong can stop Emperor Eleven's desire to conquer the world. And the conquest has moved to Timor-Leste2, a mere 700 kilometres from Darwin. Y'see, Emperor Eleven and Timor-Leste have signed a 'Comprehensive Strategic Partnership'. This means that the latter will now form part of the former's Belt and Road Initiative. And then some. To the annoyance of Indonesia and to Ms. Wong.
Oh, so joyous to be the leader of a small and weak state, that can leverage its strategic location to enhance its bottom line. Emperor Eleven has been skilled at the art of diplomatic bribery. Timor-Leste will look to the bounty that he has provided to Solomon Islands and hope for at least the same. And ignore the misery caused elsewhere by the BRI and Emperor Eleven's rapaciousness.
Timor-Leste's problems are a familiar tale: it is (a) running out of money – its sovereign wealth fund will be exhausted by 2030; and (b) running out of political commonsense – its PM, independence hero Xanana Gusmao, runs the government like he ran his guerilla movement.
Readers can soon expect the Emperor Eleven Bank to help finance the Greater Sunrise gas project in the East Timor Sea3. And use its leverage to insist that the gas processing occurs in Timor-Leste rather than Darwin, the latter being significantly less costly.
It will now wait to see if counter-fiscal bribes will emerge from Australia's coffers.
More generally, is this a mini-Cuba on Australia's doorstep?4
2 Timor-Leste, or East Timor, is a sovereign nation that occupies about half of the island of Timor. The other, western half, is part of Indonesia.
3 This is a massive gas project in the Timor Sea. Woodside Energy is the project operator, with a 33.44% stake, 10% is owned by Osaka Gas and 56.56% by Timor Gap, Timor-Leste's national oil company. Production is expected to commence in 2028. But the project is beset by in-fighting. Albo appointed former Victorian premier Steve Bracks as 'special envoy'. Albo doesn't want a failed state on his doorstep. Or his watch.
4 The Soviet Union caused ongoing discombobulation to a succession of US governments by its military and fiscal support of communist Cuba, without the latter Cuba would have withered.
Unclear on the concept
Media report:
"A 4m alligator has been killed, after it was spotted in Florida with the remains of a woman in it jaws. Police are trying to ascertain the cause of death."
So difficult.
Second thoughts
Oregon, the first US state to decrimalise drugs, is having second thoughts.
In 2021, the good folk of Oregon, the most left-leaning state, voted to decrimalise the possession of small amounts of heroin, LSD, cocaine and methamphetamine. The plan was that people found in possession were given the choice of a $100 fine or a hotline to call for getting help in going clean.
The sales pitch for the drug decriminalisation was that it would stop punishing addiction, lower addiction rates and prevent overdoses. And that it was a person's 'right' to be an addict. But only 1% of addicts have sought treatment, overdosing is up, homelessness was up by 29% in 2022, opioid deaths almost doubled in the year after decriminalisation.
Meanwhile, in Australia, the ACT has decriminalised the possession and use of small amounts of illicit drugs, including cocaine, ecstasy (MDMA), ice, heroin, LSD and amphetamines. A possessor will be issued with a $100 fine or be referred to a drug diversion programme.
Sound familiar? Wry & Dry is sometimes slow to see similarities. But, well, it seems that the ACT has duplicated Oregon's laws. Except that Oregon put the changes to a referendum.
The ACT's new laws come into effect on Sunday 1 October. How long will it take, Wry & Dry ponders, before..oh… never mind. By then it will be too late.
Snippets from all over
1. Amazon sued
The US Federal Trade Commission and 17 states have sued Amazon, alleging the online retailer illegally uses monopoly power to overcharge consumers, hobble competitors and exploit sellers on its marketplace. (Financial Times)
Wry & Dry comments: The FTC's lawsuit, which has been a long time in coming, accused the $1.3 trillion ecommerce giant of increasing fees to sellers on its marketplace so that it extracts nearly half of every dollar of revenue made by many sellers.
2. Sleepy Joe's new retirement options
America recognised the Cook Islands and Niue, a set of islands in the Pacific, as sovereign nations, during the US-Pacific Islands Forum Leader's Summit in Washington, DC. (The Economist)
Wry & Dry comments: Cook Islands has a population of 15,040; Niue's is 1,937.
3. Antarctic record low sea-ice
Antarctic sea ice has reached a record low. (The Times)
Wry & Dry comments: The sea ice surrounding the continent expands during the southern hemisphere's winter, on average peaking at almost 19 million sq km by September before beginning to melt again. This year, however, the ice reached 16.96 million sq km.
4. UK politics: a swallow for Conservatives
The Conservatives have slashed Labour's poll lead by eight points in the wake of Rishi Sunak's [UK PM] net zero overhaul, as an election expert said voters remained "wobbly" on Sir Keir Starmer [Labour's leader]. (UK Telegraph)
Wry & Dry comments: Labour's lead is now 16% points: 44% to 28%. Rishi has a long way to go. Just sayin'.
5. Italian Defence minister criticises
Italy's defence minister criticised German plans to help finance charities that support migrants crossing the Mediterranean Sea into Europe. (The Economist)
Wry & Dry comments: Yet another crack in the wall of EU unity.
6. German Chancellor accuses
German chancellor Olaf Scholz has waded into Poland's cash-for-visas scandal, demanding an investigation into allegations that Warsaw turned a blind eye to officials operating the scheme and threatening to restore border controls to stop the flow of undocumented migrants from Poland. (Financial Times)
Wry & Dry comments: See above.
Data
Australia: Inflation rose to 5.2% in the year to August, up from 4.9% in July.
China: Foreign direct investment in China in the second quarter was 94% less than the same period in 2021.
There are 8,062,643,134 people on Earth. There are some 807,000 Collingwood supporters. Which means that 8,061,836,134 people will be supporting Brisbane in the AFL Grand Final.
And, to soothe your troubled mind…
"I'm the best person to chair the board to navigate us through the current situation."
Richard Goyder, current chairman of Qantas, speaking at a Senate inquiry.
To quote a famous prostitute in a famous legal case, "well, he would say that, wouldn't he."
PS The comments in Wry & Dry do not necessarily reflect those of First Samuel, its Directors or Associates.
PPS Patrick Cook, Wry & Dry's resident cartoonist and lampoonist is taking a vacation. His amazing wit will return on Friday 3 November. In the meantime, it is possible that the odd magnum opus might reappear.
Cheers!
Anthony Starkins