Face what? Janus. Carbon dating.
Face what?
PM Jimmy Morrison is relieved.  A social media company from the Yoo-Ess-Ay has taken the alleged parliament house rape from the front pages of traditional media headlines, to be buried between the social and sporting pages.
What's going on?  Well, taking a leaf from Emperor Xi's playbook, Facebook has given Australia the DCM.
In response, Team Hate Facebook Australia has formed.  Wry & Dry sees an alliance as unsustainable as Hitler's pact with Stalin in 1939 [1]: traditional media has united with all political parties in being very grumpy with Facebook. Of course, no-one comes with clean hands.  Traditional media wants to see Facebook pay for news content. Political parties want free and unfettered access to deliver their messages to their supporters. 
Facebook doesn't want its ability to make squillions of dollars to be compromised by "a small country far away of which we know little."[2]  
Readers will know that Facebook was initially set up by Mark Zuckerberg as a type of "hot or not" game for Harvard students. [3]  
Wry & Dry predicts that (a) PM Jimmy's relief will be short-lived and (b) Facebook users who are currently threatening to close their Facebook accounts will do no such thing.
[1]  The Non-Aggression Pact was essentially about (a) carving up Poland; and (b) assigning Lithuania, Latvia, Estonia and Finland to the Soviet Union.  After Germany invaded Poland from the west on September 1, 1939, Soviet troops invaded Poland from the east on September 17. The partition of Poland was effected on September 29.  The Non-Aggression Pact died on 22 June, 1941, when Nazi Germany attacked the Soviet Union in Operation Barbarossa.  Tsar Vlad has since changed history to make the war (the Great Patriotic War) starting on that date.  Soviet complicity with Hitler has been erased from the text books.
[2]  The words UK PM Chamberlain used to describe Czechoslovakia, in a shameful explanation of why the UK had effectively gifted it to Hitler in 1938.
[3]  The website allowed visitors to compare two female student pictures side by side and let them decide who was more attractive. While writing the software, Mark Zuckerberg wrote the following blog entry: "I'm a little intoxicated, not gonna lie. So what if it's not even 10 p.m. and it's a Tuesday night? What? The Kirkland [dorm] facebook is open on my desktop and some of these people have pretty horrendous facebook pics. I almost want to put some of these faces next to pictures of farm animals and have people vote on which is more attractive."
The site was soon shut down by the Harvard administration. Zuckerberg faced expulsion and was charged by the administration with breach of security, violating copyrights, and violating individual privacy. Ultimately, the charges were dropped.
Janus
It didn't take long before I-Really-Won-The Election-Trump emerged from his Floridian bunker.  Blinking in the winter sun, he launched an attack on former ally, former Majority but now Minority Leader of the Senate Mitch McConnell.
"Mitch is a dour, sullen, and unsmiling political hack..."  Hurtful words indeed.  And arguably actionable for being discriminatory against political hacks, if not libellous.  But at least McConnell isn't in the Wednesday queue at Centrelink.
McConnell, a sprightly 79 years tomorrow, has been in politics for 36 years, nine times longer than Trump.  And knows how to sit on a fence.  He voted to acquit Trump last Saturday.  And immediately afterwards said that Trump was "practically and morally responsible" for the 6 January attack on the US Capitol building. 
A masterclass in Janusismness.[4]  After all, McConnell is up for re-election in 2022.  And in 2023 he would become the longest serving Senate leader in the history of the Yoo-Ess-Ay.  For the next two years he can sit on the fence, worrying about the price of fences.
[4]  Janus was the Roman god of beginnings, gates, transitions, time, duality, doorways, passages, frames, and endings. He is usually depicted as having two faces.
Carbon dating  
Wry & Dry's rheumy eyes were drawn to a chart in one of this week's Economist updates.  Readers can be alarmed or sanguine, as the mood takes them.
Astute Readers will comment that Australia has just over 1% of global CO² emissions and therefore the chart is misleading. Or further, that all countries in the chart, except Australia, have considerable nuclear power resources.  
But notwithstanding significantly larger economies, UK and France have significantly lower CO² emissions than Australia.  Investment in renewables, especially wind power, has driven CO² European emissions much lower.  Solar energy doesn't seem to work in the UK...
Does wind work in Australia?
"Events, dear boy, events"
So replied former UK PM Harold MacMillan [5], when asked what was most likely to blow governments off course.  Blend that with a comment from Harold Wilson [6], his successor but one, who observed that "a week is a long time in politics', and Readers can see that events this week have sharply turned the opinion of we-the-people.   
Chairman Dan's Gold Standard Quarantine on Tuesday had turned to lead three days later. And in seven days Chairman Dan's obfuscation was spinning like Warne's delivery to Mike Gatting at Old Trafford in 1993.
PM Jimmy Morrison's golden run of political handball (quarantine to the states, fiscal fixes to Josh, etc) came to an end when he couldn't handball to anyone else the problem of the alleged rape of a former Liberal staffer.  And the submerged fiscal disaster of Australia's French submarines is yet to fully surface (see below).  
Events within a week, indeed.
The only good news for each of Chairman Dan and Jimmy Morrison is that their respective political oppositions look like endless re-runs of Mike Gatting's face.  
[5]  Harold MacMillan was Prime Minister of the UK from 1957 to 1963. Caricatured as "Supermac", he was known for his pragmatism, wit and unflappability. It was an event, the Suez Crisis of 1956, that led to him to succeed the hapless Anthony Eden as UK PM.  And another event, the Profumo scandal of 1963 (Christine Keeler, Mandy Rice-Davies, etc.) that led to him giving himself the DCM.
[6]  Harold Wilson was PM of the UK from 1964 to 1970 and from 1974 to 1976.  The first PM of a majority Labour government, he was a reformist leader and moderate socialist who led the UK with skill in difficult times.  He was unable to manage the rise and influence of radical unions, his sensible industrial relations proposals were rejected by the Trades Union Congress.  The latter didn't read the tea leaves and were fodder when Margaret Thatcher came to power.
Each of MacMillan and Wilson are generally ranked in the top 5 UK PMs, after, generally, Churchill, Attlee and Thatcher.
Sudden Intelligence Loss
The world has gone mad.  The below chart from the Economist tells a story.
Memories of the coyote chasing the road runner.  Sooner or later there will be a bend in the road.  Emotion will wish the price to go around the corner.  But reality will take the price over the precipice, from whence it will hang for a moment before gravity inevitably takes over.
A tale of two cities [7]
Wry & Dry always knew that there were differences between Sydney and Melbourne: beaches, bars, restaurants, weather, governments, etc.
And now research looked at how people who live in Sydney see their city compared to those from Melbourne assessing Melbourne.  Below Readers can see the categories where there were the greatest differences.
In summary, Sydney is all about 9 to 5.  Melbourne is all about after 5 and weekends.
[7] A Tale of Two Cities was a novel by Charles Dickens, set in London and Paris before and during the French Revolution.  It had one of the great opening sentences in literature: "It was the best of times, it was the worst of times, it was the age of wisdom, it was the age of foolishness, it was the epoch of incredulity.." 
Submerged disaster
Astute Readers would have been following journalist Robert Gottliebsen's [8] irregular stories on the fiscal shambles of Australia's French submarine orders.  Those with more time might peruse yesterday's Australian for the latest.
Wry & Dry recalls that then PM Croesus Turnbull mysteriously chose a French submarine design over tenders from Japan and Germany.  He told cabinet that the cost would be between $20 billion and $25 billion, with delivery in 2032.
Defence Minister Reynolds now tells parliament that the cost will be $50 billion in 2016 dollars (!), with delivery now not expected until 2040.  Readers should expect a final bill of over $100 billion.
Perhaps the government would have done better to hire something else from France: Jacques Cousteau.  And give him a couple of oxygen tanks and a spear gun.  
[8] A doyen of Australian financial journalism for over 50 years.  Although between 1969 and 1974 he had a stint as a stockbroker, as a partner of Patrick Partners.  Patrick Partners went spectacularly bust in 1975.
Chart of the week
Guess which company doesn't make a cent from selling cars.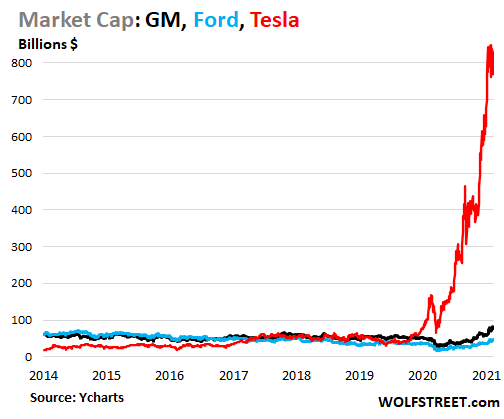 Mercedes going electric
Wry & Dry's article on Mercedes going electric moved a Reader to send in the following video.  Enjoy.
Unclear on the concept
The government established the Clean Energy Finance Corporation to assist in the financing of, well, clean energy.
Earlier this week, that serial sufferer from RDS Barnaby Joyce proposed that the CEFC be allowed to invest in a coal mine.
Where are the little men in white coats? 
Headline of the Week
"Publicity-shy woman tells 7.67 billion people: I'm pregnant"
  -  UK's Daily Star, on the Valentine's Day announcement by Princess Princess and Princess Harry of their upcoming second child.  
Snippets from all over 
1.  Unemployment down
Australia's unemployment rate in January dropped to 6.4% from 6.6%.
Wry & Dry comments:   One swallow doesn't a summer make.       
2.  Rare earths to get rarer
Beijing is exploring whether it can hurt U.S. defense contractors by limiting the export of rare earth minerals that are crucial for the manufacture of Lockheed Martin's F-35 and other sophisticated weaponry,  
Wry & Dry comments:  'Rare earths' are a group of 17 chemical elements used in everything from high-tech consumer electronics like smartphones to military equipment.  China controls 80% of global supply, Australia about 3%.  The top producers are: China (132,00 MT); USA (26,000); Myanmar (22,000); Australia (21,000); India (3,000MT) and Russia (2,700 MT)
3.  Junk debt highest since GFC Eve
More than 15% of debt raised in the US high-yield bond market has been sold by companies with credit rating of triple C or lower.  That is the highest since 2007.  
Wry & Dry comments:  S&P has 22 rating grades, starting with AAA, AA+, AA, etc, down to CCC, CCC- CC, C, and D.  CCC is defined as 'extremely speculative'. The other 'C' grades are 'default imminent with little prospect for recovery'. 'D' means in default.  This will end in tears.  
4.  Complacent markets
A JPMorgan Chase & Co. gauge of cross-asset complacency based on valuations, positioning and price momentum is nearing the highest level since the time the dot-com bubble burst.
Wry & Dry comments:  FOMO driven market?
5.  Jaguar Land Rover follows Mercedes
Jaguar Land Rover has unveiled plans to go all-electric, and to become a zero-emissions business by 2039.
Wry & Dry comments:  The associated overhaul of the Indian owned business is likely to see a reduction by 30,000 in the company's UK workforce.
And, to soothe your troubled mind ...
Last words ...
"With the tree of life behind them and the garden representing fertility, life and moving forward, they didn't need any direction, because they are, and always have been, waltzing through life together as absolute soulmates," 
 -  Misan Harriman, photographer of Princess Princess and Princess Harry's upcoming-baby-reveal photo. 

Wry & Dry had to reach for the bucket.  And zero points for originality for Mr Harriman: astute Readers will recall the final scene in the movie Notting Hill where Julia Roberts, transformed from highly-strung Hollywood star to laidback mother-to-be, lies on a park bench with her hand on her baby belly and her head on Hugh Grant's leg.

A lightly salted absurdity ...
An Ausou get bitten.
Cheers
Anthony