Enjoy Wry & Dry: a cynical and irreverent blend of politics, economics and life.
Seven stories you may have missed
"No child will live in poverty…"
Trumpster the mobster
VinFast what?
Emperor Eleven's problems
Don't mention the …
Is this the future
A rat
No child will live in poverty
When the Indians are circling your wagon, the lessons of Politics 101 are clear. Divert attention away from the Indians until the cavalry arrives. What better diversion than a big, 'nation building' policy.
Former PM Bob Hawke was a master at this. Readers will remember either of "no Australian child will live in poverty"1 and/or "we will plant one billion trees."2
Well, on Wednesday Albo announced his own big, 'nation building' policy: 1.2 million new homes in "well located areas" would be built in five years from 1 July 2024.
Whilst clearly aimed at distracting attention away from his (a) mounting troubles of, for example, the Yes vote for the Voice going down and energy costs going up; and (b) his increasing "let's have a national public holiday"/ "I would not have privatised the CBA" thought-bubbles, this is clever policy and politics.
Immigration is a federal matter, building and planning permits are state matters. Not since Rameses II conscripted the Hebrews to build his pyramid3 has anyone seriously thought about linking the two, much less doing anything about it.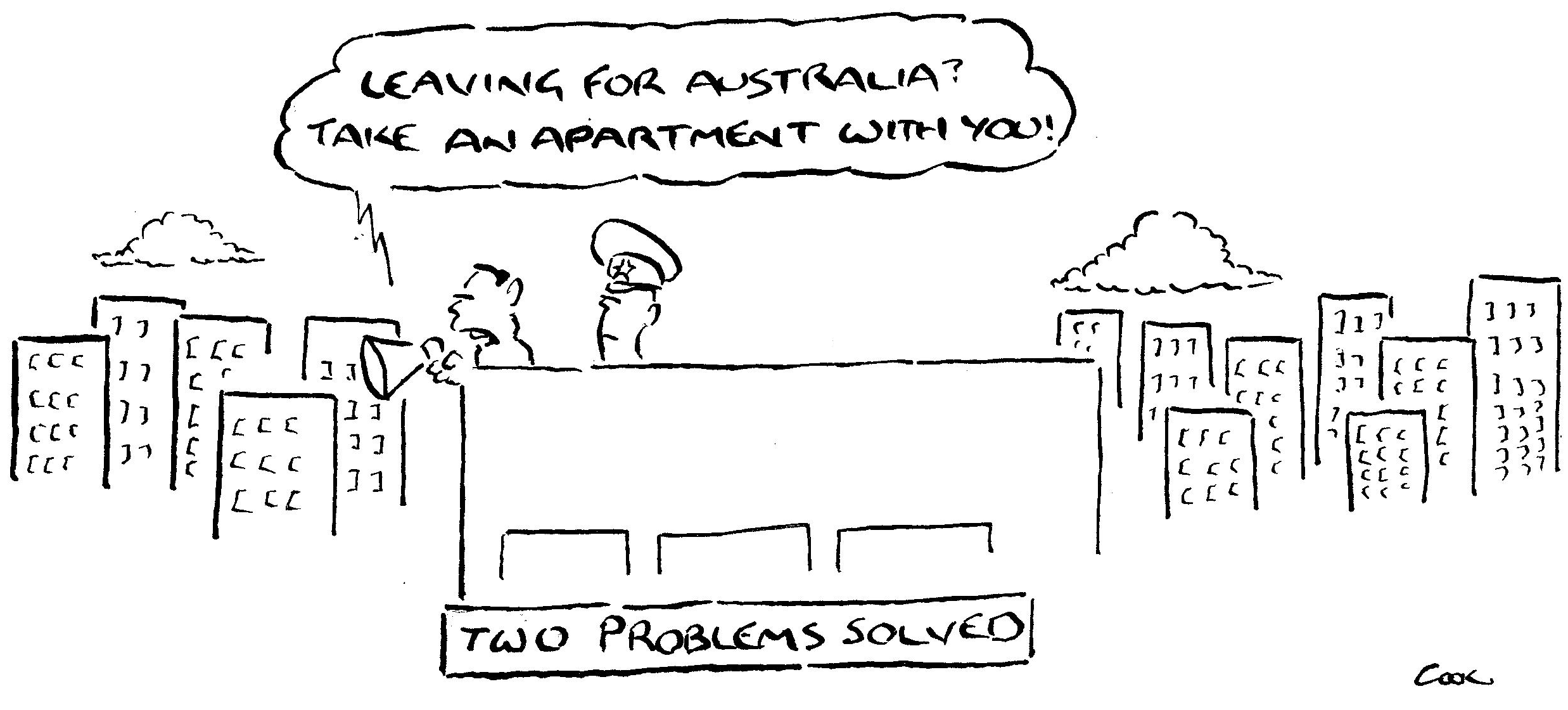 The clever politics is that it is up to the states to deliver the regulatory framework (e.g. reduced red-tape, more sensible local council planning approvals, etc) to make it all happen.
It also stymies the whinging Greens and diverts away from its policy of a rental freeze on residential homes and apartments. For Victorians, perhaps the Greens should focus on Chairman Dan and his extraordinary land tax increases and increasingly restrictive rental regulations.
The Coalition has been caught with its pants down, so to speak. It said the deal was farcical, stating that it doubted that even one million homes could be built. But didn't offer a better idea.
The problem will be in the execution. Firstly, the maths is daunting: the cost of building a house has gone up 30% and people's ability to borrow has gone down 30%. Secondly, will the premiers have the gonads to stare down the Nimbys and green activists?
But, as former PM Keating once said, "Never stand between a premier and a bucket of cash."
Albo has put $3 billion in front of the premiers. The cash is not to pay for the homes, but as a bonus to the states if performance targets are met.
1 In the 1987 election campaign he said, "By 1990, no Australian will be living in poverty." The percentage of children living in poverty is now down to 13.7%.
2 In 1989 he said, "Hazel [Hawke's then wife], who is patron of Greening Australia, will plant the first of One Billion Trees to be planted over the coming decade." By 1996, when the scheme was scrapped 700 million trees had been planted.
3 Not quite. The pyramids were built some 1,500 years before Rameses II became pharaoh.
Trumpster the mobster
As Wry & Dry confidently predicted last week, the Trumpster can now proudly announce that he is in appropriate company: that of mobsters and mafia types. As Readers will have read, heard and seen on media more tabloid than Wry & Dry, he has been charged with 'racketeering'. And ten other criminal charges.
This brings to 89 the total number of criminal charges that have been made against him. This is podium stuff. The material of Hall of Fame, Legend Status.
And 'racketeering' is a delightfully onomatopoeic word. It conveys a blend of conspiracy, crookedness, mobsters, speakeasies, and a cover-up.
The Trumpster's title should change from President Trump to Defendant Trump.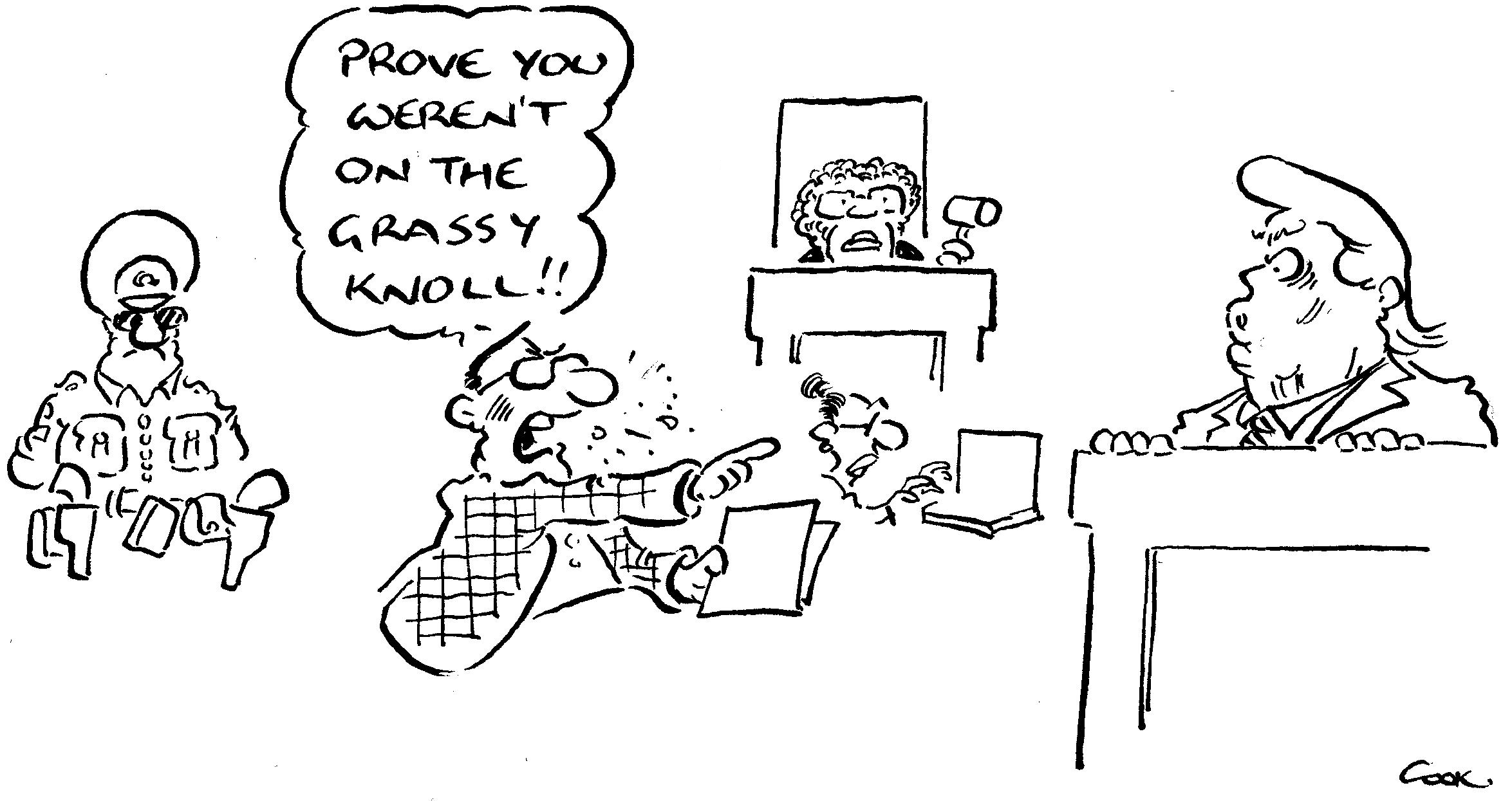 Consider:
Liable for sexual abuse – civil trial
Family business convicted of 17 counts of tax fraud
Call-girl hush money (criminal) – upcoming
Classified documents at home (criminal) – upcoming
New York State civil fraud – upcoming
Federal civil trial #1 – upcoming
Federal civil trial #2 – upcoming
January 6 election conspiracy (criminal) – upcoming
Georgia racketeering (criminal) – upcoming
This is going to make Watergate look like a traffic violation.
Readers should watch out for All The President's Men, Part II4, the lads and lassies at Netflix have already got the script writers hard at work.
4 All The President's Men was the name of both a book and a film about how two journalists investigated the break-in at the Democratic Party's headquarters (Watergate) and the role then president Richard Nixon had in the cover-up. Nixon gave himself the DCM before Congress did. Robert Redford and Dustin Hoffman played journalists Bernstein and Woodward.
VinFast what?
Readers will be familiar with car giants such as BMW, Volkswagen, Ford, General Motors and Stellantis (Chrysler, Fiat, Citroen, Peugeot, etc).
But perhaps not of VinFast. On Tuesday the Vietnamese motor vehicle company listed on the US Nasdaq stock market with a market cap of US$485 billion. This makes it larger than the big legacy vehicle manufacturers.
Of course, in keeping with many new stock market listings, VinFast has never made a profit. It makes less than 100,000 cars each year, somewhat behind Toyota's 9.6m or 15th ranked Tesla's 1.4m.
VinFast Auto was founded in 2017 in Vietnam and is based in Singapore. It is mostly owned by Vietnamese billionaire Pham Nhat Vuong. His net worth increased by US$39 billion on Tuesday.
Wry & Dry will watch to see the state of his net worth is in 12 months' time.
As for VinFast cars – Readers will not be seeing any soon in Australia: it makes only left-hand drive cars.
Emperor Eleven Jinping's problems
It must be difficult running an Empire as large as Emperor Eleven's5. Y'see, its economy is in a spot of bother.
Consider:
Retail sales in the year to July rose 2.5%, well below the expected 4%
Industrial production rose 3.7%, against the 4.4% expected
Property investment fell 8.5% in the year to June
Unemployment rose to 5.3% in July
Youth unemployment rose to 21.3% in June
Bank loans fell to a 14-year low in July
New home sales dropped by 33% in July from a year earlier
One of its largest property companies, Country Garden, lost US$7.6 billion in the first six months of 2023, and owes over $200 billion. But its largest problem is that it has contracts to finish nearly one million apartments, most of which have been fully paid. In August it skipped two interest payments on its bonds. Cue a default. Its credit rating was lowered to Caa1 ("very high risk").
Oh dear. Emperor Eleven Jinping may soon become Emperor Ten Jinping. Or just plain X.
5 In 2014, an Indian newsreader pronounced Xi Jinping as Eleven Jinping in an evening news bulletin. The newsreader was clearly familiar with Roman numerals, but not pinyin – the most common romanisation system for Mandarin. The problem was that Eleven was in India at the time – much embarrassment. The newsreader was fired.
Mortgage pain
If Readers think that their mortgage rate is too high, consider US homeowners.
US mortgage rates yesterday hit a 21-year high of 7.09%.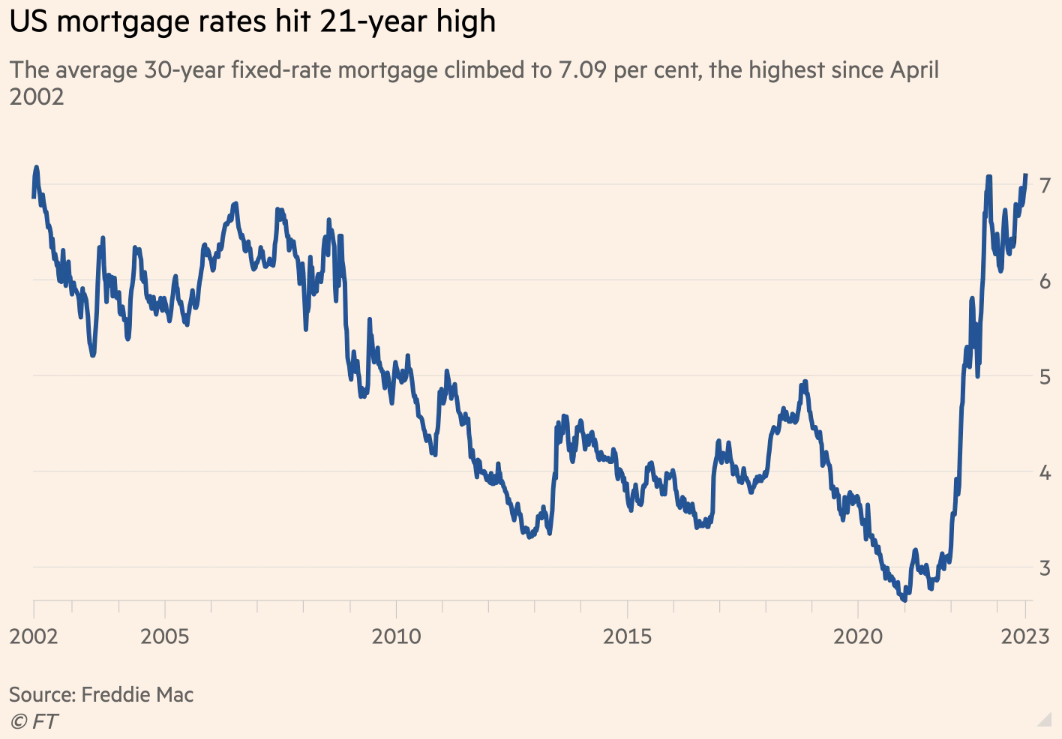 Any comparison with Australia is not quite accurate. In the US (mostly), borrowers are not personally liable for their mortgage debt. That is, if the borrower defaults, all he/ she loses is the security i.e. the house. The lender has no personal recourse to the borrower.
Don't mention the…
How embarrassing.
The foreign minister of a country known for its engineering prowess has had its equivalent of AirForce One breakdown. Twice in the one trip.
Germany's foreign minister Annalena Baerbock has been forced to abandon a trip to Australia after the 23-year-old Airbus A340 she was aboard wasn't equal to the task. It twice broke down in Abu Dhabi.
Undaunted, and in the spirit of national unity, German officials on Monday defended the service provided by the diplomatic fleet and the team from the Bundeswehr — the German armed forces — that maintains it.
"The Bundeswehr Air Readiness Unit is doing an excellent job," said a spokesman for the federal government in Berlin, adding that the fleet of aircraft were also "excellently maintained".

Tsar Vlad might have got further had he invaded Germany rather than Ukraine.
Is this the future?
Last week, the powers-that-be in San Francisco permitted unrestricted use of and charging for robo-taxis. Two companies have been approved: Cruise, a subsidiary of General Motors, and Waymo, a subsidiary of Alphabet (i.e. Google).
The robo-taxis can operate 24 hours a day.
First reports from Wry & Dry's spies suggest that some passengers are keeping themselves, err, very occupied in the back seat. But it seems that no-one told the passengers that there are security cameras in each robo-taxi.
However, if the camera lens steamed up…
A rat
Last week, Wry & Dry wrote that he smelled a rat because the Minister for Qantas Transport formally announced her refusal to allow Qatar Airways (code-shared with Virgin) to add 26 more flights per week to Australia. Her reason was that it was not in the national interest.
And so it came to pass that the rat emerged. On Monday, the outgoing CEO of Qantas announced he had directed that the airline paint three of its aircraft to support Albo's 'Yes' campaign for the Voice. Albo was also there for the announcement.
Err, in whose interest?
Unclear on the concept
The below photo was taken in northern Queensland.
The photo is a still from a video. Later the fisherperson turns and strolls past the crocodile.
It was not clear if the fisherperson caught anything. It seems the croc did not.
Brits fleeing
In 2021 almost 13,000 Brits decided to become naturalised Europeans. Whilst down from the four years following the Brexit vote, it's still above 2016 levels.
Number of British citizens naturalised by EU member states.
The mystery is why almost 40,000 Brits from 2010 and 2021 chose to become German? Or why so many Swedish?
And why did only 163 Brits choose France in 2021?
Snippets from all over
1. Tsar Vlad's moon mission
Moscow's Luna-25 lander was successfully placed in the Moon's orbit on Wednesday, August 16, the first such Russian mission in almost 50 years, space agency Roscosmos announced. (Le Monde)
Wry & Dry comments: This is perhaps Tsar Vlad's Plan B: if invading Ukraine fails, "let's invade the moon".
2. US, Japan and South Korea deepen security ties
The US, Japan and South Korea are to create a leader-level hotline and hold annual military exercises as part of a landmark trilateral agreement that will help Washington and its Asian allies boost deterrence against North Korea and China. (Financial Times)
Wry & Dry comments: "Leader-level hotline"? Now, that is a really significant deterrent.
3. Well, if you don't like the number…
Chinese officials said they would stop reporting the country's youth unemployment rate after months of spiralling increases. (Wall Street Journal)
Wry & Dry comments: The unemployment rate for 16- to 24-year-olds hit a record 21.3% in June.
4. Would the last company leaving…
Two more big London-listed companies have joined the roll call of those considering a listing in New York, a trend that threatens to undermine Britain's standing as a financial centre. (The Times)
Wry & Dry comments: They are Plus500, a trading platform, and YouGov, an online polling company.
5. Age shall not weary them, nor the years condemn…
Rupert Murdoch has reportedly begun a romance with the former mother-in-law of Roman Abramovich months after calling off what would have been his fifth wedding. (UK Telegraph)
Wry & Dry comments: He is aged 92, she 66. Good grief.
6. Rouble trouble
President Vladimir Putin's economic advisor admonished Russia's central bank for loose monetary policy as the rouble slid past a 16-month low to 102 against the dollar, having lost around 30% of its value this year. (The Economist)
Wry & Dry comments: Tsar Vlad may have to pitch in.
Data
Australia: unemployment rose to 3.7%.
UK: inflation fell to 6.8% in July.
Russia: raised interest rates by 3.5% points to 12%.
UK: annual pay growth reached 7.8% in the three months to June.
And, to soothe your troubled mind…
"They say Putin is not the man I knew. I'm not convinced. I had dozens of conversations with him. He is not irrational."
Nicolas Sarkozy, the former president of France, in a vigorous defence of President Putin and a call for Ukraine to accept the Russian occupation of Crimea and other conquered territories.
Sarkozy would have accepted Vichy France.
PS The comments in Wry & Dry do not necessarily reflect those of First Samuel, its Directors or Associates.
Cheers!
Anthony Starkins