Whilst enjoying your Perrier-Jouët Belle Époque…
"I hear you knocking…"
Most folk in the US would be concerned if the FBI came knocking on their front door.
Not the Trumpster.
A large group of FBI agents searched his Florida estate looking for government documents that he had from his time in the White House. It is a federal crime to conceal or destroy US government documents, with a penalty of three years in the slammer. The search triggered an outcry from his supporters, wanting answers.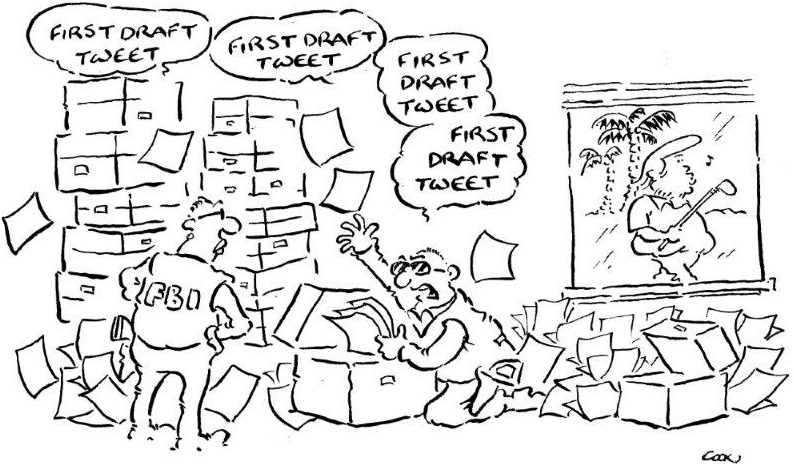 Which is sort of weird, as the Trumpster knows many answers. Because he has both a copy of the warrant and an inventory of what was taken away. But he remained silent on disclosure.
Then he, instead, did what any modern, narcissistic and venal American politician would do. Ignore the FBI.
And tout for donations from They-The-People.
Re-education
The Chinese ambassador to Australia fronted the National Press Club in Canberra on Wednesday. His comments took on great gravitas in view of his country's desire to invade a neighbouring country.
Wry & Dry was especially interested in his comment that Taiwan's 23 million people face a campaign of "re-education" if the country is taken over by China.
This is clearly a good thing. There is no doubt that the Taiwanese education system is not as proficient as China's. On the OECD's PISA results (a global test for 15 year-old students), China's scores are better than Taiwan's on the three key metrics. Predictably, also better than Australia's.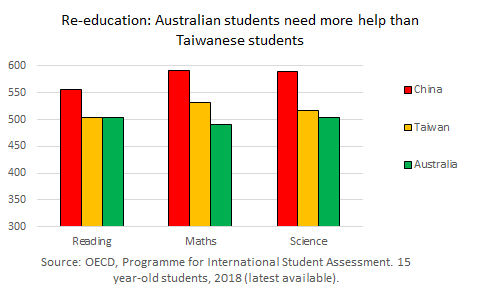 Australia's results are clearly shocking, for an advanced nation that prides itself on its education systems.
Wry & Dry suggests that China should ignore Taiwan, and instead invade Australia (between the flags). And then introduce a re-education campaign for Australian students. Those students need help in reading, writing and science.
All it would take is for Nancy Pelosi to visit Canberra. Chinese invasion guaranteed.
Cheering 8.5% inflation
It seems weird. US consumer prices rose by 8.5% in the year to July. And the markets cheered. Why?
Well, the markets expected a much higher figure. In June it was 9.1%.
The popping champagne corks were also about a sense that inflation has peaked. And that the curve on the chart will continue sharply downward.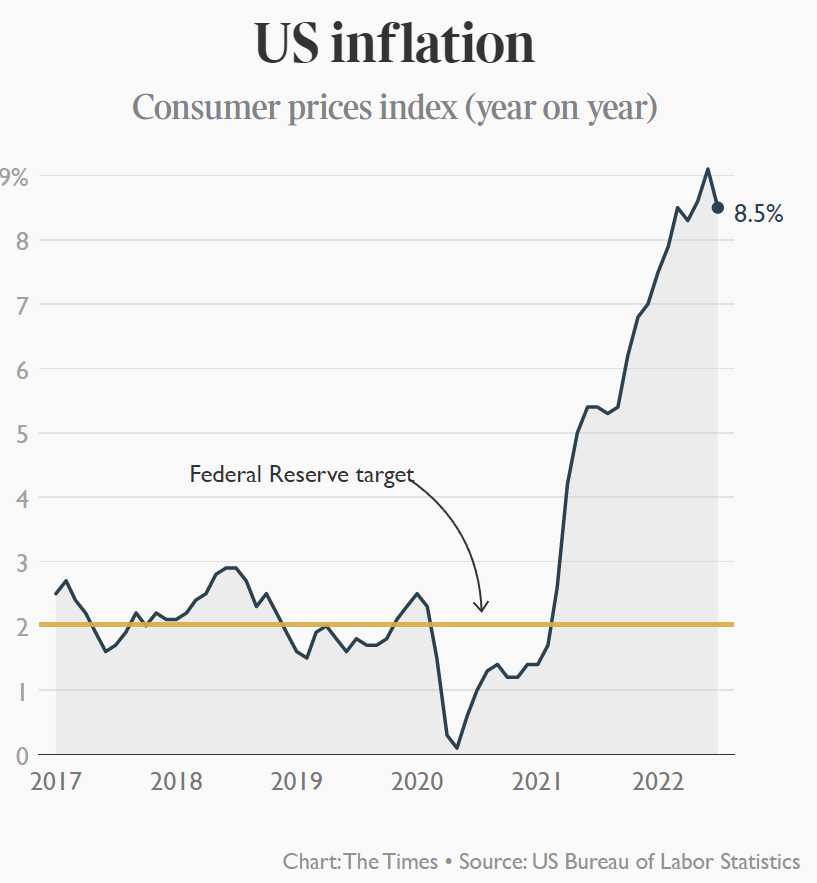 Wry & Dry channels Chou Enlai, and states that it's too early to tell.
The rotten states – update
Last week, Wry & Dry put state governments under a shabby microscope. And now brings updates:
South Australia: The premier listened to Wry & Dry, and will return the $125,000 donation to his political party to the CFMEU. This was after operatives of the CFMEU vandalised offices of the SA Master Builders Association.
Wry & Dry's remaining confusion is how was it that the SA premier was unaware (a) of the stunning track record of the CFMEU in violent and illegal behaviour; and (b) that leopards don't change their spots?
Victoria: The stunning lack of judgement by the Leader of the Opposition, Whatshisname, in appointing a close mate as his Chief of Staff has been revealed by the publication of the now ex-CoS's resume. Not a sentence on political experience. And a history of, err, capricious public behaviour. But none showing measured judgement. And now Whatshisname's director of communications has given himself the DCM.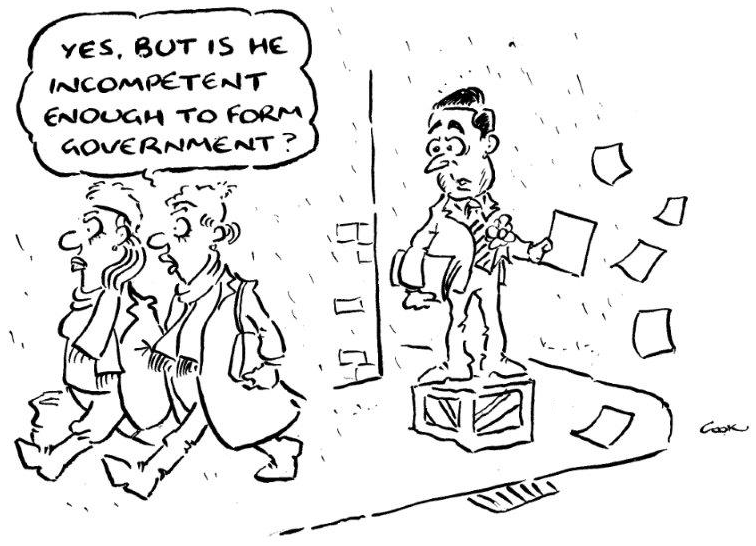 At November's election all Chairman Dan has to do is turn up.
New South Wales: The unfolding scandal of the former deputy premier of NSW, John Pork Barrel, (a) not getting, then (b) getting and then (c) not getting the plum role of US Trade Commissioner continues without abatement.
Wry & Dry's man in Hollywood understands that Netflix and Disney are squabbling over the streaming rights to the movie. Netflix is planning a political drama called "The New South Wing". Disney has an animated movie planned: "The Lying King."
Western Australia: Update: the Liberal Party still has only two members of state parliament.
Queensland: Still arguing over whether plans for the 2032 Olympic Games are on schedule. Err, either way, they won't be on budget.
Tasmania: Still discussing the big issues: e.g. who will pay for the new football stadium.
"I'll take the fifth"
It came as no surprise.
The Trumpster has often derided public figures who invoke their constitutional right against self-incrimination. This is the so-called 'Fifth' i.e. the fifth amendment to the US constitution1.
But on Wednesday he took full advantage of the Fifth. He was to give evidence in a court-ordered deposition. The New York State attorney-general is investigating the Trumpster to see if he fraudulently inflated the value of his assets to secure loans and other benefits.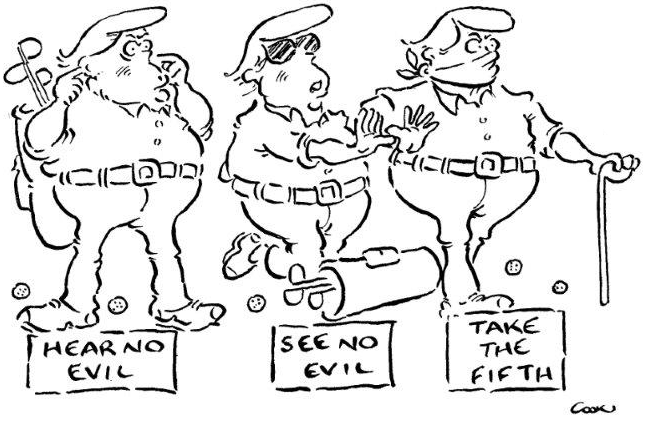 The Trumpster valued his business assets at X (where X is a big number) for loan security reasons.
He valued those same assets at X – Y (where Y is big number but <X) for taxation reasons.
This is a civil investigation.
This can get complicated. The Manhattan district attorney is conducting a parallel criminal investigation into the same issue. Which is probably why the Trumpster didn't respond to over 400 questions in the civil case.
In another first, the Trumpster is the first US president to plead the Fifth.
1 The Fifth Amendment addresses criminal procedure. It was ratified, along with nine other articles, in 1791 as part of the Bill of Rights. The Fifth covers much more that self-incrimination, such as double jeopardy, just compensation, due process and equal protection.
Racist? An indulgent editorial
One of the disappointing trends of the modern, simple world, is for every lens to be binary. For example, if a Reader supports homosexual marriage, he/ she must be left wing. And be doing the devil's work.
Or if a Reader is opposed to The Voice (that is, a proposed constitutionally recognised body that would make recommendations to governments about matters that affect Aboriginal peoples), he/ she must be right wing. And be a racist.
Such is the lazy thinking of both the media and lots of folk in Australia these days. Not to mention the re-defining of free speech (i.e. "you can say anything you like as long as it agrees with me. What is more, if you don't, I'll hound you on social media until you do").
Which brings Wry & Dry to the bubbling issue of The Voice. And a lazy and emotional debate. Sadly, it is being driven by a newbie prime minister who otherwise has been doing so well. He risks a lot of goodwill in asking We-The-People to vote on the creation of a para-parliamentary body, the constitution, power, role and tenure of which nothing is known.
Extreme advocates have certainty in their view of what The Voice is and its merits. They refuse to listen to the concerns of others who are not so certain. And brand them "racist."
In the same direction, but not magnitude, Albo has said that voting Yes would realise "this long-overdue embrace of truth and justice and decency and respect for First Nations people". Hold the phone, so by voting No, is a voter against truth, justice, decency and respect for Aboriginal peoples?
The Prime Minister's comments are absurd.
Wry & Dry is comfortable in stating that he is not so certain about The Voice as currently presented.
Wry & Dry is not racist, just cautious. And he is in favour of truth, justice, decency and respect for Aboriginal peoples. Just as equally, he supports gay marriage, but he is not doing the devil's work.
He believes that God is colour blind. As should be Australians.
Unclear on the concept
Japan has a minister for birth rate. In a country where, in 2021, the lowest ever number of births was recorded2, this seems to make sense.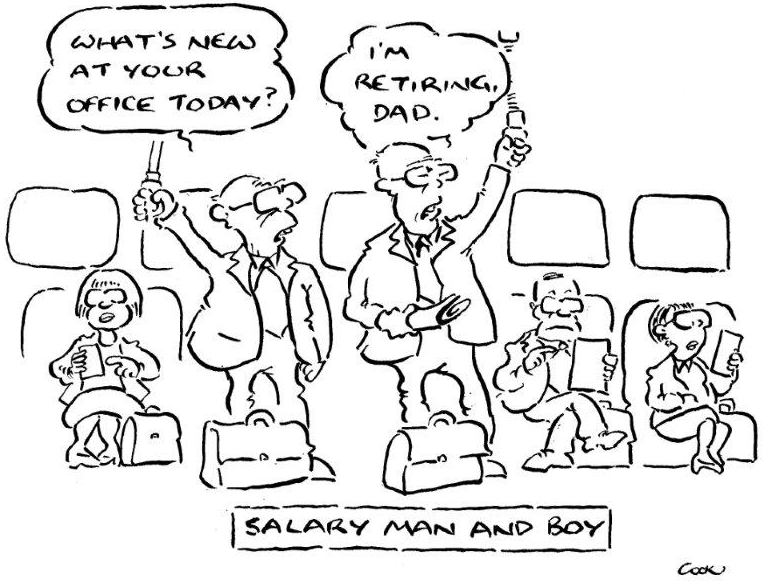 But on Wednesday, the Prime Minister Fumio Kishida gave the female minister the DCM. And replaced her with a… man.
The new minister then sought to deepen his understanding of the issue by trying out a "pregnancy belly."
Sigh.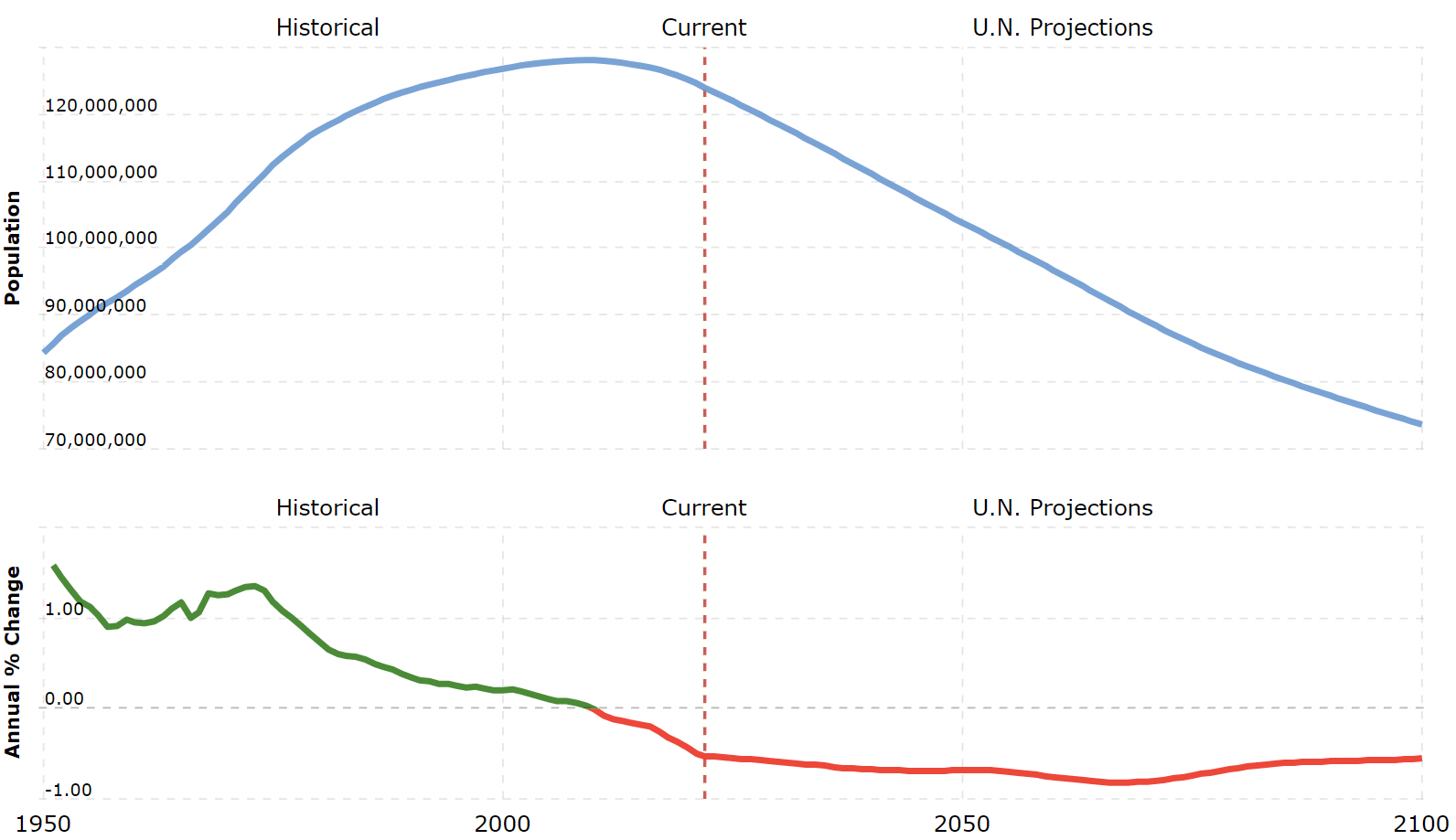 2 Japan's fertility rate, or rather the fertility rate for Japanese women, is 1.3. A rate of 2.1 is needed for population replacement. Immigration to Japan is virtually zero.
"This green and pleasant land…"
It's been a bit warm in the UK recently. This satellite imagery taken yesterday: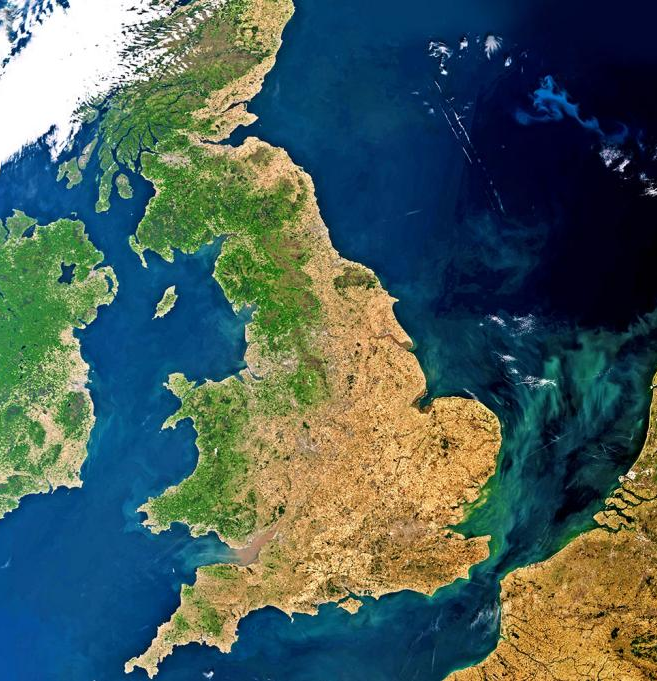 :
Brexit?
Retirement 1
Former PM Jimmy Morrison has had his post-PMship perks detailed. How about these:
a mobile phone (a Blackberry?)
unlimited postage ("Hey, Jenny, how do I stick the stamp on the envelope?")
30 domestic return flights p.a. (limited cost to We-The-Taxpayer, he never left NSW)
Retirement 2
Meanwhile former Foreign Minister for Boutique Shops in London, Paris and New York is clearly struggling to make ends meet.
She has a gig as a runway model for David Jones. And walked the boards on Wednesday night, in what Wry & Dry assumed was the sportswear department. She modelled what appeared to be wetsuit of some sort.
Not sure that either the hair or eye makeup would survive underwater.
Wry & Dry wishes her every success in her new career.
Habits: hoax
What is this?
a. Photo of Proxima Centauri, the nearest star to the Sun, located 4.2 light years away, taken by the James Webb Space Telescope;
b. Photo of the smallest brain cell yet photographed, taken by a microscopic camera embedded on a blood cell;
c. Artist's impression of the magma core in the centre of the Earth; or
d. Photo of a slice of chorizo taken against a black background.
Close, but no cigar. The correct answer is d. Étienne Klein, a celebrated physicist and director at France's Alternative Energies and Atomic Energy Commission, shared the image of the spicy Spanish sausage on Twitter last week, stating that it was a photo of Proxima Centauri. He received lots of abuse when the hoax was unveiled.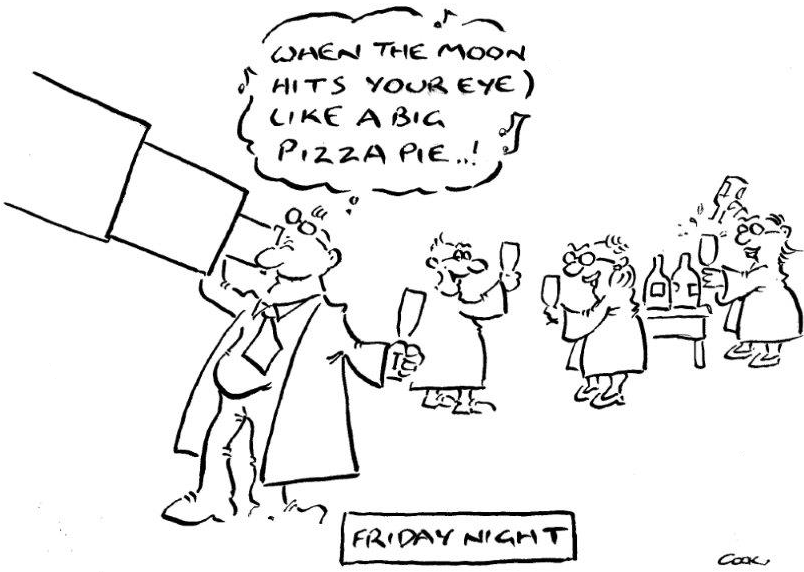 The astronomer has sense of humour. He responded," Well, when it's cocktail hour, cognitive bias seems to find plenty to enjoy… Beware of it. According to contemporary cosmology, no object related to Spanish charcuterie exists anywhere else other than on Earth."
Which confounded his humourless critics even more.
Facts
Wednesday was Lego's 90th birthday. And to celebrate, Wry Dry offers some vital statistics:
Lego manufactures more tyres than any other company.
Lego bricks are universal. A brick Readers buy now will interlock with one that has been laying around since 1958.
Six 2×4 Lego bricks can be combined in 915,103,765 different ways.
Lego aficionados may wish to visit: LEGO World of Bricks or LEGO CT Scan.
Snippets from all over
1. Interest rate of 69.5%
The Central Bank of Argentina on Thursday raised its benchmark Leliq rate 9.5% points to an almost-three-year-high of 69.5%. That followed an increase of 8% just two weeks ago. (Financial Times)
Wry & Dry comments: Really, 0.5% point increases are just so yesterday.
2. War games
A full-scale conflict between China and the United States over the future of Taiwan would lead to devastating losses of American warships and aircraft, an analysis by a Washington think tank has concluded. (The Times)
Wry & Dry comments: The headlines didn't pick up that China's invasion would fail.
3. Robbing Pyotr to pay Pavel
Russian airlines are dismantling Western-made aeroplanes for spare parts as sanctions over the invasion of Ukraine cripple its aviation industry. (UK Telegraph)
Wry & Dry comments: Tsar Vlad's private planes are not affected.
4. Egg on house
The $19m harbourside home of Qantas Airways chief executive officer Alan Joyce has been pelted with eggs and toilet paper. (Bloomberg)
Wry & Dry comments: Something to do with staff shortages, flight delays and lost luggage. Qantas is cancelling 8% of its flights, quadruple the rate of US airlines. Some 46% of Qantas flights are also delayed, more than double the figure in the US.
5. Disney passes Netflix
Walt Disney edged past Netflix with a total of 221 million streaming subscribers at the end of the most recent quarter. (New York Times)
Wry & Dry comments: Disney is still losing money on its streaming services, losing $1.1 billion in the June quarter. Netflix made a profit of $1.4 billion in the same period.
Data
Australia's consumer confidence hit a two-year low.
Australia's business confidence rose 7 index points to be above average.
Inflation in China grew at its fastest pace in two years, at 2.7% year-on-year.
And, to soothe your troubled mind…
"I know it's a hassle to come into the office, but if you're just sitting in your pyjamas in your bedroom, is that the work life you want to live?"
Malcolm Gladwell, author and economist, arguing in a podcast that WFH hinders an employee's ability to feel fulfilled by his/ her job.
Predictably, a torrent of on-line abuse erupted. Likely sent from people WFH.
PS The comments in Wry & Dry do not necessarily reflect those of First Samuel, its Directors or Associates.
Cheers!
Anthony Starkins