Seven stories you may have missed
"Full support of the board"
Sensible decision
Marketing ideas I
Marketing ideas II
Cricket: the last word
Europe slows
Expenses
"Full support of the board"
Wry & Dry just doesn't like banks. Many of the front-line folk are helpful and friendly. But their corporate modus operandi has the attractiveness of ongoing preparations for a colonoscopy. That mode is a blend of virtue signalling and arrogance.
In the UK, over the last month the media has been excited by populist and oft-times reviled politician Nigel Farage being given the DCM from his bank1 – the venerable Coutts. Coutts is owned by NatWest bank.
It eventually became public that Coutts closed Farage's bank accounts because it didn't agree with his political views. Then the CEO of NatWest, Dame Alison Rose, gave misleading information about Farage to a journalist. And was found out.
On Tuesday, the chairman of NatWest announced that the CEO "had his full confidence." This was reminiscent of an ailing football club announcing that the coach "had the full support of the board."
On Wednesday, Dame Alison no longer had the full support of the board. And was, err, encouraged to fall on her sword. Last night, the CEO of Coutts fell on his.
These brainless bureaucrats should have been fired in any case, for being so stupid as to not realise that by needlessly prodding Farage they were prodding a big, grumpy, vengeful bear.
Stripping back all of the politics, gnashing of teeth, media lathering, and the fact that Dame Alison breached client confidentiality, the simple matter is that it is not the job of banks to tell its customers what to think. Nor, indeed, of any company.
1 "De-banked" can now be added to Readers' lexicon.
A sensible decision, at last
Someone in Chairman Dan's bunker has at least come up with a sensible idea: scrap the $10,000 first home-owner's grant.
Erudite economist Saul Eslake has been one of many railing against this and similar schemes for decades. The reason? The $10,000 merely goes to the vendor or developer in a higher price. It simply increases demand.
The grant, counterintuitively, therefore makes housing less affordable.
And the cost to we-the-Victorian-taxpayer? About $2.4 billion over 23 years. Plus, another $1.2 billion for a variety of 'bonus' arrangements usually introduced before an election.
Developers will be whining louder than a member of the Marylebone Cricket Club at Lord's after a few pre-lunch clarets.
Marketing ideas I
Mattel, a US toy company, the shares of which are listed on Nasdaq, has had the price of its shares leap by 17% over the past month. The S&P 500 has increased by 4.3% over the same period.
What's going on?
What's going on is a marketing idea of genius. Make a movie2 that mocks your company's most successful product. Barbie is, apparently, a very funny movie. And the punters are flocking to see it.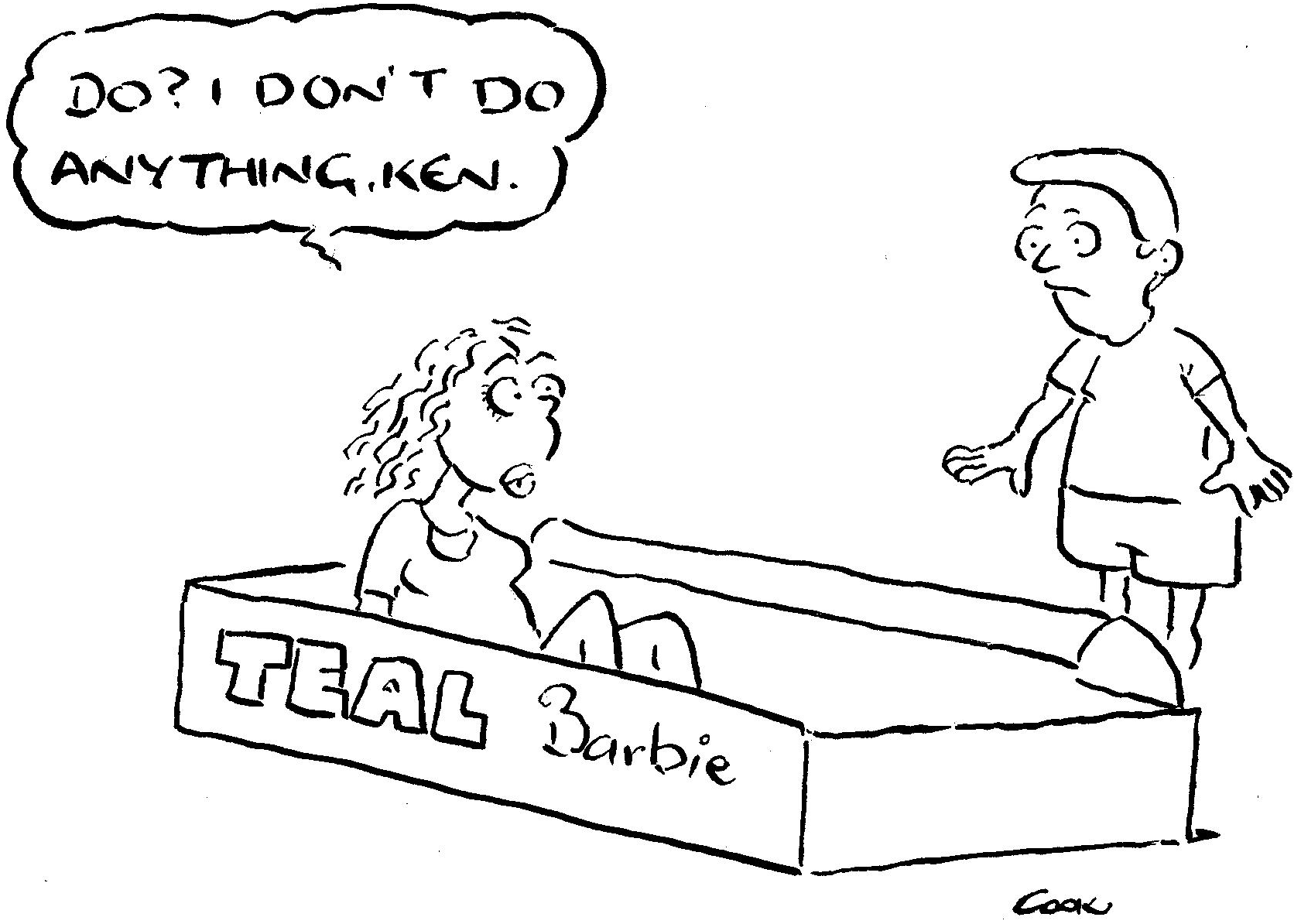 Wry & Dry cannot help but wonder if the box-office success has a little to do with a need to escape from the scattered clouds of global gloom. High interest rates, a European war, the upcoming gerontological battle for the US presidency, etc.
Whatever reason, the movie is good for Mattel's share price. But the rally may not last. The movie is largely targeted towards adults, not too many of whom are going to buy a doll.
What will next occur:
a. a sequel "Barbie II: Forward to the Past;"
b. a lawsuit from a person disgruntled that his/her Barbie doll didn't speak or look like Margot Robbie;
c. a copycat movie: "Jetstar: The Search for Luggage;" or
d. the share price of Mattel will crater when sales of dolls don't match sales of movie tickets.
Close. But no cigar. The correct answer is all of the above.
2 Well, almost. In 2014, The Lego Movie was released. But the company in that movie (a) was very profitable and (b) wasn't mocked.
Marketing ideas II
Success is when one's brand name becomes a verb, used globally. Readers might think of:
Google/ to google
Uber/ to uber
Hoover/ to hoover
Or Twitter/ to tweet.
For the last decade, one of the most globally recognisable logos has been Twitter's blue and white bird. Now, Elon Musk has given it the DCM. And replaced it with a stylised version of the 24th letter of the alphabet. X logos have propagated in Twitter's HQ.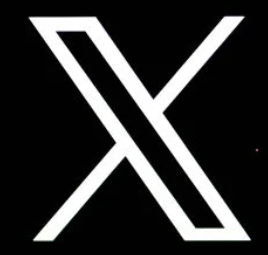 Mr. Musk will soon turn everything Twitter into an app and brand called X. Readers will soon no longer be able "to tweet", but "to X" instead.
As the share price of Twitter has halved since he bought it, perhaps the new logo should have been X/2.
In any case, Wry & Dry is forced to ask Y the fuss?
Cricket: the last word
Wry & Dry will never again complain about English weather.
Europe slows
Most of the western world has been battered by rising interest rates. To the dismay of mortgaged homeowners.
[By the way, the word 'mortgage' comes from the Old French mort gaige, meaning 'dead pledge'. This doesn't mean if the mortgage is not paid, the borrower dies. It means the deal dies either when the debt is paid or when payment fails, and the borrower then forfeits the security.]
And also to businesses wanting to expand.
Eurozone3 banks have this week reported a sharp fall in demand for business loans to its lowest on record. Reduced lending is one aim of higher interest rates: reduced investment lowers growth in jobs and wages, thereby cooling inflation.
Yesterday, the European Central Bank again raised interest rates to 3.75%, its highest in over two decades. Maybe it has gone a bridge too far.4
3That is, the 20 European countries that use the euro as their currency.
4 The description given to the Second World War 'Operation Market Garden', a plan for paratroopers to capture a series of bridges over a vital 100 kilometre road from the Germans, with infantry racing up the road. The aim was to capture a bridgehead of the Rhine River. It failed.
Expenses that will not be sacrificed
The folk at NAB have surveyed we-the-people. And ascertained the items on which we are most willing to cut back, ranging to those we are least willing to cut back. There are some surprises: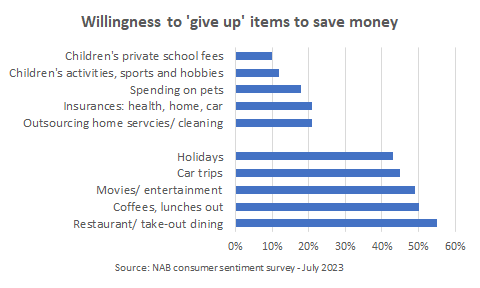 It's bizarre. The items that are most willing to be given up are the least expensive. So, perhaps not much is going to be saved after all.
Aust/ NZ seamless links
Albo earned more frequent flyer points this week, from a trip across the Tasman. He met with the NZ PM to discuss "simplified border checks".
Wry & Dry is not sure why a mundane matter such as border checks needed a meeting between two prime ministers. But, it is what it is: Albo needed the FF points to keep his Platinum status within reach.
The media releases also mentioned the purpose of the junket was to improve "people-to-people links." Wry & Dry wonders what these people-to-people links are? Will Australian now be asked to hold hands with a passing New Zealander? Or perhaps undertake a blend of the haka and Nutbush?
Zones
The term ULEZ sounds like an Anatolian lamb delicacy. In fact, it is Ultra-Low Emission Zone. This is an area of London where the drivers of the 'most polluting vehicles' have to pay about $20 per day to drive their vehicles. The ULEZ was first introduced by Borisconi when he was mayor. Arguably, one of the few sensible actions he undertook.
A 'most polluting vehicle' is a petrol vehicle over 19 years old and diesel ones over eight years old. The fuss is that Sadiq Khan, London's mayor, is planning to triple the size of its ULEZ, to cover 9 million residents. It will make it the world's largest and strictest clear-air zone. The proposed expanded ULEZ would take in much of London that is encircled by the M25 motorway, and includes Heathrow.
The plan has infuriated locals, caused the Labour party not to win a local by-election it should have won, and also caused the wannabe Labour PM Sir Keir Starmer to say that his party should abandon policies that annoy suburban voters.
The seemingly good idea also hit the iceberg and reality of poor local public transport. And the thicker end of the wedge is that the definition of a 'most polluting vehicle' will certainly be tightened to have fewer years as the benchmark.
But the facts speak for themselves: since the introduction of ULEZ in London, the emissions of nitrogen oxides have fallen by 26%, and by 19% of fine particulate matter (PM2.5). The number of vehicles on the roads has fallen by 5%.
It's that oft cited question these days: "So, you want to reduce harmful emissions. What will you give up to do so?"
Lobbying
Wry & Dry's spies inside Planet Canberra have always said that the three best lobbying organisations are the pharmacists, the Catholic schools and Qantas.
Consider that Qatar Airways applied for more flights into Australia. The application was actively opposed by Qantas. Transport Minister King refused the application, without giving reasons. Hmm. Of course, Qantas has a deep business relationship with Emirates.
Also consider that Turkish Airlines has applied for flights into Australia. A spokesman for Minister King said, "Australian aviation officials earlier this month received a request from the Turkish Directorate General of Civil Aviation (DGCA) for initial discussions on updating air services arrangements between our two countries. We look forward to these discussions shortly with the Türkiye DGCA, after completing consultation with our stakeholders."
Hmm. One wonders if Qantas is a "stakeholder."
Snippets from all over
1. Down in Texas
The [US] Justice Department filed a suit on Monday against the State of Texas over its installation of a floating barrier meant to stop people [illegal immigrants/ refugees] from swimming across the Rio Grande. (New York Times)
Wry & Dry comments: This is all faintly ridiculous. The barrier, a string of linked buoys is only 300 metres long. The Rio Grande as the border between US and Mexico is 2,000 kilometres long. Just 1,999.7 kilometres to go.
2. Mutineer back in Russia
Yevgeny Prigozhin, founder of the notorious Wagner paramilitary group, has appeared on the sidelines of a major Russia-Africa summit in St Petersburg, despite agreeing to go into exile following his failed mutiny last month. (Financial Times)
Wry & Dry comments: So, just who is running Russia?
3. Youngest peer
A former adviser to Boris Johnson has become the youngest peer in the House of Lords after taking her seat in the chamber. Charlotte Owen, 30, was nominated to the Lords in Johnson's resignation honours list, which was released in June. (The Times)
Wry & Dry comments: One day the story will be told.
4. JP Morgan and Epstein
JPMorgan Chase reimbursed former executive Jes Staley for trips he took to meet Jeffrey Epstein, according to allegations in New York court filings that shed further light on the US banking giant's entanglements with the late sex offender. (Financial Times)
Wry & Dry comments: JP Morgan last month agreed to a $290m settlement with Epstein's accusers. Staley, who went on to become the chief executive of Barclays, was for a period Epstein's private banker, and made several visits to his homes in Manhattan, Florida and the island of Little Saint James.
5. Italy's about-face
Italian Prime Minister Giorgia Meloni could notify the US as soon as this week about her plan to pull Italy out of a controversial investment pact with China, according to people familiar with the matter. (Bloomberg)
Wry & Dry comments: Err, that would be the Belt & Road Initiative.
6. Fed ups
The [US] Federal Reserve raised its benchmark interest rate by a quarter of a percentage point on Wednesday to the highest level in 22 years as it left the door open to further increases this year. (Financial Times]
Wry & Dry comments: Markets yawned.
Data
Australia's inflation rate slowed to 6% in the year to June, beating expectations.
America's economy grew by 2.4% in the year to June, beating expectations.
Japan's population fell by almost one million in 2022.
And, to soothe your troubled mind…
"I will be calling on the International Cricket Council for schedules to be more flexible in the light of the strange eventuality at Old Trafford."
Richard Thompson, Chairman of England Cricket Board. (Old Trafford is the cricket ground at Manchester where rain prevented a possible English victory).
Spare us, you sanctimonious prig:
1. Rain in Manchester is not a 'strange eventuality.' Rain does happen in England, even in cricket matches. And only two test matches have been abandoned because of rain without a ball being bowled, one was in Manchester in 1938 (the other was in Melbourne in 1970).
2. It was the ECB, not the ICC, that arranged five test matches in 45 days, thereby ensuring scheduling inflexibility.
PS The comments in Wry & Dry do not necessarily reflect those of First Samuel, its Directors or Associates.
Cheers!
Anthony Starkins