Enjoy Wry & Dry: a cynical and irreverent blend of politics, economics and life.
Seven stories you may have missed
Ceiling restored
"And, I'd like to thank…
Five more years
There, but for the grace of God…
Unclear on the concept
Hats off to…
Made in Moscow, or…
Ceiling restored
Of course it would be agreed. That is, the raising of the US government debt ceiling. Politics is the art of the possible. So, who is happy?
Investment markets are happy. All they wanted was an agreement, the winners and losers didn't matter. The end of the world as we know it didn't happen.
Sleepy Joe is happy. Well, actually, who knows? His lips moved but no sound emerged. The concessions he made will be forgotten, the fact that he seemed to concede at all will not be forgotten.
The Democrat far-left nutters are not happy. And will never be, unless the police are defunded; the rich pay more tax; all nuclear, oil, coal and gas energy sources are shut today; and all refugees coming from Mexico are given US citizenship, a car and a three-bedroom home in Beverly Hills.
Some Republicans are happy. They got Sleepy Joe to cave in, a little.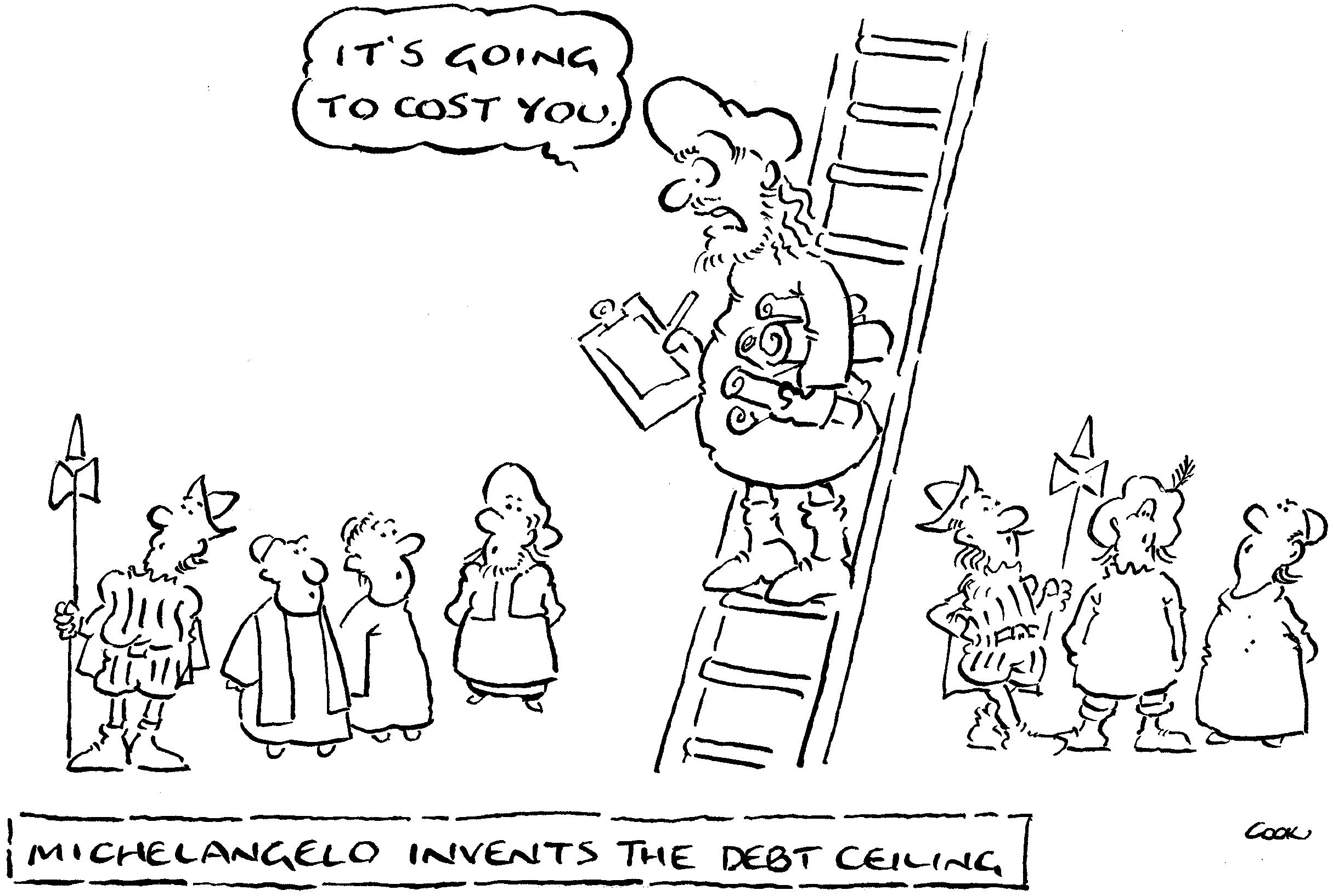 The Republican far-right crazies are not happy. And will never be unless the police budget everywhere is doubled; the rich don't have to pay tax; all renewable energy sources are shuttered; and a 3-metre high, 3,144-kilometre-long continuous wall from the Pacific to the Gulf of Mexico is built on the border with Mexico.
And… the Trumpster is not happy. No-one asked his opinion. And no-one quoted his book "The Art of The Deal" in the negotiations. He has lawyered-up.
"And I'd like to thank…"
"…Scott Morrison." Every night in his prayers, so says Albo.
Y'see, Albo had the amazing fortune to face Morrison in the 2022 federal election. As someone famous once said, "A drover's dog could have won the election."1
"…Scott Morrison." Every night in his prayers, so also says Mark McGowan, the just retired premier of the hermit kingdom of Western Australia. WA's massive budget surplus and zero debt of today is solely due to Morrison deciding, when federal Treasurer, to over-ride the Loan Council's fiscal equalisation policy2. And not allow the rest of Australia to share in the bounty of its iron ore royalties. The Morrison Plan was to save Liberal Party seats in Perth.
McGowan was smarter than Morrison during Covid. He got away with his policy of closing the state's borders because Morrison failed to read the court of public opinion (in WA). And that opinion was Western Australians have always seen themselves as the Chosen People. And McGowan had ensured that no-one else got into the Promised Land.
It was a verbiage battle that Morrison was never going to win – so why fight it? But Morrison did throughout Covid. And then lost those four seats his Plan was designed to lock-in. But for that, Albo would be running a minority government.
Wry & Dry is waiting for statues of Morrison to be erected at Labor Party HQs throughout this land girt by sea. Especially the Perth office.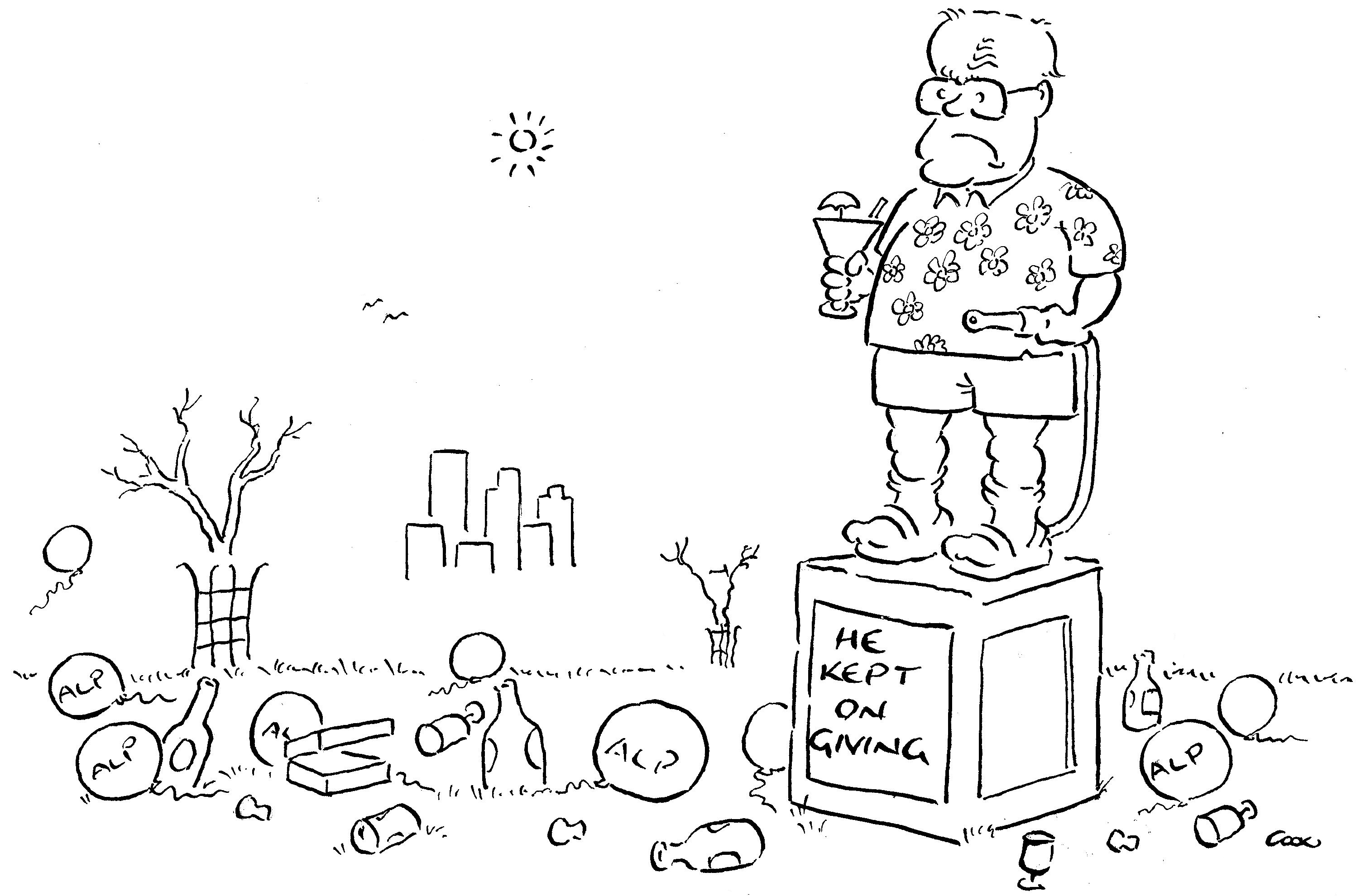 1 Bill Hayden, Opposition Leader. He got the DCM on the day Malcolm Fraser called the 1983 election. Hawke landslid in. As a consolation, Hawke made him Governor-General. Which, Hayden said, was "death by opening a thousand fetes."
2 It's complicated. But essentially, the amount of GST 'sharing' a state would receive would be adjusted to reflect other income, such as mining royalties. So, WA gets to keep its massive iron ore royalties and also keep at least 70 cents of every dollar of GST raised. For a whole lot of reasons, the deal penalises other states and the federal government.
Five more years
Sultan Recep Tayyip Erdoğan has managed to fool just over half the fine people of Turkey3. And bought won five more years in power.
Five years ago, one US dollar could buy five Turkish lira. Today it can buy 22 lira. That's a 77% fall. And reflects the Sultan's imposition of his own views on interest rates on Turkey's central bank and the declining Turkish economy.
Readers will know that Turkey's GDP per capita is ranked 41st in the world. But its Social Progress Index is ranked 88th. Consider some of its rankings against other countries:
water quality (120th)
access to justice (155th)
discrimination and violence against minorities (135th)
intimate partner violence (93rd)
The only area where the Sultan's sultanate is world beating is in its peoples having a…
diet high in fruits and nuts (1st)
Hats off to the Sultan for Turkey's #1 world ranking. Australia ranks 74th on the same factor.
3 52% to 48%
There, but for the grace of God… Part I
The partners at the other Big Four accounting firm (i.e. other than PwC) are breathing a sigh of relief. Every massive partnership will have submerged logs that sometimes strike below the waterline and sink the firm's reputation to the level of Davy Jones' locker.
PwC itself is already no longer on the RBA's Christmas card list. But, make no mistake, some individuals at PwC should end up either in the slammer or fiscally eviscerated. For either or both the original crime and then the cover up. Those bean-counters clearly didn't spend their formative years studying history. How could they not have known that former US president Richard Nixon was shredded for the Watergate cover-up, not the crime?4
Senator Deborah O'Neill is quite rightly prosecuting the case in parliament with the zeal of Saul of Tarsus. And her endeavours have been magnified, if not exaggerated, in the media. It's only a matter of time before the story appears on morning television. And then on an ABC exclusive Four Corners Special, which will point out that all the presumed guilty people are white males.
Doubtless, as Wry & Dry writes the script writers at Netflix are working on a new series (based on true events): Anatomy of an Accountant.
And professors at Harvard Business School are about to advertise a new 'Governance for Accountants' course.
There, but for the grace of God… Part II
But wait. There's more.
Now the net of might-be-guilty has widened from PwC to boffins in Federal Treasury, the Tax Practitioners Board and the ATO. Each of which some five years ago smelled a rat, or were shown a rat, but effectively washed their hands/ were asleep at the wheel/ rested their oars/ [insert Readers' own metaphor here].
But Wry & Dry wonders if this is now getting out of hand. The baying mob will want:
a. A PwC heads on a platter;
b. A PwC heads on spikes-at-the-city-gates;
c. A PwC bodies burned at the stake; or
d. A public apology, no conviction recorded, and a donation made to charity.
Close. But no cigar. The correct answer is anything but d.
But enough is enough. Hand all the files to the AFP, Wry & Dry says. And then let the world focus on the bigger issues: the upcoming Ashes.
4 Nixon was US president from 1969 to 1975. His failed attempt to cover up the so-called Watergate break-in eventually led to him giving himself the DCM, just before being impeached. He was pardoned of all sins by his successor, Gerald Ford. The Watergate saga overshadowed many of his achievements.
Unclear on the concept
Four weeks ago, the Melbourne City Council announced that it was to charge city visitors to park in the CBD on a Sunday. The reason: to "encourage shoppers to use public transport."
Err, no. The plan was to raise revenue. If it wanted people not to park in the CBD it would have banned car parking in the CBD.
It was spin that fooled the media.
Last week, some members of the Victorian government floated the idea of applying an extra property tax to landlords who rent out their properties to short-term renters e.g. Airbnb people. The reason: this will release more properties for longer term rentals to needy folk.
Err, no. The plan was to raise revenue. Economics 101 says that landlords will pay the extra tax and rent to short-term tenants, as long as the net rental income is more than the tax.
Spin. Repeat. Spin. Repeat.
Hats off to…
…Qantas' media relations team. On Wednesday it managed to get The Australian newspaper to publish a full-page article on a fashion designer and her frequent travels from Sydney to New York. On which route she flew… Qantas.
The article then went on to laud Qantas' new Sydney/ Auckland/ New York flights. The article helpfully points out that the new stopover is not Los Angeles but "…Auckland, New Zealand." Geographically helpful, of course. Where else would Auckland be?
But it's all about branding. Which ensures that potential flyers don't notice the price.
Qantas: SYD/AKL/JFK QF3, biz class costs $14,153, flight time 21 hours and 15 minutes (cheapest day)5
And then there's:
Cathay: SYD/HKG/JFK CX138/830, biz class $8,896, 29 hours and 20 minutes (cheapest day)5
So, would Readers pay $5,000 less but suffer an extra eight hour's journey time? And have the possibility of a Hong Kong stopover on the return, rather than Auckland.
5 Source: Qantas and Cathay Pacific's websites.
Made in Moscow. Or Kyiv?
News is that a series of home-made drones have lobbed into Moscow. Only minor damage – no one injured.
Tsar Vlad says it wuz Ukraine.
Some say is wuz Tsar Vlad: he stage-managed the attack in order to have an excuse for further bombing Ukrainian civilians.6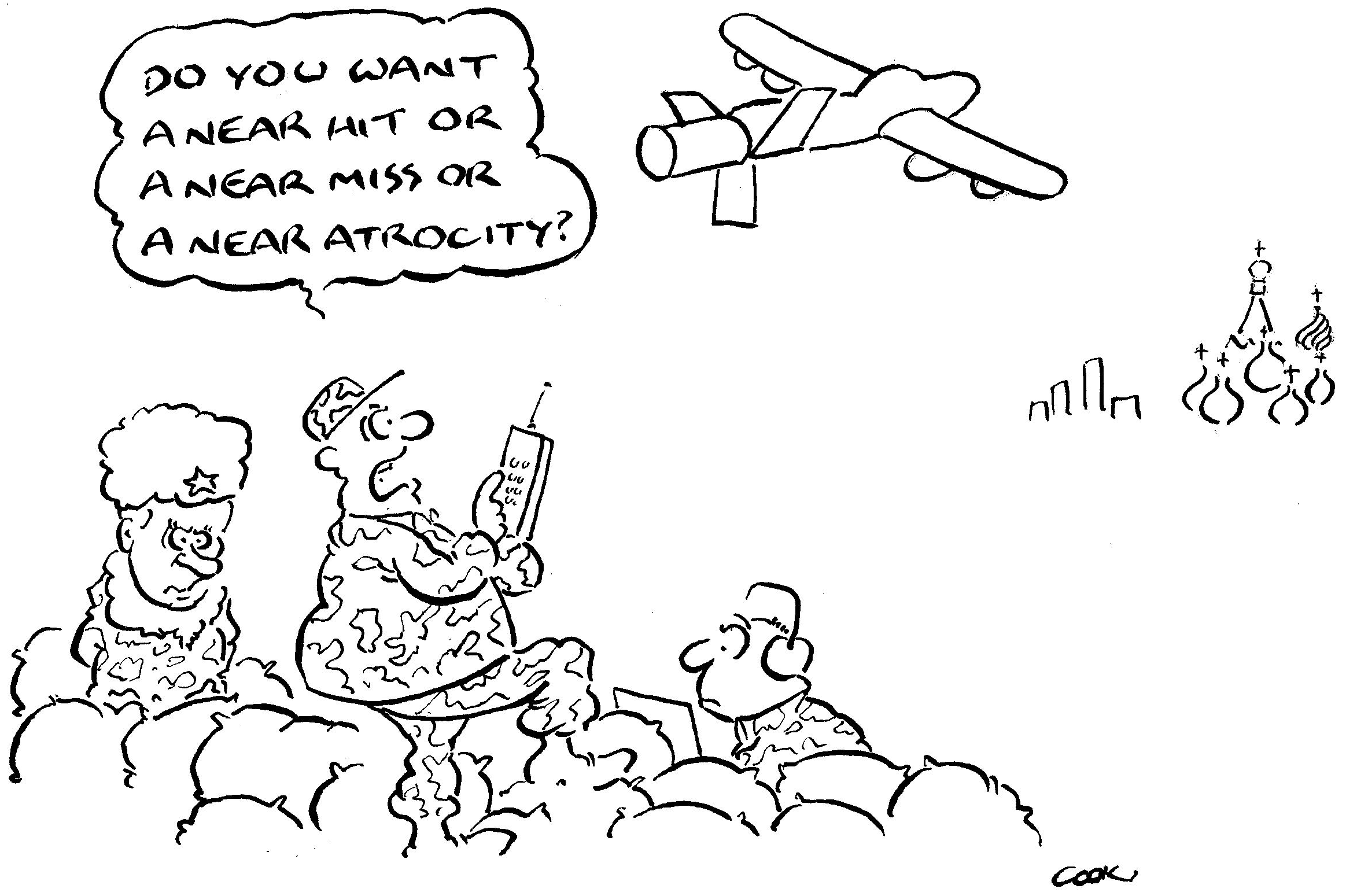 Either way, Tsar Vlad has a problem. Readers can choose:
a. Muscovites get a sense that their city is defenceless, and blame Tsar Vlad; or
b. Muscovites get a sense that Tsar Vlad is using them a mincemeat for his military diversionary tactics.
But only Tsar Vlad can be right.
6 He was widely believed to have orchestrated the 1999 bombings of Russian apartments that was used as a pretext to resume the Chechen war.
Dead man stumbling
Wry & Dry has changed his mind.
Sleepy Joe will change his retirement plans, and not retire in the White House. Instead, he will spend his twilight years in Delaware. That is to say, he will not contest the 2024 presidential election. Last night's stumble and fall will be the last straw.
If he is still compos mentis, he will listen to his wife; advisers; morning television shows; late night television shows and read the polls. And soon announce he will not stand.
If he is not compos mentis, he should be certified.
On the road to Damascus
Early this morning Wry & Dry, whilst walking from the car park, happened upon a homeless man. He was prostrate, surrounded by blood. Whilst waiting for the ambulance, Wry & Dry tended the man and witnessed the horrible sight of the man coughing up vast amounts of blood. And the obvious distress and pain. The ambulance people arrived, and Wry & Dry's work was done.
Other than to reflect: why is Chairman Dan spending $120 billion on a circular railway that won't be finished before turn of the century when this sort of thing is happening on Melbourne's streets? Wry & Dry is sure this morning's episode was not an isolated incident.
Not quite the road to Damascus. But as close as.
Stadia
The largest and richest football (i.e. soccer) league in the world is the English Premier League4. It has 20 teams. The excitement around the globe is that Luton Town Football Club is one of the three teams to be promoted into the EPL for the next season.
The excitement in Luton is that its home games will be played at a ground in Kenilworth Road that holds as many as 11,000 spectators. Readers should look closely at the photo. Locals' homes directly back onto the stadium.
Not quite the MCG. More like Victoria Park. But cleaner.
4 It is the fourth largest professional sports league, after the National Football League (USA), Major League Baseball (USA) and National Basketball Association (USA). The largest from Australia is AFL (#14 globally). The NRL comes in at #30 and Big Bash Cricket at #45.
Snippets from all over
1. France's far-right's links to Tsar Vlad
France's far-right party Rassemblement National (RN), formerly known as the Front National (FN), is accused of having served as a "communication channel" for Russian power, according to a commission of inquiry into foreign interference. (Le Monde).
Wry & Dry comments: For example, FN aligned itself with Russia over the annexation of Crimea at the same time as it received a loan from a Russian bank.
2. Wannabe DeSantis wades in
The decision by Gov. Ron DeSantis of Florida to oppose the debt-ceiling agreement… injected presidential politics into the fraught effort to raise the government's borrowing limit, further dividing the Republican Party and pressuring other White House hopefuls to join the fight. (New York Times)
Wry & Dry comments: The Trumpster remains, so far, silent. As he might: forecasters say he added $7.8 trillion in deficit spending over 10 years through legislation and executive orders during his four years in office.
3. Tsar Vlad should 'stand down'. Or else…
Russia is on the brink of a 1917-style revolution and the "Tsar" should stand down to spare his life, an opposition leader has claimed. (The Times)
Wry & Dry comments: The opposition leader, a former MP in the Russian Duma, now lives in exile in Ukraine. By definition a Tsar died in office, unless he/ she was first assassinated.
4. Made in China
A made-in-China aircraft to rival Boeing and Airbus underwent its maiden commercial flight on Sunday. (Bloomberg)
Wry & Dry comments: Competing with the A320 and B737, it's called a Comac C919. The B737 and A320 are the second (11,000+) and third (10,500+) most produced commercial aircraft in history. The most produced is the DC-3 (16,079).
5. Phone oops
A government official in India ordered a water reservoir to be drained so he could retrieve his smartphone, which he had dropped while taking a selfie. (UK Telegraph)
Wry & Dry comments: The recovered phone drowned.
6. It doesn't add up
Accounting firms in the US are being urged to revamp their business models to attract more young people after the numbers taking exams to enter the profession plunged to the lowest level in at least 17 years. (Financial Times)
Wry & Dry comments: Graduates are going where the low hanging fruit grows: IT, investment banking or private equity.
Data
Australia's inflation in the year to April jumped to 6.8% from 6.3% in March.
Germany's inflation in the year to May fell to 6.3%, from 7.6% in April.
China's 'purchasing managers' index' fell to 48.8 in May, implying economic contraction.
France's inflation in the year to May fell to 6.0%, from 6.9% in April.
And, to soothe your troubled mind…
"AustralianSuper is concerned with the ongoing revelations around PwC and as a result has frozen any new contracts with PwC"
A spokesman for AustralianSuper, Australia's largest pension fund, in a media release.
'Frozen'. Really? An image come to mind of a PwC accountant, signed contract in hand, stuck in a large Miele double door freezer.
PS The comments in Wry & Dry do not necessarily reflect those of First Samuel, its Directors or Associates.
Cheers!
Anthony Starkins