Enjoy Wry & Dry: a cynical and irreverent blend of politics, economics and life.
Seven stories you may have missed
I'm shocked, shocked…
Tsar Vlad droned
Number numbness
Like lions picking off wildebeest
The Sultan swings
Liberals: Dumb and dumber
"May the King live forever." Really?
I'm shocked, shocked…
It sounding very much like the very corrupt but very amiable Captain Louis Renault in Casablanca ("I'm shocked, shocked to find that gambling is going on in here"
Treasurer Grim Jim Chalmers was shocked, shocked to hear that the Chief Teller of the RBA increased interest rates on Tuesday. He wasn't really. He was hoping that the Chief Teller would increase rates for two reasons:
It will provide him with a further excuse to sound tough in the budget; and
He knows (hopes?) that by the time the next election comes around, the inflation dragon will have been slain and the government can then take credit for sound fiscal management.
But unlike Captain Renault (Claude Rains) and Rick Blaine (Humphrey Bogart), the beautiful relationship the Chief Teller of the RBA (Phillip Lowe) has with the Treasurer will expire later this year, when Dr Lowe will be given the DCM.
Tsar Vlad droned
So, it appears that an unidentified drone fell from the sky onto the Kremlin. And exploded as it hit the tin roof.
In an outburst of conspiracy theories not seen since NASA obviously fabricated the first moon landing in 1969, the interweb has gone nutzo. What is the most likely source of the drone explosion?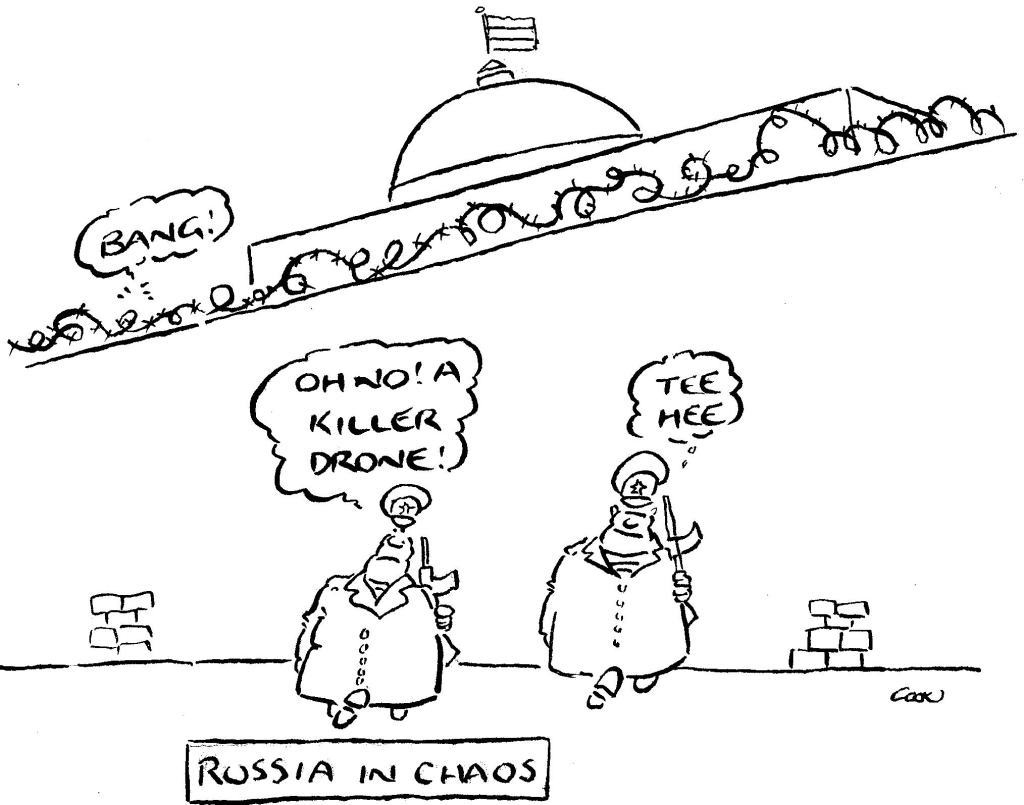 a. Ukraine, trying to assassinate Tsar Vlad;
b. The Trumpster, wanting the secretly deliver a message to Tsar Vlad, but the message was lost in the explosion;
c. Ukraine, trying to embarrass the Russian military by showing how one of its drones could travel undetected for 600 kilometres across Russian territory and land on target; or
d. Tsar Vlad's acolytes, trying to stir up enthusiasm of unwilling conscripts for the war and to justify further atrocities.
Close. But no cigar. The correct answer is d. This will, and has given, Tsar Vlad the opportunity to bomb some civilians in Kiev.
Wry & Dry's spies in Moscow have checked out all of the usual sources and have reported that Tsar Vlad was found quivering beneath his bed. Cleaners took some time to, err.. oh, never mind.
Number numbness
At what point in watching Treasurer Grim's budget on Tuesday will Readers' eyes glaze over? And not from the "I'm still waiting to see what possibly might be in it for me" glazing over.
Nor from the soporific words that will earnestly tumble from the Treasurer's lips.
No, the glazing over will be from number numbness ('NN'). That is, who really understands big numbers?
Readers will be aware of American research undertaken in 20131 that found that, when asked to place the number one million on a linear number line, nearly 50% of participants placed it about halfway between one thousand and one billion. Okay, okay. The research universe was the American people. But it's the same universe that says 80% are Christian and believe in God, and 80% believe in horoscopes. Go figure.
So, when Treasurer Grim speaks about spending, say, one billion dollars on a new sporting stadium in a southern capital, some 50% of Australians will think that is not a large sum. After all, it's sort of twice one million dollars, isn't it? NN in action.
Which inevitably brings Wry & Dry to Sleepy Joe, who made one of the greatest NN errors in political history. In 2010, when Vice President, he said that an unnamed candidate had spent an unprecedented $200 billion in political ads before the mid-term elections. Err, that was enough to fund the then US budget for 4 months. But few picked up the error.
Sleepy Joe had no idea – all numbers greater than double figures seemed large to him.
When Readers hear Grim Jim casually speak of a billion dollars, he will do so knowing that NN will ensure that no-one understands. Remember that a million seconds is about 12 days. But that a billion seconds is about 32 years. A billion dollars is a lot of dosh.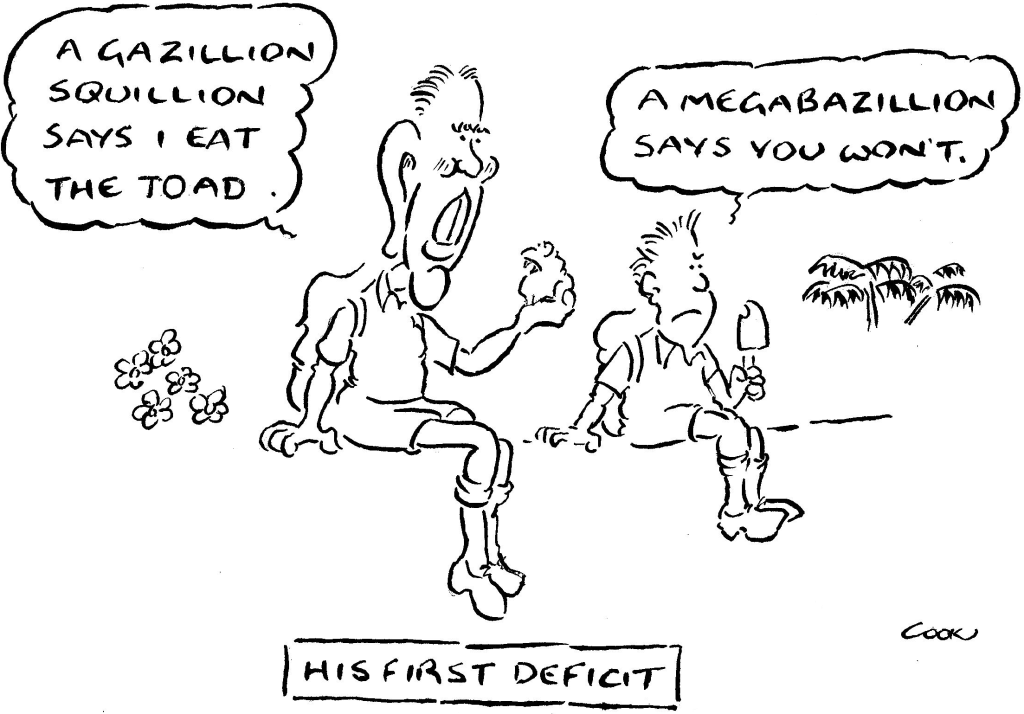 So, on Tuesday night, Readers have a choice: be prepared for NN. Or sort out the sock drawer.
If the former, the budget speech begins at 7.30pm. Wry & Dry predicts that NN will commence at 7.36pm, with Readers' eyes glazing over by 7.37pm.
If the latter, sort the dark from the light and the coloureds.
1 Estimating Large Numbers – Landy – 2013 – Cognitive Science – Wiley Online Library
Like lions picking off wildebeest
Like lions tackling wildebeest, short-sellers are going from one US regional bank to the next.
Y'see, last weekend's takeover of troubled US regional bank First Republic did not quench the fire of badly managed banks, it accelerated it. In that takeover, JP Morgan bought First Republic's deposits and most of its assets, but shareholders were entirely wiped out.
Now, short sellers have their eyes on banks such as PacWest, Western Alliance and Zions Bancorp. And genuine shareholders are beginning to bail out.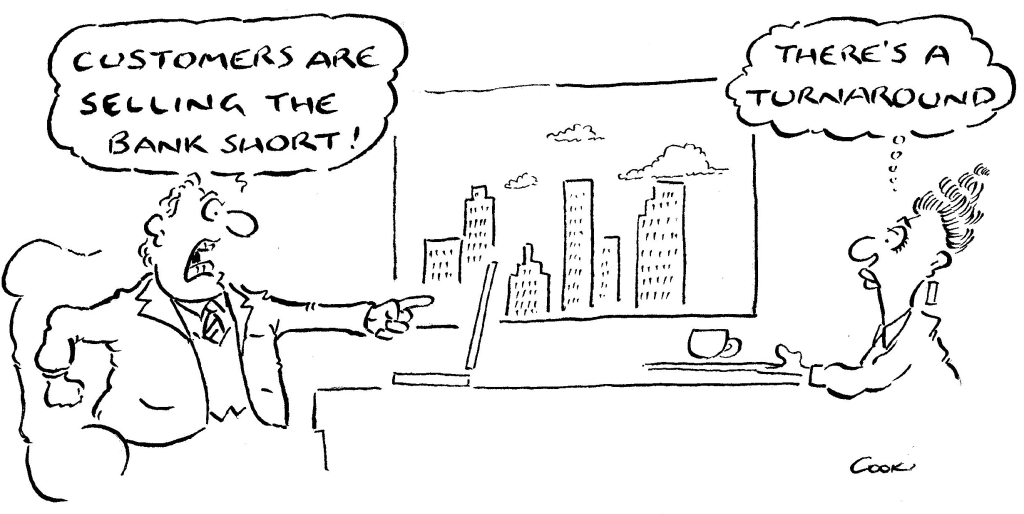 The price of shares in PacWest have fallen 71% this week. It goes without saying that PacWest is not related to Westpac.
One of the problems for regional banks is their exposure to commercial real estate; both higher interest rates and the WFH trend caused investment guru Charlie Munger to opine that regional banks were "full of bad commercial property loans."
What does all of this mean?
Well, the first thing to do is blame someone. And the witch hunt has found a witch: KPMG. Y'see, that Big Four accounting firm was auditor of not only First Republic, but also other failures: Silicon Valley Bank and Signature.
Wry & Dry senses that the witch hunt is a media beat up – it is not an auditor's task to oversee how a bank is running. Although a decent auditor would normally raise matters of concern with either management or the Board.
The Sultan swings
Readers will be aware that Türkiye's Sultan Recep Tayyip Erdogan's health is the subject of more social media posts than Hairy Maclary from Donaldson's Dairy. Last week, a supposed bout of gastroenteritis caused social media speculation about how stomach pains can mask symptoms of cardiac disease.
Then came the fightback. A groggy video call with the Sultan's "dear friend" Tsar Vlad (who smiled and waved at the camera, frantically, like a cheerleader). Readers would have seen the photo opportunity in which he clambered a little unsteadily into the new Türkiye fighter aircraft, wearing a Top Gun jacket over his suit.
Strongman leaders have to put on this kind of performance when the economy is in trouble or when, more importantly, after more than two decades in power it seems their luck is beginning to run out.
Could it be that the Sultan rather than Tsar Vlad has become the sick man of Europe? Türkiye's presidential and parliamentary elections on May 14 will give Readers a clue. They might be part of a geopolitical pivot away from the gun-slinging national populism of Brazil's Jair Bolsonaro and the Trumpster. The Sultan might join them on the golf course to plot a comeback. Or, if he fails to win a popular mandate, the Sultan could borrow some tricks from the Tsar Vlad playbook to cling to power.
Wry & Dry cannot think of what that looks like. But stuff happens when leaders think of themselves as indispensable to the survival of their nations.
Dumb and Dumber
Chairman Dan has his feet up on his desk and can comfortably get on the beers. For the next decade.
The main issue is not that a newbie Liberal MP (Moira Deeming) has decided to lawyer-up against her leader (John Pesutto, leader of the Liberal Opposition), although that could be a moment from Dumb and Dumber.
It's that she is being cheered on by a weird collective of ideologically motivated right-wing nutters and aging others who think that Robert Menzies is still Prime Minister and speed limits should be in miles per hour.
This collective dreams of overthrowing Pesutto; somehow finding a new leader who will comfortably defeat Chairman Dan at the next election; and then turning Victoria into an English-speaking equivalent of Hungary.
All of this when Chairman Dan is at his most vulnerable in nine years.
The Liberal Party in Victoria is marching towards extinction.
Turning back time to embarrassment
Wry & Dry was locked in research-mode, looking for material on Emperor Xi, when a colleague reminded him of an event in 2014.
An Indian newsreader, clearly well versed in both the Classics and cricket, when reading out a story about the Chinese leader, called him "Eleven Jinping."
Sadly, the television channel didn't have a sense of humour, and summarily dismissed the innocent newsreader. At least the newsreader was smart enough to understand Roman numerals.
There is one thing the Brits do well…
… and that is host a street party.
Tomorrow, all of the UK will be in party-mode as a 74 year-old divorcee gets into gorgeous finery to have a piece of metal plonked on his scone in front of thousands of non-paying spectators in a building as old as time itself.
Certainly, there will be some churlish folk who understand neither the national and historical significance of the attendant street parties nor the economic benefits to the local pubs and bunting makers.
Little do those killjoys realise that such will be the spending that this might very well be the event to turn around the UK economy from its post-Brexit doldrums2.
And it will provide Saturday night reality television-viewing for Australians usually excited by watching cooking contests, contrived match-making or the greyhound races from hitherto unknown regional locations.
Wry & Dry understands that the Trumpster didn't get a guernsey to the big event, as he realised that he couldn't use Twitter in the cathedral. And Princess Princess will be busy sticking pins into full-sized dolls of her father-in-law, brother-in-law and sister-in-law.
Although a careful republican, Wry & Dry is an Anglophile with a sense of history. And understands the importance of events, symbols and ceremony (sometimes seemingly bizarre) that affirm a faith, belief or relationship.
Without events, symbols and ceremony the world would be a sterile place. And Saturday night's television viewing all the more tedious and banal.
2 Probably not.
"May the King live forever" Really?
Readers will have seen much media reflection on the words that the Chief Robe Wearer of the Church of England3 will recite after he has asked all assembled to pledge allegiance to Chuck III, namely "…May the King live forever."4
This was actually a common form of near-eastern greeting, usually placed at the start of a sentence. It is obviously not meant to suggest that the King should live forever. Its usage is because it has been used at every English and then British coronation since King Edgar at Bath Abbey in 973. Handel set the words (and others) to music in his "Zadok The Priest,"5 which he composed for the coronation of George II in 1727.
The trouble is, clearly, that the Chief Robe Wearer seems unaware of its history and significance. And has failed to explain it to the world. Hence the attendant ridicule.
3 Justin Welby, Archbishop of Canterbury.
4 See, for example: "I replied to the king, "May the king live forever! Why should not my face be sad, when the city, the place of my fathers' graves, lies in ruins, and its gates have been destroyed by fire?" (Nehemiah 2:3). See also Daniel 6:21; Daniel 3:9; 1 Kings 1:31, 1 Kings 34-45.
5 "Zadok the priest and Nathan the prophet anointed Solomon king. / And all the people rejoiced and said: / God save the King! Long live the King! God save the King! / May the King live for ever. Amen. Hallelujah."
In the land of the free
There have been 125 days so far this year. The USA has just had its 186th mass shooting6, so far this year.
6 A mass shooting is where four or more people are shot or killed.
Snippets from all over
1. Sedition
Four members of the Proud Boys, including their former leader Enrique Tarrio, were convicted on Thursday of seditious conspiracy for plotting to keep President Donald J. Trump in power after his election defeat by leading a violent mob in attacking the Capitol on Jan. 6, 2021. (New York Times).
Wry & Dry comments: The tentacle of justice is creeping closer to the Trumpster.
2. NATO suspects
NATO suspects that Russia has planted explosives on critical European undersea infrastructure, based on intelligence from the companies that run oil and gas rigs, pipelines, electricity connectors and telecoms cables. (The Times)
Wry & Dry comments: "The name's Vlad, Tsar Vlad."
3. Italian poor get poorer
The Italian government, dominated by Giorgia Meloni's far-right party, chose International Workers' Day, Monday, May 1, to announce the abolition of the 'Citizen's Income' payment, which lifted a million people out of poverty. (Le Monde)
Wry & Dry comments: 'Citizen's income' was not quite the 'universal basic income', as it was conditional on, inter alia, annual income less than €9,360. It paid about €567 (A$930) per month. It cost the Italian taxpayer about around €8 billion (A$13 billion) per annum.
4. Chinese bribes
Chinese prosecutors say Zhou Jiangyong, the former Communist Party leader of Hangzhou, the eastern city that's home to Ant Group Co and Alibaba Group Holdings, took nearly $28 million in bribes over a two-decade career. (Bloomberg).
Wry & Dry comments: He was smart enough to plead guilty, which has probably saved him from the hangman's necktie.
5. Paris is burning
France's largest May Day marches in decades descended into violence as clashes saw one protester lose a hand while an officer suffered serious burns after being hit by a Molotov cocktail. (UK Telegraph)
Wry & Dry comments: Ostensibly, the riots were about M. Macron's decision to raise the retirement age. But even France's largest union slammed the rioters: "Our march is being manipulated by violent groups that have nothing to do with the battles we are waging."
6. Marcos says no
Philippines President Ferdinand Marcos Jr. said the US can't use military bases in his country for "offensive action" against anyone, any country — not China, not any country". (Bloomberg)
Wry & Dry comments: Err, so why are they there?
Data
The Chief Teller of the RBA increased the cash rate to 3.85% from 3.6%.
US job vacancies hit a two-year low.
Eurozone inflation rose to 7% in the year to April, up from 6.9% in March.
The US Fed increased the cash rate to 5.25% from 5%.
The ECB increased the eurozone's cash rate to 3.25% from 3%.
And, to soothe your troubled mind…
"We're thinking long term."
Ross McEwan, CEO of NAB, as he announced a weaker than expected $4.1 billion in first half-profits.
Shareholders thought short-term, and sold the bank down by 6.4%.
PS The comments in Wry & Dry do not necessarily reflect those of First Samuel, its Directors or Associates.
Cheers!
Anthony Starkins