And… Twitter left at the altar. How to stop demonstrators.
Whilst enjoying your Perrier-Jouët Belle Époque…
Unemployment plummets, ATO happy
The folk at the ATO are depressed most of the time. Imagine that your sole purpose in life is to extract dosh from every worker and many non-workers. Nobody is going to invite you around for dinner. Or to meet the future parents-in-law. Lucky to be asked into an on-line game.
But help is at hand. Thanks to the massive anti-pandemic and Allow-Me-To-Buy-Your-Vote fiscal stimuli, Australia's unemployment rate has plummeted to a 48 year low of 3.5%.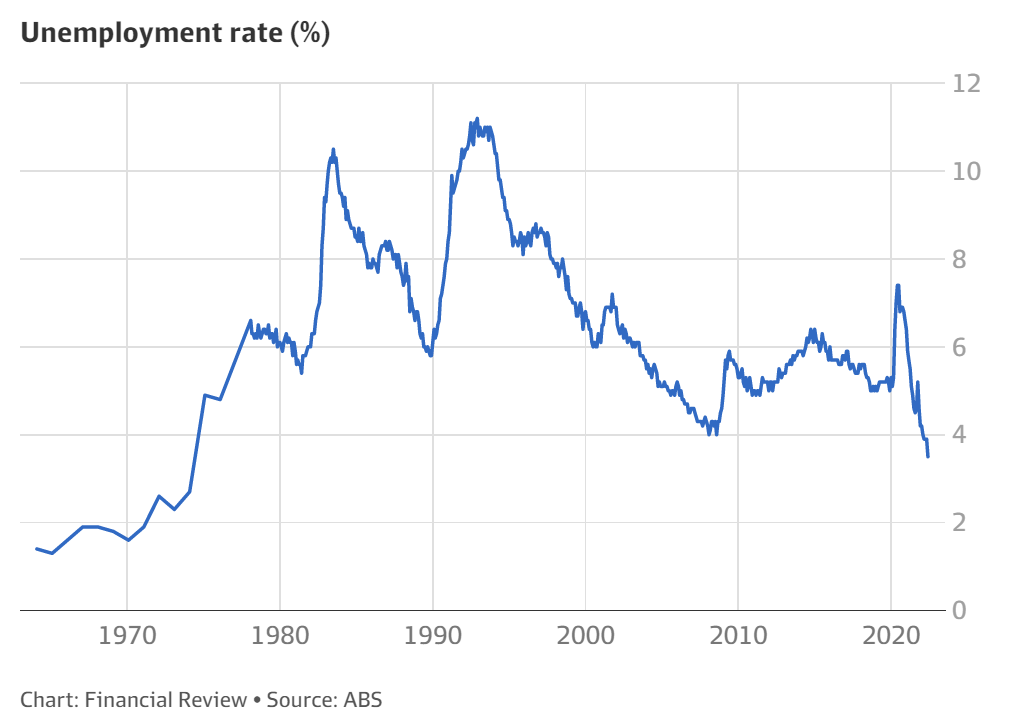 This means more taxpayers. And more tax to the general coffers fill.
The lads and lasses at the ATO must be smiling, beneath their usual stern countenances, as the cash keeps rolling in.
And Sunny Jim Chalmers, the newbie Treasurer, is doing cartwheels; the first seen from a Treasurer since Wayne Swan announced four years of budget surpluses in the 2012 budget.
Err, hang on. Swannie announced the surpluses ("The four years of budget surpluses I announce tonight are a powerful endorsement…."). But failed to deliver a single surplus. In fact, We-The-Taxpayers' debt ballooned.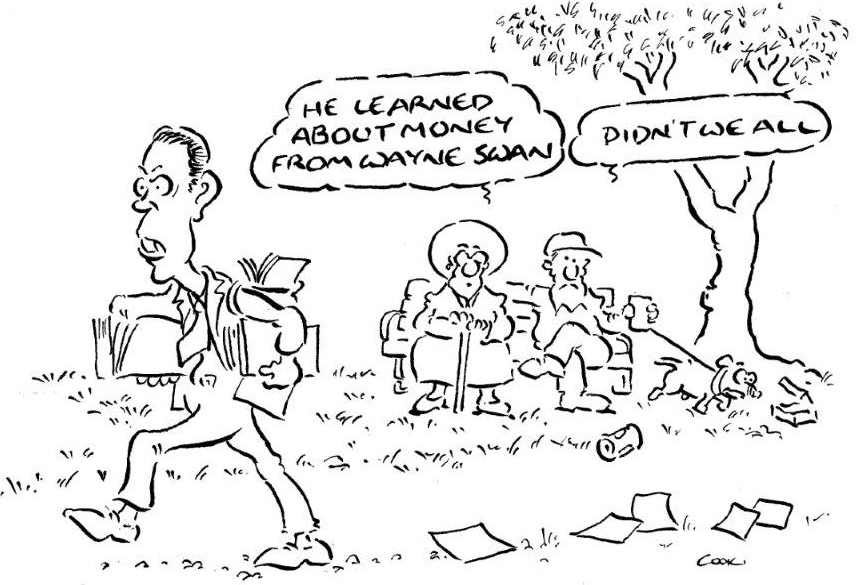 Let's hope that Sunny Jim doesn't allow the massive tax revenue increase to go to his head. Or out the door to those needy, virtuous causes. And instead to start paying off the credit card.
Err, hang on. Sunny Jim used to work for Swanie when the latter was Treasurer. Aaaaggghhh!
Oh, and by the way, the joy at the ATO will not be matched by borrowers. As Wry & Dry quills, the tellers at the Reserve Bank will have been working overnight (and on triple time) with their abacuses out, pushing the beads furiously to work out how high to push interest rates.
Twitter left at the altar
As Wry & Dry noted last week, Elon Musk1, the founder and majority owner of a motor vehicle company2, made a $43 billion bid for a social media company3.
Why? The world came up with many fiscal reasons, overlooking one simple one: Like many mercurial entrepreneurials, Musk is bored with Tesla. Owning Twitter looked like fun and a challenge.
Twitter's directors accepted Musk's bid, and duly made plans for the ocean cruise, third ski lodge and designer renovations.
And then Twitter's share price collapsed (as part of the wider June market downturn), to value the company at $29 billion. Investors seem to have woken to the unsurprising fact that Twitter has operated at a loss for seven of its nine years as a public company.
Last weekend, Musk changed his mind. He claims that Twitter hadn't done enough to address the matter of "fake, spam or bot"4 accounts on its platform. This fooled nobody; buyer's remorse happens after the most expensive purchases.
On Monday, the invisible hand of the share-market pushed Twitter's share price even lower, to a valuation of about $27 billion.
In action probably unprecedented in the US, both sides have lawyered up. It comes to this: a company that originally did not want to be bought by Elon Musk, is suing Elon Musk, someone who originally wanted to buy Twitter but does not want to now, to force him to buy the company. It's all horse trading:
Until the court drama begins, the debate is being played out on the subject social media platform, 280 characters at a time.
1The world's richest man. 2Tesla 3Twitter 4Readers may not know that "Spam" is a food i.e. spiced ham. "Bot" is an anatomical abbreviation.
How to stop demonstrators – the Emperor's method
The headlines were about the run on a bank. The backstory showed a bigger issue.
The headlines: four small rural banks in Henan province in central China, abruptly and without explanation, froze customers' online withdrawals. An old-fashioned bank run started.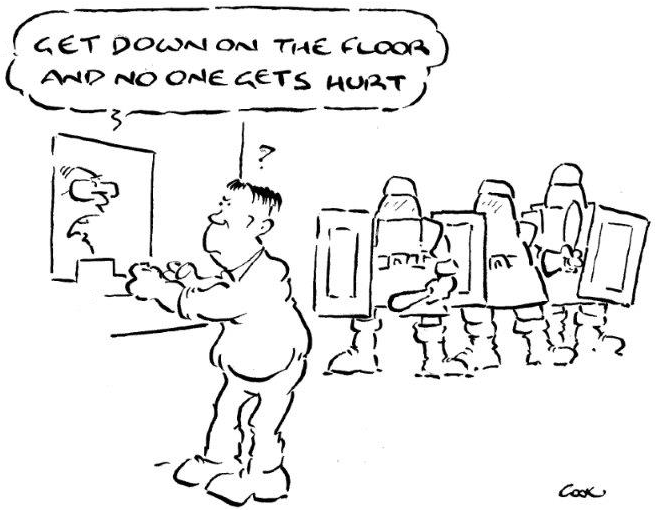 And old-fashioned, but peaceful demonstrations commenced.
And on Sunday old-fashioned Emperor Xi's crowd control methods turned nasty. Peaceful protesters were hauled onto buses and taken to detention centres, probably never to again be seen.
The backstory: local officials changed the codes of the personal health apps of more than 1,000 depositors to imply they had tested positive for covid. This meant being banned from all public venues, transport and to spend possibly weeks in quarantine. And couldn't demonstrate.
How is that for innovative crowd control? Chairman Dan couldn't have done it better.
So far.
Borisconi's successor?
Now that Borisconi is down at Centrelink, the process is underway to find a successor.
Last night, the wannabe's for leadership of the UK's Conservative Party were reduced to five:
a man of Indian parents from East Africa
two white women
a woman of Nigerian parents
a clearly-white-bloke
The clearly-white-bloke just made the cut, and will get the DCM in the next round. Leaving a fabulously diverse field.
Perhaps Australia's Liberal and National parties should consider a way… oh, never mind.
Your iPhone couldn't do this
Of what is this a photo?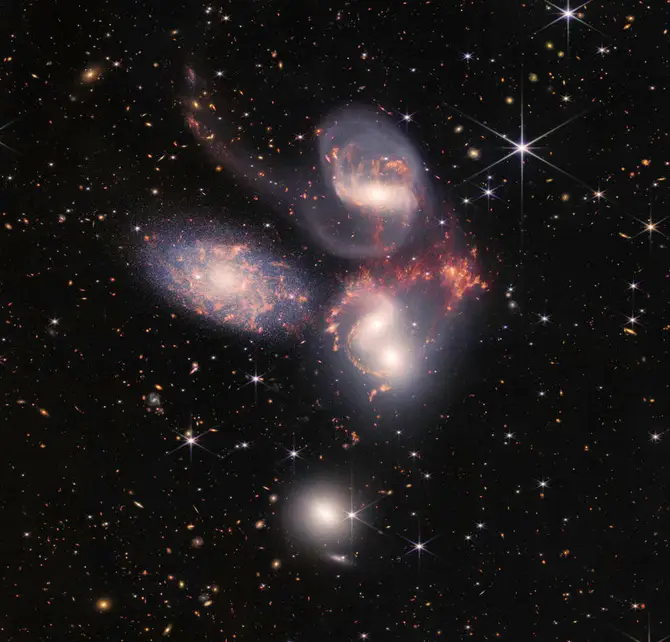 It is a photo taken by the amazing James Webb Space Telescope, of five galaxies called Stephan's Quintet, some 4.6 billion light years away.
And isn't it good that MacArthur Park's songwriter has had his work recognised.
Hitting a buffer and covid strikes back
Readers will recall last week's article on Train Driver Dan's $50 billion vanity project: the Suburban Rail Loop ('SRL'). Well, in a world first, now the Spencer Street Soviet Melbourne Age has come out in support of Wry & Dry.5
"The Andrews' government's flagship Suburban Rail Loop project risks monopolising public transport spending for decades and delaying other more urgent and beneficial infrastructure, transport experts have warned."
Is this a change in government policy? Err, no. A government spokeswoman responded to the article in The Age with a two-word message. And then this morning, the CEO of the SRL has come out in defence of the SRL, saying why it must be built. To quote Mandy Rice-Davies, "Well, he would say that, wouldn't he."
Clearly, once Train Driver Dan is on a track, he's not turning back. No matter how unlikely the destination. Commuters will wait a long time for the first SRL train.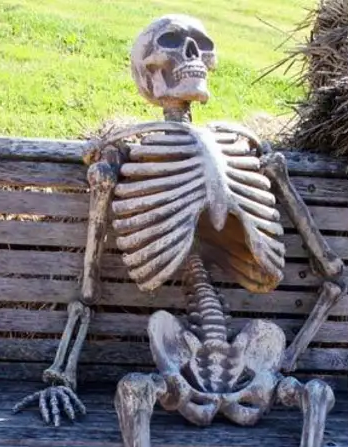 Meanwhile, the Victorian health minister has announced that because covid is coming back Victorians should work from home and wear masks indoors.
Strange that Chairman Dan didn't make the announcement?
Not really, there's an upcoming election and perhaps, just perhaps, he will want to be the bearer of only good news.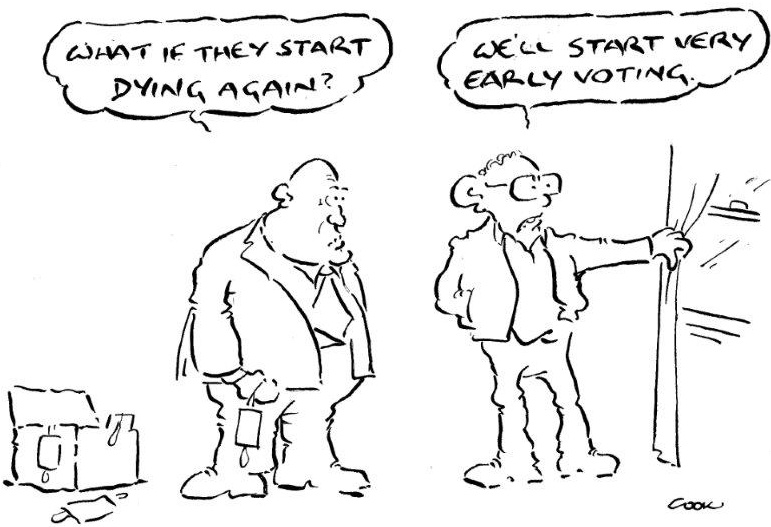 5 Okay, The Age started the ball rolling some time ago. But there was much silence until now.
Geography: when to start running
Readers just have to view this:
The photographer survived by sheltering behind a large rock.
Sliding doors
What if in 2009 the Greens had not sabotaged Labor's Carbon Pollution Reduction Scheme (CPRS)?
The CPRS had its faults. But had it passed, Australia would be blessed by not having this absurd battle over climate change policies. And people would have moved on to thinking how to achieve energy self-sufficiency without relying on either (a) high energy intense but high polluting fossil fuels or (b) low energy intense but high polluting hybrid of solar/ wind and batteries.
For the avoidance of doubt: Wry & Dry's message is that the solution is neither fossil fuels nor solar/ wind and batteries.
This week, the Greens have refused to support the government's climate change bill to slash emissions by 43% by 2030 (43-30), as it doesn't go far enough. Certainly, the legislation is symbolic, as it is about reporting progress on achieving the target. But this is another example of the Greens wanting government without accountability.
But wait, there's more. If Opposition Leader Peter Dutton were really smart, he would support the legislation, if for no other reason than electoral reality.
Firstly, the legislation is about reporting progress on 43-30; a yardstick of how the government's policies are going. Thereby having some official scrutiny.
Secondly, the coalition will lose out in the Senate at the next election if the Teals get election funding. Dutton has to read the mood of the meeting, as it were.
Thirdly, the coalition will be wiped out in the Senate if Albo calls a double dissolution over any legislation.6
Failure to keep ahead of the curve is death by a thousand unknown unknowns. The political world is getting more complex, see next article.
6 Source: John Black, former Labor senator and election strategist (better than Antony Green). His modelling shows a post DD senate of: Liberals/ Nats: 21 (-11); ALP: 20 (-6); Greens: 6 (-6); One Nation: 5 (+3): UAP: 2 (+1); Lambie: 1 (-1); Legalise Cannabis: 2 (+2); Teals: 19 (+18). Labor would form a coalition with the Teals. The current Liberals/ Nats would become irrelevant.
A bad month for leaders
This month, the leaders of the UK, Sri Lanka and Italy have all had the DCM, either at their own hand or by the hands of others.
In the US, Sleepy Joe has given up domestic matters and is focussing on amassing frequent flyer points (well, last month as well).
In France, De Gaulle Macron lost his parliamentary majority (well, last month).
In Germany, the coalition government is reduced to internecine warfare (well, all of the time, since Ms Merkel left).
Sigh.
Unclear on the concept
Climate change activist and billionaire Mike Cannon-Brookes has bought Dunk Island, a decaying resort island off the coast of Cairns (for $25m).
Perhaps he now believes that there will not be a rise in sea levels to drown his investment.
Habits: it's just not cricket
Wry & Dry couldn't make this up.
A gang of conmen set up an elaborate fake Indian Premier League cricket tournament, using farm labourers to pose as cricketers and to scam Russian gamblers. The hustlers received thousands of pounds from the unwitting Russian punters, who believed they were watching real matches streamed online.
Clearly the Russians were not used to watching real cricket, as it were. And were conned by the counterfeit matches being on a remote farm in Molipur village of Gujarat's Mehsana district.
A cricket pitch was installed, with boundary lines, halogen lamps, high-resolution cameras to capture the action, with computer-generated graphics to display scores on a live-streaming screen. Crowd noise effects were downloaded from the internet.
Perhaps the victims had got tired of waiting for an outcome of the Ukrainian war.
Diversity
The latest AFR Law Partnership Survey shows that at least ten large firms have at least 75% of senior associates who are female.
Is this a diversity problem? Are men being discriminated against?
Just askin'.
Presidential pool party
It seems like an awful lot of people got a guernsey to the pool party at the Sri Lankan president's home.
Well, maybe they weren't all invited. Or, actually none were.
Protesters stormed the compound of President Gotabaya Rajapaksa and frolicked in his swimming pool. Because it's difficult to govern effectively when your home has been occupied by irate citizens, Rajapaksa gave himself the DCM and fled to the Maldives, then to Singapore.
It's a long story, but essentially the country was run by a cabal of the four Rajapaksa brothers.
Sri Lanka is now in its worst economic crisis since independence in 1948. Sri Lanka defaulted on its debt for the first time ever in May.
Expect Emperor Xi's debt collectors to appear.
Snippets from all over
1. Home sweet home
Melbournians remain reluctant to return to the office: office occupancy is stalled at 49%. Sydney's is 55% and Brisbane's 64%. (The Age)
Wry & Dry comments: Expect Chairman Dan to leap into action and announce… something.
2. US inflation: another headache for Sleepy Joe
US consumer prices across most goods and services rose again in June at a speed that pushed the annual increase to 9.1%, the biggest jump since November 1981. (Financial Times)
Wry & Dry comments: It is possible that the next US interest rate rise will now be 1%. If Sleepy Joe thought that his approval rating had bottomed out at a record low of 38%, he's in for another headache.
3. The joy of an American tourist in Europe
Things are likely to be more affordable for American tourists visiting Europe this summer, with the exchange rate between the euro and the dollar now about equal. It's the first time since 2002 (in the early years of the euro's existence) that the ratio came close to 1:1. (Financial Times)
Wry & Dry comments: Of course, this will partly remove the usual problem for wannabe American tourists. That is, expecting the US dollar to also be the currency of Europe. At least with a 1:1 exchange rate, they can be told that the different coloured notes are only a tactic to confuse Russian soldiers, if they make it that far west. And believe it.
4. Turkish delight
In Turkey, a newly discovered reserve of rare earths, a group of minerals vital to alternative energy storage, is said to be the second biggest in the world after that held by China. (The Times)
Wry & Dry comments: Sultan Recep Tayyip Erdoğan is excited. It takes about 10 years to bring production on stream, and he will still be in power.
5. BHP sued in London about Brazil
BHP, one of the world's biggest miners, has lost an appeal in a London court seeking to block a £5 billion lawsuit by 200,000 Brazilians over a dam disaster in 2015. (The Times)
Wry & Dry comments: Nineteen people died and villages were wiped out. 40 million cubic metres of mining waste swept down and into the Atlantic Ocean 650 kilometres away. BHP is appealing as it believes the case is unnecessary as it duplicated work of the Renova Foundation and ongoing legal proceedings in Brazil.
BHP has already paid £1.5 billion in remediation works. And probably close to that in lawyers' fees.
Data
Building costs in Australia rose by 10% in the year to end June.
Canada's, South Korea's and New Zealand's central banks raised interest rates by 1.0%, 0.5% and 0.5% points respectively.
The UK economy grew by a surprising 0.5% in May.
The Chinese economy grew by only 0.4% in the year to end June, well below 1.2% forecast
The United Nations forecasts that the globe's population will reach 8 billion on 15 November, on its way to peaking at 10.4 billion in about 60 years.
NAB's index of Australia's business confidence fell 5 points.
And, to soothe your troubled mind…
"You can't rule out the possibility that beneath the elaborately constructed veneer of a blithering idiot, there lurks a blithering idiot."
Boris Johnson, (now former) UK PM, once speaking of himself.
Nailed it.
PS The comments in Wry & Dry do not necessarily reflect those of First Samuel, its Directors or Associates.
Cheers!
Anthony Starkins