Bumper Christmas issue: Person of the Year. Farmer wants a ... And more.
Bumper Christmas issue
Sigh.  Just as W&D was settling into yet another 2007 Perrier-Jouët Belle Époque, suddenly the world explodes in an avalanche of news.  Some ugly.  Some bad.  Some good.
The Ugly
The ugly is the fall in stock-markets.  Notwithstanding good economic news in Australia, a variety of other news caused confidence to evaporate as quickly as a disgraced MP can resign. 
The Australian market has returned about -12% for the fiscal year to date.  Enough to cause W&D to almost drop the Waterford.  Almost.  More later.
The Bad
The bad is the unrelenting stupidity of members of parliament.  This usually manifests itself in wasting we-the-taxpayers' money. 
But 2018 saw brainlessness raised to previously unheard of heights, the new peak being achieved by Andrew Broad, a National Party MP of small IQ but large, err, ego.  More later.
The Good
The good is that it is Christmas. And no matter what child of Abraham Readers are, it is a time to remember and reflect upon the blessing of Christ's message to us all: faith brings peace, happiness and a loving family.
Merry Christmas to all Readers!      
Person of the Year
Rowena Orr: "The pillory is this way, sir"
Ms Orr is one of two senior counsel assisting the Royal Commission into Banking and Almost Everything Corrupt in Finance in Australia.  
Rowena Orr QC: "The pillory is this way, sir."
The Royal Commission was probably the one that held the widest ever public interest in Australia's history.  The blend of courtroom drama not equaled even on quality television with a subject that touches almost every Australian made for the most compelling television since the last 5 minutes of the 1964 grand final [1].
Ms Orr extracted the iconoclastic confessions of guilt, dishonour, corruption and greed in this industry.  Her gentleness in placing witnesses on the top rack of the rotating breakfast-toaster of forensic examination was only exceeded by the witnesses shooting out at the bottom; well and truly toasted.
W&D is most delighted with whole show, bringing, as it did, to the public's attention, and to the attention of the blinkered government, the failings in the banking and finance industry about which W&D has been writing for 20 years.
I'm sure all Readers will join W&D in congratulating Ms Orr for this most prestigious award.
Tools of The Year: it's a tool-box
Readers will know that at the antipodes of W&D's Person of the Year is the Tool of the Year.  And for the first time, W&D is delighted to announce a triptych of winners:
Barnaby Joyce
The prehensile actions of Nationals MP Andrew Broad (see below) have reminded the dormant neurons in W&D's memory of the activities of former National Party leader, Barnaby Joyce.  Readers will recall that Mr Joyce impregnated a staffer who was not his lawfully wedded. 
The revelation was compounded by Mr Joyce asking the media to respect the wishes of himself, his new-partner and his still-wife to privacy.  And then with his new-partner give a tell-all interview on Sunday night commercial television. And to then trouser $150,000 in consideration.
Serena Williams
It is rare that W&D trespasses beyond the safety of cricket to make sporting comments.  And Readers will know that W&D has a long memory blended with a penchant for history, both arcane and useful.
And he searched both his memory and the history books for a more graceless loser than Serena Williams.  Ms Williams performance in how she lost the US Women's Open to the polite 20-year-old Naomi Osaka was a dummy spit of Hall of Fame status.  And her abuse of the umpire was extraordinary, in a category all of it's own.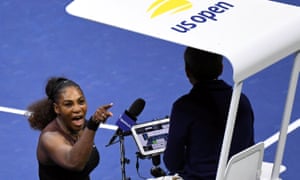 Her actions surpassed those of even Mary Decker, who sat and sobbed after tripping in the final of the 3,000 metre final at the Los Angeles Olympics in 1984.  Ms Decker might have got up and finished the race.  But she didn't.  
Donald Trump
Readers may recall that Tarzan Trump said in 2018 the he "was a truly historic President". 
Modesty is not one of TT's strong points.  But he should beware of being a self-proclaimed world historical figure.  Readers will recall that Georg Hegel, the 19th century German philosopher noted that things usually end badly for self-proclaimed world historical figures. "They die early, like Alexander; they are murdered, like Caesar or transported to a place such as St Helena, like Napoleon."  He might have added Christ's end. But didn't, which was weird for a graduate of a Protestant seminary.
W&D wonders how things will end for Tarzan Trump? And will he make it to Mt Rushmore?
It falls upon W&D to ...
.. . remind new federal treasurer Joshua Frydenberg of the oldest trap for young players in the budgetary book: making permanent promises on the back of temporary good news.   
It is almost certain that Australia's federal budget will be in surplus next year, the first in eleven years.  And the news of that surplus has sent the government diving into the pond of cheap-election-ploys-dressed-as-munificence: tax cuts.  
Firstly, that sum of tax cuts is enough to buy we-the-taxpayer a muffin and a piccolo latte each week.  And not much more.  So why bother?
Secondly, the Australian economy, although well-underpinned by natural resources, is still a fragile creature.  Cries are that we don't need to reduce the net government debt because at 40% of GDP it is not nearly as high as other countries.
That is nonsense. Our gift of natural resources means that we are dependent upon the buyers of those gifts.  And we do not have a diversified economic base.  Hence the need for the government to have the fiscal capacity to manage the economy for when times get tough.
W&D's message to Mr Frydenberg (and to the ALP): don't waste the surplus, old son, save it.  
In case Readers had forgotten about 2018
Good news - the rescue of 12 boys and their coach from a flooded cave in Thailand.
Idiocy I - Australia gets its 5th Prime Minister in five years, as the Liberal Party sack Malcolm Turnbull.
Idiocy II - US President Trump decides to pull US troops out of Syria, without even telling the US Defence Secretary and without ISIS having been defeated.  This morning his Defence Secretary quit.
Cheating - the captain and vice captain of the Australian cricket team were suspended for 12 months for conspiring to cheat and actually cheating by tampering with a cricket ball in a Test match in South Africa.
Incompetence - two Russian intelligence officers paraded on Russian television to deny they had anything to do with the nerve agent killing in Salisbury, UK of a former dissident.  They said they were in Salisbury to visit the famous cathedral.
About time - Saudi Arabia lifted its ban of female automobile drivers.
The Ugly: stomach required
Readers will have noticed that the Australian stock-market is down about 12% this financial year to date.  Not pleasing to investors.
This is what ugly looks like:
W&D will not raise himself from his Chesterfield to explain all of this.   Okay, just a little. 
1.  Readers know that in the short-term the share-market is both irrational and emotional.  And there is little point in carrying out a post-mortem on irrationality.  It is what it is.
2.  But, generally, the current irrationality is macro-driven: fears about the affect of a Sino/American trade war and this week's increase in US interest rates.   
3.  In Australia, very shallow trading exaggerates market moves.  And blend this some panic selling to get out of perfectly sound companies.  For example, yesterday a few stocks fell by more than 5% on less than $100,000 of trading.  Really!
4.  Comfortingly, W&D knows that his Readers are long-term investors.  But also knows they are human.  And that it does take some stomach for Readers to be sanguine at times like this.  But a look at history helps:
And so he knows that W&D Readers have stomach.  And are patient.
The Bad: Farmer wants a [insert your noun here] in Hong Kong
What is in those corrugated iron rainwater tanks in the country? 
Firstly, Barnaby Joyce gets as toey as a Roman sandal and makes arrangements alternative to those with his lawfully wedded.  
And now Andrew Broad, the hitherto-totally-unknown-outside-the-National-Party-Assistant-Minister-to-the-Deputy-Leader-of-the National Party, has added a new dimension to John Howard's ecumenical invocation of the 'broad church' of the Liberal and National Parties.  Mr Broad, to be seen down at CentreLink after the next election, saw himself as a Lothario when away from the sight of his lawfully wedded.  If New Idea, that quality journal of intellectual firepower, is to be believed, Mr Board attempted to make lurid arrangements with the Hong Kong equivalent of Stormy Daniels [2].
Mr Broad seemingly allowed the blood to drain from his brain to the nether regions, leaving no capacity for clear thinking. Hence incriminating and somewhat infantile text messages were transmitted. 
All of which distracted the media away from the undoubted good economic news about the budget returning to surplus. Treasurer Frydenberg's already sparse pate will surely be even more sparse.   
W&D Readers read it here first ...
... that NAB's shareholders blew its chairman and directors out of the water at NAB's AGM, with a 88% rejection of the board's Remuneration Report.  This is a new Australian and World Record.  And easily tops last week's monumental effort by Westpac.
There have been many embarrassed boards over the last 10 years or so.  Some of the worst:
W&D's problem with the Chairman of NAB is very different to that with Westpac's Chairman (see last week).  Dr Ken Henry gave a display of contrition at NAB's AGM that was totally out of character.  But that contrition didn't extend to a reduction in compensation.  Dr Henry trousered $790,000 in remuneration in 2018.    
Snippets from all over 
1.  Christmas banned
Christmas decorations have been banned in the northern Chinese city of Langfang.  The Urban Management Bureau ordered shops to remove Christmas decorations, Christmas trees and Santa Claus costumes to "maintain stability."
W&D comments: Thus the clock continues to turn back in time to the China of the 1950s.  
2.  Yoo Ess Aye: interest rates: up
The US Federal Reserve (sort of equivalent to our RBA) surprised the markets and increased interest rates to 2.25-2.5%. This is the fourth interest rate rise in the US in 2018.  
W&D comments: The S&P 500 swung 3.8%, from +1.5% to -2.3% on the announcement.  This was the sharpest reaction to an interest rate increase since 1994.  
3.  Meanwhile, back at the Forum
Italy and the EU have finally agreed a new budget deal.  Italy wanted a deficit of 2.4% of GDP.  The EU wanted 1.9%.  They settled on 2.04%.   
W&D comments:  The announcement was made just as Italy was going to sleep for the Christmas/ New Year break.  The caving-in by the government will pass unnoticed.

4.  Down at the car wash
The Donald J. Trump Foundation has been dissolved, after prosecutors said that "it was mired in a shocking pattern of illegality."  
W&D comments:  The charitable foundation has been referred to the IRS (the US tax authority).  Which would make it 18 known official inquiries into Tarzan Trump.
5.  They the people ...
... of Scotland are no longer allowed to use the term gingerbread men.  The correct term is gingerbread persons.    
W&D comments:  The logical next step will be to change the last word of the first verse of Scotland's unofficial anthem, Scotland The Brave from men: "High as the spirits of the old Highland persons."  [3]   
Tool of the Week 
Podium finish goes to ... Tsar Putin, President of Russia.  Not content with the controlling the media, Tsar Vlad now wishes to control music.  He has asked the government to 'take charge' of rap music.  "Rap and other modern [forms of art] are rested upon three pillars - sex, drugs and protest," he said. "I am most worried about drugs. This is the way towards the degradation of a nation."
Perhaps Tsar Vlad should focus on the thousands of Russians who kill themselves each year vodka binges.
PS.  Readers may have seen recent photos of Tsar Vlad.  How does he keep those wrinkles at bay?  His visage seems to have become rejuvenated.  Perhaps the fresh Black Sea air? 
Tsar Putin on democracy
Speaking of Tsar Putin, he gave an expansive media conference yesterday.  And accused the UK and US political classes of "disrespecting" the public by questioning the Brexit referendum and Donald Trump's election.
Putin's message was basically this: You don't like Trump? Tough. The American voters elected him.
You don't like Brexit? Tough again. The British people voted for it.
And this coming from a country of 'managed democracy', where the management is by, well, one man.  
Deepak, W&D's Uber driver ...
... was not talking about cricket.  "We was robbed.  Look at Kohli's catch-that-wasn't-a-catch."
"Too bad," replied W&D.  "Most objective people say you were flogged.  So get over it.  Speaking of getting over things, did you buy Anjali a gift, push the mother-in-law to the movies and, err, reacquaint with Anjali?"
"No, it was a disaster," Deepak retorted sullenly.  "I bought the gift, got rid of my mother-in-law.  And then, two days ahead of schedule, her cousins turn up.  They decided to surprise her.   But it was me who was surprised."
"This sounds like a scene from the Bollywood movie your mother-in-law went to."
"Well, it gets worse.  She came straight back from the movies when she got a call from one of her nephews.  So, my home was crowded as the canteen car on the Paschim Express, a Delhi-Mumbai train.  And it gets even worse."
"Even worse?" asked W&D. "How so?"
"The cousins all want tickets to the Boxing Day Test match at the MCG.  And my mother-in-law also wants to go.  It will ruin my day."        
"A fateful conclusion," said W&D cheekily as he unbuckled his seat belt.  "Get tickets for them all.  Urge them to go.  But you stay at home.  Forsake the cricket for, err, love." 
Deepak's face lit up.  "You think this might work?"
"There's no downside.  You know your mother-in-law loves cricket, as do the cousins.  Anjali won't want to go.  And then you and Anjali will have the whole day together, uninterrupted."
"Ah, thank you so much, Mr W&D.  You are so wise."  
"Sometimes, Deepak.  Sometimes," observed W&D as he strode off.  "And maybe your luck has changed.  The price of Bitcoin is up this week.  You have lost less."
As usual, Deepak sat quietly in his car to consider his life's troubles: his love life, his mother-in-law, his wife's cousins and the price of Bitcoin.  And how to get tickets to the cricket.  
And, to soothe your troubled mind...  
Miscellany 
Last words ...
"She [UK PM May] must enact the will of the people, expressed during the referendum.  Or otherwise it is not a referendum at all: doing it over and over again if someone did not like it [the result]. Is it a democracy?"
 -  Tsar Putin, giving advice to they-the-Brits.
Never a truer word spoken, if Mrs May's Brexit is what they-the-Brits voted for.
First Samuel client events calendar
Events for 2019
Special CIO Client Forum - 26th February 2019
Leonda, Hawthorn
Invitations to clients have been sent
Contact Jess at responses@firstsamuel.com.au to RSVP

Some lightly salted absurdities from all over ...
At the extreme left-hand end of the Bell Curve
Mitchell Dutz, of Farminton, Illinois, was robbed during a drug deal.  And he wanted revenge.  So he told police that his car had been stolen, with the descriptions of the alleged perps matching the three who robbed him. 
To encourage the police to search more rapidly for the car, he told police that there was a 13-month old infant in the car.  So an 'Amber Alert' went out.
But upon questioning, Dutz couldn't describe the car - as he didn't own a car.  And couldn't remember the name or sex of the baby - as he didn't have a child.
(PJStar.com)
Dutz was charged with residential burglary, filing a false police report, false representation of a police statement, making a false 911 call and various other offences.  And for being stupid.  
Guess what happened next?
Frederick Gramcko, 53, of San Diego, California, got picked up for speeding by a red light camera.  He was grumpy.  What did he do next?
a.  Think about it, and pay the fine; 
b.  Think about it, and decide to go to court;
c.  Think about it, and do nothing; or
d.  Not think about it, go nutzo and attack the camera with a baseball bat.         
Close.  But no cigar.  d. is correct.  Fred assailed the camera with his baseball bat.  A passing policeman tried to arrest Fred, but Fred belted the policeman with the bat.  Fred then ran, pursued by more policemen.  When cornered, Fred swung the bat bat even more and clocked two more police.  Eventually he was subdued and detained in a Wrap Device (a thick nylon blanket).  
(nbclosangeles)
Attempted murder, assault, resisting arrest, etc.  And damage to state property (the red-light camera).  
Unlikely
W&D returns on Friday 1st February, to take a break to spend time with his family and consider life's bigger issues.  Like how to avoid Deepak's cousins at the MCG.   
And whatever child of Abraham you are, may the blessing of Christ's birth give you peace, joy and love. 
Anthony
[1]  1964 Australian Rules Football Final, Melbourne defeated Collingwood by 4 points.
[2]  Stormy Daniels: allegedly the recipient of funds conveyed from allegedly Tarzan Trump, in exchange for her silence about an alleged tryst with TT.
[3]  Scotland the Brave - first verse
Hark when the night is falling
Hear! Hear the pipes are calling,
Loudly and proudly calling,
Down thro' the glen.
There where the hills are sleeping,
Now feel the blood a-leaping,
High as the spirits of the old Highland men.
But 'persons' doesn't rhyme with 'glen'.