The Markets
This week: ASX v Wall Street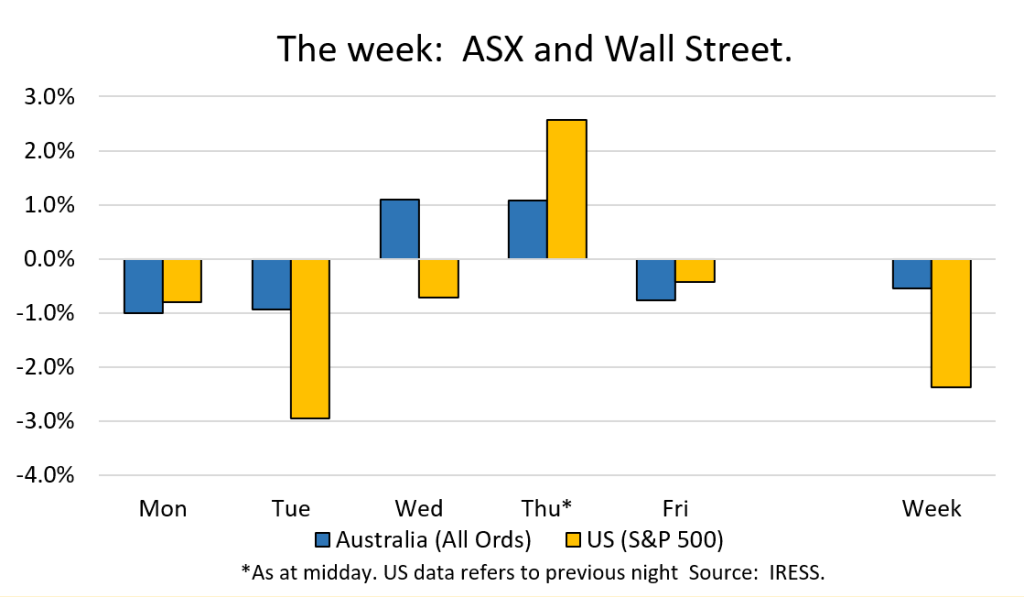 FYTD: ASX v Wall Street
---
Not all household names are great investments. Likewise, not all great investments are household names.
This week clients received proceeds from the early redemption of their investments in FastTrack, crystalising strong returns. This comes after a successful journey for the company that saw it sold for a consideration that far exceeded our expectations.
FastTrack isn't a name that many are familiar with. Likewise, there hasn't been a lot of fanfare or media coverage of the sale.
To us, this speaks to one of the advantages of being small and nimble – First Samuel is able to offer unique investments in small, attractive companies to our clients.
From start-up, to scale, to sale
FastTrack provides a recruitment platform that is an end-to-end recruitment solution – from front office to back office.
Where FastTrack has found its niche in providing its software to contingent labour providers (as well as large corporates reliant on contingent labour).
These companies must manage large workforces with a high turnover, while complying with relevant taxation requirements, pay rates and awards. This can become incredibly challenging, particularly when it is across multiple industries and geographies.
Fast-Track's software allows companies to automate this process: from building recruiting databases to managing timesheets, payroll, and billing. The platform also integrates with several applications via its marketplace, which allows its customers to integrate other solutions.
We have seen the business achieve several milestones along its journey:
Established itself as a leader in Australia: building a large customer base and establishing a leading market share domestically amongst staffing organisations.
Moved to the cloud: it migrated its customers onto the cloud and successfully implemented a software-as-a-service model (FastTrack360).
Expanded Internationally: predominantly into the UK.
Signed a landmark agreement with ManpowerGroup, one of the world's largest labour hire firms, to become a "preferred partner" in selected markets worldwide, beginning in the UK (see here).
Sale to Access Group this month (see here), a fantastic outcome for the company.
We would like to congratulate both FastTrack and Harbert Australia Private Equity on the sale.
Clients' investment
Clients achieved an exposure to FastTrack across two instruments in their portfolios:
FastTrack Notes (FASTTRACK2.UNL & FASTTRACK3.UNL) in Income sub portfolios.
A small exposure in income portfolios that formed part of the "right end" of our barbell approach (where we seek higher yield credit exposure in companies that we have a strong familiarity with):

These notes paid a high rate of interest, between 10-12% per annum, during the period in which clients owned them.
FastTrack Convertible Notes (FASTTRACKCN.UNL) in Alternative sub portfolios
A larger exposure in Alternative portfolios, these convertible notes accrued interest of between 7-9% interest per annum during the period in which clients owned them.
Given the early redemption, clients will receive a 15% premium on the principal amount borrowed. We estimate the total return for clients during their ownership was approximately 12% per annum.
Both securities have now been repaid in full.
Investing in the 'sweet spot'
Given First Samuel's size and structure, we see that we are able to access unique investment opportunities such as these. Often these opportunities are:
Too small for industry superannuation funds, where there is a trade-off between economies of scale and diseconomies of scope.
Too large or complex for individual private investors or smaller wealth managers, especially those that lack an internal investment management capability.
We have recently added a number of these, particularly to Alternative sub-portfolios including:
| | |
| --- | --- |
| Enlitic | A US-based machine learning company that harnesses the power of artificial intelligence to read, analyse and interpret radiographic images (X-rays, CT scans, MRIs, etc). |
| Hemideina | A medical device company that is developing a novel cochlear implant. The device is a compact, wireless earbud that aims to provide superior hearing through a novel strategy of stimulating the cochlear. |
| Epiminder | A Bionics Institute and Cochlear backed medical device company. Epiminder has developed a device to continuously monitor electrical activity in the brain for epilepsy management in patients (for months to years). The patient has the device implanted under their scalp, with a small part remaining visible (similar to a hearing aid). The company is looking to prove that longer-term monitoring of electrical activity in the brain, coupled with artificial intelligence, has the potential to deliver significantly improved therapeutic outcomes for patients. |
We look forward to bringing more unique investments like these to our clients, particularly across Alternative sub-portfolios.
Company News
Clients' position in Lovisa was sold in its entirety last week.
The position has been an incredibly successful one since it was first purchased after the pandemic hit – returning more than 200% (on average, across the client base).
Clients' holdings have been progressively sold down over the past two years. The small remaining position was sold last week at a price that we see reflects its risk-adjusted long-term value.
---
Origin hosted a strategy day on Monday.
The company outlined what we have long envisioned– that Origin is looking to shift to a more capital-light energy retailer.
Part of this shift will involve the early closure of its Eraring power station, as previously announced.
The company revealed that this gap in its generation portfolio will be filled by largely renewable sources of energy, including a planned 2 GW virtual powerplant (where a number of distributed generation assets such as rooftop solar are 'pooled' together to function as an energy resource) and the previously announced 700 MW battery on the site of Eraring.
Part of this will involve harnessing the technology it is licensing from Octopus, to provide a superior retail experience for customers and to service them at a lower cost than its peers. In addition, the company will look to materially ramp up the bundling of other services (such as broadband) to help cement customer loyalty and reduce churn. Customer loyalty will be rewarded two-fold, through reduced acquisition costs but also as a cheap source of generation as part of its virtual power plant.
In addition, the recent favourable oil price has allowed the company to announce a $250m on-market buyback, as APLNG continues to generate substantial cash flow.
Uncertainty remains as to the evolution of the NEM and how profits will be shared across the various types of participants (transmission infrastructure, retailers, generation assets), however, we see that Origin has the agility to seize opportunities as they arise, leveraging both its own and third- party capital.