The Markets
This week: ASX v Wall Street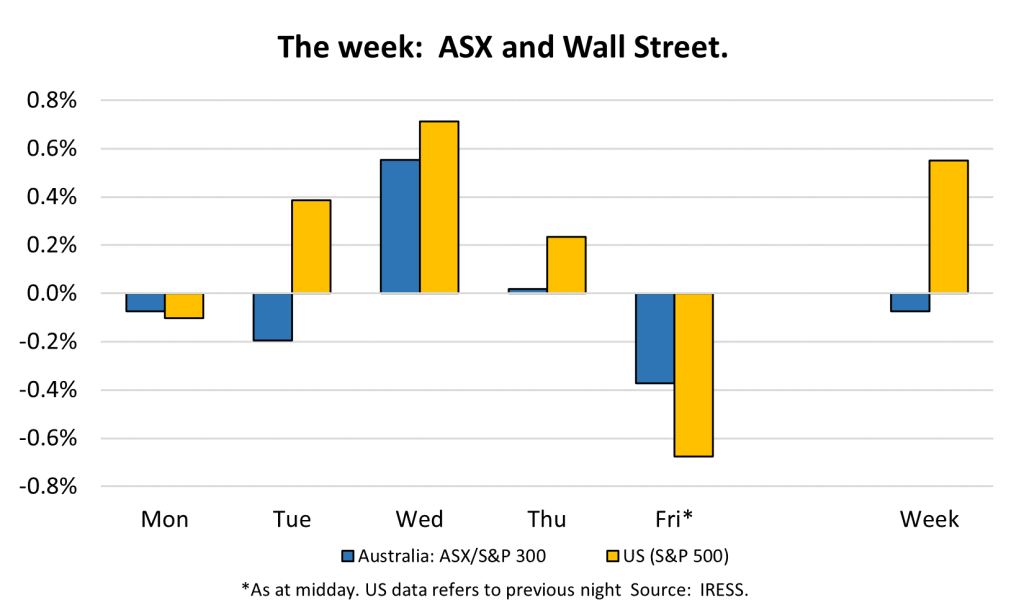 FYTD: ASX v Wall Street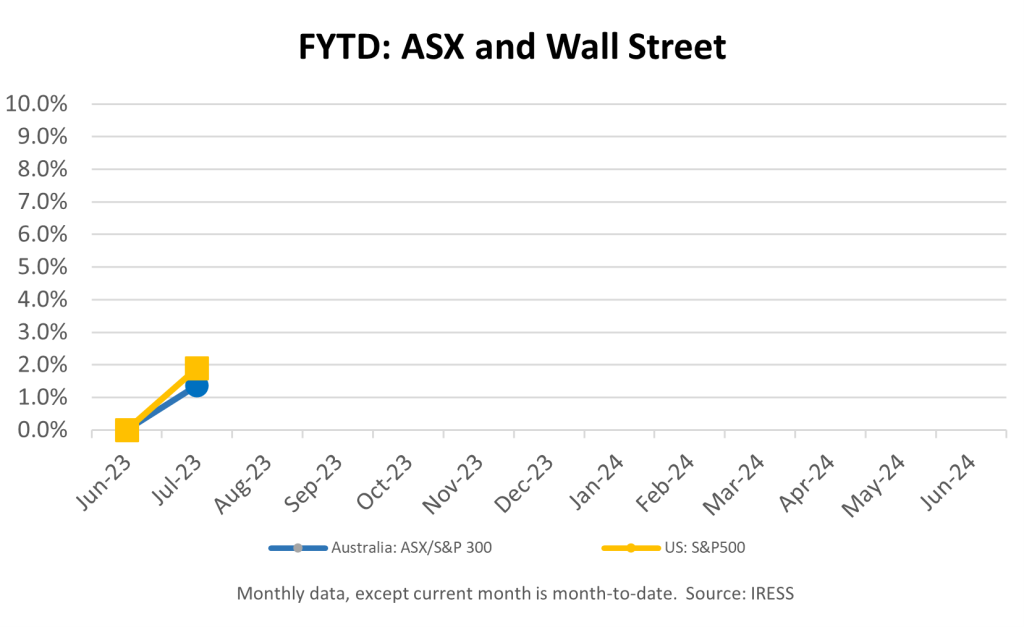 ---
Takeovers adding value
There has been a significant period of de-equitisation in the Australian equity markets in the past couple of years, as we discussed in Investment Matters a fortnight ago. Our portfolios, and performance, have been the beneficiaries of this phenomenon. Several stocks we own are subject to takeover bids:
United Malt – awaiting scheme implementation
Costa Group – awaiting a firm and final bid by major investor Paine and Schwartz
PointsBet – awaiting implementation of the scheme that would see the repayment of more than 80% of current value in cash
Newcrest Mining – awaiting the finalisation of the merger and joint US listing with Newmont Mining
Origin Energy – awaiting regulatory and shareholder approval before final payment
Accordingly, the takeover of stocks in the portfolio generates a need for replenishment. New stocks need to be added.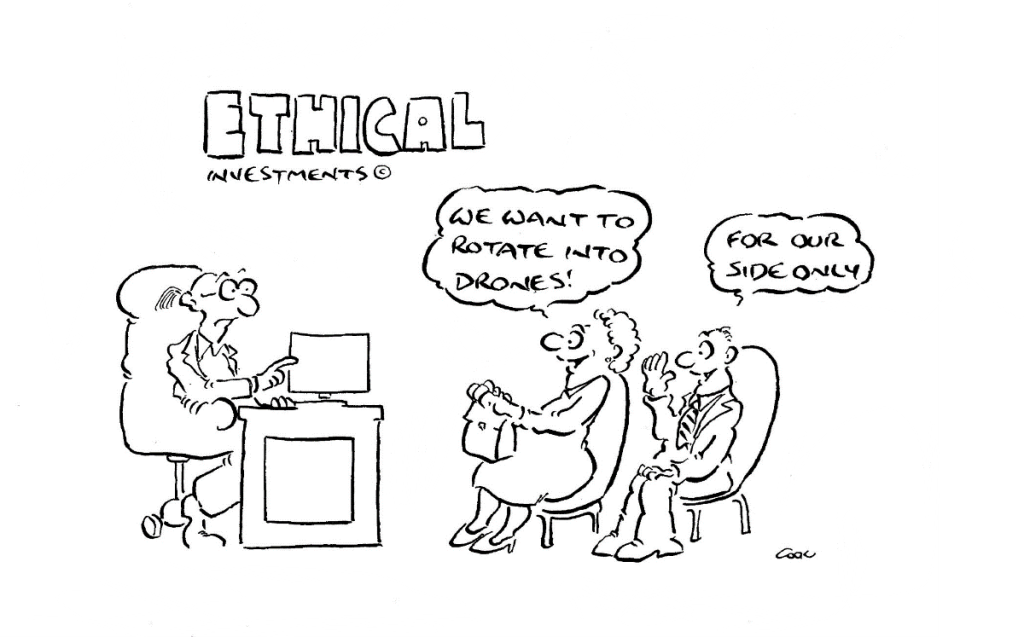 AGL and Impedimed
The beginning of the new financial year also provides new opportunities to sell profitable positions tax-effectively. With the major company profit reporting season approaching in August, the active management that we use demands we evaluate the likely market responses to the forthcoming updates.
In recent months we added AGL Energy and Impedimed to client portfolios.
Both have been strong performers. AGL Energy has benefited from the increase in wholesale energy prices, and current electricity market movements promise further upside to earnings.
We were particularly pleased with the news from Impedimed this week. As a reminder, Impedimed provides the industry-leading bioimpedance spectroscopy (BIS) tool for the measurement and ultimate prevention of lymphedema in patients recovering from cancer surgery. Changes in the protocol guidelines in the US have, for the first time, created significant incentives for healthcare systems to adopt the Impedimed solution.
In response to the change of guidelines, we have been waiting for large US managed care/insurance providers, a so-called 'national payer,' to allow for the reimbursement of these costs.
Impedimed announced on Wednesday that Cigna, a national payor that provides coverage for over 16 million members in the US across all 50 states, has updated its guidelines outlining the medical necessity of bioimpedance spectroscopy (BIS) testing in all lymphoedema assessments.
The approach taken by Cigna augurs changes for other major providers and offers an even larger remit of reimbursed procedures than we had expected. The positive impact on our long-run value of the company could be substantial if implementation proceeds as expected.
In the remainder of this week's Investments Matters, we provide a deep dive into another company that we have begun to add to portfolios in the past month.
Advanced Personnel Management (APM) – Going where the work is
In Investment Matters dated 16 June 23, you may recall we wrote in details of the changing face of the Australian workforce and trends in outsourcing. We noted the following;
Demand drivers are changing
The underlying demand drivers in the Australian economy are changing:
the aging of the baby boomers is leading to higher demand for health services
higher levels of workforce participation and greater use of older age cohorts result in the growth of externally provided childcare
higher levels of post-secondary education are lifting the demand for externally provided vocational certification rather than institutional on-the-job training
Other changes are consistent with the way society is organised, for example:
The establishment of the NDIS
Increased demand for HR services
Regulatory scrutiny extending to otherwise private transactions (e.g., landlord and tenant)
Diminution in companies' abilities to fully control its regulatory and training burden
Importantly, the outsourcing and privatization model of the 1990s and 2000s is reaching a natural conclusion:
Even core competencies of local government services now require third-party support
Other transactions with the government are often a blend of private and public provision
Changing work preferences
These policy changes and long-term trends have also been affected by changes in people's preferences. Consider three in particular:
Flexibility and movements towards work-life balance, including the flexing of times of work during an ordinary day;
Active trade-offs made by vast swathes of workers between job conditions, higher pay, and greater flexibility; and finally
Higher real wages sustained over a prolonged period up to the mid-2010s caused many workers adopt a preference for part-time work.
The increased complexity of roles, and higher demands by workers for a range of non-pay related conditions of employment have increased the role of companies that can better manage this more complicated supply chain of workers.
Welcoming APM Group to the First Samuel Australia equity sub-portfolios
APM is an employment and human health services provider operating on a global scale. Largely acting on a mandate from governments, APM's services support people in finding employment, recovering from injury and illness, improving health and well-being, and enjoying social and economic participation.
Four major lines of business
Service
Geographies
Description
Employment Services
Aust, NZ, UK, USA, Canada, Europe, Asia
• Eco-system of connectivity, training, and support for employers to engage job-ready participants
• Services for jobseekers: training & new qualifications, job search assistance, interview prep, workplace modifications, mental health support, counselling
• Services for employers: access to a large pool of job-ready candidates, form a diverse workforce, help improve employee retention rates
• In Australia, APM also operates an online portal, EmployableMe, a free recruitment marketplace for employer
Health and Wellbeing
Australia, NZ, UK, Canada
• Govt, insurance & corporate health programs on prevention, management, rehab, allied health & psychological intervention
• Early intervention & therapy services for children & young people
Communities and Assessment
Australia, NZ, UK
• APM works with individuals to develop support plans for funded & non-funded support, e.g., aged care home support & disability support assessments
• Community-based programs, incl. youth, justice & veterans' services
Disability and Aged Care Support
Australia
• Delivery of support services catering to disability & aged care sectors
• Plan management & support coordination primarily for NDIS participants
• Provision of an on-demand home care services marketplace connecting service providers & participants of NDIS and aged care sectors
Source: Company reports, UBS
We have identified three significant growth opportunities for APM.
1. Earnings leverage to a rise in unemployment
By far, the largest of the segments from which APM derives its revenues is the provision of 'Employment Services', which is around 70% of Group revenue.
Fig 1: APM's pro-forma revenues by division – Employment Services is the dominant source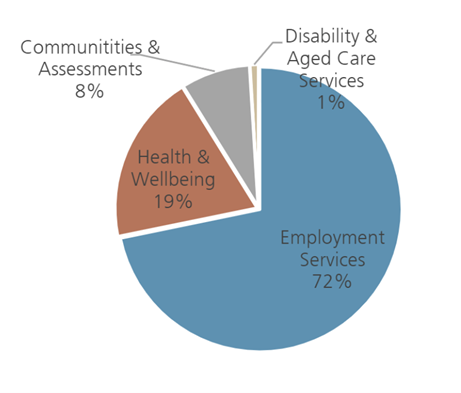 Source: APM, UBSe
The company's primary markets of operation are Australia, the UK, and Canada
Fig 2: APM's pro-forma revenues by geography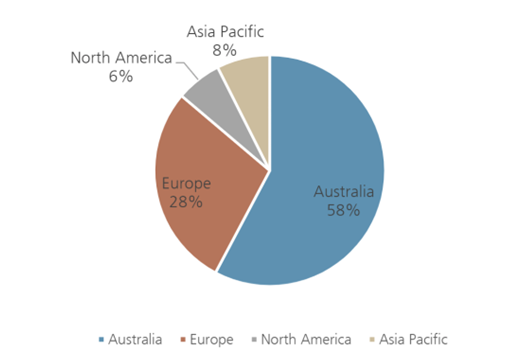 Source: APM, UBSe
APM is one of the largest and most trusted service providers in each of these core markets.
Figure 3: Revenue market share in Australian employment services (DES) (2021)
Source: Australian Government Department of Social Services (DSS data as of March 2020). Market share by revenue.
And consistent across each of its major markets, the level of unemployment is near to decade-low levels. This offers significant upside to APM's earnings in the event of economic deterioration.
Figure 4: Unemployment rate by major market – cyclical lows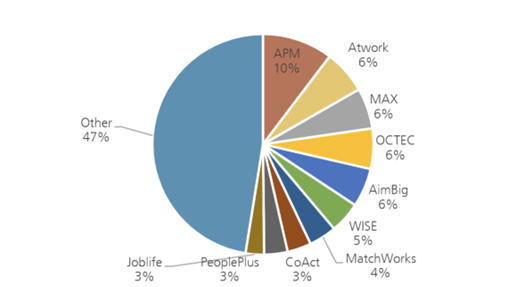 Source: Department of Social Services, UBS. Market share by contracts.
2. The rising NDIS opportunity
While NDIS is a relatively new business segment for APM, it offers an exciting opportunity for profitable growth.
In our view, the blowout in the scale and scope of the NDIS has only been matched by the capacity for businesses (several of which are listed) that have quickly captured the outsourcing opportunity. APM represents a leading example of this.
Figure 5: NDIS spending exceeds original estimates.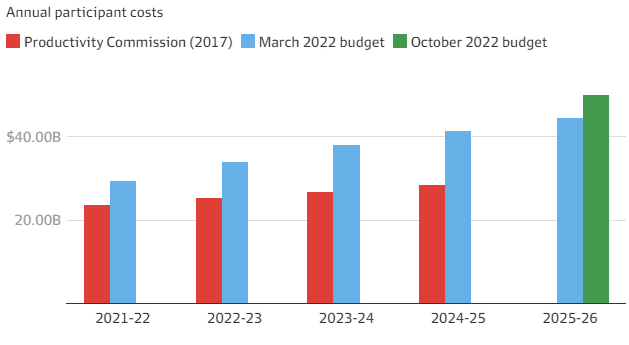 Source: Australian government
The NDIS, ostensibly a voucher system, has developed into one in which the same firms that organise the decisions around those services for which NIDS recipients are funded also provide the businesses that implement the services.
APM is a proficient operator within this market as an organizer of participant plans and coordination of service providers. In addition, it also functions as the end provider of allied health workers and other care services.
3. Expansion via de-novo contract wins as well as business acquisition
As a trusted and compliant operator in its key markets, APM has successfully demonstrated an ability to win new and expanded Government contracts. Successes have been in Australia, Canada, US, UK and New Zealand.
Additionally, the company has already demonstrated a capability to successfully supplement its expansion plans via acquisition, targeting around one-third of its business growth. This has also proven an effective way of diversifying its business by segment and geography.
In conclusion
We've been pleased to add APM as a new portfolio position. We're attracted to the growth opportunities within the markets in which it operates. We also but also recognise the company's strong in-market position and execution capability.