The Markets
This week: ASX v Wall Street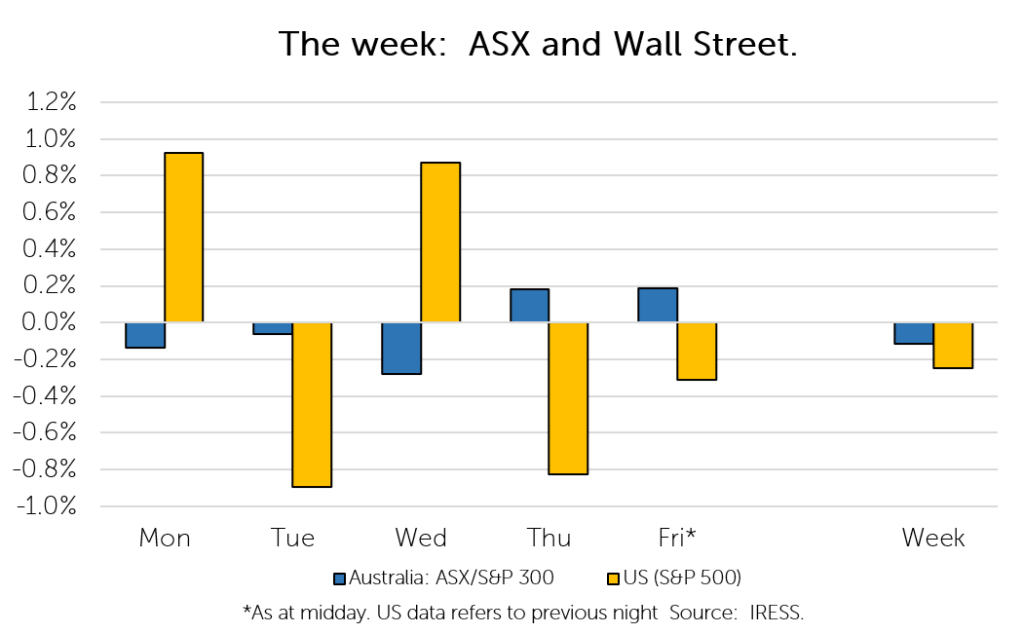 FYTD: ASX v Wall Street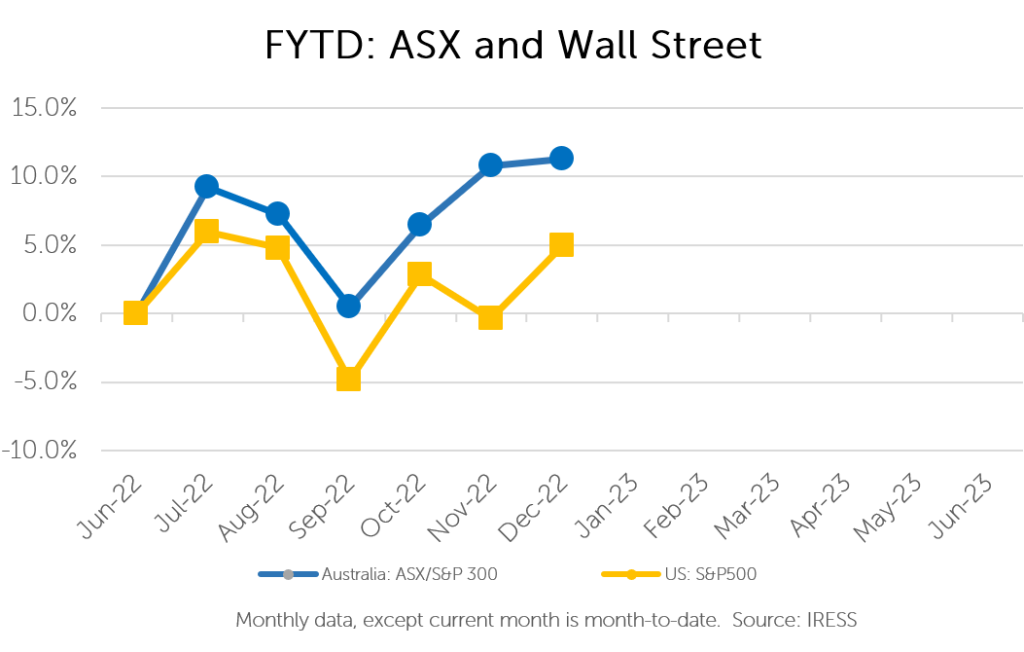 ---
For the past 10 days I had the opportunity to head to Perth for a series of company meetings.
In this week's Investment Matters I will provide some insight into the way in which the investment community organises these forms of company access, and how First Samuel makes use of its scale to access the best of such opportunities. At the end of the article, I will outline the types of meetings we had. A look at how the sausage is made!!
Access to companies is critical in a research-oriented investment process such as undertaken at First Samuel. "Access" comes in many formats, some of which I have listed below, in order of value I perceive each has, along with some of the topics that each type of meeting would discuss.
Meeting with a company's Chief Executive Officer

Strategy, priorities, concerns and
Leadership views on industry and company trends
Testing details and hypothesis


Tours of facilities, sites, mines, stores or factories

Gaining insight into what makes the company tick
Better understanding of the drivers of profit – moving from numbers on a page to widgets per hour, sales per staff member or whichever real-life metrics that drives the day-to-day operations


Meeting with industry experts

The reality is that a company will nearly always tell a story that paints themselves or their company in a positive light. Knowing the degree to which that reflects reality usually takes verification or triangulation.
Industry experts are vital to testing the information provided. First Samuel spends a significant amount of our research budget sourcing industry experts across a variety of topics.


Meeting with similar companies, suppliers and clients

Similar to industry experts above it is often highly informative to simply listen to the experience of management engaged in similar businesses.
Testing ideas and looking for trends emerge easily from such meetings.


Meeting with the Chief Financial Officer (CFO) or Senior Finance professionals

The numbers; an opportunity to gain more insight into the metrics presently formal in company accounts.


Meetings with operational staff

Meetings with a company's Chairman or members of the Board of Management

These meetings will generally be superficial and sterile – unless something has gone very wrong – when suddenly meeting the Chairman is the meeting you need to have!


Introductory meetings – often simply a strategic overview of a company's aspirations, best delivered by the CEO or CFO

Not quite as short as an elevator pitch, but definitely to the point. Such meetings are critical insofar as they often assume you have completed general research beforehand.
The key insight that brevity in such meetings provides is the information contained in the CEO's choices of topics they mention, and just as importantly what they choose not to.


Meetings with Investor Relations (IR) staff

These poor souls have the job of parroting the company line in a well-rehearsed, error free, value neutral style.
IR meetings are useful when building base knowledge about a company or clarifying a point made by the CEO or CFO, but little else.
An individual meeting is often preferred, especially for CEO meetings and those with industry experts, and 100% of First Samuel expert meetings are solo. Small group meetings, even those with a CEO or CFO, when accompanied by experienced stockbroker analysts (who may have also studied the company for 10+ years) can be just as beneficial as a solo meeting.
The degree to which investors secure access, and the value obtained from such meetings is highly dependent upon the size of the company, the nature of the industry and often the level of ownership. As you would expect there are many companies in your portfolio for which all levels of access are available and utilised.
One of the more nuanced tasks, as alluded to in list above, is the requirement to meet high level personnel from companies that are similar to companies we may own. They may operate in the same industry or face similar pressures such as labor availability or cost inflation. The best meetings are often with non-listed (sometimes private) competitors.
Understanding this need, it is common for Broking Research houses to organise small-group industry-based roadshows or small-scale conferences, in which you can meet companies that you know very well (and may own) alongside companies you don't – but one of your travelling group may. With more than 1000 companies in the investment universe small conferences.
So, what was Perth all about?
Of an organised nature we attended a mining services tour (5 investors and two experienced broker analysts, 12 companies), had many independent meetings, and attended a mining conference (with less than 25 other investors) at which more than 50 companies presented.
We had meetings, often multiple in formal and informal settings, with 10 companies that are currently in your portfolio, sometimes meeting with operational staff, suppliers and industry experts.
Measured against the list above (in rough numbers) we met at least 30 CEO's, more than 30 CFO's, a few too many from Investor Relations, and one Chairman. We visited a range of factories and worksites (yellow vests and goggles included). For many companies we met their clients, their suppliers and operational staff.
And of course, being in Perth I saw more than one very large piece of mining equipment – the bucket on the right is known as the Hulk Excavator bucket produced by Austin Engineering.
In next week's Investment Matters I will outline important trends that emerged during the trip regarding the explosive growth in mining investment we are now seeing.
I will outline how the growth in critical battery materials and the mining services companies that will support their growth over the coming decade are preparing.
And finally, I will look at some of the social and workplaces changes that are rapidly emerging in WA.