The markets
This week: ASX v Wall Street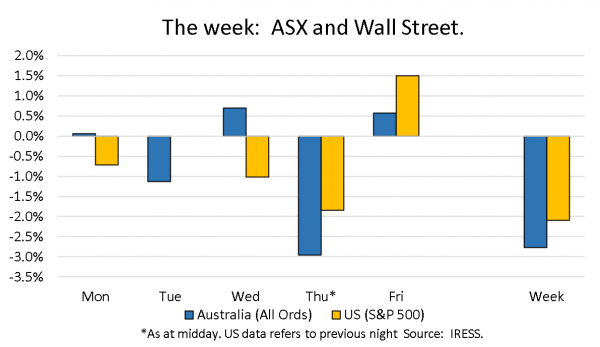 FYTD: ASX v Wall Street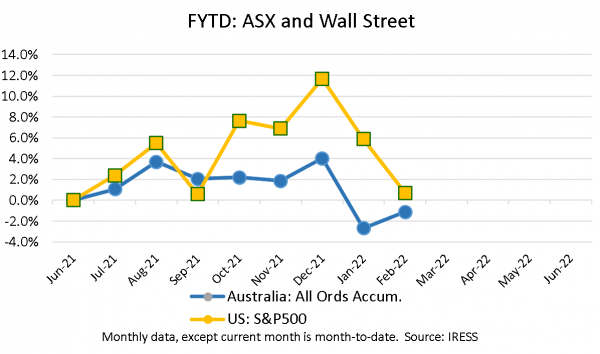 It's no shock that the stock market didn't dance to the drums of war on Thursday.
With Russia's incursion into Ukraine, there has been more of the volatility we have become accustomed to this year. The movement we have seen in markets is typically characterised as "risk-off". It's a simple equation: general uncertainty results in overwhelmingly more sellers than buyers, and stock markets consequently fall.
As we saw most recently during COViD – there is always a tendency in these moments to become engrossed in the visceral immediate shock and begin to extrapolate. Yet as the market reacts strongly to changing conditions – we like to remind ourselves that there is far more that will not change than will.
Ultimately companies are defined by more than their next year of cash flows or the latest headline. Whilst not to downplay the significance of this week (and the toll it will take on countless lives), readers' investment horizons are likely to be much longer.
Furthermore, while this moment in time no doubt represents a tragic turning point, it is also is a manifestation of global shifts that were set into motion well before:
Interest rates and inflation continuing to rise
Increasing balkanisation and protectionism
Supply chains being re-assessed and reorganised
A breakdown of trust in institutions
An atrophying global rules-based order
Energy independence and the energy transition becoming critical
A renewed focus on resource sovereignty, critical minerals and materials
It is within the context of these structural shifts that we have long viewed clients' portfolios. These are key considerations when investing with a medium-term time horizon and have been put sharply into focus.
The impact on the market
While the headlines may shout "market sell-off" there is nuance that is behind the numbers.
Some company's shares have fallen precipitously, some less so and some have risen.
This dispersion highlights the mixture of short- and medium-term factors at play – which need to be picked apart.
Some of what we have seen in the immediate fallout:
Oil and gas: Higher prices and the potential for further sanctions
Materials: Prices of Palladium, Cobalt, Coal and other Russian exports have leaped higher.
Gold vs Bitcoin: The debate appears to be settled. Gold has shown its 'metal' as a safe asset and store of value – which is bittersweet after a disappointing year. Meanwhile Bitcoin – its younger digital would-be usurper has crumbled:
An even greater focus on price vs value. Unprofitable and speculative companies have seen an even steeper fall than the broader market. This has been evidenced by the performance the performance of our Technology Index this week.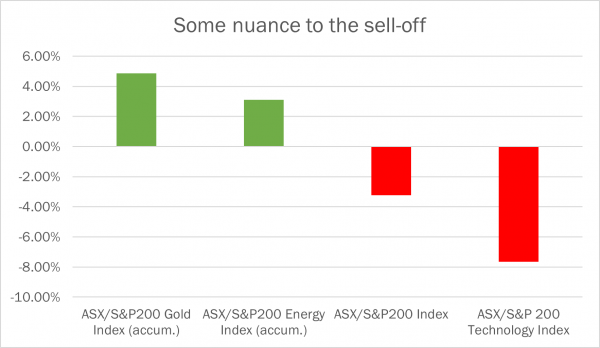 We are happy to have had an exposure to some of the less impacted parts of the market and beneficiaries. Clients' portfolios have broadly been resilient; buffeted by cash holdings and a diversified exposure to gold.
What is our modus operandi in the current environment? Taking a longer-term view, we can't help but hear the words of Nathan Rothschild ringing in our ears: "Buy when the cannons are firing and sell when the trumpets are blowing". We begin the process of differentiating between short term reactions and long-term implications in looking for opportunities.
As always, we are taking a measured approach and looking for value wherever we can find it.
Company News
Amidst all the headlines we have been busy with our heads down, putting your companies under the microscope as Profit Reporting Season winds down.
Next week, Investment Matters will cover what has been the busiest week of reporting season yet, including:
Strong results from Endeavour Group, Worley, Earlypay, Costa Group, Lovisa, Ramsay Healthcare, Here There & Everywhere, Perpetual, MMA Offshore and Woolworths.
…as well as weaker results from Carbon Revolution, Platinum Asset Management, Nanosonics, Aristocrat Leisure and Reliance Worldwide.