Whilst enjoying your Perrier-Jouët Belle Époque…
"Flew in from Miami Beach…"
In the same way that the youth of today have no idea of a world without mobile phones, so too they have no idea of the role one man played in ending the Cold War and freeing some 290 million people.
Or that their only knowledge of the USSR1 is from the Beatles Back in the USSR.2
That man died on Tuesday. Mikhail Gorbachev was the last president of the Soviet Union; he tried to reform it, but his actions, and those of others, ended up destroying it.
Unlike other leaders, autocrats and coodabeens, Gorbachev read deeply about the human condition. Tsar Vlad's last book was probably War and Piece (of Ukraine); Emperor Xi's: Invasions For Dummies; and The Trumpster's: The Gospel of St. Donald.
On the other hand, the clue to Gorbachev's leadership was that his two great heroes were 19th-century socialist thinkers, Herzen and Belinsky, whose main concerns were the dignity of the individual. His heroes were not Marx or Lenin, the former having little belief in the ability of the individual much less in his or her dignity. And the latter concerned with the subjection of the individual to the state.
Gorbachev wanted a democratic and humane (albeit socialist) government. But the conservatism, repression and rigidity of communism, coupled with the collapse of not only the Soviet economy but also those of its client states (especially East Germany), meant that the ideal was impossible.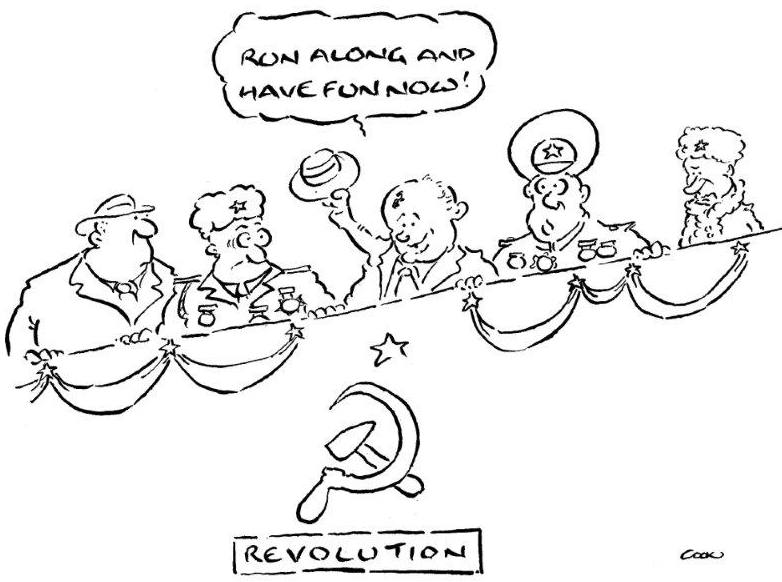 Today's oligarchs probably wonder why Gorbachev did not profit from his time in office, as did his predecessors. Or make money from the collapse of the Soviet Union, as they did.
They probably now think of him just as the man whose success in collapsing Soviet Russia gave them the fertile ground on which to plunder it. Instead they might think of him as the man who broke the chains of communist repression without violence.
He joins Churchill in the pantheon of the greatest leaders of the 20th century, or of any century.3
Stop Press 1: Tsar Vlad will not be going to Gorbachev's funeral as he is too busy. Gorbachev has been denied a state funeral.
Stop Press 2: The chairman of a Russian oil company who had spoken out against the war in Ukraine has died after falling five floors from a hospital window in Moscow.
1 The Soviet Union, officially the Union of Soviet Socialist Republics (USSR), was a transcontinental country that spanned much of Eurasia from 1922 to 1991. A flagship communist state, it was nominally a federal union of fifteen national republics but, in practice, its government and economy were highly centralised in a one party state, governed by the Communist Party of the Soviet Union.
Its constituent states were Russia, Ukraine, Byelorussia, Uzbekistan, Kazakhstan, Georgia, Azerbaijan, Lithuania, Moldavia, Latvia, Kyrgyzstan, Tajikistan, Armenia, Turkmenistan, Estonia.
2 "Flew in from Miami Beach, BOAC, didn't get to bed last night…"
3 Wry & Dry encourages Readers to be immersed in William Taubman's biography of Gorbachev: it is one of the great biographies. Not as long as Caro's excellent five-volume biography of Lyndon Johnson nor as readable as Roy Jenkins' sweep of Churchill, it is an amazing insight into not only the actions of the man but also his mind.
Jackson Hole 1
Last Friday, the Chairman of the USA's central bank, the Federal Reserve Board (the 'Fed'),4 came loaded for bear4a, appropriately for Jackson Hole. And the bears4b took over.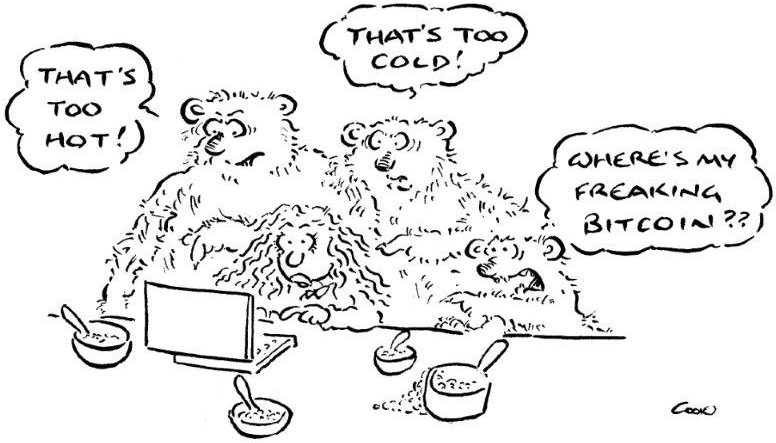 "Americans will face slower economic growth and a weaker job market as a result of the central bank's efforts to tame inflation," he said. "The failure to bring down prices would result in even greater hurt for Americans."
With those words the Dow, S&P500 and Nasdaq fell over 3%. And disastrously for Generation Z, Bitcoin fell below US$20,000.
And the ASX dutifully followed – it's down over 4% since then. July's 5.7% ASX rally is a memory.
Where to, now?
It's going to be a volatile time until interest rates stop rising, supply chain bottlenecks are broken and Europe manages without Russian energy. But the Australian economy remains in sound shape – the governments' pumping of our, our children's and our grandchildren's taxes into the economy should assure an upward sloping investment return chart, albeit with some jaggedness.
4 The Fed oversees the Federal Reserve System i.e. the central banking system of the USA. It was formed in 1913. It has three internally-contradictory objectives: maximising employment, stabilising prices, and moderating long-term interest rates.
4a An idiom, meaning prepared to fight or do battle. From loading a weapon with bullets suitable to kill a bear.
4b An idiom, investors who consider markets will go down are bears, those whom think they will rise are bulls.
Jackson Hole 2
Why would the world's most powerful central bank hold its annual symposium in a remote Wyoming valley, home to about 10,000 folk?
The answer is fly-fishing. In 1982, when the Kansas City Federal Reserve Bank5 was looking for a prominent speaker for its annual conference, organisers wanted to go big and have then Fed Chair Paul Volcker come speak. They knew that Volcker was an avid fly fisherman, so they chose the fly-fishing mecca of Jackson Hole to convince him to attend.
It worked, and the Fed has held its annual symposium there ever since.
Australia's Reserve Bank doesn't have a symposium, annual or otherwise. And if it did, Wry & Dry would want it to be held in a downtrodden, dodgy suburb in a dodgy city, so its members could see the outcomes of their interest rate decisions.
5 One of the 12 regional Federal Reserve Banks that regulate and oversee privately owned commercial banks.
Shaq voiceover
Albo was doing so well.
And then a rocket surgeon in his apparatchidom observed that the mood of the meeting was drifting against Albo's pet project: The Voice. And suggested that engaging a former NBA6 player and gambling company promoter to advocate for the Voice would be a fine idea.
The scheme had a great marketing edge: Shaq O'Neal – a big-name, big-size US sport's personality best known for double-entendre massage table ads.
Albo seemed to leap at the idea. And at the photo opp. What could possibly go wrong?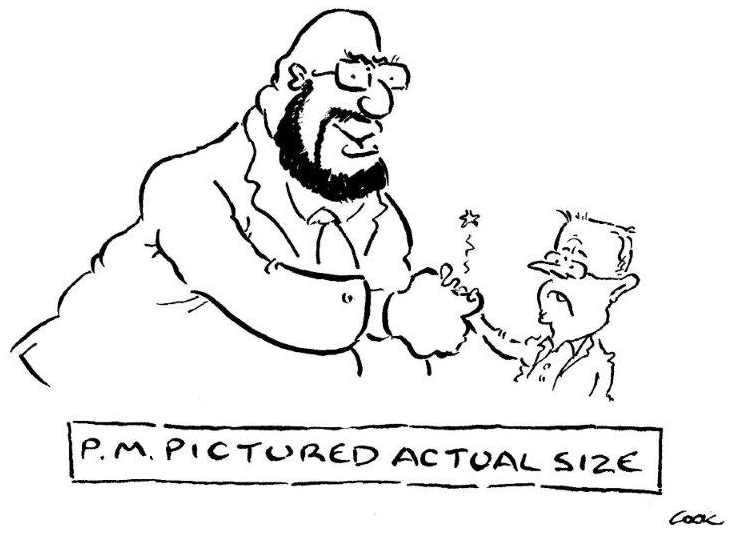 After all, his party was a master at leveraging 'personalities' to assist in whatever cause was hot at the time. Consider the endorsement of ageing rock star Peter Garrett7 to be a federal MP and minister for the Ruddster. As Environment Minister, Mr. Garrett had some successes, but was the architect of the 'Pink Batts' scheme. And Readers know how that turned out.8
Co-opting an American basketball personality to promote the Voice was probably the one issue to which Albo might have applied former PM Morrison's famous 'pub-test'. He didn't. And so got slam dunked by both sides of the debate.
Now the focus is, of course, on which sports personality Albo will next roll out? Wry & Dry predicts an indigenous sportsperson, possibly female.
6 National Basketball Association (US)
7 Former federal member for Kingsford Smith and lead singer of Midnight Oil, a 1970s rock group.
8 It didn't end well. It was one of the Ruddster's government's plans to save both the economy and the environment. Neither objective succeeded. The plan was to spend $2.8 billion installing housing insulation across Australia. The rushed implementation was a disaster: a Royal Commission found that tens of millions of dollars were rorted, 224 houses went up in flames and four tradies died in botched installations. The economy was saved by the RBA slashing interest rates by 3% and China pumping squillions into its economy, which, with a weakened Australian dollar, boosted Australian exports. The environment still requires work.
California Dreamin'... without electricity
What's going on?
It seems that folk have realised that wind + sun + batteries are not progressing quickly enough to make up for the withdrawal of fossil fuels. And, believe it or not, they-the-people like the convenience of electricity. Hence, the question: "Err, what other energy source can we use?"
France and Belgium have both moved to keep nuclear reactors open past their operating licenses, and in a major U-turn, Japan is considering building new reactors and restarting ones that had been shut following the Fukushima nuclear crisis.
The UK, the Czech Republic, and Poland all have plans to build new reactors in the coming years. France has proposed building 14.
And now California's last nuclear power plant, an aging facility operating since 1985 known as Diablo Canyon, set to retire by 2025, may be kept open for an extra decade.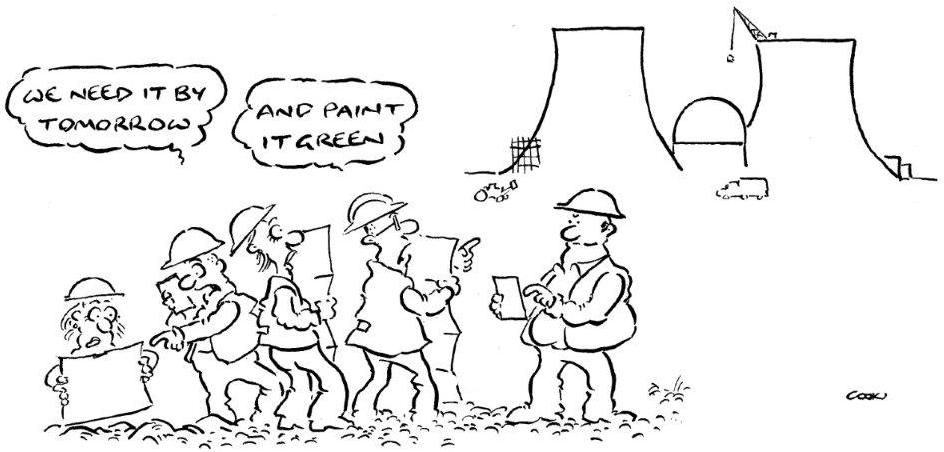 The problem was exemplified in an irony that Californians may not understand. They were told on Wednesday not to charge their electric cars during peak hours, just days after the government banned the sale of petrol cars from 2035.
Elections 1
The voters of Chile go to the polls on Sunday to vote on a new constitution.
So what? Wry & Dry hears Readers ask.
The short story is that if the new constitution is passed then Chile will depart from its pro-mining policies of the last 30 years. Chile has the world's largest reserves of copper and lithium. Nationalisation of mining is possible.
Readers know that the biggest issue with renewable energy is not getting the energy, but storing it. Copper and especially lithium are critical elements in the new world.
Other sources of copper and lithium may have to found.
Elections 2
Readers will recall that in early July Borisconi gave himself the DCM just before his colleagues did. But Borisconi is still PM, as the Conservative party gives members the right to vote for the top job.
On Monday the waiting will be over for the UK's skilled cartoonists. And for the contenders: the unctuous Rishi Sunak and the earnest Liz Truss. According to the bookies, Mr. Sunak should have spent August in one of his holiday homes.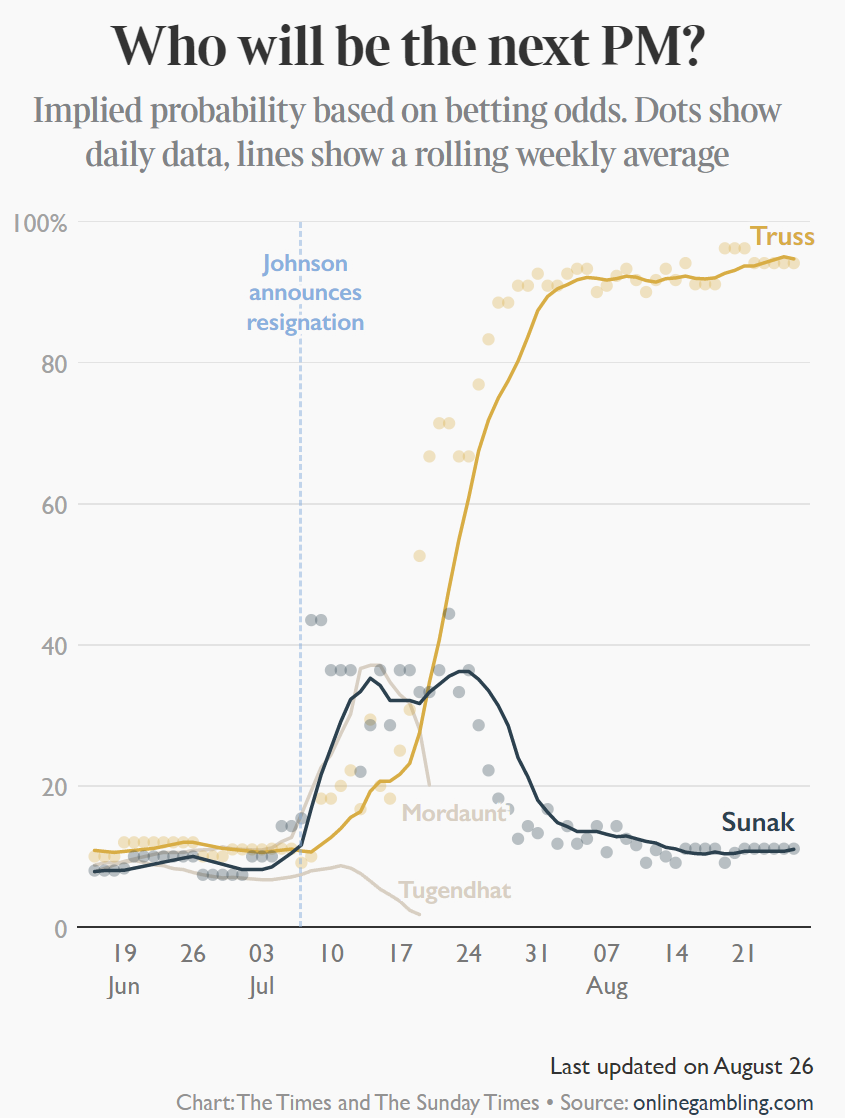 He and his squillionaire wife own:
a five-bedroom mews home in Kensington
an apartment in Old Brompton Road
a Georgian mansion on 12 acres in Yorkshire
a penthouse apartment in Santa Monica, California.
Mrs. Truss owns a three-bedroom home in Norwich. Where she is currently packing boxes.
Friendly fire
Just as Albo's happiness was rising in his Jobs Summit balloon, along comes a Green senator to insert a large pin in it. Yesterday, Greens senator Lidia Thorpe called the Voice referendum a "waste of money" and said that the funds could be better spent on Indigenous communities.
Coincidently, Justice Judith Kelly, a senior Northern Territory Supreme Court judge, said that a "cult-like ideology of supposed anti-racism" is stopping people from talking about a plague of domestic violence towards Indigenous women.
No question about that.
Wry & Dry ponders that the Voice and its inevitable offspring will be a fertile ground for lawyers, rent-seekers and do-gooders. And little will be done for Indigenous communities, especially Indigenous women.
No water
The residents of a state capital city in the world's wealthiest country have had no water from the tap this week. None for drinking, teeth cleaning, flushing toilets, etc.
Yes, the 180,000 residents of Jackson, Mississippi9 are waterless. And will be "indefinitely." A storm in February shut down the creaking system, and temporary measures have failed.
Mississippi is going to receive $75m from Sleepy Joe's recent infrastructure legislation. But repairs to the Jackson's water plant will cost $200m.
Perhaps Princess Princess could send a few bottles of Perrier, just to show her compassion.
9 US state capitals are not the biggest cities in the state. For example: California's is not Los Angeles (population 4 million) but Sacramento (500,000).
Unclear on the concept
A man climbed into a lion enclosure in a zoo in Accra, Ghana.
He was mauled to death.
World's coolest street
Well, how about that! US Time Out magazine has named Gertrude Street, Melbourne as the second 'coolest' street in the world.10
It said that the street was "beautiful, unassuming and devoid of the rampant nightlife of its comparatively rowdy siblings." And "…has steadily added a wealth of independent retail, drinking and dining joints to its cultural portfolio."
Well, with that accolade, the coolness will surely come to an end. Wait for the mini-vans of tourists on their way to watch the penguins at Phillip Island.
10 Winner was Rue Wellington, Montreal. The streets following Gertrude Street were: Great Western Road, Glasgow; Yongkang Street, Taipei; Værnedamsvej, Copenhagen and Karangahape Road, Auckland. Jermyn Street didn't get a guernsey.
Egg-on-face
If you spend £3 billion on a boat, you'd want it to work. Especially when it's still under warranty.
Well, it didn't. The Royal Navy's new aircraft carrier, the HMS Prince of Wales, came to a grinding halt this week, off the south coast of that green and pleasant land.
The problem? Someone forgot to grease the starboard propeller shaft.
The solution? Hire a tugboat to tow the craft to a dry dock in Scotland (currently, still part of the UK) for a grease and oil change.
The outcome? Free range egg-on-face.
Dates
29 August 2001: Serena Williams wins a game at the US Open.
29 August 2022: Serena Williams wins a game at the US Open.
How about that!
Habits: The gift that keeps on giving
Princess Princess is certainly the gift that keeps on giving. In her ongoing monetisation of her title, she said this week that celebrations in South Africa following her marriage to Princess Harry were comparable to those after Nelson Mandela's release from prison11.
Wry & Dry would suggest that is an understatement. South Africans poured onto the streets throughout the country to celebrate the wedding of an army officer to a former and minor television soap opera actress. The partying went late into the night.
Sadly, Zwelivelile "Mandla" Mandela, an MP and chief of the late South African president's Mvezo tribe since 2013, made an outlandish statement. He said Princess Princess' claim diminished the sacrifice his grandfather and other figures had made to end apartheid in the country.
Just as sad, a South African actor and friend of Nelson Mandela said he was "baffled" by Princess' claim. He said that her wedding was "no big deal" in South Africa and the two events "cannot be spoken of in the same breath".
How rude of these two men to criticise Princess Princess. Don't they know who she is?
11 Nelson Mandela was a South African anti-apartheid activist who served as the first president of South Africa from 1994 to 1999. He served 27 years in prison for his anti-apartheid activism.
In 1986, he was visited in the prison by former Australian Prime Minister Malcolm Fraser. Mandela's first question was, "Tell me Mr. Fraser, is Don Bradman still alive?"
When Mandela was released from prison in 1990, Fraser presented him with an autographed bat. The inscription read: "To Nelson Mandela in recognition of a great unfinished innings—Don Bradman."
Olympics: mud wrestling next?
The upcoming 2024 Olympic Games in Paris will give the DCM to two Tokyo debut Olympic sports: karate and baseball/softball.
And their replacement will be Breakdancing.
Wry & Dry's man in Lausanne (Olympics' HQ) has the scoop as to what Readers can expect by way of debut sports in upcoming Olympics:
Los Angeles 2028: Synchronised Street Rioting and Looting.
Brisbane 2032: The 10km Brisbane River-in-Flood Freestyle.
Snippets from all over
1. No human rights for Uyghurs
The United Nations' human rights office accused China of serious human rights violations that "may constitute international crimes, in particular crimes against humanity," in its mass detention of Uyghurs and other predominantly Muslim groups in its far western region of Xinjiang. (New York Times).
Wry & Dry comments: Emperor Xi didn't even raise an eyebrow at the news.
2. Erwähnen Sie nicht den Krieg12
The next UK prime minister is to be routinely driven around in a German-made car13 after no British alternatives to the current fleet of Jaguars could be found. (UK Telegraph)
Wry & Dry comments: The members will be choking on their bangers and mash in the clubs around St James.
12 Don't mention the war. 13 An Audi A8
3. No Russian tourists for EU
The EU has agreed to suspend a visa deal with Moscow and backed demands by eastern member states to curb the number of Russians crossing into their countries, as it bows to pressure to punish travellers over Vladimir Putin's invasion of Ukraine. (Financial Times)
Wry & Dry comments: Tsar Vlad didn't even raise an eyebrow at the news.
4. Shot in the foot?
In the two weeks after the decision [the US Supreme Court ruling that returned abortion legality back to each state] the number of people registering to vote increased by 10%, with the number of new women voters far exceeding the number of men. (The Economist)
Wry & Dry comments: Voting and registering to vote in the US is not mandatory, as it is in Australia. The Economist reported that across all states where data was available, the share of Democrats grew by around 4 percentage points. Supreme Court-appointer's regret?
5. Solomon Islands ban US ships
The Solomon Islands' government told the United States that it would place a moratorium on naval vessels entering its ports. (Reuters).
Wry & Dry comments: It looks as though Emperor Xi's takeover of the Solomon Islands is almost complete. It only needs a ban of the latest Top Gun movie to finalise it.
6. No Chinese shopping
Chinese tourists, once the biggest driver of luxury sales, have almost disappeared from European high streets since the closure of China's borders in 2020. (Financial Times).
Wry & Dry comments: In the decade before covid, Chinese consumers were by far the world's largest spenders on luxury goods, making 33% of global sales. And 20% of those global sales were made outside China.
Data
The number of Australian first-home buyers fell by 10.7% in July.
German inflation hit a 40-year high of 8.8% in the year to August.
Inflation in the eurozone hit 9.1% in August. The European Central Bank has a target of 2%.
More people in the US now smoke marijuana than tobacco, 16% versus 11%.
And, to soothe your troubled mind…
"We cannot make taxpayers pay for civil servants to take courses with names like 'Find Your Mojo', 'Buddy to Boss' or 'Knowing Me, Knowing You'."
Jacob Rees-Mogg, UK Cabinet Office minister, on axing 250 "woke" training courses in his department.
Clearly one of the better decisions of this government. A course description of one was: "enables participants to use behavioural insights to counter cognitive biases in government and make better calibrated decisions and judgments, ultimately resulting in better project planning, delivery and policy outcomes".
PS The comments in Wry & Dry do not necessarily reflect those of First Samuel, its Directors or Associates.
Cheers!
Anthony Starkins