Enjoy Wry & Dry: a cynical and irreverent blend of politics, economics and life.
Seven stories you may have missed
He quit, then…
Bank's win-win
Seek.kp
Lipstick on a pig
Kettle calls pot black
Liveable
Pork
He quit, then…
Readers will know that outgoing Qantas CEO, Alan Joyce, recently sold 80% of his vast number of Qantas shares to pocket $17m. But did he do so knowing that bad news was just over the horizon?
The latest Skytrax global airline ranking has Qantas' falling to #17 from #5, its lowest in 20 years.1 And, to rub salt into the infected wound, Qantas also fell behind Fiji Airways as best in Australia-Pacific. How embarrassing.
But wait. There's more. Roy Morgan research for the March quarter revealed Qantas was now among Australia's 20 most distrusted companies, along with low fares partner Jetstar.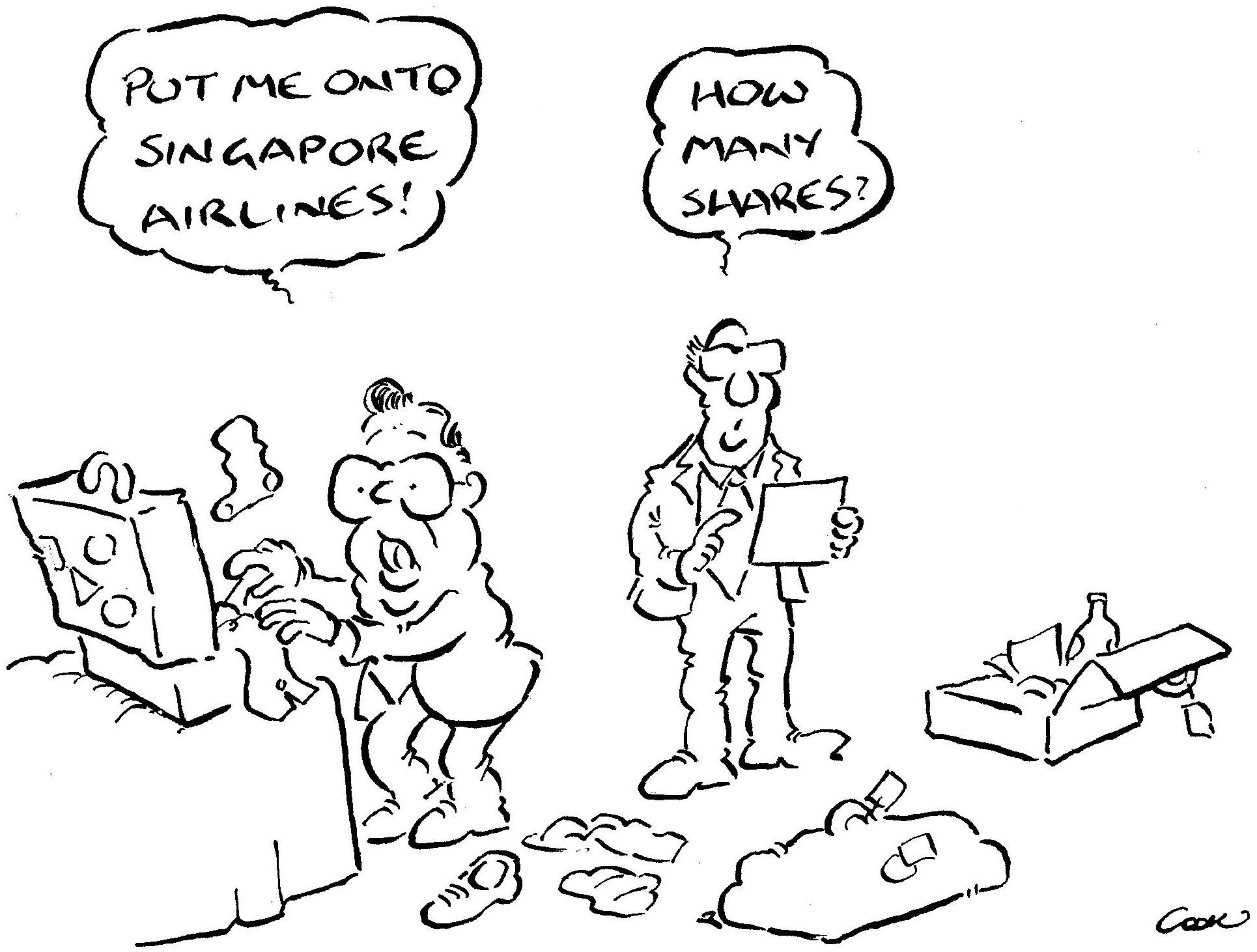 Y'see, it is possible that Mr. Joyce decided to turn Australia's so-called flag carrier's reputation to custard to boost its short-term share price. This he did by cancelling orders for new aircraft, and sacking employees. The shortage of aircraft meant that when the world opened up post-covid, the pent-up demand for air travel was met by massive fare increases. Qantas' profits boomed.
But beneath the surface, service suffered, baggage to London ended up in Lagos and the average age of its fleet rose to 14.2 years2.
Mr. Joyce has left a submerged log for his successor.
Perhaps his bonus should have been awarded on the basis of passenger ratings.
1 #1 was Singapore Airlines; #2 Qatar; #3 ANA #4 Emirates; #5 Japan Airlines.
2 Singapore Airlines' average fleet age is 6.8 years, Qatar is 8.7, ANA is 8.5, Emirates is 9.4 and Japan Airlines 10.9.
Banks' win-win
So, a company placed large short-term deposits with a US bank. And had also borrowed long-term for a lesser amount from the same bank.
The bank goes bust. What happens next?
a. All is okay – the deposits are government guaranteed but the debt still exists;
b. All is okay – there is 'a right of set-off' of the loan against deposits: the company keeps the surplus;
c. It's sort of okay – there is a right of set-off, but the deposits are not guaranteed: net position is zero; or
d. Doom. The deposits are not guaranteed and are lost; there is no right of set-off; and the debt still exists.
Close, but no cigar. The correct answer is d.
The company's deposits were with Silicon Valley Bank, Cayman Island's branch, but those deposits were not covered by the US Federal Deposit Insurance Corp. And are gone to pay creditors. The company's loans from SVB were sold to another bank: First Citizens Bancshares. There was no right of set-off. The company still owes the debt.
Just gotta read the fine print.
Seek.kp
Readers will remember photos of Emperor Kim Jong-Un's beaming countenance as North Korea's first military spy satellite was readied for launch on 31 May.
And then its vertical trajectory soon after launch.
But the trajectory was downwards instead of upwards. The satellite and the rocket of which it was atop crashed into the Yellow Sea without ceremony. But with embarrassment to not only the whole country but especially so to Emperor Kim Jong-un.
On Monday the Central Committee of the Workers' Party of [North] Korea raised its head above the parapet. It "bitterly criticised the officials who irresponsibly conducted the preparations for satellite launch."
As this announcement was (a) unusually critical and (b) three weeks after the failed launch, one can only assume that the delay was caused by the time it took to name the 'officials,' charge them, find them guilty and sentence them to a fate worse than death.
A number of vacancies in the National Aerospace Development Administration have since appeared on Seek.kp.3 Emperor Kim doesn't like to be disappointed.
3 .kp is the internet Top Level Domain for North Korea.
Lipstick on a pig
The willingness of local councils to try to fool all of the people all of the time is again on display.
Readers will recall that Wry & Dry railed against the Melbourne City Council (parking fee increases dressed-up as encouraging fewer cars in the CBD) and Mornington Peninsula Shire (short-term rental (i.e. Airbnb) levies dressed-up as making more homes available for long-stay renters).
Well, this week, each of the city councils of Hobart and Brisbane have respectively imposed and lifted levies on short-term rental landlords. The reasoning? To make more properties available for long-term renters.
Even an acned, wide-eyed, first-year Economics 101 student in his/her first semester would see through such hypocrisy and cant. Only when the cost of the levy exceeds the marginal net revenue from short-term rentals over long-term rentals will the landlord favour long-term rentals.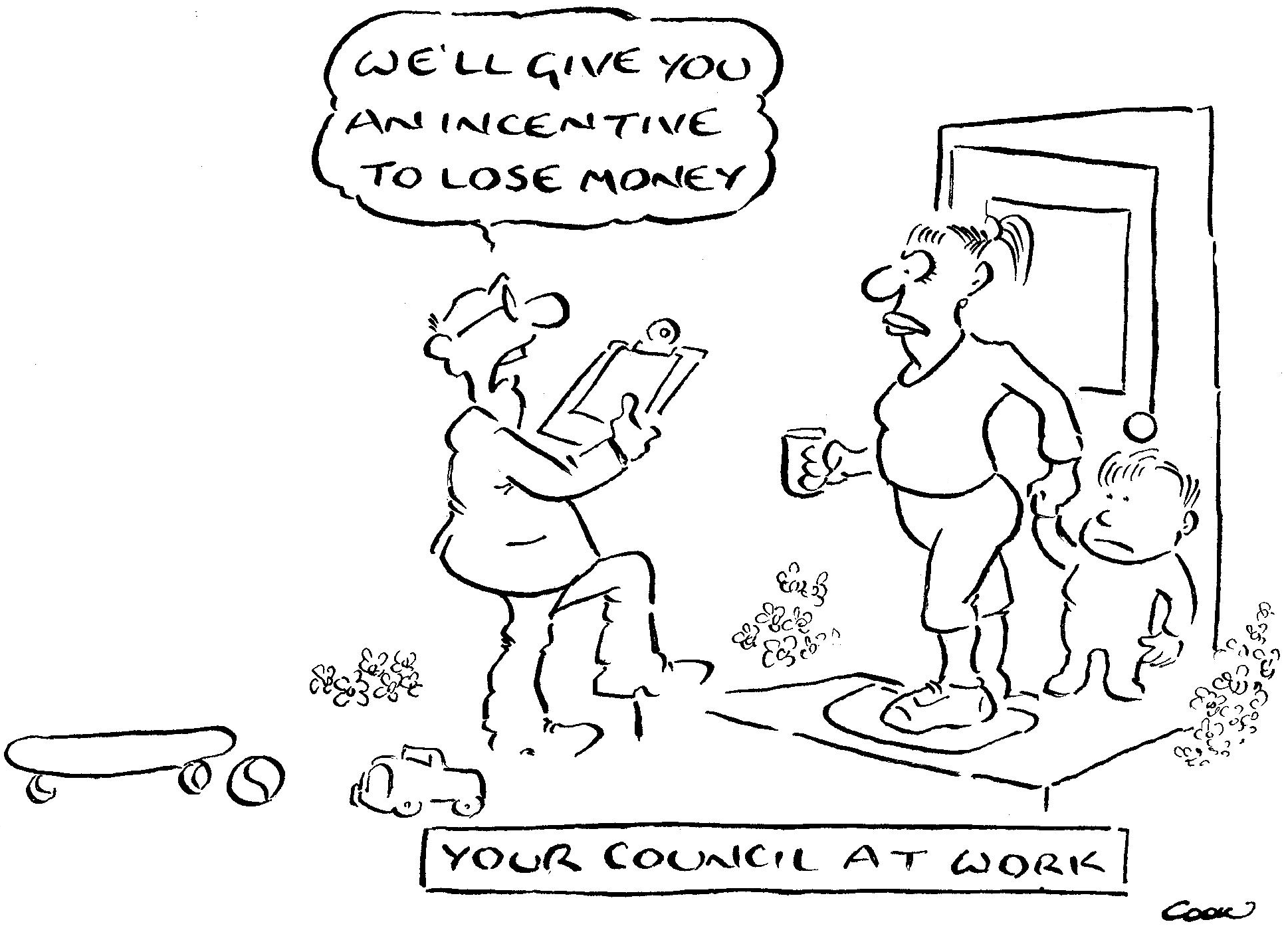 But never let the truth obstruct a media release. The Hobart City Council's media release sagely refers to "…encouraging owners of short stay accommodation to make their properties available for long-term rental purpose."
Had it thought instead to lower the rates for long-term rentals, rather than increasing them for short-term renters?
Silly question, Wry & Dry.
Kettle calling pot black
A cross-party Senate report has found that PwC engaged in a deliberate, multi-year strategy to cover up breaches of confidentiality in the tax leaks scandal.
But wait, there's more. The report accused PwC of "obfuscation, intimidation and unwillingness to give full and frank explanations."
Ouch.
Of course, Senators never obfuscate, never intimidate and are never unwilling to give full and frank explanations. Of course.
Liveable
In a much-needed break for Chairman Dan, his capital city climbed the rungs of global liveability: up to 3rd from 10th.4 Melbourne's lead in the saddlebags is its sub-ranking for 'stability.' It essentially lost 5% because of the prevalence of petty and violent crime. More work needed, Dan.
Sydney climbed even more rungs, but still remains behind Melbourne, to 4th from 13th.
4 The Economist Intelligence Unit Global Liveability Index. Vienna was #1, followed by Copenhagen at #2.
Pork
Readers will know that Wry & Dry has no time for former PM Scott Morrison. But, in a first, news of a Morrison decision when he was PM should be ignored.
Apparently, Morrison offered a popular North Queensland MP significant funds for his electorate if the MP didn't retire at the last election. The MP walked into the PM's office and said, "I've decided to run again, on one condition: what's in it for me?" The PM replied, "What do you want?" There was $20m for a micro-electricity grid and a government driven cyclone re-insurance pool.
Each settled their side of the bargain.
The bed-wetters are up in arms at what appears to be blatant pork barrelling by Morrison. Of course it was pork-barrelling. But spare Wry & Dry the sanctimony.
Every side of politics is guilty of pork-barrelling, with the Labor Party being most highly skilled at hiding it. The Liberals try to explain their pork-barrelling with fanciful economic justifications. The Greens, theirs by ideological reasons. And the Gnats under Barnaby Joyce were more brazen, and raised pork-barrelling to an artform worthy of a Nobel Prize of some sort.
In the news
From yesterday's Financial Times:
"[India's prime minister] Narendra Modi has arrived in the US for a state visit that will…. Modi is due to lead an event at the UN in New York on Wednesday marking International Day of Yoga."
International Day of Yoga? How good is that?
Which leads Wry & Dry to consider other international days as proclaimed by the United Nations.5 Just think of the weighty committees at the UN that decided these exemplars of bureaucracy:
13-Feb World Radio Day
20-Mar International Day of Happiness
2-May World Tuna Day
20-May World Bee Day
18-Jun Sustainable Gastronomy Day
25-Jun Day of the Seafarer
30-Jun International Asteroid Day
20-Jul World Chess Day
27 Sep World Tourism Day
7-Oct World Cotton Day
19-Nov World Toilet Day
21-Nov World Televison Day
Readers will sleep soundly at night, in the full knowledge that the United Nations is focussing on the seriously important issues.
And can look forward to celebrating the Day of the Seafarer on Sunday.
5 Source: www.un.org.
Why is energy so costly in Australia?
Readers will recall that all was well with the world before Tsar Vlad did a Hitler and tried to park his tank on a neighbour's lawn. Well, sort of.
Then the price of oil and natural gas shot through the roof. A gloom descended upon the face of the earth.
Well, that was 18 months ago. Now prices are almost back to where they were.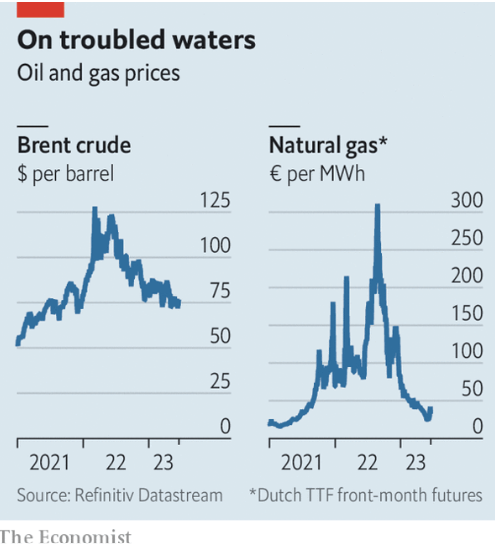 So, why is Wry & Dry's electricity bill going up by 35%?
Saving lives
This week: it was an all-out international effort to save five lives (including three billionaires) trapped in a submersible at the bottom of the Atlantic. Each Titanic tourist paid US$250,000 for a better view of the wreck. The five lives were lost, in spite of millions being spent on rescue attempts.
Last week: it was an all-out international effort to ignore an overcrowded refugee shipwreck off the coast of Greece. Each refugee paid EUR4,500 for a trip to a better life. At least 500 lives were lost, in spite of a Greek coastguard vessel standing by.
Go figure.
Snippets from all over
1. Nice work, if you can get it
Lawyers, advisers and other professionals working on the FTX bankruptcy have racked up $200mn in fees as they attempt to restructure the "smouldering heap of wreckage" left behind by the cryptocurrency exchange's collapse in November. (Financial Times).
Wry & Dry comments: Readers shouldn't be surprised. By the time the lawyers and advisers have plundered the rotting carcass there will be little left for creditors.
2. Mr. Blinken goes to Beijing
China and the U.S. took steps to halt the downward spiral in relations, with Secretary of State Antony Blinken meeting Chinese leader Xi Jinping. (Wall Street Journal)
Wry & Dry comments: Twenty-four hours later, Sleepy Joe labelled Emperor Eleven a "dictator." Thereby undoing, and then some, all of Blinken's good work. Men in white coats are on standby.
3. Borisconi's seven
Boris Johnson will be stripped of his parliamentary pass after the Commons voted overwhelmingly to accept the findings of the privileges committee report into partygate. (UK Telegraph)
Wry & Dry comments: The vote was 354 to 7. It seems clear that Borisconi was hung, drawn and quartered not because of the parties, but because he tried to cover them up.
4. Swiss – more neutrality
A referendum in Switzerland passed a law committing the country to carbon neutrality by 2050. (The Economist)
Wry & Dry comments: Supporters hope the initiative will help save the country's endangered Alpine glaciers. The reality is that it is a feel-good exercise. Unless the US, China and Russia commit to the same goal, the Alpine glaciers are doomed.
5. Not chicken
The United States has approved the sale of man-made chicken created from animal cells, paving the way for "laboratory-grown" meat to appear in restaurants and supermarkets. (The Times)
Wry & Dry comments: In the same way that champagne is only champagne if from certain regions of France, surely this laboratory-grown substance cannot possibly be called chicken.
6. Trumpster's jurors
When Judge Aileen M. Cannon assumed control of the case stemming from former President Donald J. Trump's indictment for putting national security secrets at risk, she set the stage for the trial to be held with a regional jury pool comprised mostly of counties that Mr. Trump won handily in his two previous campaigns. (New York Times)
Wry & Dry comments: Is the New York Times suggesting that jurors would base their decision on which way they voted, rather than the evidence before them?
Data
UK inflation in the year to May was 8.7%, above expectations of 8.3%.
The Bank of England raised interest rates by 0.5% points to 5%.
And, to soothe your troubled mind…
"He's either lying or he's thick."
Jess Williams, a Labour MP in UK's House of Commons, during the debate on whether to accept the findings of a report that found Borisconi had lied to parliament.
Could it be both?
PS The comments in Wry & Dry do not necessarily reflect those of First Samuel, its Directors or Associates.
Cheers!
Anthony Starkins