Guadalcanal: China is closer than you think. Measuring up the curtains. Ukraine fatigue.
Whilst pouring your Perrier-Jouët Belle Époque…
It's a bumper issue this week; there's been a lot going on:
Guadalcanal: China is closer than you think
Measuring up the curtains
Ukraine: fatigue
Meanwhile: in America
Coals to…
Hong Kong: from worse to worst
Unclear on the concept I & II
Money: we-the-taxpayer again on the hook
History: Tsar Vlad: mad or bad?
Fashion: Loro Piana
Habits: On whose side is God?
Whilst enjoying your Perrier-Jouët Belle Époque…
Guadalcanal? China is closer than you think
Whilst Readers are drowning in military matters, they might remember from their history the famous battle of Guadalcanal. This was one of the most brutal and costly battles of the Pacific war. This was the limit of Japan's push towards Australia1.
Now, remind Wry & Dry, where is Guadalcanal?
Well, it's the largest of the Solomon Islands. And Honiara, its capital, is closer to Cairns than is Melbourne (1,700 kilometres versus 2,300).
The problem is that there is a draft security agreement before the Solomon Islands' government. With Emperor Xi. Consider this:
"China may, according to its own needs and with the consent of Solomon Islands, make ship visits to, carry out logistical replenishment in and have stopover and transition in the Solomon Islands."
"Solomon Islands may, according to its own needs, request China to send police, armed police, military personnel and other law enforcement and armed forces to Solomon Islands to assist in maintaining social order, protecting people's lives and property."
There is more to this than meets the eye.2 But Wry & Dry is not sure that Jimmy Morrison is the full bottle on it. He probably thinks that King Solomon's mine is somewhere on the islands.
And, as with so many international matters, the rot started earlier. In this case, former Australian Minister for Foreign-Affairs-In-The-Northern-Hemisphere-Where-The Boutique-Shops-Are, Julie Bishop, spent zero time building relationships with the nations just to Australia's north. The current minister last visited the islands in 2019.
Emperor Xi has been deliriously happy (although that's hard to tell) to fill the gap, especially in Papua New Guinea. Read the Mandarin signs in Honiara and Port Moresby. They're not for tourists.
1The Battle of Guadalcanal was a military campaign by American forces to recapture the island from the Japanese, particularly Henderson Field, today Honiara International Airport. It lasted from August 1942 to February 1943.
2There is scuttlebutt that China bribed the Solomon Islands' PM, Mr. Sogavare, to switch allegiance from Taiwan to China in 2019. That change caused rioting in Honiara. China graciously deployed police to train local forces.
Measuring up the curtains
Poor PM Jimmy Morrison. Two years ago the Australian economy was a shambles. Today it is flourishing: unemployment is the lowest in 15 years; the RBA forecasts GDP growth of a booming 4.25% this year; inflation is expected to peak at 3.75% – less than half of that in comparable countries; and interest rates, even if about to edge up; are at record lows. Treasurer Josh has done a good job in steering the economy.
Happy days! Bouquets to Jimmy Morrison and his government? Err, no.
The polls are showing that Jodie3 will soon be measuring up the curtains in The Lodge.
But Jenny4 likes living in The Lodge, and so she has given Jimmy the task of winning the election. Jimmy cannot possibly go home to an unhappy Jenny. What to do?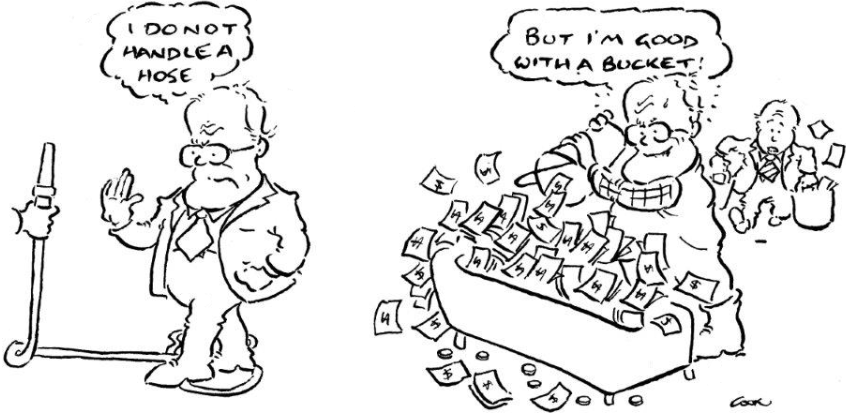 Simples. Buy votes. Wry & Dry lives in a Labor seat that requires only a 2% swing to change hands. And is waiting for the cash to pour into his electorate (upgrade sporting facilities, infrastructure, etc; but there is already a massive car park at the railway station). Fat chance. It's not a 'regional seat'.
Consider what Jimmy has offered elsewhere:
$5.4 billion: build a dam in far-north Queensland
$400 million: upgrade a road from Charters Towers (Queensland) to Mungindi (Queensland/NSW border)
$480 million: upgrade regional NBN
$483 million: build the Urannah dam (Queensland)
$678 million: upgrade the 2,700 kilometre road from Western Australia to somewhere in… Queensland
Readers can join the dots.
And next week, Treasurer Josh 'hands down'5 the government's budget. Wry & Dry confidently predicts three things:
It will pretend to be responsible and prudent
But it will splash billions and billions on seemingly needy items
Wry & Dry's electorate will remain ignored
All of this will be to no avail. Jodi should shuffle down to Bunnings to get one of those yellow measuring tapes. And then off to Dollar Curtains.
And as Jimmy will get the DCM, the battle will then be between Josh (Victoria) and Peter Dutton (Queensland) to get the gig. More of that later. But watch for Dutton trying to get the headlines whilst Josh sells his budget.
3Jodie Haydon, Anthony Albanese' partner.
4Jenny Morrison, Jimmy's wife.
5A faintly ridiculous term much used by the media. It means 'deliver'.
Ukraine fatigue
Sleepy Joe is racking up his frequent flyer points.
Yesterday he lobbed into Brussels to have talks with NATO, the G-7, and the European Council. The aim is to present a united front against Tsar Vlad and announce new sanctions.
The problem is that Ukraine fatigue is already setting in.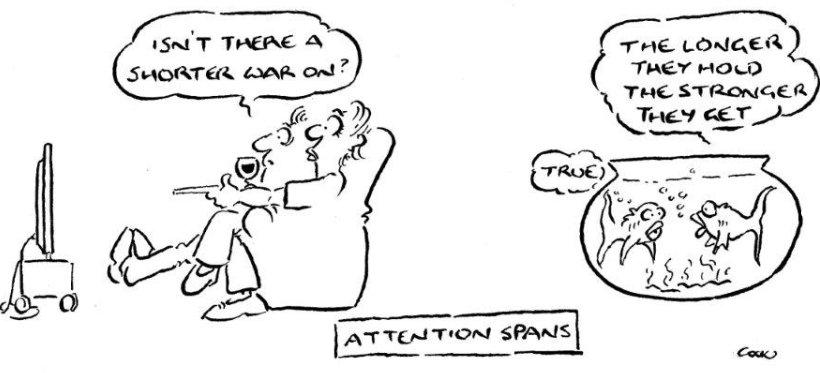 But it's not that Americans are now more concerned about their garbage getting collected or the Brits about the dress that the Duchess of Cambridge wore last night.
It's that Sleepy Joe is getting fatigued.
This is understandable. The man is 80 years old later this year. He needs his sleep. His night-time pattern was okay. And then Tsar Vlad decided to covet his neighbour's ox. But Ukraine is in a different time zone – 6 hours ahead of Washington DC. Sleepy Joe now has to wake up 6 hours earlier to get the latest from the front line. He now misses out on an afternoon nap. And still stay awake to manage stuff from the West Coast.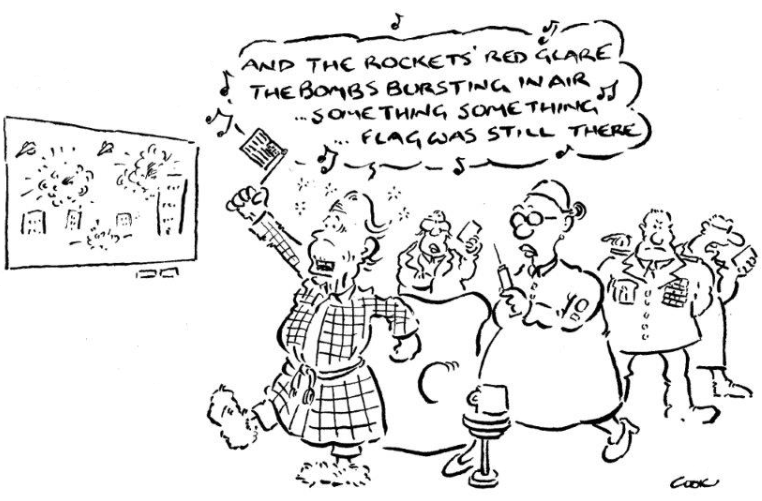 The problem is, of course, that he falls asleep in one of the important national security meetings. And those around him mistake his nodding head for assent to an extreme course of action.
Meanwhile, in America
It's springtime in America. And whilst most eyes are focussed on when Sleepy Joe will finish playing with his Lego, Wry & Dry's eyes have scanned the domestic political landscape.
The reason is that in November the U.S. 'mid-term' elections are held. And candidates must be chosen. The first 'primaries' are for the Senate. US Senators have a great life. There are just two per state and they serve a staggered six-year term. It is seen as more prestigious than the House and with more power. And the Senate is from where most Presidents come6.
But this is the land of the weird.
There is a sense that to win a Republican primary one has to have the endorsement of the Trumpster. Which is nice thing, but what if he takes it back? Consider last week's fundraising event where he promised the winner a trip to have dinner with him (plus airfares and accommodation). Well, it seems that no-one actually got the prize.
But nonetheless, consider that the three candidates for the Republican nomination for Ohio have each claimed obeisance to Trump.
Candidate A: says he is "Fighting for President Trump's America First agenda." As Trump didn't have one, this doesn't seem a slogan with much of a chance of success.
Candidate B: says he is "Trump tough." This brings to mind hardy but inanimate objects, which probably accurately reflects Trump.
Candidate C: says she is "the real Trump conservative." This is the 'conservative' who increased the national debt by more than one third. She is already confused, and the race has just commenced.
Wry & Dry views these primaries in two ways: One is to hope that the nominee is so nuts, he or she will fail come election day. The other is that the Republicans will control the Senate after election day, so better to choose reasonable people. But by definition, any candidate who uses the word "Trump" in the campaign is not reasonable. Sigh.
6Consider: O'Bama, Nixon, Johnson, Kennedy, Truman, etc
Meanwhile, in Australia
This week Wry & Dry read a bit about Mean Girls. And makes no comment. But a picture is worth a thousand words: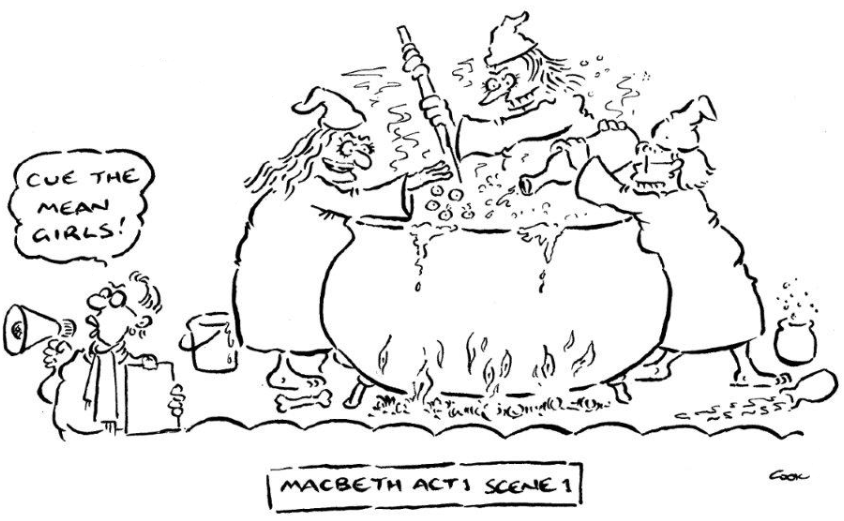 Coals to…
Readers will have read that Jimmy Morrison is sending a ship of coal to Ukraine, as the locals are running short.
Wry & Dry is waiting for the Greens to announce it will send a ship of wind. A sailing ship, of course.
Hong Kong: from worse to worst
Emperor Xi was probably looking for a spring vacation after the Beijing winter Olympics. Perhaps sunning himself through the smog on Hainan Island.
He may or may not have been surprised at the invasion of Ukraine by his fellow autocrat just across the border. But things are now getting out of hand, as Tsar Vlad's tanks are not greeted by welcoming Ukrainian crowds.
And things are also getting out of hand in Hong Kong. The city/state now has the world's highest covid death rate7.
As Wry & Dry said some weeks ago, Hong Kong's government is a zero-legged stool: neither China's highly-centralised authority; nor Hong Kong's more innovative, less-government-interventionist culture; nor a functioning democracy. Hence it's inability to manage covid.
This may be a pointer to the future of Hong Kong. China's more recent version of one country two systems has failed. Emperor Xi is not likely to try and put the toothpaste back into the tube.
Expect a speedier strangulation of Hong Kong.
7 Australia's covid-death rate is 2.2 per million.
Unclear on the concept 1
Turning back to fossil fuels due to the global energy shock caused by Russia's invasion of Ukraine would be "madness" and risk "mutually assured destruction," said the UN Secretary-General, Antonio Guterres.
Article in The Age 22 March 2022.
Surely the reverse is true. The higher the price of carbon-based energy the quicker the desire for non-carbon alternatives.
Unclear on the concept 2
Germany has this week urged OPEC to increase oil production.
Germany seemingly has not understood that there is expected to be no spare oil-pumping capacity globally by end of June.
Only in Victoria
On Tuesday morning on the Melbourne railway network, an 'underqualified driver' wasn't allowed to drive a train over a bridge. The train was halted short of the offending bridge. And passengers de-trained to walk to wait for replacement buses.
The train people publicly blamed 'operational issues.' Err, what is an underqualified driver? And what special and additional qualifications are required to drive a train over a bridge? And wouldn't it have been easier to Uber a replacement driver to train rather de-train the passengers to wait 45 minutes for buses?
Only in Victoria.
Money
The rush to use We-The-Taxpayers money to offset cost-of-living increases continues apace.
The idiot of this week is Sam Hibbins, transport spokesman for the Victorian Greens. He wishes the Victorian government to make public transport free for an initial one-month period, which be regularly reviewed depending on the price of petrol. He said that the proposal would cost $75 million per month.
Two issues.
Firstly, such a subsidy will mostly go to people who already use public transport. So, what's the point?
Secondly, it sheds the light on the massive subsidy the Victorian Government already gives to Public Transport Victoria. Yes, the proposal would cost only about $80 million per month. That is because passengers pay less than 20% of the cost of their ticket. We-The-Taxpayer pay the rest.
Sigh.
History
One of the world's leading historians, Simon Sebag Montefiore8, says that Tsar Vlad is not a madman. His invasion was "but the latest phase in a rising momentum of power imposed by violence starting from Chechnya to Syria and now Ukraine."
Montefiore, never one to be shy, said that the invasion was inspired by Tsar Vlad's reading of his (Montefiore's) biography of Catherine the Great and her lover Potemkin. The duo annexed Crimea in 1783 and then conquered southern Ukraine – territory they then named "New Russia."
Tsar Vlad now wants it all back. And then some.
Montefiore has the second last word: "at the age of 69 Stalin had conquered the whole of Eastern Europe, made Russia a nuclear power and industrialised Russia… Putin has just taken the Donbas – a few Godforsaken rustbelt towns in eastern Ukraine."
As an aside, it is entirely possible that Tsar Vlad is (successfully) pretending to be mad. This is to induce the West to backdown against any of his more extreme threats. That is, if we think that he will create Armageddon, then we are more likely to give him what he wants.
8 Montefiore is probably Wry & Dry's favourite historian, along with Antony Beevor and Orlando Figes. His Jerusalem: the Biography and Young Stalin were exceptional.
Fashion
Wry & Dry had never heard of Loro Piana, an expensive luxury Italian brand owned by LVMH9, until he saw it worn last Friday by Tsar Vlad. The occasion was a Support-The-War rally in Moscow, attended by thousands of Moscovitic public servants bussed in for the purpose.
Tsar Vlad must have spent hours wondering what to wear – the usual autocrat's dilemma. Stalin wore Russian-made tunics, Lenin: Russian-made hiking boots, Brezhnev: Soviet-made suits (and obviously so).
It would have been a little cold for Tsar Vlad to go topless, although he must have been tempted (a) by the image of him manning-up to the cold as a sign of Russian masculinity; and (b) the obvious virtue signalling of sympathy for those freezing conscripts on the Southern Front.
No, he eschewed the muscular look. And also the Man-Of-The-People look. And turned to Italian labels Loro Piana and Kiton:
$20,000 for the puffa jacket and $5,000 for the white sweater. Truly a Man-Of-The-Wealthy-People.
9 Louis Vuitton Moet Hennessey
Law
Is the law an ass?
Last year, two Victorians were each jailed for 3 months for breaching Western Australia's tough anti-covid restrictions. They did so to watch Melbourne play in the AFL Grand Final.
On Wednesday, a former CEO of Western Australia-based Fortescue Metals Group and company director, Nev Power, was given a suspended sentence for breaching the same tough anti-covid restrictions. He flew into Western Australia from Queensland by helicopter to attend a fundraising event with Premier McGowan.
Go figure.
Habits
That crackpot military genius but weird Puritan, Oliver Cromwell, was told by a colleague as he led the parliamentary army ('Roundheads') against Charles I's army ('Cavaliers') that it was all okay as, "God is on our side."
Cromwell replied, "Every man who wages war says that God is on his side. God must sometimes wonder who is on His."
So it seems Tsar Vlad believes that God is on his side with the invasion of Ukraine. And, if not God, then the Russian Orthodox Church.
Tsar Vlad has got Patriarch Kirill, the number one man in the ROC, in his back pocket. Since coming to power, he (Tsar Vlad) has passed laws that restrict the rights of rival religious groups, retrieved artefacts sold off under communism and has built thousands of churches. The Patriarch is grateful, and in 2012 described Tsar Vlad's tsardom as a "miracle of God."10
More recently, The Patriarch has supported Tsar Vlad's invasion, says that Russia is not the aggressor, blah, blah. He has now described the conflict as a holy war: "We have entered into a struggle that has not a physical, but a metaphysical significance."
So, God is on the side of the Russian Orthodox Church and Tsar Vlad.
Wry & Dry wonders who the Ukrainian Orthodox Church consider is on its side.
10 Oxymoronically; surely all miracles are of God. This is different to PM Jimmy Morrison's attribution of his 2019 election victory to a miracle. That outcome was because of William Shorten losing.
Snippets from all over
Taliban ban
Afghanistan's Taliban government has banned girls aged over 12 years from attending school.
Wry & Dry comments: The Taliban is saying that the problem is agreeing on uniforms for girls. Hmm.
2. US Fed goes seriously hawkish
Fed Chair Jerome Powell said the Fed must move "expeditiously" to raise rates and possibly "more
aggressively" to tackle inflation.
Wry & Dry comments: Them's fightin' words. He is foreshadowing a couple of 0.50% point rate increases.
3. Vichy France?
French auto maker, Renault, has decided to maintain its Russian operations. Renault's largest shareholder is…the French government.
Wry & Dry comments: No surprises there.
Stop Press: This morning Renault announced it would shut down its Moscow factory and consider selling its majority stake in Lada, Russia's largest carmaker. Russia is Renault's second largest market.
4. Tsar Vlad: 1 Aircraft lessors: 0
Sanctions on Russia's aviation sector has led the aviation leasing industry to try to recover more than 500 aircraft, valued at more than USD10 billion, operated by Russian airlines.
Wry & Dry comments: Fat chance. It would seem that only three have been repossessed. The balance of the aircraft have now been 're-registered' in Russia, following a hasty change in the law. Effectively, the aircraft are now fully owned by their operators.
5. Welsh reasoning
Parents in Wales are no longer able to smack their children.
Wry & Dry comments: Those Men of Harlech must now reason with their children.
Data
Inflation in the UK hit a 30-year high of 6.2%
Fifty-six percent of Americans think that Joe Biden has not been tough enough on Russia.
And, to soothe your troubled mind…
"Where are NATO to help us?"
A child, cradled by his father, deep underground in the shelter of a Metro station in Kyiv.
Readers may have read that after Germany invaded Poland in 1939 and war was declared by Britain, the Polish people waited for the Brits to come. They never came. But Russia did.
PS A reminder that the opinions in Wry & Dry do not necessarily represent those of First Samuel, its employees, or directors.
Cheers!
Anthony