Enjoy Wry & Dry: a cynical and irreverent blend of politics, economics and life.
Seven stories you may have missed
Inheritance tax
Q just won't go away
Deja vu all over again 1
Deja vu all over again 2
Siberian trade fair
European governments care about?
Google
Inheritance tax? Really?
In a public servant media debut up there with Moses publishing the Ten Commandments, the incoming Productivity Commissioner on Monday called for the re-introduction of inheritance taxes. Ms. Danielle Wood got the gig only last week.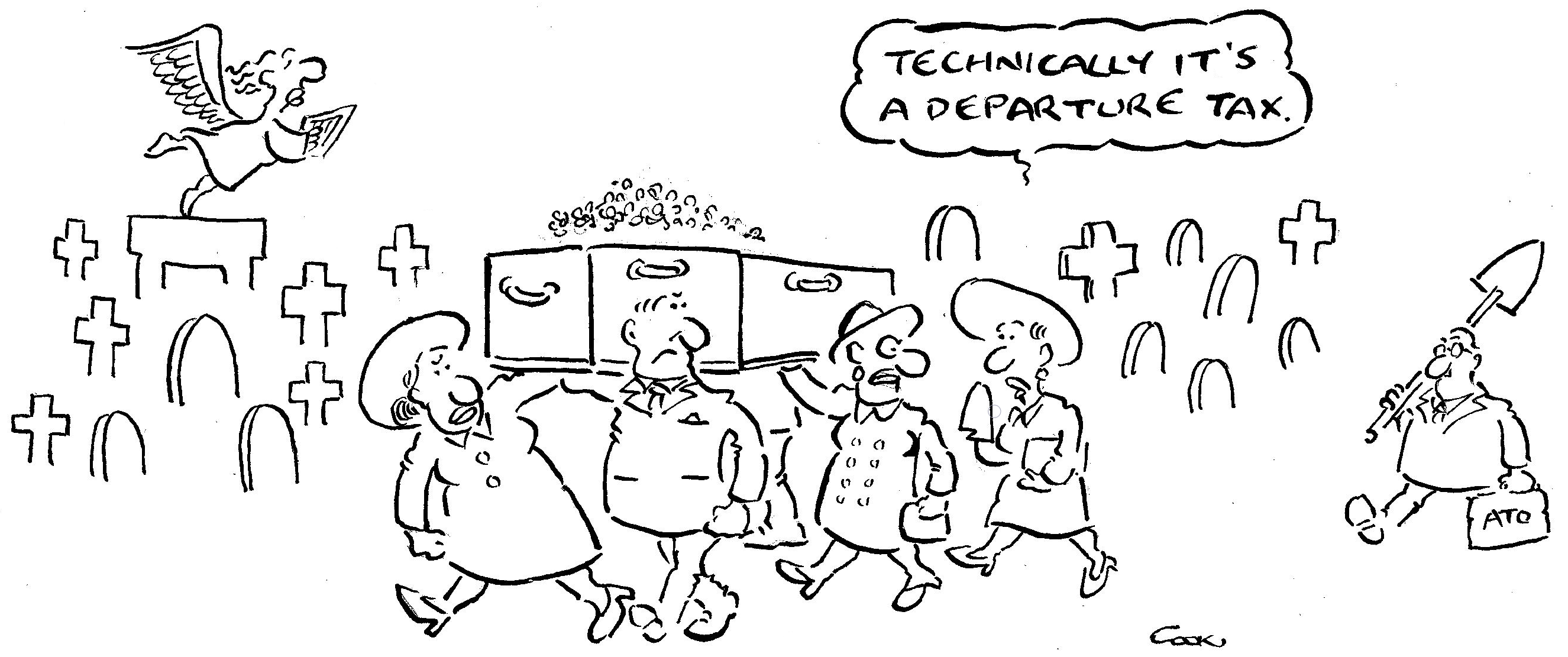 In Australia, only a Marylebone Cricket Club member at lunch in an Ashes test is hated more than an inheritance tax.
Ms. Wood could make history. Her role doesn't commence until November, and she could get the DCM two months before starting her job. In fact, to give herself even more of the attention she clearly craves, she should give herself the DCM. Immediately. This would also save Treasurer Grim Chalmers from admitting that he chose a person who will daily compete with him, Albo, and [insert any government minister's name here] for media attention.
Ms. Wood is a very smart person, and would run rings around any member of the Ministry. Might she be an UXB?1
By the way, Wry & Dry will sweep Collins Street with a feather duster if the government introduces inheritance taxes. Or, rather, any more than already exists.2
1 Unexploded bomb.
2 For example, superannuation death benefit tax and CGT under certain circumstances.
Q just won't go away
It is with much reluctance that Wry & Dry's quill again has to form the letter 'Q'.
Qantas' former CEO sacked 1,700 workers during the pandemic. The union lawyered-up and won at first instance. Mr. Joyce appealed. And lost. Mr. Joyce again appealed. And again lost. He appealed to the Full Court of the High Court. And on Wednesday Qantas again lost.
Doubtless if the Privy Council3 were still around, Qantas would keep going. And then to St Peter himself.
This is going to cost Qantas plenty, not only in dollars, but also reputation. It should also ensure that Richard Goyder's chairman's coffin is well and truly nailed shut. And those of most of the board.
The spotlight should also fall on the Minister for Qantas Transport, who, in one of her many mutually exclusive reasons for denying Qatar the right to have more flights into Australia, said that the decision was in the public interest and meant additional jobs for Australians.
Clearly excluding the jobs of 1,700 workers that Qantas illegally sacked.
3 The Judicial Committee of His Majesty's Most Honourable Privy Council was once the final court of appeal for the entire British Empire and then Commonwealth. Australia effectively abolished appeals to the Privy Council in 1986.
Deja vu, all over again 1
It was the most cringe-worthy moment for Americans watching their president at work overseas since president George Bush senior vomited and then fainted at a formal dinner in Tokyo4. The successor presidential-embarrassment event was earlier this week. Also in Asia, in Hanoi.
Sleepy Joe incoherently stumbled his way through a media conference so badly that his media advisers turned up the music and switched off his microphone whilst he was still speaking. So, he hastened to close with the words, "I tell you what, I don't know about you, I'm going to bed."
Consider the parallels. The Bush incident happened just before the 1992 US presidential election primaries commenced. Bush's vice-president and running mate was the brainless and witless Dan Quale.5 Bush/ Quale won the Republican nomination, but lost the election to a younger Bill Clinton/ Al Gore team.
The Biden incident has happened just months before the 2024 US presidential election primaries commence. His running mate will the hapless and politically naive Kamala Harris.
If Biden/ Harris is the Democrat ticket, will it be a repeat of 1992? And a younger opponent gets the gig.
4 It was at a banquet hosted by the PM of Japan, Kiichi Miyazawa. Careful not to ruin the pristine tablecloth, Bush vomited in his host's lap, before fainting.
5 Quale's only claim to fame, aside from being smart enough to inherit a fortune, was his demolition by his vice-presidential opponent in the 1988 election: https://youtu.be/Krj2rX7-M7E.
Deja vu, all over again 2
Readers will be aware of the eventual tumult caused in the British royal family by Prince Harry marrying an ambitious, publicity seeking American.
Well, brace yourselves for a repeat. Norway's Princess Märtha Louise6 (aged 51) will next year marry her American beau, Durek Verrett (also 51).
Which of the following is true? Mr. Verrett…
a. claims cancer is a choice;
b. has sold medallions online said to ward off Covid-19;
c. claims to have risen from the dead; or
d. says he predicted the 9/11 disaster two years before it happened.
Close, but no cigar. All are true.
Also, the Princess now says that she is able to communicate with angels.
6 The Princess has three untitled daughters by her first marriage. They live in London. Their father, a playwright, died at his own hand.
Trade fair at Vostochny Cosmodome
Tsar Vlad had flown great distances and Rocketman Kim's train journey, whilst at a more leisurely pace (max 60 kph because of the sheer weight of his armoured train on the somewhat rickety North Korean rails) had actually left the boundaries of North Korea, albeit over the border by only a few kilometres.
Each had come to a two-person trade fair. And each set up stalls of the samples they wished to trade. It seemed that each had come to deal, because no-one else would deal with them.
Tsar Vlad's stall offered a veritable supermarket of food, oil, gas, satellite technology and spare parts for all types of old Soviet-era military and civilian aircraft. There were bargains aplenty. How could Rocketman Kim resist?
Rocketman Kim's stall was a drab but single product offering: ammunition, drones, artillery and other military kit. But these were the very goods that Tsar Vlad was desperate to have. How could he resist?
But it seemed that no trades were made. Perhaps each was wary of seeming desperate. Or perhaps this was not about trade after all. Rather, it was a signal to each of Emperor Eleven and Sleepy Joe. For the former, it would be "don't take me for granted". For the latter, "my enemy's enemy is my friend".
Emperor Eleven wouldn't care. And Sleepy Joe wouldn't notice.
What do European governments care about?
Readers will be aware that Tsar Vlad's invasion of Ukraine sharply pushed up energy prices in Europe. European governments responded in two ways: (a) providing military and economic aid to Ukraine; and (b) shielding their own populations from the consequences of the war.
How do the two compare?7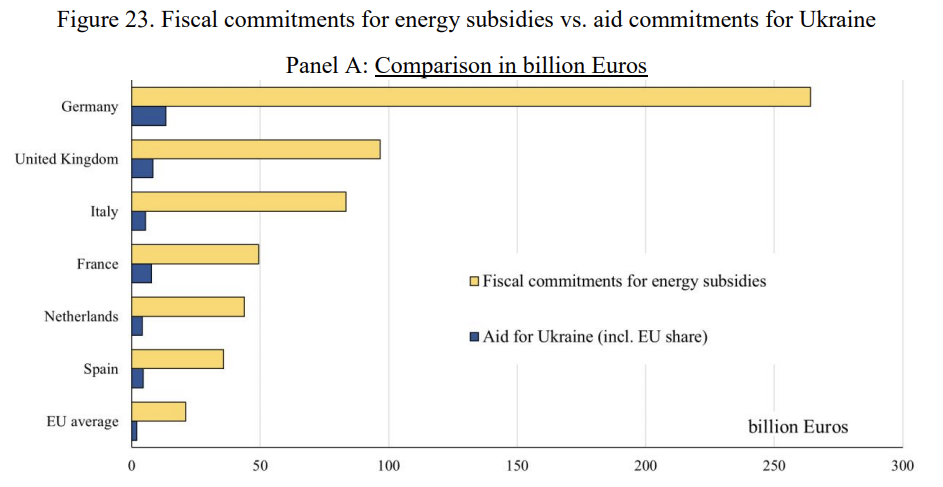 The data for the USA and Canada also shows the same pattern, but the gaps between energy subsidies and aid to Ukraine is much smaller.
Readers can draw their own conclusions.
7 Source: The Ukraine Support Tracker: Which countries help Ukraine and how? (econstor.eu) See pages 49 & 50.
How can they say that?
On Tuesday America's Department of Justice begins its trial against Google. The DoJ argues that Google illegally obtained dominance in the search market.
How can it possibly say that?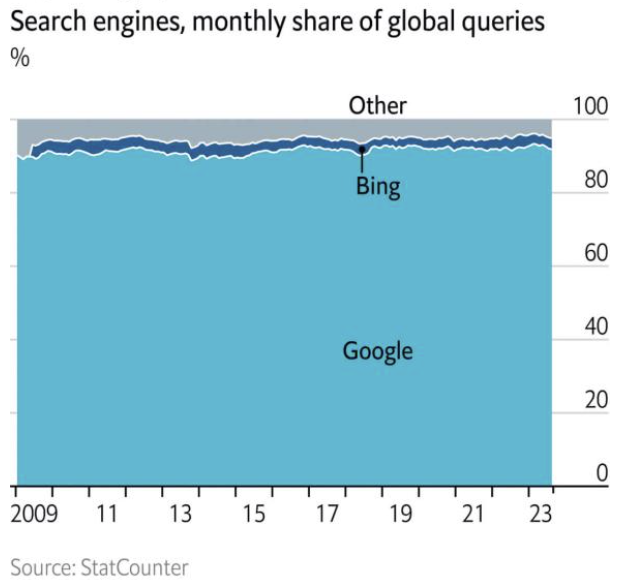 Google pays Apple US$15 billion each year for Google to be the default search engine on all of Apple's devices.
EV prescience
Last week Wry & Dry mused that Germany would soon initiate anti-dumping proceedings against Chinese electric vehicle makers.
No sooner was the ink dry (well it took until Wednesday) than the EU announced an anti-subsidy probe into China's electric car industry.
Background: the EU is banning the sale of new internal combustion engine cars from 2035. Chinese EV makers have moved much more quickly than expected to gain a foothold in Europe, especially Germany.
Oil prices up
Be afraid. Add the below to a weakening Australian dollar and Readers will soon be paying more at the servo.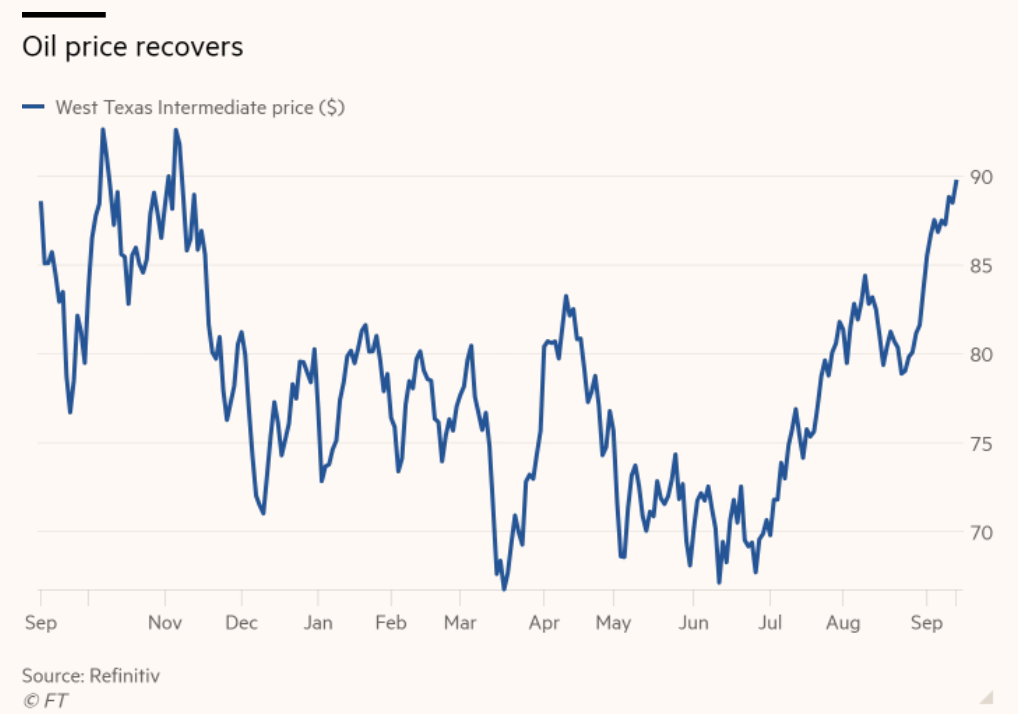 Masterful spin
Wry & Dry dips his lid to Chairman Dan for a masterful media conference.
Background: a car driven by a 'known-to-police' drug addict with known severe mental health issues deliberately drove his car into pedestrians in Melbourne last Friday night. Two people were killed and others were seriously injured.
Chairman Dan said that there were "… no obvious further safety measures that could have prevented the crash, with $52m of security upgrades of preventative steel bollards already in place on high traffic sites." The media were sated and, well, that was that.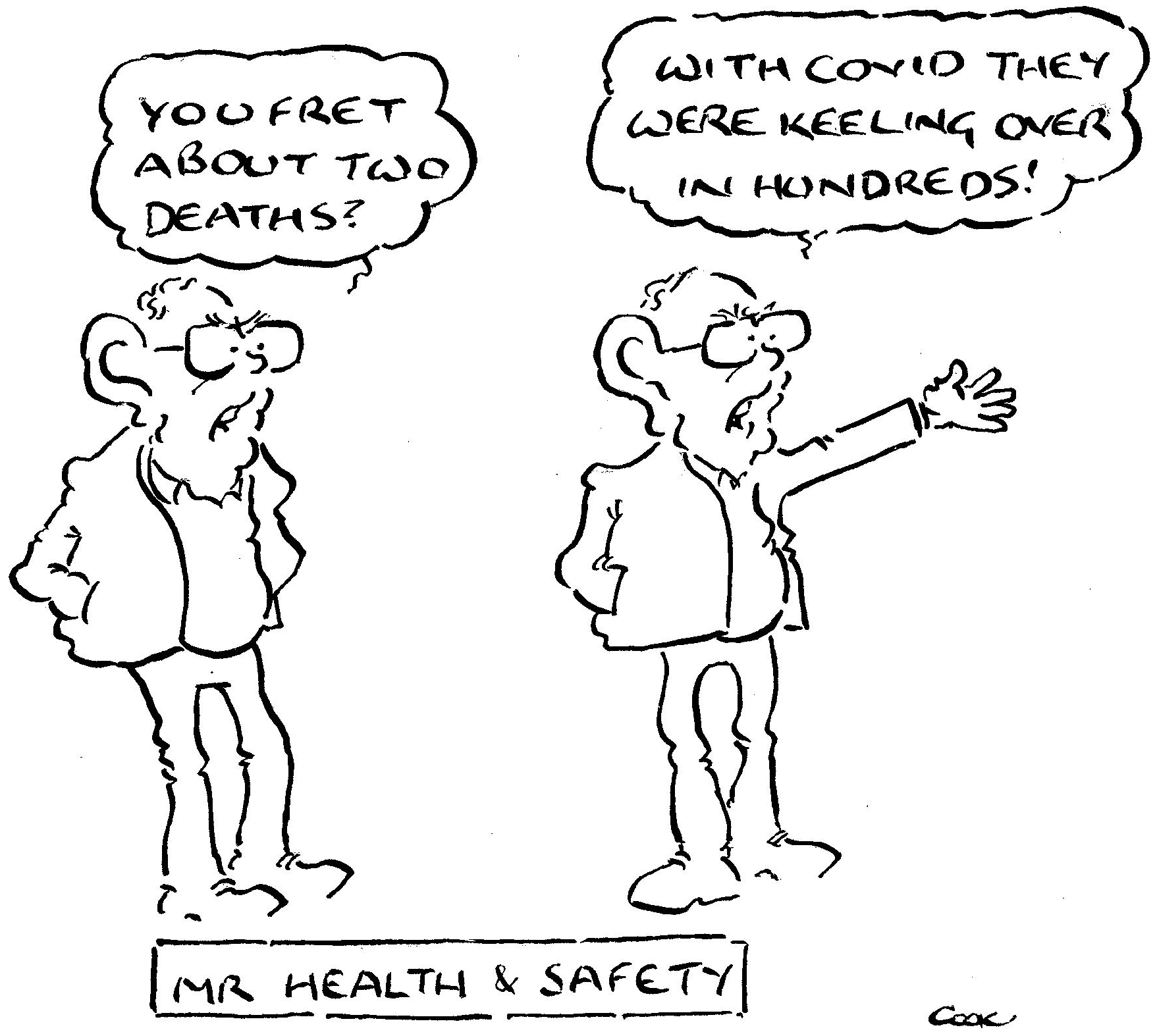 Perhaps someone should have asked him how was it that a person with such a known drug addiction history and a severe mental health condition was driving a car? The car belonged to the perp and he was licensed to drive.
Chairman Dan brilliantly framed the presser to be what he wanted.
Waiting room for heaven
Last week. Wry & Dry noted that Nikky Haley, the wannabe Republican presidential nominee had suggested age caps for presidents and congress people.
Well, last weekend, Nancy Pelosi, a Democratic congresswoman from California, announced she would run for re-election in 2024. Mrs. Pelosi is currently 83 years old.
Really?
Snippets from all over
1. The sins of the son…
Kevin McCarthy, the Republican speaker of America's House of Representatives, directed Republican-led House committees to open an impeachment inquiry into President Joe Biden. (The Economist)
Wry & Dry comments: this is a fatuous exercise, pushed by the extreme right wing of House Republicans, led by Matt Gaetz, to whom McCarthy is beholden.
2. Chinese whisper
Italian Prime Minister Giorgia Meloni privately signaled to Chinese Premier Li Qiang that Italy is planning to exit from the Belt and Road Initiative that has become a test of her nation's relations with the US. (Bloomberg)
Wry & Dry comments: Emperor Eleven was heard to ask, "Italy? Where is Italy?"
3. Inside Musk
Walter Isaacson's new biography of Elon Musk goes on sale this week, offering a behind the curtain look at the business and lifestyle of the world's richest man. (Wall Street Journal)
Wry & Dry comments: Isaacson is a brilliant and readable author. This book should be fascinating, notwithstanding temptations to focus on how many children Musk has. Spoiler alert – he now has 11, the last one is named Techno Mechanicus. It is not clear what is the sex of TM.
4. G20 climbdown
After days of negotiation, the West, anxious not to choose between Moscow and Kyiv, had to accept a compromise communique that did not condemn Russia and gave pride of place to the positions of emerging countries. (Le Monde)
Wry & Dry comments: India – the host country – didn't wish to upset Tsar Vlad. Neither he nor Emperor Eleven fronted the event.
5. American in Hanoi
President Biden cemented a new strategic relationship with Vietnam on Sunday, bringing two historical foes closer than they have ever been and putting the ghosts of the past behind them out of shared worry over China's mounting ambitions in the region. (New York Times)
Wry & Dry comments: Previously, only each of China, Russia, India and South Korea had been a 'strategic partner' with Vietnam. Don't mention the war.
6. Far right flexes muscles
Republican hardliners are threatening to shut down the US government at the end of the month unless Joe Biden slashes spending on the FBI. (UK Telegraph)
Wry & Dry comments: These are from the so-called Freedom Caucus, a group of about 35 far right-wing nutters from the House of Representatives. This is power at its worst.
Data
Europe: the European Central Bank raised interest rates to 4%, an all-time high.
Australia: unemployment rate remained unchanged at 3.7% in August.
Australia: Westpac's Consumer Sentiment Index fell to 79.7, from 81 in August.8
UK: GDP fell 0.5% points in July.
8 A score of less than 100 reflects more negative than positive responses. Westpac's Chief Economist, Bill Evans, said "Since the survey began in 1974, the only comparable period of sustained weakness was during the recession of the early 1990s."
And, to soothe your troubled mind…
"Hunter Biden possessed a firearm while knowing he was an unlawful user of or addicted to any stimulant, narcotic drug or any other controlled substance, in violation of federal law."
US federal prosecutors, in the indictment charging the President's son.
It hasn't been a good week for Sleepy Joe.
PS The comments in Wry & Dry do not necessarily reflect those of First Samuel, its Directors or Associates.
PPS Patrick Cook, Wry & Dry's resident cartoonist and lampoonist is taking a vacation. After today, his amazing wit will return on Friday 3 November.
Cheers!
Anthony Starkins