Enjoy Wry & Dry: a cynical and irreverent blend of politics, economics and life; from a grumpy older gentleman.
Seven stories you may have missed
Some of it was cricket
We want to be Norwegian
Hong Kong head hunters
Affirmative action
Slow news day in Melbourne
Canberra's Oscars
Unclear on her job 
Some of it was cricket
It is a truth universally acknowledged that a batsman who is unhappy with the method of his dismissal will cry that it wasn't "in the spirit of the game."1
And so it came to pass that in a recent cricket Test match, at an historic but very shabby ground called Lord's, English batsman Bairstow was silly enough to leave his crease when the ball was still in play. He was correctly dismissed ("stumped").
An outburst of outrage not seen at Lord's since the Great Pimm's Shortfall Crisis of 1926 then exploded. A blend of ignorance of the laws of cricket, bad-loser mentality, boorishness, entitlement and an excess of cheap, before-lunch claret caused some Marylebone Cricket Club Members to bring Shame & Disgrace upon themselves and their Club. As the Australian cricketers moved through what is called The Long Room for luncheon, unsporting and unseemly behaviour from the egg & bacon be-tied Members occurred.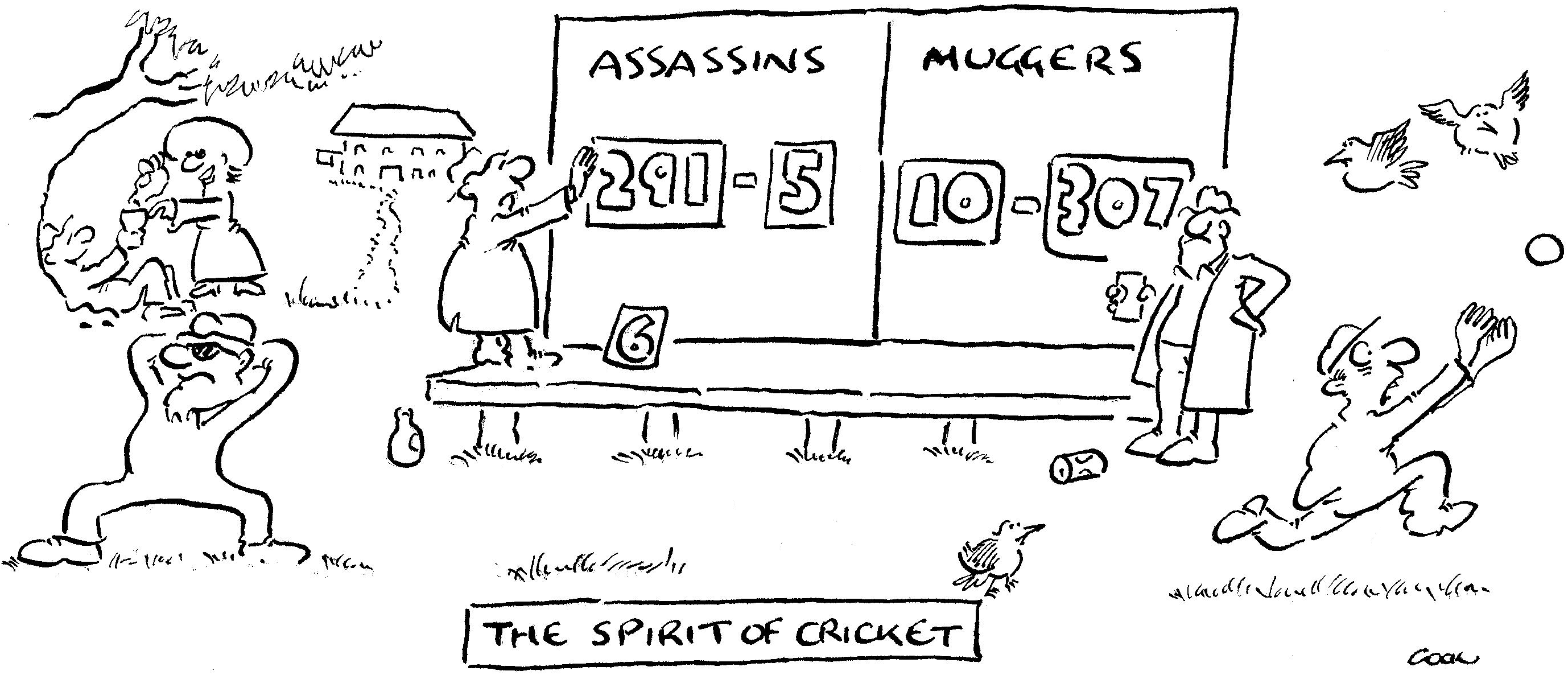 Meanwhile, in the English undressing room, the English captain and the English coach met to consider What Do We Now Do? This pair of Antipodean-born men had one choice of two alternatives when later fronting media.
Firstly, each might carefully phrase their disappointment at any dismissal that might seem controversial, but add "we shall move on." Secondly, to bleat. Both chose the latter. And bleated to the media after the match. They brilliantly inflamed a situation that might have readily died.
The English media enthusiastically took up a cause célèbre not seen since a former Princess of Wales stated on BBC television, of all channels, that there were three people in her marriage. A, well, crowded situation, if not inconvenient.
The media knew this cricket crisis would stir the patriotic passions of every Englishman who was fed up to the back false dentures with all the strikes, the inflation, the interest rate increases, the shambles of the NHS and the ongoing decline of the UK economy to a smoldering pile of, well, ashes. And now the likelihood of not regaining the Ashes.
Meanwhile, the gentlemen snoring gently in comfortable leather chairs in after-lunch oblivion in gentlemen's clubs in St James were woken from their slumber by waiters with news. "What! Huh. What! Bad news? What ho? Has Jerry2 invaded? Has Maggie3 died?"
"Neither, sir. It seems that the Oostralians have behaved badly at Lord's."
"Good grief, man. That's not important. Now be a good chap and fetch me a gin and tonic. And peel me a grape."
By the way 1, Australia didn't win the game because of this incident. It's not like it was the last over with nine wickets down and two runs to win. Australian won comfortably by 43 runs.
By the way 2, Bairstow himself has attempted such a dismissal in this series. His coach, the New Zealander McCullum, has himself dismissed batsmen4 in a similar manner when he kept for New Zealand.
By the way 3, the fuss over the incident overshadowed the greatest innings seen at Lord's since Kim Hughes' in 1980. Stokes, the English captain, scored an amazing 155.
1 Wry & Dry has played nearly 600 games of senior cricket. And still plays. With as much modesty as he can muster… he knows more about cricket, cricket history and cricket lore than almost all cricketers. And certainly, almost all journalists. He has seen nine of the ten ways in which a batsman can be dismissed. He has often seen batsmen dismissed in such a manner as Bairstow. And every time without fuss.
2During the Second World War, members of the German armed forces were known as Jerries or Huns.
3 Former UK PM Margaret Thatcher.
4 Muralitharan, Christchurch, 2006; Mpofu, Bulawayo, 2005; Collingwood, Wanderers, 2009.
Foster country
Orkney, an archipelago off the coast of Scotland, was part of Norway until 1472. But in that year, the family of Margaret of Denmark (daughter of the King of Denmark, Norway and Sweden) failed to pay the balance of the dowry promised to James III of Scotland.5
The Scots being, well, Scottish, took umbrage. And also took Orkney. It's been a part of Scotland ever since.
Well, now the Orcadians want to go back to being part of Norway. Or somewhere else. It seems that "Orkney was being failed dreadfully by the Scottish and British governments." And the local council so moved.
The Scottish government, which itself wishes to secede from the UK, has rejected the move. And a spokesman for the UK PM said, "we have no plans to change things."
Wry & Dry considers that the Orcadians have identified the wrong foster-country. The people of Norway do not speak English. Orcadians should go for an English-speaking country not dominated by condescending British Islanders. For example: Australia.
5 James III married 13-year-old Margaret of Denmark in July 1469 at Holyrood Abbey, Edinburgh. They had three sons. James III was the great, great grandfather of James VI of Scotland, James I of England.
Hong Kong head-hunters
In the days of the wild west, the town sheriff would often place a 'bounty' for the bringing-in of fugitives. Hence arose 'bounty hunters', who would do the work of the sheriff. Bounty-hunters would roam across the plains, hills and waterways of the west seeking to bring the fugitive to justice, for a price. The bounty might be in dollars or gold.6
Fast forward to 2023. Emperor Eleven Jinping's henchman in Hong Kong, John Lee, has put a HK$1,000,000 (A$192,000) bounty on eight Hong Kong dissidents, three of whom live in Australia, three in the UK and two in the US. Since the enactment of Hong Kong's National Security Law, each of these countries have suspended their extradition treaties with Hong Kong.
The bounties are higher than those set for murderers.
Albo responded to the news by saying, the warrants and bounties "were unacceptable."
Opposition Leader Dutton echoed, saying it was "completely unacceptable that Australians should be tracked down or hunted down".
Sorry, Albo and Dutts. You don't have a choice to accept or not accept. This is not a parcel from Australia Post. Perhaps a shirtfront instead?
Usefully, Australia's foreign interference law makes it illegal for foreign powers to monitor dissidents or silence community members from exercising freedom of speech. But what if a foreign power does monitor dissidents? What is Albo going to do? Issue a bounty on Emperor Eleven Jinping?
6 Bounty hunters still exist in the US. They are private agents who work for the bail bondsman, with the aim of capturing fugitives for a commission (or bounty). The commission is a usually a percentage of the total bail amount owed by the fugitive.
Affirmative action
There was much fuss in the US this week, as its highest court, the Supreme Court, released a host of decisions.
In view of the increasingly binary aspect of American life (that is, one is either left wing or right wing, with little in between and little attempt to hear the reasoned discussions of the other side) and of the mostly politicalised Supreme Court, it was entirely predictable that the announcement of each decision would be greeted with the same tribal behaviour as the dismissal of an English batsman in a cricket match in England.
Wry & Dry found particular interest in the Supreme Court's decision to repeal the practice of affirmative action in the selection of students for entry into American universities. Essentially, Black and Hispanic students had been given preference over Asian and Indian students.
The curiosity is that the decision rightly drew attention to the practice of so-called ivy league universities7 providing priority to 'legacy admissions' i.e. giving preference to the children of alumni. The practice began in the 1920s as a way to curb the presence of Jewish, minority and immigrant students.
Being a legacy student apparently raises an applicant's chances of admission by 19.7% points. Which explains George W Bush and Yale.
At ivy league universities priority given to legacy applicants, athletes, those on the dean's interest list' (i.e. large endowers) and children of faculty and staff means there is only 57% of places left to the rest of the world.
Not surprisingly, the lawyers are now being lawyered-up to overturn these practices.
Good luck with your projects. Of the current nine justices of the Supreme Court, four went to Harvard, and four to Yale. Justice Amy Coney Barrett went to Notre Dame, not ivy league and ranked 304th in the world.
7 Harvard, Princeton, Yale, Columbia, Pennsylvania, Cornell, Brown and Dartmouth (only Harvard of which is in the top ten in the QS World Rankings).
Slow news day in Melbourne
The Melbourne Age yesterday breathlessly reported on its front page that television ratings for AFLW (i.e. Australian Football League women's competition) are down 70% from its first season in 2017.
It is not Wry & Dry's place to comment on the attractiveness or otherwise of women's football. Even though the ratings news might be alarming for the average AFLW watcher.
But, well, really. Page one? Or is this a cunning plan to get Chairman Dan to chip in a few promotional dollars?
Canberra's Oscars
The knives are well and truly out, sharpened and dipped in poison to plunge into the body of the Governor of Australia's Reserve Bank, Philip Lowe. His raising of interest rates and earlier unfortunate communication of the future direction of rates ("no rate hikes until 2024") has not endeared him to the government. Nor to many homeowners. His seven-year term ends in September.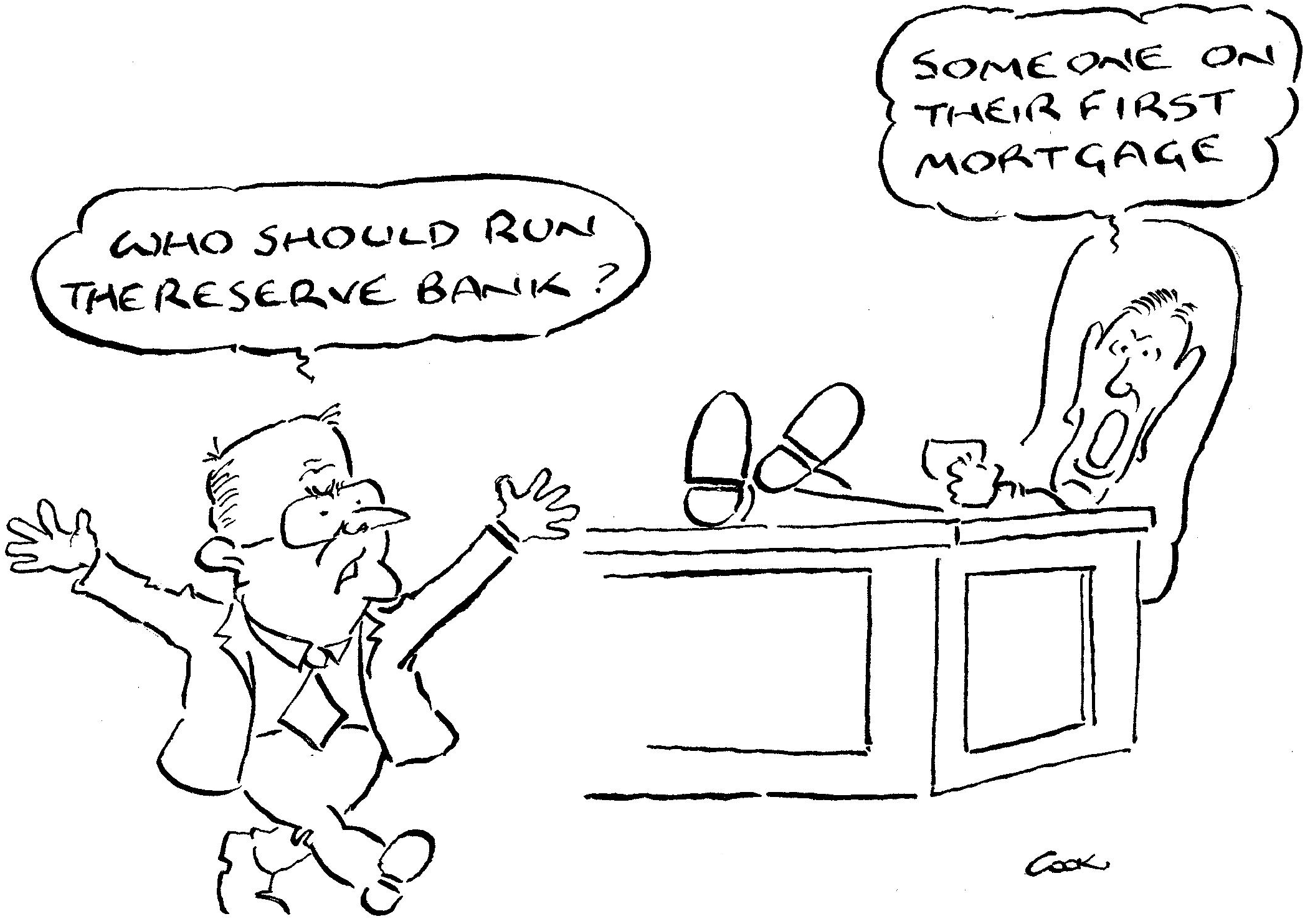 It seems that the decision has moved passed re-appointing him to a short list of nominees. Treasurer Grim Jim is running his own mini-Oscars. But in probably the only way that government in Canberra is different to Hollywood, the nominees are unknown, unlike the Oscars.
Of course, that hasn't stopped the media from running candidates' names up the flagpole. Actually, the names have probably been deliberately leaked.
Ideally, the choice would have bi-partisan support. But the Opposition Leader was forced to slap-down comments from shadow finance minister Senator Jane Hume, who said it "would be a real shame if he [Dr Lowe] was not appointed."
Senator Hume neither read the tea-leaves/ mood of the meeting/ court of public opinion. And she just politicised the role, something governments of both sides have been trying to avoid since the heady days of Bernie Fraser.
As for Wry & Dry's choice of the new Governor, at the risk of disappointing Senator Hume, it shouldn't be the old one. It should be ….
Unclear on her job
The Minister for Indigenous Australians told the National Press Club on Tuesday that she wants the Voice to "advise her on housing, education, health and employment."
Err, so what has she been doing for the last 14 months? Waiting for the Voice? And if the Voice fails?
Sigh.
Offer and acceptance
Wry & Dry's journey through Contract Law was eventually successful, if not tortuous. But he remembers that for a valid contract there must be an intent to create legal relations; and an offer and an acceptance. He thinks. The thorny matter of what constitutes acceptance has now hit the digital age.
A judge in Saskatchewan, Canada has just ruled8 that acceptance of an offer by use of a thumb's up emoji "👍" constituted a contract.
A grain buyer had sent a contract (to buy 86 tonnes of flax) by text message. The seller replied with a thumb's up emoji, but later failed to deliver the flax by the agreed date. The buyer sued for breach of contract.
"This court readily acknowledges that a thumbs-up emoji is a non-traditional means to 'sign' a document," Justice Keene wrote. "But nevertheless under these circumstances this was a valid way to convey the two purposes of a 'signature', to identify the signatory, which is done using [the defendant's] cell phone number, and to convey acceptance of the contract."
Wry & Dry's emoji curiosity was not sated, however. Until he waded into Contracting by Emoji (lexisnexis.com). He then decided it was all too complex. And returned to sorting his sock drawer.
8 South West Terminal Ltd v Achter Land & Cattle Ltd 2023 SKKB 116.
The hissing goose
Readers will remember last week's quote from the CEO of BHP. He said that the government of Queensland's three new tiers of royalties would mean a possible cessation of new projects in Queensland.
Well, they-the-people-of-Queensland have spoken. Some 53% agreed with the statement: "Reduce coal royalties to encourage BHP to keep investing in Queensland mining.9
Perhaps the Queensland premier has forgotten those wise words: "The art of taxation consists of plucking the goose so as to obtain the most feathers with the least hissing."10
It sems like a big, big goose hissed last week. And the people heard. The latest poll has shown that the incumbent government was trailing 48-52.
9 Source: AFR/Freshwater Strategy Poll, quoted in the AFR, Thu-6-Jul.
10 Jean-Baptiste Colbert, finance minister of Louis XIV.
Tsar Vlad not a super spy, after all
It's a trap to believe autocrats, especially their hagiographic self-penned past. Now the truth has come out about Tsar Vlad's past.
Tsar Vlad worked for the KGB in East Germany in his 30s in the 1980s. What was his job?
a. A super spy, fighting the evils of the west;
b. A super sleuth, investigating traitors in East Germany;
c. A super interrogator, painlessly drawing out admissions from possible anti-Soviet folk; or
d. An administrative clerk, mostly sorting through travel applications for West German relatives11.
Close, but no cigar. The correct answer is d. Tsar Vlad was a 32-year-old KGB officer when he was sent to Dresden in 1985. Heroics such as facing down protesters about to storm the KGB HQ in Dresden and helping anarchists plot assassinations just didn't happen.
11 Source: Germany's Spiegel magazine.
Comparisons
Wry & Dry is bemused by large superannuation funds falling over themselves to announce their investment performance for FY-23. In some cases before the end of June. Such foresight.
There were many claims made. Especially yesterday, when the three major newspapers (AFR, Australian and Sydney Morning Herald/AGE) each devoted column-metres to media releases.
Wry and Dry advises Readers to be careful in making comparisons. These funds do not manage tax and their asset allocations may be very different to those which Readers might have. They are not customised.
There is merit in waiting for your own, tailored performance reports.
Snippets from all over
1. Russia's oil and gas income plummets
Russia's revenues from oil and gas fell by 47% to 3.4trn roubles ($37.5bn) in the first half of 2023 compared with the same period in 2022. (The Economist)
Wry & Dry comments: No, Tsar Vlad is not going green. It's about western sanctions and the closure of the Nord Stream gas pipeline.
2. UK only G7 country where inflation is rising
Britain has been singled out as currently the least successful country in the G7 at curbing inflation and one of the three worst in the wider 38-nation Organisation for Economic Co-operation and Development. (The Times)
Wry & Dry comments: Perhaps if they took the hot air out of cricket that might help?
3. Macron meets mayors
French President Emmanuel Macron on Tuesday, July 4, met with hundreds of French officials to begin exploring the "deeper reasons" for the country's plunge into riots after the killing of a teenager at a traffic stop. (Le Monde)
Wry & Dry comments: "I came to hear the president give us a vision, set a course. I didn't come for a group therapy session," complained one mayor. The mayors got a group therapy session.
4. Cocaine in the White House
An initial test of the white powdery substance found inside the White House on Sunday evening showed it was cocaine. (New York Times)
Wry & Dry comments: wait for the conspiracy theories. and the Netflix movie.
5. I leave my worldly goods to…
Silvio Berlusconi left €30 million to an old friend who was convicted of being involved with the mafia, and €100 million to his girlfriend. (UK Telegraph)
Wry & Dry comments: The girlfriend is aged 33. The former PM of Italy's net worth when he died was about €6 billion. In his will, he also gave €100 million to his younger brother, Paolo. The balance of his estate went to his five children.
6. Twitter v Threads
Twitter has threatened to sue Meta alleging it stole the company's trade secrets when creating its rival messaging app Threads, as the new platform attracted tens of millions of users within hours of its debut. (Financial Times)
Wry & Dry comments: The big move will be when or if the Trumpster changes to Threads from Twitter.
Data
The US gained almost 500,000 new jobs last month, about double the number expected.
Australia's central bank didn't raise interest rates.
Eurozone producer price inflation fell for the first time since December 2020, down 1.5% in the year to May.
And, to soothe your troubled mind…
"Stay in your crease."
Australian Prime Minister, Anthony Albanese, to UK PM Rishi Sunak, after the latter said that the dismissal of an English batsman by the Australian wicketkeeper went against the spirit of the game.
Unarguably, the cleverest statement made by Albo.
PS The comments in Wry & Dry do not necessarily reflect those of First Samuel, its Directors or Associates.
Cheers!
Anthony Starkins