Waiter! Bring me Chateau Cardboard. Guilty! Money, money.
I.  Waiter! Bring me Chateau Cardboard.  Oi! Oi! Oi!
It swells Wry & Dry's heart to read that shoppers in Australia's 'allies' [1] have been urged to buy a bottle of Australian wine.  This is a campaign to stand up to the bullying of Australia, especially our winegrowers, by Emperor Xi Jinping and his palanquin of xenophobic sycophants.
Wry & Dry senses that this demonstration of solidarity with Australia will prove most effective.  The Chinese government is known to accede to retributive action, especially any that might be embarrassing.
The US National Security Council, which advises US presidents on security issues, said it would serve Australian wine at a White House function this week.  What a forceful protest.
And Wry & Dry has instituted his own form of protest against China.  He will not buy Chinese wine.  Take that you, you, you... grape suckers!
Wry & Dry notes that Australian Swan Vintage, the winery where Geoff Raby, former Australian Ambassador to China and high profile Sinophile, is a consultant, has been hit with a 107% tariff.  Others have been hit with a 167% tariff.  Readers can join their own dots. 
[1] The Inter-Parliamentary Alliance on China (IPAC) is an international, cross-party alliance of parliamentarians from democratic countries focused on relations with the People's Republic of China, and specifically, the Chinese Communist Party. It comprises over 100 MPs from 19 democratic legislatures, including Australia, Belgium, Canada, Czech, Denmark, France, Germany, Italy, Japan, Netherlands, New Ziland, Norway, Sweden, Switzerland, UK and USA. 
II.  More 

Oi! Oi! Oi!

Australia recorded its strongest quarterly GDP growth since 1976, booming at 3.3% in the September quarter.

Hats off to the feds and five state governments.
The OECD, a Paris based organisation of 37 essentially developed democracies, also dips its lid to Australia.  Australia's forecast net 2020 and 2021 GDP growth is significantly better than almost every other G-20 country. 
III.  Guilty until proven innocent
Some weeks ago, Wry & Dry excoriated PM Jimmy Morrison for unnecessarily wading into a minor corporate matter (the giving of $20,000 of gifts to employees who had increased AusPost's revenue by some $150m).  His use of that amazing metric, The Pub Test, to disgracefully treat Christine Holgate, then CEO of AusPost, was an extraordinary immature and preemptive reaction.
Well, it is now becoming clear that Jimmy's behaviour in relation to the alleged atrocities committed by members of the Australian SAS in Afghanistan falls into the same category.
Wry & Dry certainly doesn't condone war crimes.  But since Morrison's vacant eruption, Wry & Dry has taken his time and spoken to former members of the armed services to get a sense of context.  And to do some research, including Morrison's statements. 
And some simple data: from 2001 to 2016 over 50 Australian service personnel were killed in action.  And 373 of the veterans who served in that period committed suicide.  Hold the phone!
Morrison's very public, hyperbolic and pre-emptive presumption of guilt was disgraceful.  A well as hanging the innocent with the yet-to-be-proven guilty.  This moral indignation was nothing more than virtue signaling.  And taken up with glee by those who view the world through a Pollyanna lens.
Again, Jimmy took the easy, tabloid path.  Too few measured words, too many inflammatory words.  And enough adjectives to make Wry & Dry blush.     
IV.   "Money, that's what I want."
Readers will know that, using the guise of 'covid recovery', 10 days ago Chairman Dan turned on the money tap in the Victorian budget.  Perhaps hose would be a better word.  In fact, dam burst.  Everyone's a winner in a flood of money not seen since the halcyon days of former Treasurer Wayne Swan.
Wry & Dry can see that everyone is a winner because of the usual media deeply insightful analysis of "Winners and Losers".  Wry & Dry counted 15 Winners and just one Loser.  The lonely Loser; electric vehicle users, who will be charged 2.5 cents per kilometre (about $10 per charge). 
The cash splash is so great that credit ratings agencies are saying that Victoria's public finances are 'dire'.  The possibility of Victoria losing its AAA status is real.  This is no laughing matter.
Standard & Poors, one of the world's leading credit agencies, said that, "...Victoria's 2021 deficit will be more than 50% of revenue, likely the largest even seen for a AAA rated state government."
But Chairman Dan knows that the only debt that voters care about is their own.  They couldn't give a continental about the government's.  
As for Chairman Dan, this is the closest he's come to being identified with fashion.  Debt is the new black.
V .  Inverse indicator 
Wry & Dry has the solution to the continuing decline in Australia's secondary education.  
Research by both the Productivity Commission [2] and Centre for Independent Studies [3] shows that average funding per Australian secondary student has risen by 1.85% p.a. over the past 9 years (to $16,000 p.a. from $13,500 p.a.).
However, the PISA [4] average of student academic performance has fallen by -.5% p.a. (to 498 from 520) over the same period.
The relationship is mathematically clear: it's inverse.  So just spend less money.  And watch the PISA scores rise.   
[4] 

PISA is the OECD's Programme for International Student Assessment. PISA measures 15-year-olds' ability to use their reading, mathematics and science knowledge and skills to meet real-life challenges.
VI.  Last Christmases
The proof of the pudding is there to eat.  Online shopping and covid have killed two of the UK's iconic retail brands.  Arcadia (Top Shop) and Debenhams have both succumbed.  Some 25,000 jobs will be lost.
But the pain doesn't end there. It's all about tenancies.  All of Debenhams 124 stores will be shuttered.  And that is about 1.3 million square metres of vacant retail space. If all Arcadia stores close, that's another 1.8 million square metres of vacant retail space. 
As many of the stores were anchor tenants in shopping centres, the loss of foot-traffic will adversely affect smaller stores.  This will get worse before it gets better. 
VII.  It had to happen, sooner or later...
Just as the Brexit negotiations were reaching a conclusion, which EU leader inserted him/herself into the mix with bellicose, last minute demands:
a.  German Chancellor Angela Merkel, wanting German to become the language of the UK;
b.  Finnish Prime Minister, Sanna Marin, wanting only attractive women MPs under the age of 35 in the UK [5];
c.  American President, Donald Trump, wanting the UK parliament to overturn the results of the US election; or
d.  French President, Emmanuel Macron, wanting to keep the existing fishing rights for the French fleet in British waters after Brexit.   
Close, but no cigar.  The correct answer is d.  M. Macron's intervention has alarmed both sides. However, Wry & Dry is not surprised.  Officials from both sides admit that any prospect of a deal by the end of the weekend has now disappeared.        
[5]  Some Readers may not be familiar with Ms Marin:
Ms Maris was the world's youngest Prime Minister, aged 34 when she was appointed in 2019.
VIII.  Eton mess
Some Readers may be familiar with Eton mess, a traditional English dessert of strawberries, meringue and whipped cream. Well, a new Eton mess has arisen.
A teacher at the English school best known for teaching many famous Poms [6] has been given the DCM for publishing a non-woke video.  The teacher, Will Knowland, skewered radical feminism and the notion of 'toxic masculinity'. The video was never shown to pupils.
Boys, young and Old are up in arms, as it were. Letters to the Times have been written.  And later today, the Friday lunch at the gentleman's clubs in St James will be peppered with angry men howling down the new woke-Eton, before slumping in an after-lunch stupor in the after-lunch arm chair, weighed down by Australian wine drank in solidarity with Australia, and port drank because it was there.
Readers will know that George Orwell went to Eton.  He will be tut tutting in his heaven, muttering "I told you, so." 
[6] Inter alia Hugh Lawrie, Prince William, Princess Harry, Ian Fleming, J.M. Keynes, Julian Huxley, as well as an assortment of 20 Prime Ministers, including Borisconi. 
Snippets from all over 
1.  Chinese stocks to delist from US
US Congress has set the stage for exiling Chinese stocks from the U.S. after approving a bill that would kick foreign companies off U.S. exchanges if they have failed to comply with the U.S. Public Accounting Oversight Board's audits for three years in a row.  China typically will not allow American regulators to inspect their work. 
Wry & Dry comments:  Readers will remember Wry & Dry's earlier article on the China Hustle. and be careful for what you wish.  The US move may be self defeating: some firms (Alibaba and PetroChina) have already undertaken secondary listing on the Hong Kong Stock Exchange.  In future, potential US IPOs will shift to Hong Kong - out of reach of the US, but easily accessible by US investors.      
2.  London to remain dominant
UBS (a very large Swiss bank) chairman Axel Weber said Brexit would not threaten London's position as Europe's dominant financial centre so long as the continent remained fragmented in terms of regulation and embroiled in internecine competition.
Wry & Dry comments: "Internecine competition" in the EU?  A Captain Obvious comment.
3.  Airbnb beds down listing 
Vacation rental company Airbnb is launching its IPO (Initial public offering), to raise $2.3 billion, with a company value of $35 billion.
Wry & Dry comments:  Company directors, senior executives, and 5% of stockholders will beneficially own 49.1% of outstanding capital stock with 58.8% of the voting power.  Nice work, if you can get it.   
4.  French letters
France sent out letters to Big Tech companies to tell them to pay its digital service tax as planned in December. 
Wry & Dry comments:  The country will apply a 3% tax on revenue from digital services earned in France by companies with local revenues of more than €25M and €750M worldwide, but will withdraw the tax as soon as an OECD deal is reached.
5.  Tesla bigger than Texas
The market capitalisation of Tesla last week crossed the half a trillion dollar mark.
Wry & Dry comments:  That is more than Toyota ($197B), General Motors ($64B), Ford ($35B), Nissan ($77B) and Honda ($49B) combined.
And, to soothe your troubled mind ...
Last words ...
"It would have been better if they  had obtained a building permit." 
 -  Andrei Carabelea, mayor of Piatra Neamt, Romania, referring to a 4 metre metallic triangular prism that has suddenly appeared on a nearby hillside.

Ah, a public servant with a sense of humour.  Or was he being serious?  This follows the discovery of a similar object in the wilds of Utah, USA.  That object has now disappeared. 
A lightly salted absurdity ...
The Coodabeen photo of 2020: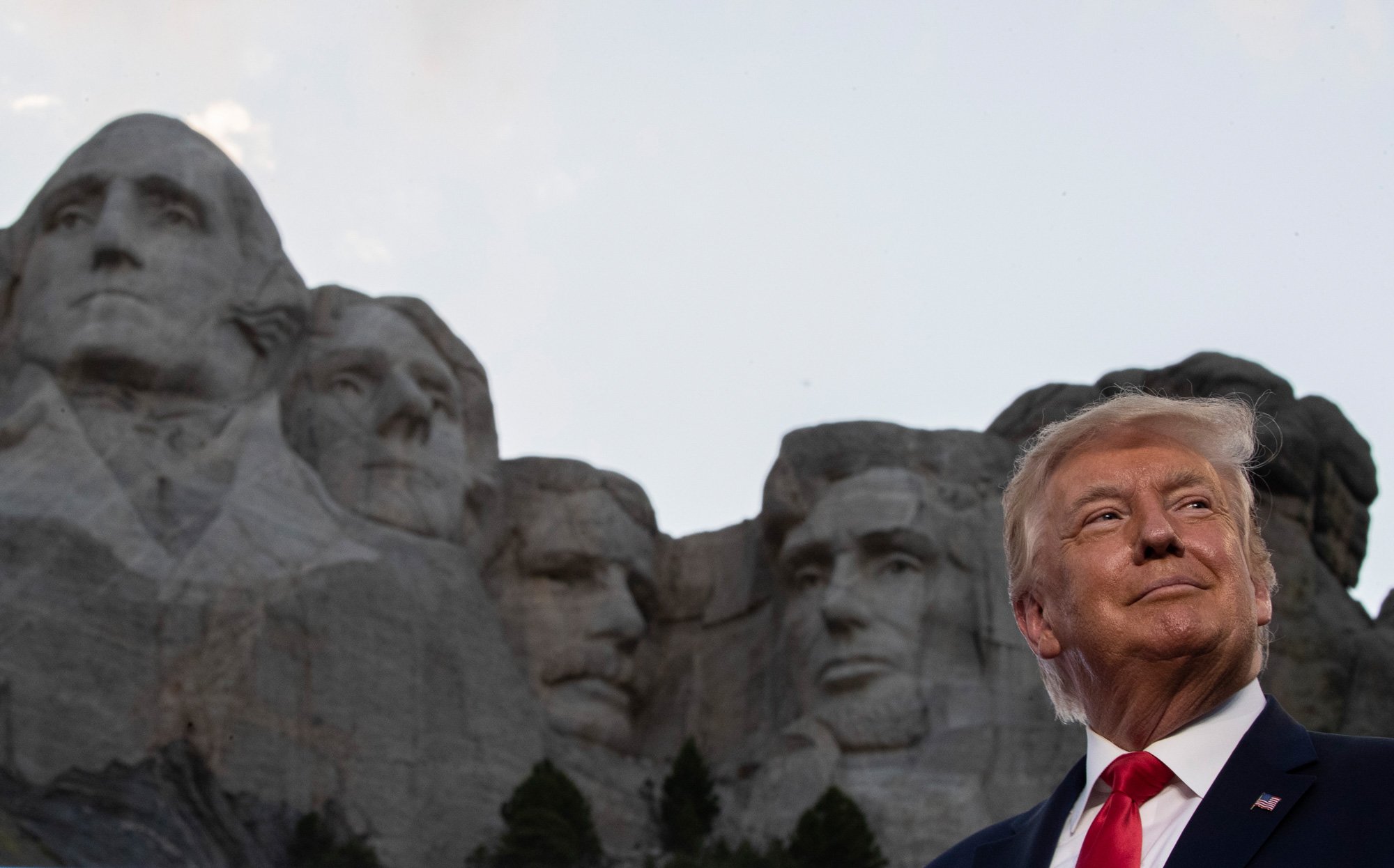 Cheers
Anthony