Hurt feelings. It could have been worse. Hospital pass.
Hurt feelings
It should come as no surprise to any Reader that China has got hurt feelings.  Poor petal.  Quite right too.  Damn cheek, we Australians, to suggest that there should be an inquiry into the source and management of the CV-19 pandemic.
Australia has got off lightly for such, well, impertinence.  Suspending trade from four Australian abattoirs is a modest revenge rap over the knuckles. 
Readers should not consider it relevant that the China-sourced and China-covered-up CV-19 pandemic has killed 300,000 people across the globe and by the time this is over will have killed at least one million.  Wry & Dry is moved to consider the fatalistic words of Joseph Stalin: "The death of one person is a tragedy.  The death of a million is a statistic."
And that is all China sees these dead people as: a statistic.
Much like Mao Zedong's Cultural Revolution, that socio-political movement in the late 1960s that led to the deaths of up to 20 million Chinese.  It followed the Great Leap Forward, an economic policy that led to some 30 million deaths from famine five years earlier. 
It follows that Emperor Xi Jinping is really no different from Mao Zedong in being indifferent to deaths, Chinese or otherwise.  Not to mention the extraordinary economic and humanitarian damage done to millions of families around the globe.
And we the people outside of China should respect Emperor Xi Jinping.  It's his country.  If he feels that a million deaths is just a statistic that he and his government have caused, we should respect that.  After all, China is our largest trading partner.     
In further penitence, we should not only accept economic coercion but also offer up as sacrifices for our sinfulness some Australian icons: perhaps Barnaby Joyce and Pauline Hanson. 
A bad figure, but it could have been worse
Australia's unemployment rate in April rose to 6.2% from 5.2%. This was well below the 8.2% forecast by economists.  See Wry & Dry's comments two weeks ago about forecasting. 
Of course, the headline figure, like a newspaper headline, is the easy read.  The underlying data is a shocker.  Some 600,000 people lost their jobs, but another 500,000 gave up looking for work.
Readers would have seen the most damning statistic; 72% of Australia's 13.2m workforce is now employed by the federal, state or local governments or supported by JobKeeper or JobSeeker handouts.
Never in Australian history has so much been owed to so many by so few. [1]
[1] Perhaps a Wry & Dry hyperbole.  "Never in the field of human conflict has so much been owed by so many to so few." Winston Churchill, UK's wartime PM, after the Battle of Britain, referring to the fighter pilots of the RAF who, against overwhelming odds successfully defended the sceptre'd isle against Hitler's Luftwaffe.
Unwanted record
Readers would have read about or heard of the unemployment rate in the Yoo-Ess-Ay hitting a record-since the Great Depression.  A painful 14.7%.
Here's the thing.  The report assessed the American situation in mid-April.  The news will get worse.  And it's already worse for women: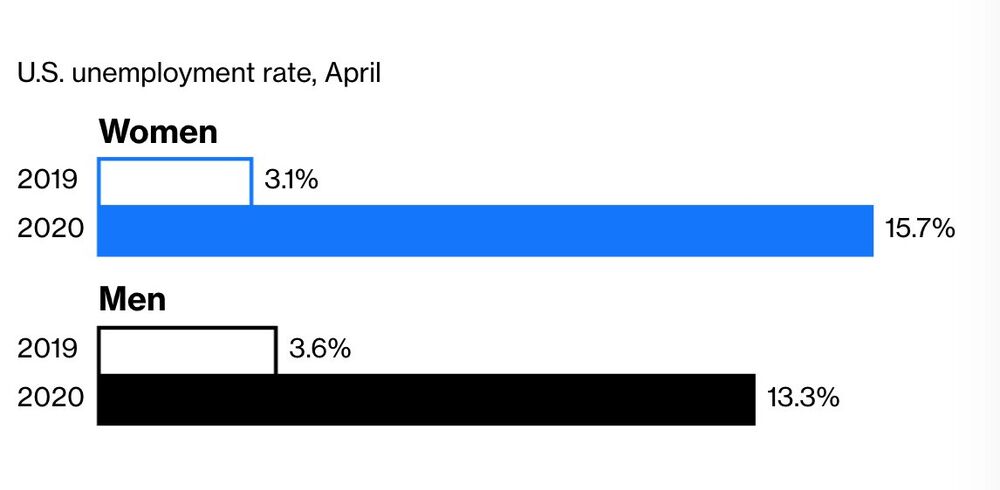 The only CV-19 winner in the Yoo-Ess-Ay is...
...NetFlix.  See the chart for the share price changes this year of major entertainment companies.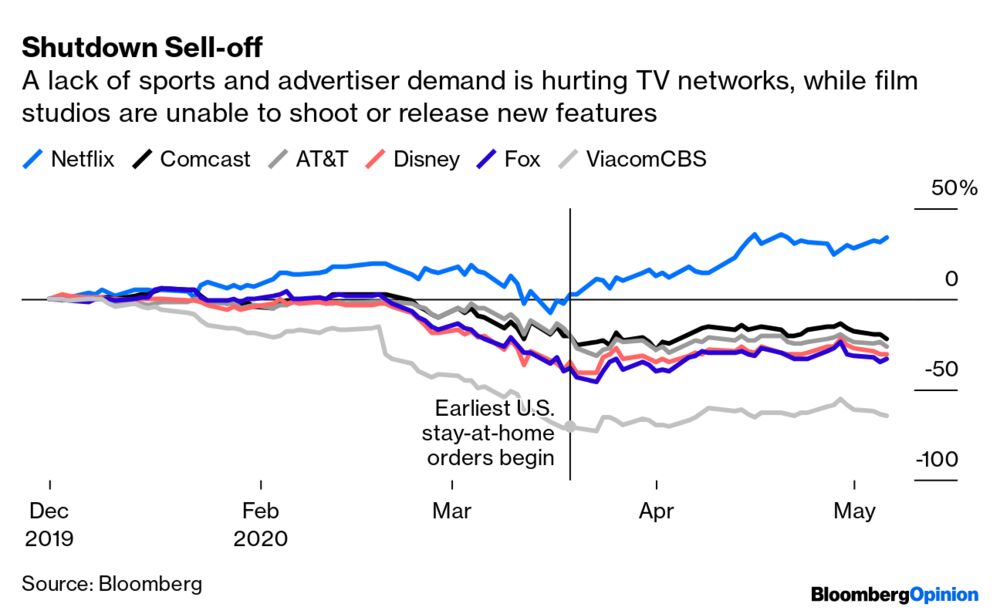 Don't mention the war
Readers will recall in last week's Wry & Dry the report of the German Constitutional Court thumbing its nose at the European Central Bank, and saying that the ECB had exceeded its mandate.  'Ultra vires" was the Latin term used by the German judges, which in English means "you're too big for your boots".
Well, a neat internecine squabble has broken out.  The Eurocrats are not going to take this expression of sovereignty lying down.  The thin end of the wedge, etc. 
The European Commission has hit back. Its president, Ursula von der Leyen — herself a native German — exclaimed on Wednesday: "The final word on EU law is always spoken in Luxembourg [the home of the European Court of Justice]. Nowhere else." 
Thems fightin' words. 
This might very well turn out to be a petty squabble, that will be resolved at whispered meetings in darkened corridors or behind shiny filing cabinets.  But this squabble gets to the problem of the EU.  For years the ECB has provided fiscal cover for governments (perhaps Italy and Greece, just sayin') that have failed to deal with the fiscal implications of monetary union. 
Each of Greece and Italy (especially) have lamentably failed to get the structures of their economies in order.  And without the ability of a depreciated currency to make their exports more competitive to compensate for political entropy they have no alternative but to go cap in hand to wealthier countries on the other side of the Alps. 
And on the other side of the Alps, German taxpayers are getting grumpy. 
Wall Street versus Main Street 
Before Virus-What-Virus-Trump goes to bed each night, he checks just two things.  What the S&P 500 (i.e. the US stock markets) did (an easy measure of how successful he has been in managing the economy) and the number of likes he received that day on any of his tweets (and there are no dislikes, of course).  Being President is so simple.
However, Readers will know that what happens to the S&P 500 has less and less to do with the average Joe on Main Street.  And his employer, or more correctly in many cases, former employer.  The companies that make up the S&P 500 are big.  In fact, only the 63 largest companies on the ASX would make the S&P 500.  
The financial strength of big companies makes them more likely to survive the downturn.  And so their share prices tend to underplay the impact of a widespread economic collapse.  Readers will know that market indexes like the S&P 500 are weighted to reflect the performance of the largest companies. In recent weeks, the stocks of such companies have not only veered in the opposite direction of the outlook for the U.S. economy but from the rest of the stock market itself.
The share prices of the five largest listed companies — Microsoft, Apple, Amazon, Alphabet and Facebook — have continued to climb this year, as investors consider they will emerge in an even more dominant position after the crisis. Through the end of April, these companies were up roughly 10% this year, while the 495 other companies in the S&P were down 13%.
The three largest: Microsoft, Amazon and Apple - now account for one-fifth of the market value of the index, the highest share by the largest three companies in 30 years.  And these companies do not employ as many people as their predecessors.  Readers will know that the two most highly valued companies in the country in 1962 - AT&T and General Motors - employed nearly 1.2 million people combined.  Last year, the two largest companies in the S&P 500 — Microsoft and Apple — employed just 280,000.  
Hospital pass
When Tsar Vlad tapped Mikhail Mishustin in January to become prime minister of Roosha, the little-known tax official was meant to spearhead a push for stimulus spending to help Tsar Vlad remain in power.
Four months later, coronavirus has meant there is no longer the roubles to spend, nor Mr Mishustin to spend it - he is in hospital recovering from CV-19.
Now that CV-19 is over in the Yoo-Ess-Ay...
... (because Virus-What-Virus-Trump has abused it into submission) people can get back to the essential business of the US: politics.
And the fever pitch is mounting to see who Sleepy Joe Biden will choose as his 'running mate'.  He has already said that he wishes a woman.  Wry & Dry has already provided Readers with useful insights.  And suggested that it might be either Kamala Harris (from California, which is solidly Democrat and hence provides no electoral advantage) or Amy Klobuchar (Minnesota, a swing state and one that Biden must win to win).
If it's votes that Sleepy Joe wants, then he might also look to Gretchen Whitmer, who is from a swing state (Michigan, where she is Governor i.e. premier) and is also young (48); and has proven ability to get up V-W-V-Trump's vast nostrils.  She also has the advantage of a no-more-than-two-syllable-surname.
Wry & Dry is still rooting for Amy, but likes the cut of Gretchen's jib.
Green and green
Wry & Dry's mailbox is always full on a Monday morning.  There are the usual observations (okay, complaints), from right-wing Readers that he is too left-wing, and from left-wing Readers that he is too right-wing.  The reality is, of course, Wry & Dry is the epitome of a male Goldilocks.
And there are those Readers who pick up errors in history, grammar, syntax, punctuation, etc.  Split infinitives: such a pest.
And then there are those Readers who misinterpret Wry & Dry's musings and write furious emails.  The most obvious cause is the small font size Wry & Dry uses.  Which sometimes means that Green looks like green.  
Wry & Dry considers there is a big difference between green and Green.  Wry & Dry is a great friend of the environment and hence happily sees himself as being 'green'.  And for example, he advocates a sensible transition away from thermal coal, supports diverse renewable energy, actively recycles, etc.
On the other hand, Green is a political party the policies of which have an overlay of environmental concern, but on peeling back the organic onion Readers see a pot pourri of right-wing social policies, extreme left-wing economic policies and idealistic dreams of teenagers. 
Sigh.  All of this because of a misunderstanding between a G and a g.      
Weird, but interesting
Jared Kushner, the son-in-law of V-W-V-Trump, on Wednesday failed to rule out the postponement of the November Presidential election.
Weird that some folk think that it is his decision.  Err, no.  As Wry & Dry pointed out in an extensive article on 24 April, both Houses of Congress must agree, and then V-W-V-Trump retains office only until the 4th anniversary of his inauguration (20 January 2021), and then the presidential role cascades, as each of the Vice-President and Speaker of the House would be ineligible, to the President pro tempore of the Senate.  And that person is 87-year-old Chuck Grassley.  At then 88-years-old he would surpass by 18 years the current record of the oldest President at inauguration, currently held by... V-W-V-Trump.
Wry & Dry is rooting for Chuck.  Just imagine a President of the Yoo-Ess-Ay named "Chuck".    
Snippets from all over 
1.  US jobless claims still bad
Initial jobless insurance claims in the US were again close to 3m last week.
Wry & Dry comments:  Which brings the total to some 36.5m people who have lost their jobs in the last eight weeks.

2.  Boeing, Boeing..
Boeing failed to sell a single commercial airplane in April but had orders for 108 planes cancelled.
Wry & Dry comments: Airbus received orders for nine planes in April, with zero cancellations.  

3.  Toyota: no more of that feeling, for now

Toyota expects operating profit to drop 80% to ¥500 billion ($4.66 billion) for the year through March 2021 as the coronavirus deals the automaker "a bigger shock than the 2008 global financial crisis."
Wry & Dry comments:  Toyota still remains in rude health with a AA credit rating or thereabouts.  This compares, for example, to Ford, the credit rating of which is now 'junk'.
4.  Buffett powers on
The US Department of the Interior has given final approval for Berkshire Hathaway's $1 billion solar project in Nevada that could power 260,000 households, enough to cover the entire residential population of Las Vegas. 
Wry & Dry comments:  When finished, the 690 MW Gemini Solar Project would become the world's eighth-largest solar power facility in the world, spanning some 7,100 acres of federal land.  Three of the top five plants are in India.
5.  Business confidence rises 
Australian business confidence rebounded 19 points in April from its record lows of March.  
Wry & Dry comments:  It rebounded to...  -46 points.  Not too much confidence there.  
And, to soothe your troubled mind ...
Miscellany 
Last words ...
"In the future, I wouldn't be surprised if the Trump administration's response to the coronavirus outbreak becomes the poster child for the worst public policy decisions ever made from a cost-benefit analysis." 
 -  Stan Druckenmiller, legendary Wall Street investor.
Too early to tell.
A lightly salted absurdity ...
Deepak, Wry & Dry's Uber driver ...
...yawned as Wry & Dry flung open the door of the jalopy.
"Namaste, Deepak," said Wry & Dry.
There was a grunt of recognition from the front seat, and from the back, a teddy bear with a wicked and beady eye grinned at Wry & Dry.
"I see Amulya has been the in the car with Sanders," observed Wry & Dry, remembering fondly the menagerie of Deepak's daughter's stuffed toys with whom he had shared the back seat: the elephant called Sir Donald Trunk, the rubbery brunette Nancy and the well-worn Sanders.
"No that's Joe, apparently. They look the same to me, all these American politicians. Amulya was quite cross when I made the same mistake."
"Just like her mother, such a relief," muttered Wry& Dry and then in a louder voice asked: "speaking of mistaken identity, has the DNA testing to verify Anjali's pedigree arrived back from Switzerland?"
"No, but I have news,"
"And?" prompted Wry & Dry.
"Anjali and her mother, the Crocodile, still have not spoken so I've been called in to mediate. It's a very important role," Deepak announced proudly, coming momentarily to life.
"Sure is. What could possibly go wrong?" ruminated Wry & Dry.
"The Crocodile, it would seem, has actually made more than one visit to Seychelles over the years."
"I see," said Wry & Dry thinking back to her recent ill-fated holiday to the Indian Ocean island.
"She says that all this happened between husbands.  You remember there were three; so many gaps in between."
"An interregnum, as it were," Wry & Dry said, raising an eyebrow.
"Of sorts. Anyway she met someone, and one thing led to another and..."
"Vindaloo" Wry & Dry finished.
"As it now seems, but Anjali was always attributed to husband numero trois."
"Messy, and did she stay in touch with the Interregnum?" asked Wry & Dry.
"Absolutely, the minx. He owns a resort and she has told me she has been back to visit him at least four or five times over the years. Apparently, he is desperate to meet Anjali but the Crocodile has always refused, given the circumstances."
"Does he have a family?" asked Wry & Dry.
"Bigger brood than Boris Johnson."
"That is hard to quantify," mused Wry & Dry, his head cocked to one side.
"Wife?"
"She died," said Deepak matter-of-factly.
"From exhaustion?"
"Exhausted the shops more likely. Bit of a princess, lots of shoes and bags but no kids of her own."
"I see," said Wry & Dry.
"He owns a resort, you say?" he continued.
"Four apparently, in Seychelles, another two in Mauritius and building something in Saint Denis apparently. Wherever that is. The Crocodile says, if Anjali won't talk to her soon, she'll go and live out her days there. She says the resorts are better than the Taj Mahal, and she doesn't mean the backyard Taj Mahal I built for her either."
"Wouldn't that suit you, Deepak, if she left?""
"No, it would be a disaster", he said flatly.
"She may be a lot of things, but to give up that sort of life for her daughter and the tin-pot shack I built for her, well Mr Wry & Dry, that says something."
Wry & Dry jumped out of the car as it slowed to a halt.
"Give them all my best," he called, happy knowing that for at least the short-term Deepak and the Crocodile had made their peace and now the only thing to do was gently break the news of the interregnum to Anjali.
  - from the quill of Mrs Wry & Dry. 
Cheers
Anthony