Returning the curtains. Beijing (Hong Kong branch). A first for a Boris?
Returning the curtains
W&D returned to Australia last weekend.  And immediately dips his lid at the generosity of Dollar Curtains and Blinds, from the little end of town, Canberra.  Apparently a couple was about to move to the nation's capital in anticipation of a new employment opportunity.  He was so very confident that he would get the job that he asked his wife to get their prospective home measured up.  And a full set of curtains and blinds was indeed made.
But the job-thing didn't come through.  And the wife, in a somewhat downcast mood, asked the company if she could return the goods and get her money back.  It seems that the job was well-paid and she and her husband had spent up big in anticipation of him getting the gig.  New furniture had been bought, removalists paid in advance and a large welcome party booked.  
However, with the new job failing, funds were now short and she would be grateful if Dollar Curtains would consider ... etc, etc. 
Dollar Curtains did the agreeable thing.  They felt sorry for and didn't charge the couple and said that it was sure it could recycle the red and green curtains to a newly opening nearby Bunnings' store.       
Beijing (Hong Kong branch) speaks
Readers will know that this time of year it gets hot under the collar in Hong Kong.  And this year it's not only because of the weather.  The locals are getting hot under the collar about Beijing (Hong Kong branch)'s decision to allow extradition to the mainland.
Beijing (Hong Kong branch) is trying to push through legislation that will allow extradition from Hong Kong to any jurisdiction with which it does not already have a treaty.  This includes China.  This is in clear breach of the Sino-British Joint Declaration signed in 1984.
But China in 2019 is very different to the China of 1984.  A power and control-obsessed leader (Xi Jin Ping) has set his heart and mind on a course of action and damn anything that gets in the way. 
The proposed law would apply to anyone physically in Hong Kong, including a banker on a business trip or a journalist in transit through the airport.  The reasoning is to "stop the city being a haven for fugitives".
(Australia negotiated an extradition treaty with China in 2007, but it was never ratified because of the very concerns that are the subject of the demonstrations).
That reason fools nobody.  Beijing has a record of kidnapping people in Hong Kong it doesn't like, and taking them to the mainland from whence they disappear.  Replacing kidnapping with a legal process seems a quaint idea.  But China's legal system is both opaque and politicised.  Hence some one million Hong Kongers demonstrating in the streets on Sunday and again on Wednesday.
Predictably, Beijing is blaming 'Westerners' for fomenting the riots.
This will end in tear gas. And then tears.  But the law will pass.
W&D ponders this deeply.  Someone is Beijing may be asking, "Is this a battle worth winning?"  The trouble is, the person that asks that question out loud is probably already in a labour camp, far far away.  
Watching the news
W&D was pedalling gently in his gym this morning, attempting the reduce the sponginess of his equator, watching the international news on SBS. 
The first news' source was 15 minutes from CGTN, an English language Chinese government TV service.  The lead item was on Emperor Xi's state visit to Kazakhstan.  Then followed an item on peasants in Tajikistan.  Third was the attack on two oil tankers in the Gulf of Oman (see more, below).
The second news' source was Japan's NHK, an English language TV service of Japan's public broadcaster.  The lead item was the Hong Kong demonstrations.  Then followed the oil tanker attacks and then Boris' first-round victory (see more below).  Emperor Xi's state visit to Kazakhstan didn't get a gurnsey. 
W&D guesses that in the year of the 70th anniversary of the founding of communist China it is important for the world to know of China's close relationship with Kazakhstan.
The Tsar gives in
It's all rather weird, until Readers dig into the weeds, as it were.
Last week, police in Moscow arrested an investigative journalist, Ivan Golunov, beat him up and charged him with possession and distribution of drugs. (Photos purporting to show a drugs' lab in Golunov's flat were taken elsewhere, the police later admitted).
Russian social media exploded. Hundreds of journalists and citizens queued up in front of police headquarters to stage "single pickets", the only permitted form of protest, demanding Mr Golunov's immediate release. Some were promptly bundled into police vans, further increasing the general outrage.  
Embarrassingly, Tsar Putin was hosting an expensive and somewhat lavish summit with Emperor Xi Jin Ping [1]. Tsar Putin was not amused to have his thunder stolen, as it were.  Tsar Putin's headache got worse when on Monday three mainstream business daily newspapers ran identical headlines: "We are Ivan Golunov."
Suddenly Golunov was released and the fabricated charges dropped.  The demonstrations ceased.
What's going on?  Clearly, someone in the Kremlin, whilst unpacking his bags from the train trip north, asked the question, is this battle worth winning?  He answered his own question with a "no".
Tsar Putin wants quiet streets.  Five years of declining incomes, a dodgy economy and increasing crackdowns on media freedoms are blending into a combustible mix. 
W&D senses Tsar Putin will try the Bismark tactic.  And enter into an international escapade to rebuild his domestic credibility. 
[1]  Not in Moscow, but in St Petersburg, where the palaces are truly palatial.  Readers might visit not only the famous Winter Palace, but also Peterhof, the Mikhailovsky Palace or the Konstantinovsky Palace.  Perhaps, Tsar Putin was thinking of the Emperor Xi, "My palace is bigger than your palace".
A first for a Boris
Readers will now be aware that UK Prime Minister Teresa May fell on one of her stilettos rather than be given the DCM.  She is now in a caretaker role until a successor is chosen.  Which is probably not much different to what she has been doing for the past three years.
The UK Conservative Party (roughly equivalent to Australia's Liberals) has a tiresome process to elect its parliamentary leader.  The parliamentary party exhaustively vote to reduce to two candidates from the ten that have put their bowler hats (8) or fascinators (2) in the ring.  Voting commenced last night, the ten are now seven bowler hats left.  The two fascinators fell at the first hurdle.  Boris Johnson comfortably topped the poll. 
The choice of one from two makes it easier for the 160,000 Conservative party members in the next step to make up their minds.  Any more than two alternatives would have led to a massive informal vote.
The polls have Boris as the clear favourite to win the ballot.  If he does win, he will be the first Boris to become UK Prime Minister.  He will have been preceded by 8 Williams, 4 Roberts, 4 Henrys, 3 Georges and pairs of Spencers, Thomases, Johns, Fredericks, Edwards, Davids and Anthonys.  Then a plethora of once-only names, ranging from the recent women (Margaret and Theresa); through the famous (Winston); the August (Augustus) and the newly popular (Archibald - who would never have been called Archie [2]).       
[2] The Right Honourable Archibald Primrose, Prime Minister in the 1890s, was the 5th Earl of Rosebury.  Historians judge him not to be a smart PM.  But Archie was smart enough to marry Hannah de Rothschild

, the wealthy daughter and heiress of Baron 

Mayer Amschel de Rothschild

.

  
Don't measure up the curtains, yet, Mrs Boris 
Readers may not know that there is currently no Mrs Johnson.  Well, not one married to Boris. 
Boris' marriage to his first wife, Allegra, lasted six years.  Just weeks after Allegra got the DCM, he married Marina.  And Marina didn't give Boris the DCM after he fathered a child to Helen.  In fact, Marina and Boris have four children together: Lara Lettice, Milo Arthur, Cassia Peaches and Theodore Apollo. But Boris and Marina separated last September, after 25 years of undoubted bliss. 
Err, no.  Apparently Marina had to put with quite a lot.  And it was she that gave Boris the DCM.  Readers will soon start hearing of Boris stories reminiscent of that former Italian PM and roué, Silvio Berlusconi.  Borisconi?      
Boris is now swinging hands with Carrie, a 31-year-old ex-political aide. 
According to a poll on Wednesday, if Boris were Prime Minister he would win a crushing 140-seat majority for the Conservatives at the next general election.  
W&D has sent an email to Carrie, urging her not to measure up the curtains for 10 Downing Street.  Yet.
CC-FOMO
Bitcoin is back.  Well, as a headline grabber.  The world's largest crypto-currency's price has more than doubled in the first half of 2019, from under US$4,000 to about US$8,000.
What's going on?  Well, W&D doesn't know, and, to be honest, doesn't care.  But Readers should be alert to crypto-currency Fear Of Missing Out.  CC-FOMO has hit Litecoin, the 4th largest of crypto-currencies.  Its price has shot up some 150% this year.
This is speculators' heaven.  Some journalists are suggesting institutional investors moving into the market.  And even central banks.  Good grief!
But, as Readers know well, no-one rings a bell at the top of a market. Then watch the rush for the exits.
Slow news day?
Some Melbourne media breathlessly reported this week that Melbourne would soon be the home to the world's first Uber Air service.  "Uber Air ready for take-off" screamed the headlines.
Err, not quite ready.  Perhaps by 2023. 
It seems that the ride-sharing company is going to offer a 10-minute CBD-to-airport flight for less than $100.  In a piloted electric passenger aircraft still being designed ...
W&D suggests that a first-of-April story missed the deadline and was used to fill some column centimetres.
So, it's an electric helicopter, that has yet to fly, much less be certified, approved or licenced.  Which is perhaps why the service is expected to commence in 2023. 
W&D predicts that this bird won't fly.  The aircraft is being designed to carry four passengers, with luggage of up to 18 kilograms.  Mrs W&D wouldn't get out of bed for a plane flight with a Samsonite of less than 25 kilos.
Oil slides
Readers will not have noticed the price of filling up the Roller has gone up.  In fact, it keeps going up, as the Australian dollar falls.  But this cannot last.  The international price of oil is falling speedily.  
As always, there is a mix of complexity about oil prices.  OPEC and its cronies try to prop up its price by cutting output.  US sanctions on Iran and Venezuela have also tightened supply. But there are significant increases in supply from US shale oil producers.
And, remembering Economics 101 from a long time ago, W&D notes that the other half of a price determinant is demand.  And the demand for oil is falling as the world economy slows. 
But Readers will know, that it only takes "some damn foolish thing" [3] in the Near/ Middle East to send the price back up. 
Breaking News: no sooner had W&D penned the above that two oil tankers in the Gulf of Oman were bombed.
[3] "All it needs is some damn foolish thing in the Balkans to start the next war." Otto von Bismark, German Chancellor, 30 years before the assassination of Arch Duke Ferdinand in Sarajevo started the First World War. 
Unclear on the concept I
"It's a completely safe aircraft, so we are waiting for the regulators to take that view," said Ajay Singh, chairman of SpiceJet, one of India's largest private airlines.  Mr Ajay was speaking of the Boeing 787 Max.  SpiceJet has 13 of the aircraft in its fleet, with orders for another 192.
Two recent plane accidents involved the B-787 Max.  Which prompted the global grounding of the aircraft.  Which suggests it is not a completely safe aircraft.
Unclear on the concept II
New mum, Meghan Markel, needed to fill out the details on the birth certificate of her son, Archie.  And so she stated that her occupation was 'Princess of the United Kingdom'.
Err, no.  Only daughters, or sometimes granddaughters, of sovereign, can be a Princess.  Marrying a Prince doesn't make one a Princess.[4]
Hang on.  Maybe in Ms Markle's case, she might have just put 'princess'. And that would be about right. 
[4]  For example, when Kate Middleton married Prince William, she became the Duchess of Cambridge (the feminine form of her husband's highest-ranking subsidiary title), not Princess Kate.  Or when Camilla married Prince Charles she became Duchess of Cornwall, not Princess Camilla.  She can be called Princess of Wales, as that is a courtesy title held by the wife of the Prince of Wales.  But not Princess Camilla. The same applied to Prince Charles' first wife, Diana.  She was never a Princess.  Yawn.  
Unclear on the concept III - still
Someone has to tell I-Wanna-Tariff Trump.  In a Tweet in late May he stated, "We will be taking tens of billions of dollars in Tariffs from China ..."
Err, no.  As W&D advised him in April, it is the US importer that pays the tariffs, not the Chinese exporter. 
Snippets from all over 
1.  Down at the car wash I: merger
United Technologies and Raytheon have agreed to an all-stock merger, creating the second-largest defence-and-aerospace company in the U.S. after Boeing, with combined annual sales of around $74 billion. 
W&D comments:  I-Wanna-Trump said the merger could harm competition and make it more difficult for the US government to negotiate defence contracts.  Exactly.   
2.  CBA sells back
In 2011 CBA purchased financial planning group Count Financial for $373m.  Yesterday CBA announced that it has sold Count Financial back to CountPlus for ... $2.5m.
W&D remembers:  "Son, you only get one Alan Bond in your lifetime." [5]
[5]  Famously said by Kerry Packer, after he had bought Channel Nine in 1990 for $200m from Alan Bond, having sold the company to Bond for $1 billion in 1986. 
3.  It's my party ...
I-Wanna-Tariff-Trump has said he was prepared to place 25% tariffs on another $300 billion worth of Chinese goods and would do so immediately if a planned meeting with Emperor Xi Jinping of China did not happen this month during the G-20 summit meeting in Japan.
W&D comments:  For the price of a plane ticket and perhaps a small room overnight in Kabukicho [6], that seems like an easy win for the Emperor. 
[6]  A Tokyo area where all the lights are red.
4.  Boeing, Boeing ...
American Airlines is extending cancellations of about 115 daily flights into September due to the grounding of Boeing's 737 MAX aircraft.  
W&D comments:  There is more to this than meets the eye.  Readers will know that W&D has been following this story for some time.  And one of his international correspondents reports that Boeing haven't fixed the problem, because it doesn't really know what causes the problem.  This is going to take some time.  
5.  China weakens
China reported that in May, from a year previous:
a.  motor vehicle sales fell 16.4%.  This is the 11th consecutive month of declines.
b.  imports fell 8.5%, sharply weaker than expected
W&D comments: China's economy is clearly slowing.  Exports actually rose in May, but that was because companies front-ended shipments to beat US tariff increases. 
Irony of the Week 
Podium finish goes to ... Germany and France.  Readers will know that Chancellor Merkel and President Macron continually call for people to see the EU as one unit and to put aside national biases.  But no sooner had the European elections occurred than the two leaders were each championing their national favourites to lead the key role of President of the EU Commission.
Ms Merkel wants Manfred Weber, a German.  M Macron wants anybody but a German.  To the point that he weirdly said yesterday he would support Ms Merkel, herself.  W&D sees through this Gallic smokescreen. Macron knows that Merkel doesn't want the top job, but the headline shows a sense of Franco-Prussian rapprochement.  The underlying story is that Macron is working feverishly behind the scenes for a candidate that can be Paris-controlled.
Deepak, W&D's Uber driver ...
... was back in Melbourne.  "It's sort of complicated," he wrote in a text message.  "I'm so sorry.  But I'm no longer an Uber driver.  I can no longer drive for you.  I found peace in Varanasi.  Can we meet for a curry next week?"
W&D responded with a yes.  And will update news on Deepak, Anjali, her cousins, her mother, his daughter and Bitcoin.       
And, to soothe your troubled mind ...
Miscellany 
Last words ...
"I think we have tried sensible, why not try daft?" 
 -  a London shopper's response when asked why she would vote for Boris Johnson.
But daft hasn't worked in the Yoo-Ess-Ay.     
First Samuel client events calendar

Some lightly salted absurdities from all over ...
At the extreme left-hand end of the bell-curve ...
On June 6, residents of the Sentrio Suites Condominium in Kuala Lumpur, Malaysia, were shocked to hear the roars of what sounded like a wild beast coming from the building's upper floors. Then they spotted what looked to be a bear poking its head through the window of an apartment.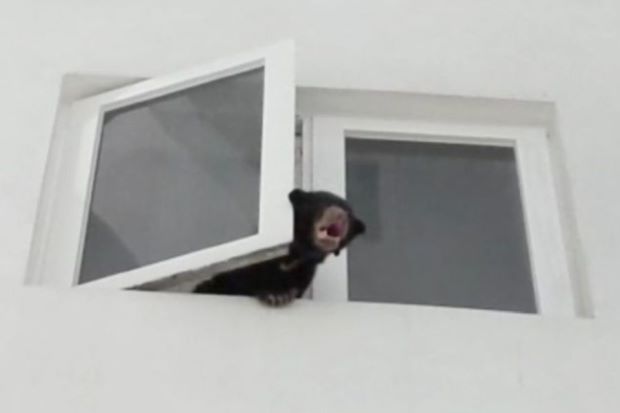 Err, yes, that's a bear.  A 27 -year-old woman who was caught raising the six-month-old endangered sun bear in her Kuala Lumpur condominium unit explained that it had found it on the side of the road and took it in thinking it was a dog.
(Odditycentral.com)
She was arrested and charged with violating the 2010 Wildlife Act.
Guess what he did next
A man from Morrisburg in Canada had had a few too many drinks at lunch.  But somehow had to get home.  He carefully considered the options and decided not to drive himself.   
Q.  What did he do: 
a.  Call a taxi;
b.  Call an Uber;
c.  Call his wife; or
d.  Get his 12-year-old son to drive him home.  
A.  Close.  But no cigar.  The answer is d.  He plonked his 12-year-old son behind the wheel.  The problem was that the boy rear-ended another car 200 metres down the road.  To make things worse, the drunken father pushed his son aside and took the wheel himself.  But wait, there's more.  The drunken father then rear-ended another car.  By this time, the police had arrived.
(nationvalleynews.com) 
No-one was hurt.  The father got charged with multiple offences. 
Now where did I put those keys? 
Doctors treating a man suffering from chest pains were shocked to discover a set of keys lodged in his food pipe.  The man in south-east China swallowed his building's key fob and apartment key after getting drunk last Thursday night.
He awoke the next morning, wondering where his keys were, but also feeling a bit unwell.
(Dailymail.co.uk)
Cheers.  
Anthony