As Warren predicted. Negative oil price? How does that work? President Chuck.
Tomorrow is...
...ANZAC Day.  Lest we forget.
As Warren predicted
Readers will have read that Australia's #2 airline, Virgin has crash-landed.  Bad management, big egos and stupid retail investors are a commodity often revealed in economic downturns.
Virgin made a profit only once in its last 10 years.  Its shareholders, especially Etihad and Singapore, reaped the code-sharing arrangements and the anathema of many Australians (including Wry & Dry) toward Qantas.  But that was all that the shareholders have received.
Readers will recall the words of Warren Buffett, the ageing sage of American investing, in his 2007 Berkshire Hathaway letter:
The worst sort of business is one that grows rapidly, requires significant capital to engender the growth, and then earns little or no money. Think airlines. Here a durable competitive advantage has proven elusive ever since the days of the Wright Brothers. Indeed, if a farsighted capitalist had been present at Kitty Hawk, he would have done his successors a huge favour by shooting Orville down.  
Now watch the vultures pick over the carcass.
Negative oil price?  How does that work?
Headlines of tabloids and commercial media milked the news for all it was worth: Negative oil prices!  Here is the oil-cliff: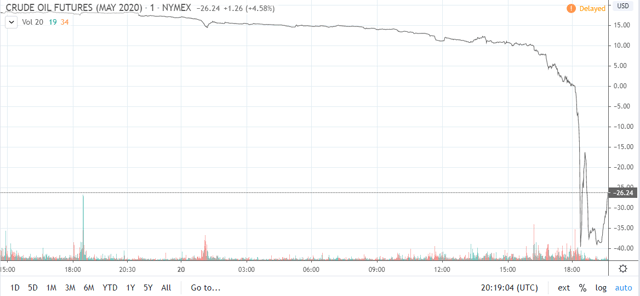 Err, not quite negative oil prices.  The price related to the price in the future of West Texas oil.  With crude oil at about $20-25, many investors bought oil Exchange Traded Funds (ETFs), to "buy the dip".  The May futures contract was set to expire on 21 April.  Those who had bought the contract either had to sell their position or deliver oil.
Deliver 1,000 barrels of oil?  "No thanks, I'll sell the contract".  That's when the fit hit the Shan.  As many of the EFTs were bought using margin loans, more selling caused margin calls, which in turn caused more selling.
As the day continued, all speculative positions had to be closed no matter the price. Commercial traders usually make up a larger portion of the market and buy at fair value, but with there being a glut of crude oil due to CV-19, fewer commercial buyers arrived. This made May contracts as popular as a CV-19 carrier in a crowded elevator. History's largest price collapse occurred.
One broker (Interactive Brokers Group) lost $88m on Monday as it had to pay up for clients who couldn't meet margin calls.  There are others.
The lesson?  Readers will know that they should use ETFs only for long-term investment and without leverage.  The transactional ease of ETFs (speed, costs, price discovery) is a boon for speculators.  
By the way, the real price of oil, as measured by Brent Crude, is down to about $19, the lowest level since 1999.
President Chuck?  
Readers will be concerned that Virus-What-Virus-Trump might want to delay the upcoming Presidential election.  Wry & Dry has the answers to Readers' questions as to what next happens.
As the 1845 law says that the Presidential election must be held every four years on the first Tuesday after the first Monday in November, it would take an act of Congress i.e. both Houses to agree.  Most unlikely.
But what if Congress agreed to delay?  The problem then gets interesting.  The US Constitooshun says that a presidential administration can last only four years.  That means Trump gets the DCM on 20 January 2021.
Then what?  Well, the presidential line of succession takes over.  V-P Mike Pence is out, he would have had his four years.  House Speaker Nancy Pelosi is out, her two-year term will be up.  Which leaves 86-year-old Republican, Chuck Grassley of Iowa, the president pro-tempore of the Senate as the Steven Bradbury of American politics. [1]
Wry & Dry is rooting for Chuck.  Chuck first became a politician as recently as 1958 in the Iowa State House of Representatives.  That's 62 years ago.  He has risen without trace, becoming a Federal Senator in 1980, a mere 40 years ago.
The name President Chuck has a ring about it.
[1]  It's worth seeing the video again:

View here

 
Virus vulnerability
Wry & Dry sometimes shamelessly plunders charts from august journals such as The Economist and the Financial Times.  And does so again this week with a beauty from The Economist.
The lads and lasses at The Economist have ranked OECD countries on their economic 'vulnerability' to CV-19 induced lock-downs.  The reading is not good for the usual suspects: Greece, Spain and Italy.
These three southern European countries were already ailing.  And their unwillingness to consider leaving the euro-zone (a difficult task) closes the door on the least-worst recovery plan.
It is not clear where Australia ranks.  However, Wry & Dry has done his own ranking of Australia.  With a high percentage of jobs that can be done from home; relatively low GDP sectors of retail, transport and hospitality industries; a high level of fiscal stimulus; etc, Australia seems less vulnerable than most other countries.  
Australia's WFH index, on the other hand...
But, to paraphrase Wry & Dry's favourite pundit [2]: it's too early to tell.
[2] Zhou Enlai.
Unclear on the concept 1
I-Am-The-Commander-In-Chief-And-Know-All-About-Military-Stuff-Trump showed on Wednesday that he is right up with the newest technology.  
He said, "I have instructed the United States Navy to shoot down and destroy any and all Iranian gunboats if they harass our ships at sea." 
"Shoot down and destroy..."  He astutely noticed that Iran has a world's first: flying gunboats.  These are a hybrid of usual gunboats and Persian magic (i.e. flying) carpets.  Amazing technology.
Unclear on the concept 2
China's consul-general in Chicago last week sent an email to Roger Roth, the President of the Wisconsin State Senate, asking that he (the Senate President) sponsor a bill praising China's response to CV-19.
Unclear on the concept 3
Readers will be aware that under the 'Coalition Agreement' with the Liberals, the Nats get their leader to be Deputy Prime Minister. 
Wry & Dry can therefore only assume that Michael McCormack was speaking in a private capacity when he criticised Virgin Australia's foreign shareholders and founder (Dick Branson) for failing to provide a lifeline to the airline.
Because any responsible leader of a political party, with the clear exception of whomever steers the good ship lollypop Greens, would know that it is a key element of a free enterprise world that sometimes companies go broke.  That applies equally to airlines as the corner cafe.
And it is the shareholders who are at the bottom of capital stack, i.e. behind employees, ATO, secured debt holders, unsecured debt holders, creditors, etc.
If shareholders consider that the company cannot provide an acceptable return on capital invested then there is no reason for them to invest. 
But, then again, Mr McCormack comes from a Country/ National Party-lineage stretching back to 1920 of agrarian socialists who expect someone else to pay when things go wrong for their constituents.
Oops.  That didn't work
Readers will be aware that Russians are not happy with Tsar Vlad.  His popularity is down to 63%, the lowest since 2013.
Soothing words were needed.  In his public address on Sunday to mark Orthodox Easter, he said that "all levels of government are working in a streamlined, orderly and responsible manner . . . Our whole society is united in front of a common threat."
The next day, police were sent to break up a protest against job losses in Vladikavkaz, a city in southern Russia. 
RDS.  Another outbreak occurs
Just as Wry & Dry was recovering from the double-barreled RDS news of Croesus Turnbull and The Ruddster, again up pops Princess Meghan and Harry-The-Handbag. 
Their news: just to say that they have proscribed the UK tabloid press.  A worthy objective.  But why not just do it quietly and move on?  No, the latest evidence of severe RDS came in another exposition of self-absorption that resembles a blend of a LinkedIn post and a life-style blog and that one day will morph into a NotFlox series. This has the finger-prints of Princess Meghan all over it.
Sigh.  
Harry-The-Handbag's grandmother & grandfather and brother and sister-in-law recently showed how to present messages to the public in a dignified and encouraging manner.  For them, it wasn't about them.
Bradmanesque 
Readers who rushed to the bookstore on Monday to buy Croesus Turnbull's latest thriller may not have had time to count the number of times he name drops.  And whom.  Wry & Dry's man person on the spot did.
The Abbott comfortably takes podium position, with 642 mentions in 704 pages.  That's an average of mentions on 91.19% of all pages.  This is a feat of Bradmanesque proportions [2].
The next politician on the list is Peter Dutton with an average of 33.95% [3]. 
Wry & Dry is not suggesting that The Abbott and Dutton are more important than wife Lucy, but, well, she gets mentioned on average on just 31.96% of pages.
Sigh.
[2]  Don Bradman's test batting average was 99.94.  But for making a blob in his last innings, he would have had an average of 100.  Of batsmen who have scored over 2,000 runs, next are the irritating Steve Smith (Australia) at 62.84, the glorious Graeme Pollock (South Africa) at 60.97; the buttoned-down George Hedley (West Indies) at 60.83 and the very professional Herbert Sutcliffe (England) at 60.73.
[3] South African Russell Endean has a test average of 33.95.  His claim to fame is being the first test batsman to be dismissed 'Handled the Ball'.   
Machiavelli
Readers will have read The Prince, Machiavelli's rendition of the dark arts of successful government.  And know that blackmail is one of the crafts, especially in Machiavelli's Italy.
Well, it's all happening in Italy for Readers to see.
Italy is broke.  And needs massive funds from the EU to rescue its economy from its even steeper slope to penury.  But the EU won't hand over the dosh unless there are strings attached.
Well, Italy's euro-sceptic movement and government-in-waiting has said they will accept loans only without strings.  The only alternative then is for the European Central Bank to keep on buying Italian debt, to keep interest rates sustainably low.
Interestingly, Italy's premier, Giuseppe Conte, says he will accept the EU's pandemic package along with the hated bail-out fund after storming out last time and threatening to 'go it alone'.  But he is now irrelevant.  The Italian parliament will not accept debt with strings.
But the EU cannot do that, legally.
So, as one commentator put it, if EU leaders cannot agree on Eurobonds and a 'Hamiltonian' union, they will have to let the ECB buy vast amounts of Italian debt - and do so more aggressively to push Italian yields down to zero, or risk an Italian revolt. 
Perhaps the Italians have the EU by the coglioni.  Machiavelli would approve.     
Snippets from all over 
1.  US jobless surges again
More than 4.4 million Americans applied for unemployment benefits last week, bringing the five-week total during the coronavirus pandemic to 26.5 million.
Wry & Dry comments:  Past the peak?  Too early to tell.  
2.  Retail sales surge
Australian retails sales surged by 8.2% in March, the largest monthly rise ever.
Wry & Dry comments: It's all about toilet paper, rice, pasta and flour.  It's just normal purchases brought forward in time.  

3.  Notflox booms

Netflix, the video streaming service, added 15.8m subscribers in the three months ending in March, blowing past its own 7m target for subscriber additions and Wall Street's forecast for 7.4m

Wry & Dry comments:  During the quarter, Netflix debuted new shows such as Tiger King, a murder mystery docuseries which became a binging sensation, drawing 64m viewers, including, for a short time, Wry & Dry.  So many Trump supporters in the one show. 

4.  South African Airways collapses
State-owned South African Airways is set to fire all of its 4,700 staff, as the government refuses to bail it out.  SAA has relied on bailouts and state-guaranteed debt agreements for years, having last made a profit in 2011, and was put into a form of bankruptcy protection in December.
Wry & Dry comments:  Not the first.  And it won't be the last.  Obviously. 
5.  China's GDP collapses
China's GDP shrank for the first time in recorded history, falling by 6.8% in the March quarter.
Wry & Dry comments:  The first of many GDP numbers with a minus sign.
6.  European car sales get a flat tyre
New car sales across Europe fell 55% in March.  This compares to the US, where sales fell 40%.
Wry & Dry comments:  The issue now will be whether the absent car buyers will reappear.  Or are they permanently lost?  
And, to soothe your troubled mind ...
Miscellany 
Last words ...
"I haven't left the White House in months." 
 -  US President, Virus-what-Virus-Trump, this week, getting frustrated with being in lockdown.
Hardship.  
A lightly salted absurdity ...
Deepak, Wry & Dry's Uber driver ...
...texted that he was in lock-down, by Anjali.
Wry & Dry is worried.
Cheers
Anthony