Eternity in a dentist's chair. Assexit. Brexit extends.
Election campaign = dentist's chair
W&D will not be subject to the final hours of the closest experience to eternity-in-a-dentist's-chair: an election campaign.  And, instead, will be strolling around the streets of his forebears on 18th May.  Probably spending either time at the National Portrait Gallery or money in boutiques found by Mrs W&D in the quadrilateral bounded by Regent, Brook and New Bond Streets and Piccadilly. 
Readers know that there is little attractive about election campaigns.  Five weeks of unrelenting posturing, promising and self-promotion.  And that's just the media.   And perhaps a politician considering the possibilities.
Except W&D.  Of course.  W&D will take the intellectual high ground, in keeping with the profile of Readers.  And will start with:
Headlines We Won't See
Abbott admits, "I was wrong about climate change"
Pauline Hanson directs preferences to Greens
Morrison says, "Boatload of refugees off Brisbane" 
Clive Palmer claims victory in Queensland seat of Herbert (on 17th May)
Abbott admits, "I was wrong about Turnbull"
Bill Shorten says, "We will not take donations from the CFMEU"
Bowen promises four years' of budget deficits
And a Headline W&D Would Like To See
Melbourne's vegan protests lose momentum: activists weaken from iron deficiencies.
G & S had the first last word on elections
"I always voted at my party's call
And I never thought of thinking for myself at all." [1]
[1]  The First Lord's Song, from HMS Pinafore, by Gilbert and Sullivan (with thanks to MB, who often sang it).
Assexit? 
"He is a a narcissist who cannot get beyond his own selfish interest." 
With these words, a judge at the Westminster Magistrates' Court, last night held over fugitive Julian Assange on a charge of breaching his bail conditions.     
Readers will know that Assange has been on the run since 2012.  Well, err, not quite running.  But actually holed up in the Ecuadorian Embassy in London.  Ecuador gave him asylum.  But decided enough was enough after 2,487 days of not paying rent and cancelled it.  
This will reignite as a cause célèbre.  The US government is, as W&D writes, seeking Assange's extradition: he has been indicted on a single charge of conspiring to steal military secrets with Chelsea Manning, the former Army intelligence analyst who supplied thousands of classified documents to WikiLeaks.
Manning herself was sentenced to 35 years in the slammer.  But this was commuted to 7 years.  Manning was released in 2017.  But last month a judge sent her back to the slammer for refusing to testify to a grand jury investigation into WikiLeaks.
W&D's views on Assange are well known to Readers, noting their focus on Assange's record of behaviour that would obtain a podium finish with #MeToo.  And ignoring Assange's WikiLeaks activities. 
But for now, and for many months, Assange will bask in the limelight of celebrity.  See the Editorial, below, for those who will provide him with the limelight.
W&D would have preferred he stay in the Ecuadorian Embassy with his cat.
Another one bites the dust
There was always something magical about those British department stores: Harrods, Marks & Spencer, Debenhams, etc.
Some Readers sense that the British magic was lost when Harrods was sold to an Egyptian businessman, Mohamed Al-Fayad in 1985 [2].  He then onsold it to the Qatari sovereign wealth fund in 2010.  
The equally iconic Marks & Spencer is a company listed on the LSE.  Last year it announced that over 100 of its stores would close.
Debenhams is the UK's largest department store chain.  On Wednesday it announced that it was going into 'administration'.  The company was listed on the LSE in 2006.  And its share price since then has all the hallmarks of a lead balloon dropped from a great height.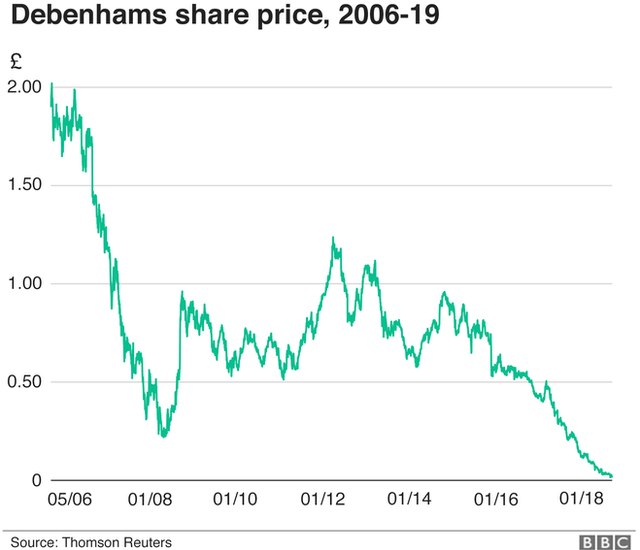 W&D has his fob watch out, counting the seconds before the first politician blames Debenhams' demise on Brexit. 
[2]  His son was a, err, companion of Diana, Princess of Wales.   
Whilst the world worries about Brexit ...
... W&D has been keeping a rheumy eye on Italy.  On Wednesday the government cut its GDP growth forecast for 2019 to a slender 0.2%.  And this is in an economy already in recession.
But, wait, there's more.  Readers will recall that the government had a drawn out and acrimonious battle with the EU over its budget deficit.  The EU reluctantly agreed to a figure of 2.04% of GDP, down from the government's starting position of 2.4%.
Well, it's now back up to 2.4%.  Pushing overall public debt to 132.6% of GDP - a post-war high.
But, wait, there's more.  Of course, all of this has a snowball effect.  Logically, debt/GDP begins to balloon, in chronic violation of the Maastricht treaty and EU requirements.  And forecast to hit 138.5% by 2024.
So, what's going on?
Readers will know that Italy is blessed with an unparalleled and rich blend of history, climate, geography and agriculture.  W&D thinks of the wine, weather and food.  And yet it is an economic basket-case, for a variety of reasons: regional and provincial tribalities; north/south divide; archaic political system; endemic corruption; under-employment of women; extraordinarily complex bureaucracy; etc.
Overlay all of that with the current national coalition government of (a) a populist party and (b) a far-right party.  Think of the coalition as a blend of a Rolling Stones concert and a Nuremberg rally.  What chance success?
Not much.  It's just one year into this contentious cohabitation and neither bed-mate has shown much ability to agree on how the bed should be made.   
It may take a while for Italy to unravel enough to make the news on Sunrise [3].  But, trust W&D, it will happen. 
[3]  A tabloid morning infotainment programme on Australian television. 
W&D editorial: Why Readers should ignore social media
W&D is intrigued by recent research.  Readers should review The Hidden Tribes of America Project. 
It is a fascinating insight into 'tribes' within the Yoo-Ess-Ay.  Click here to read it. 
And W&D posits that much of the research might apply to Australia.  Anyway, here is how it looks:
Readers will have to read the article to get the descriptors of the tribes.
Readers will also observe that Progressive Activists and Devoted Conservatives together comprise just 14% of the American population.  And yet it is clear, from across the Pacific and Equator, that the American media conversation has become a shouting match between these two groups.
Not surprisingly, these groups are the most tribal.  The distrust and fear of the opposing side drives many of the people in these groups, and they have especially negative opinions of each other.  They are also most unified internally, be it on immigration, guns, gay-marriage, etc.  Sound familiar?
So, why is it that this minority get all of the airtime?  Simply because, as the research puts it, polarisation has become a successful business model.  Media executives have realised that they can drive clicks, likes and views, and make money for themselves and their shareholders, by providing people with the most strident opinions.  This means that the most extreme voices - now matter how outlandish - get the most airtime.
Readers will know that it is this that delivers viral social media content.
And in a self-reinforcing cycle, the traditional media report on the extreme social media comments by the 14%.  The very phrase "it's gone viral", suggests both an imprimatur of accuracy and widespread acceptance.  Neither of which are likely.
The research went on to review the responses of Democrat voters.  The outspoken-on-social group of Democratic-leaning voters was comfortably outnumbered, roughly 2 to 1, by the more moderate, more diverse and less educated group of Democrats who typically don't post political content online. 
There are a great deal more fascinating insights.  But, W&D's simplistic outworking of this research is that too often political and business decisions are made in response to viral social media comments, that represent perhaps less than 20% of the population.
Do political and business leaders need to have more spine?  And ignore the noisy outliers?  
Baby Q&A 
W&D is acutely aware that many Readers are awaiting with some anticipation the birth of the child of the Duke and Duchess of Sussex [4].  And so has prepared a brief Q&A.
1. What place will the baby be in the line to be sovereign?  Seventh.
2. What title? If a son, probably Earl of Dumbarton.  If a daughter, Lady Mountbatten-Windsor.  Upon the Queen's death: Prince or Princess.
3. Where is Dumbarton? Scotland, population 19,000.  It was the capital of the ancient Kingdom of Alclud and today is the home to Ballantine's whisky. 
4. Will the baby have US citizenship?  Yes, providing the Duchess of Sussex has not renounced her US citizenship.
5. Can the baby become president of the Yoo-Ess-Ay?  Yes, provided he/ she lives in the Yoo-Ess-Ay for at least 14 years.  
6. If the baby becomes President of the Yoo-Ess-Ay and the six preceding sovereigns-in-line die, can he/ she become King/ Queen?  Yes, thereby enhancing the return of the former North American colonies to Great Britain. 
[4]  W&D can disclose that he has zero interest in this event. 
Brexit: Another extension 
The Brits have been given an extension of time until 31st October until they have to ask for another extension of time.  M Macron, President of France, played hardball, successfully advocating for a period shorter than the 12 months recommended.
W&D was this morning reminded of the Duke of Wellington's observation: "We always have been, we are, and I hope that we always shall be, detested in France." 
Readers will recognise what is happening.  Finally, the threat of a no-deal Brexit is looming.  And so the EU is being accommodating, knowing the damage that such a deal would do to its economies.  Germany and The Netherlands are especially vulnerable.
The question to ask, then, is why didn't the Brits prepare thoroughly for a no-deal Brexit from the start and use that as their negotiating trump card?
But it no longer matters.
W&D expects a northern summer of chaos, as one side of the House of Commons loses itself in the pit of personality politics and the other in trying to get its leader to make a decision.
W&D's view is now that (a) Mrs May should tell the bureaucracy to prepare for a 100% no-deal Brexit; (b) then she retires hurt; (c) ABB [4] takes over, with a view to telling the EU that it will be a no-deal Brexit unless Mrs May's original deal is varied to allow the UK to have free trade agreements with any other country without the EU's consent; and (d) if Jezza Corbyn doesn't agree then put it to they-the-people.
Simple. 
[4] Anybody But Boris (Johnson).
Sultan's weird idea of democracy
Readers will know that recently there were local elections held in Turkey.  And the Sultan of Turkey, Recep Tayyip Erdogan, said that the election was a referendum on himself.  Oops.  The Sultan's party, the AKP, lost in the capital Ankara; lost in the largest city Constantinople Istanbul and lost two of the three other largest cities.  The loss in Constantinople Istanbul was especially embarrassing for the Sultan, as it was in that city that he launched in political career as mayor. 
But never kick a Sultan when he's down.  He has now come out swinging and said, of the result in Constantinople Istanbul, "No one has the right to claim victory with just a 13,000 to 14,000 vote difference."  Hang on.  Surely it's a universal principle that a victory, even by one vote, is a victory.
Well, maybe not in Turkey.  The Sultan added, "We have detected organised crime and some organised activities".
Of course.  So, the AKP will appeal.  Not that W&D is going to suggest that the Electoral Commission is corrupt, but Readers should know that appeals about election results have varying degrees of success in Turkey, depending upon which party is appealing.  Only 18% made by the Kurdish Party are successful; a passable 44% by the main opposition party.  And a whopping 87% by the AKP.  
Sigh.
Snippets from all over 
1.  Down at the car wash 1
Uber, the 'ride-hailing' company is planning to raise $10 billion when it lists on the New York Stock Exchange in May.  
W&D comments: There will be much media fuss about Uber's value when it lists, with some suggesting over $100 billion.  Small problem: Uber has never made a profit and last year lost $3.3 billion.  
And Readers will remember W&D's recent prognostication about Lyft, the other ride-hailing company, the shares in which were listed at $72 two weeks ago.  Last night the share price fell to $61.  Ouch.
2.  Down at the car wash 2
Boeing, the maker of the two 737 planes that recently crashed, didn't book any commercial orders for its 737 jetliner in March, the first such month since 2012.
W&D comments: But Boeing has back orders for 4,625 737-MAX aircraft, valued at some $440 billion.  
3.  Airport wars
Size doesn't matter.  Err, no, not when it comes to airports.  
This week, Istanbul's Ataturk Airport closed and the massive $12 billion new Istanbul New Airport [5] opened for business. 
In September, Beijing's new $16 billion Daxing International Airport is expected to open.  But this airport is in addition to the Beijing Capital International Airport, the existing #2 airport in the world [6].  
W&D comments: The aim is for the airport to be ready for the 70th anniversary of the founding of communist China, on 1st October.  No problems with environmental or local council approvals in Daxing.  Or union problems.  When complete it will have taken a little over three years to build.  
[5]  Readers should wait for the name to be changed to Recep Tayyip Erdogan Airport. 
[6]  The #1 is Hartsfield, Atlanta, Yoo-Ess-Ay.  Sydney comes in at #46 and Melbourne's airport didn't make the top 50. 
4.  China bans mining
China signalled its intent to ban crypto-currency mining, the computer process that creates bitcoin, but in so doing consumes massive amounts of electricity.  It is estimated that the current global power consumption for the servers that run bitcoin's software is about the same as used by Ireland.   
W&D comments: Gotta save that electricity to power all of those electric cars.
5.  Trading emissions 
Fiat Chrysler (a maker of diesel and petrol vehicles) has agreed to pay Tesla (a maker of electric vehicles) hundreds of millions of euros so the electric car-maker's vehicles are counted in its fleet in order to avoid large fines for breaking tough new EU emissions rules.  

W&D comments:  It's just not cricket.   
Tool of the Week 
Podium finish goes to ... Boeing, the manufacturer of the 737 MAX aircraft that has had two recent crashes, one in Indonesia, the other in Ethiopia.  This morning, it has just been revealed that before the Ethiopian crash, the company said in a legal document that the 737 MAX "cannot be used at what are referred to as 'high/hot' airports."
Err, hold the phone.  At an elevation of 7,657 feet (2.33 kilometres) Addis Ababa's Bole International Airport seems to fall into that category.
What is going on?  
Deepak, W&D's Uber driver...
Didn't turn up.  He emailed W&D to say that he was in India, campaigning in the Indian elections.   
Publication dates
Readers, please note that arrangement for the upcoming public holidays and W&D holiday arrangements are:
Thu-18-Apr - published (day before good Friday)
Fri-26-Apr - not published (day after ANZAC Day)
Fri-3-May - published
Fri-10-May - published
Fri-17-May - published
Fri-24-May - W&D on vacation
Fri-31-May - W&D on vacation
Fri-7-Jun  - W&D on vacation
Fri-14-Jun - published
And, to soothe your troubled mind ...
Miscellany 
Last words ...
"This is unlawful.  I'm not leaving." 
 -  Julian Assange, on being carried out of the Ecuadorian Embassy, in London, where has been been since 2012.     
He left.  "With his head held high.  And his feet held higher." (With apologies to The Goons).
First Samuel client events calendar
Events for 2019

Eat Street

Invitations sent on Tuesday 2nd April

21st May 2019 - The Sofitel Hotel

NGV Viewing and Cocktail Night

Invitations not yet sent

25th June 2019 - NGV 

Contact Jess at responses@firstsamuel.com.au to RSVP

Some lightly salted absurdities from all over ...
Just to keep Readers thinking I
Just to keep Readers thinking II
Choose the real Tsar of All Russians
Cheers
Anthony