White coats. China's slow growth. Prudential Labrador in the doghouse.
People in white coats
W&D is most concerned about I-Wanna-Seem-a-Bigot-And-I-Don't-Care-Trump.  Sending a barrage of insulting and xenophobic tweets about four admittedly extreme and self-indulgent virtue-signalling congresspeople (a) gave oxygen to their meandering causes and (b) was the latest in an increasing display of his increasing insanity.
This is worrying for W&D.  Normally, the family of person like this would quietly call for men people in white coats to arrive at the back door in the middle of the night, have him sedated and noiselessly taken away to be kept 'at Her Majesty's pleasure' or whatever is the equivalent in the Yoo Ess Ay.
Prarblem is that this person is the President.  And people would see the men in white coats and their vehicle.
But it is clear that whatever has to be done, has to be done within the White House.  And quickly [1]. 
Readers will recall the latter years of Ronald Reagan's tenure, when the ailing president allowed his wife to control matters by use of Tarot cards and other well regarded decision making processes.  But this is a different age.  I-Wanna-Seem-a-Bigot-And-I-Don't-Care-Trump is stuck to his mobile phone and his tweeting addiction.  His thumbs hit the keyboard with his base and basic thoughts before Melania can stop him.
W&D's solution?  This toy phone from mothercare.com is available for about $20 (can be purchased on-line, credit cards fees apply, but no Amex).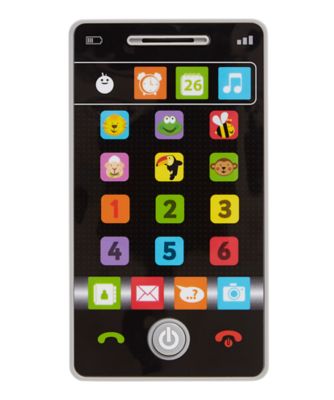 I-Wanna-Seem-a-Bigot-And-I-Don't-Care-Trump can tweet all he likes.  And his tweets will remain silent.
And the world will think that he has been cured of his insanity.
[1]   " If it were done when 'tis done, then 'twere well It were done quickly."
Macbeth, by Will Shakespeare. 
APRA EOF (egg on face)
Readers will be aware that the government commissioned a 'Capability Review' of APRA, its own regulator of the prudence of Australia's financial sector.  The Capability Review was scathing of the Prudential Labrador, deciding that it was:
'slow, secretive, timid, opaque, inefficient and intervened in the market in ways that dampened competition and entrenched the dominance of big banks and other financial companies'.  
The Prudential Labrador has been asleep in his kennel.
Readers will recall that the Prudential Labrador had an amazing track record of non-activity that would make a parliamentary back-bencher blush.  In 11 years just one person in the financial services industry was disqualified.  And zero court proceedings commenced against any organisation in the superannuation sector.
The Chair (i.e. the chairperson) of APRA (on a comfortable $886,000 p.a. plus perks), in spite of being responsible for not ensuring prudence in Australia's financial sector (see the 159,510 words of the Report of the Royal Commission into Financial Services), chose not to give himself the DCM (he was appointed for another five years last November).  Rather, he locked his mahogany door and refused to give a full media conference.
This was sort of weird.  Well, actually it was weird, as the Capability Review blasted APRA for, inter alia, its lack of strategic communications.
He did give a telephone conference, though, and said that the Prudential Labrador "lacked ... the tools to punish superannuation funds" for being imprudent.  "We will have to think differently about how we deal with those. We have to think about other incentives to try."
"Other incentives!"  Stone the crows, old son!  Why not just remove a recalcitrant superannuation fund's licence to manage superannuation?
But he did proudly point out that APRA had gender diversity at its general manager level, with "almost exactly 50-50."
Whew.
RDS
PM Jimmy Morrison gave Michael Sukkar the Housing Ministry because he was sure it's one of those portfolios in which a minister just cannot look ridiculous.  
Well, the minister has proved the PM wrong.  Unable to any longer contain his sense that "I-must-say-something-that-lets-people-know-that-I-am-a-minister", he broke his silence with a media release urging first-home buyers to "try to snap up property now" and warning that "housing prices are likely to increase."
What's going on?  A federal minister spruiking housing like an energetic real estate agent short of his monthly sales' target. 
Sigh.
Greed
W&D's father was one for pithy sayings.  Such as "sometimes a girl's just got to cry" or "you need three people in your life: a good accountant, a good lawyer and a good butcher."
Events this week brought back one of his more obvious saws: "never stand between a will and a relative".
News is that a legal battle is about to unfold over the multi-million dollar estate of former PM Bob Hawke.  Apparently, his daughter, Roslyn Dillon, is about to line the pockets of lawyers with dosh from her late father's pile.  This is in an attempt to get more than provisions made to her during his lifetime.
The Silver Bodgie's body would be turning in its grave.
Diversity
Readers know that vaaaast amounts of dollars are spent on the US presidential campaign.  But large sums are also spent by wannabes trying to get nominated by their party to be the candidate.
So far wannabe Democrat candidates have raised some US$124m to spend on getting the thumbs up from party members. And the opportunity to beat I-Wanna-Be-President-Again-Trump in 16 months time. 
Millions more will be raised before the convention to choose the Democrat candidate (to be held in just on 12 month's time, in Milwaukee, Wisconsin). 
This is a waste of money.  W&D suggests the candidate should be chosen by a panel made up to reflect the demographic diversity of the Yoo Ess Ay.  This is the Democratic Party core values in operation.  So, the panel consist of:
49% male, 51% female, 73% white, 13% black, 5% Asian, 16% aged 65+, 52% aged 25-64, 13% foreign born, 4% non-heterosexual, 51% Protestant, 24% Catholic, 3% Jewish, 16% no religion, 2% 'rich', 46% earning $57,000+, 40% earning $26-$57,000, 12% earning < $26,000, 4% unemployed, 10% left-handed, 42% passport holder, 4% colour blind, 27% university educated, 25% cat owners, 38% dog owners and 1% flat earth believing.  
How could a candidate chosen by such a panel possibly lose?  
Non-binary holes
At a Tuesday night city council meeting, Berkeley, California, eliminated the gendered connotations of words like 'manhole' in the city municipal code.
No longer will the streets of fair Berkeley be dotted with manholes, and not a person-hole, woman-hole or nonbinary-hole in sight. With Tuesday night's vote, they have all been transmuted into 'maintenance holes,' that highest, hardest glass manhole-cover finally shattered.
Blackout 
Readers would have read that a hunk of New Yoik city plunged into darkness on Saturday. 
Con Edison, the power provider, blamed an electrical problem.  Yes, there wasn't any.
Unclear on the concept
Iran's recent breaches of the 2015 nuclear deal are not significant and can be reversed, the European Union's foreign policy chief says.
"We invite Iran to reverse the steps and go back to full compliance," Federica Mogherini said on Monday.
Invite?  So when is a breach significant?  What's the point in having a metric and then ignoring its breach?
Sigh.
Snippets from all over 
1.  Boeing 737 Mini
Ryanair and American Airlines have each extended Boeing 737 Max cancellations, into November.  But American Airlines "remains confident that impending software updates, along with the new training elements, will lead to re-certification of the aircraft this year." 
W&D comments:  Pigs will fly this year before the 737 Max does. 
2.  US company profit reports: gloomy 
US company profit reporting seasons opened this week, with expectations of the second successive quarter of negative profit growth:
Over the last 18 months, the S&P 500 index has been driven by tech stocks, with other major sectors, such as financials and energy, flat or negative.
Charts source: The Economist
W&D comments:  Deja vu all over again.
3.  Netflix flicked
An early cab off the reporting rank was Netflix.  The company revealed that it had lost subscribers in the US for the first time since 2011, as customers defected after price rises of as much as 18 per cent earlier this year.  It's share price fell 12%.
W&D comments:  It's a competitive world: Disney, Apple, AT&T and NBCUniversal are coming to movie streaming.  And Netflix is trading on a P/E of ... 105! 
4.  Singapore: canary in the coal mine?
Singapore's exports, already in double-digit decline for three straight months, fell again in June.  Non-oil domestic exports were down by 17.3% on the year before.  This is the worst in six years.
W&D comments:  If Readers were in any doubt that the US-China trade war is having an impact on Asia, say no more.
5.  China's economic problem
China's economy slowed to the weakest pace since quarterly data began in 1992: GDP rose 6.2% in the June quarter, from a year earlier and below the 6.4% of the March quarter.
W&D comments:  Don't person the lifeboats, yet.  Domestic demand remains robust.  And ...
And, to soothe your troubled mind ...
Miscellany 
Last words ...
"Unfortunately, that's the game we play.  Those things happen from time to time."
 -  Kane Williamson, captain of the New Zealand cricket team, after losing the World Cup because of a bizarre bureaucratic rule that no-one who has played serious cricket believes is fair.
Part of one of the more gracious losing speeches made for a world cup, of any sport.  A really sporting England captain would have offered to share the trophy.  But as the winner's purse was US$4,000,000 and the Poms are, well, hard-up ...    
A lightly salted absurdity ...
Deepak, W&D's Uber driver ...
…. grumbled as W&D opened the door. A two-toothed, grinning Amulya peered out from the baby seat as W&D tentatively climbed in. He narrowly avoided a garishly coloured elephant. 
"Got company today, Deepak?" W&D asked somewhat amused.
 "It's a disaster Mr. W&D, I've just dropped Anjali at the university, for the fourth time this week" he wailed.
 "So, you are now building the backyard Taj Mahal for your mother-in-law, and offering childcare for your wife? W&D chuckled. 
"I'm doomed! And worse still she is doing a subject on crypto-currencies.  But she'll never pass," Deepak chuckled hopefully. 
"Why is that?" W&D asked, raising his eyebrow. 
"She thinks it's all about buying cars!  She goes on and on about fiats and how you can sell them without borders and globally priced too," Deepak announced. 
Deepak lowered his voice for full effect, "Everyone knows the Fiat is a disaster, why my uncle even had a Fiat tractor back in India. It never left the shed!  Indeed, "Fix It Again, Tony". 
W&D sighed, wondering if to enlighten Deepak or not.  Amulya suddenly reached out her hand waving madly at W&D to get his attention.
"Amulya," W&D turned to the obviously intelligent child.  "Your mother, unlike your papa, has little interest in cars, particularly Fiats. Your mother is speaking of 'fiat currencies', which are legal tender authorised by a particular government.  Crypto-currencies, while not a typical fiat currency are not a commodity either.  They really need a new category of their own as they are not authorised by a government and as your mother rightly says, they function beyond borders and are globally priced."  
W&D pressed on, "The problem is that this new type of currency could mean that reserve currencies no longer are the benchmark for trade. That's why the man with the ridiculous hair got so upset this week, tweeting like a Big Bird on Sesame St.  Do you know Mr Trump, Amulya?"
"Trunk!" Amulya cried, waving madly.
"Trump," W&D corrected gently.
"Trunk!" the child, pointed to the toy elephant seated between them.
"Ahh, Sir Donald Trunk, how could I be so stupid" W&D chuckled, delighted with the banter.
Amulya giggled. "Stupid, stupid, stupid," she cried, her chubby hand waving uncomfortably towards the front seat. Deepak glared as he slowed to a stop.
"Her mother's daughter," W&D announced as he happily alighted, a twinkle in his rheumy eye.
First Samuel client events calendar
EVENTS FOR 2019
First Samuel Annual Forum
Tuesday 24th September
with Special guest
Hon Josh Frydenberg, MP, Federal Treasurer

Official invitation will be sent next week


Chief Investment Officer Dinners
Interstate Invitations - Sent
Melbourne - Invitations to be sent early next week - see the table below for dates that are now confirmed
Contact Jess at

responses@firstsamuel.com.au

to RSVP your preference of venue
| | | |
| --- | --- | --- |
| Venue | Seating | Date & Time |
| Elyros | Lunch | 27th August 12pm |
| Melbourne Venue TBC | Dinner | 27th August 6pm |
| Stokehouse - St Kilda | Lunch | 28th August 12pm |
| Chin Chin - Melbourne CBD | Dinner | 10th September 6pm |
| The Botanical Hotel - South Yarra | Lunch & Dinner | 11th September 12pm & 6pm |
| Stokehouse - St Kilda | Lunch | 17th September 12pm |
| Mornington Peninsula Venue | Dinner | 17th September 6pm |
| Elyros- Camberwell | Lunch & Dinner | 18th September 6pm |
Cheers.  
Anthony