Rooting for Barnaby. Made for television. RBA teller fesses up.
Rooting for Barnaby
Wry & Dry was really rooting for Barnaby.  Had the beetroot-faced and -shaped maverick won leadership of the National Party, he would have again been Deputy Prime Minister.  Aaaaggghhh!
Instead of the dull ennui of Michael McCormack (as the cricket scorers might ask: "bowlers name?"), all of Australia would once again feel the thrill of uncertainty as Barnaby would rise to speak.
What words of idiocy would escape those ravaged lips?  What syntax would emerge that would cause English teachers across the nation to cite his words as examples of incomprehensible use of the language.  What claims about climate change would be made that would cause an outpouring of indignant fury from journalists at the Age and ABC?
Sigh.  An opportunity lost.
But all is not lost.  Last night, Beetroot Barnaby announced that because none of his supporters were promoted to Cabinet, he would create a rebel group (of three) that might cross the floor and block government legislation.
Wry & Dry dips his lid to any man who selflessly takes a stance for what he believes.   Trouble is Barnaby only believes in... Barnaby.  And the dosh he might get from Sixty Minutes. 
Made for television
The symbiotic relationship in the Yoo Ess Ay between television and Uber Eats has at the one time increased the girth of Americans and the companies' profits.
And what better way to increase profits all round than to have a television event that lasts 5 months.  One that has the thrill of victory... and the agony of defeat... the human drama of athletic competition.  This is... the US presidential primaries.  This state-by-state arcane, complex, divisive and unrepresentative method is used by the major political parties of the Yoo-Ess-Ay to choose a candidate for President.
The TV stations love it all.  The candidates buy time and the advertisers buy time (as the demographics of the political viewers are predictable). And this is not like a test match, tennis tournament or Olympic Games.  Readers will know that 161 days span the formal opening the ballots (in Iowa, last Monday) to the eventual selection of, for example, the Democrat candidate (on 16 July, in Milwaukee). 
Readers also might well observe that it is ridiculous that the anointed Democrat candidate then has even less time - 131 days - to persuade the voters of the Yoo Ess Ay that he or she deserves to be president.
Readers will know that this has nothing to do with democracy - it's about made-for-television reality TV.  Wry & Dry is surprised that Netflix hasn't bought the rights to the whole damn thing.
But not in Canada
Readers will be aware that Canadian Prime Minister M. Trudeau is no lover of free speech, except his own, much less unregulated media.  So it seems that he now wishes to licence the media in Canada.  'Licence' is politico-speak for tax and regulate.
Readers will also know that in the Prohibition era in the Yoo Ess Ay, an active and highly profitable industry emerged: among others, the smuggling of alcohol from Canada. 
Will Readers now see a sort-of Prohibition outcome in Canada?  That is, the smuggling of media content across the border from the Yoo Ess Ay.  The trouble for M Trudeau is that it might be easier to smuggle media content from the Yoo Ess Ay than a wagon of whiskey the other way.
One of the recommendations of a media committee was that the new laws would allow the regulatory body to identify news sites that are "accurate, trusted and reliable" to enhance the "diversity of voices."
Wry & Dry can see where this will end.  
Unbelievable statistic of the week
I-Want-Another-Four-More-Years-Trump's approval rating hit almost 50% this week, according to a Gallup Poll.  This is the highest since he took office.  
Wry & Dry is not sure how House Leader Nancy Pelosi's approval rating will go after she tore up I-Want-Another-Four-More-Years-Trump's State of the Union speech as he spoke it.
RBA teller fesses up
The investment news of the week was not that Dr Lowe, the Chief Teller of the RBA, decided to leave Australian interest rates unchanged - although that got headlines behind corona-virus, Barnaby, Bridget, Buttigieg and... I-Want-Four-More-Years-Trump.
It was that Dr Lowe admitted that low interest rates may force investors to take on more risk and in so doing drive share price valuations to extremes.  
Err, hello!  It might be punnish of Wry & Dry to observe that for a banker the penny had dropped.  But he will.
Walk with Wry & Dry a while, Dr Lowe.  Smart and not-so-smart people have been saying this for 12 months.  Even Jerome Powell, Federal Reserve (the US equivalent of RBA) Head Teller, last month warned that asset prices had become 'somewhat elevated'.  Which is public servant-speak for "through the roof".
In plain language that Wry and Dry understands, this means that investors are forced to roll the dice on riskier assets in a low-yield world.
Readers might consider that the ASX Industrials Index [1] is trading on a P/E of 19.3x, its highest level since 1960.  1960 was also the second last time that Melbourne Football Club won a premiership, so Wry & Dry knows that is a long, long, long, long time ago, indeed. 
But wait, there's more.  As investment bank UBS pointed out yesterday, the CBA is the developed world's most expensive bank, trading on a P/E of 18.3x.
Still, that is not as ridiculous as the share price of Tesla...
[1] Which excludes miners and financials.
Tesla's stock price electrifies
Is Tesla's share price another Bitcoin 2017? 
That is the question that Wry & Dry is asking anyone who is listening.  The stock is up 52% in 5 weeks, that is even after Wednesday's 23% fall.  This is ridiculous.   
Older readers will remember an Australian nickel exploration company called Poseidon.  It was in September 1969 that hysteria started.  The share price went from $0.80 to a peak of $280 in January 1970, before crashing back to earth with all the verticality of a Barnaby Joyce failed leadership bid.  
As for Poseidon... ah, those were the days.
Speaking of EVs...
...the UK will now ban all petrol, diesel and hybrid new cars from 2035.  This is five years earlier than previously announced.
Borisconi is clearly of the mind to set ambitious goals, urge people to meet them and let people sort it out for themselves.  Nice work.
The problem is, of course, a two-fold supply issue.  And a revenue issue.
Firstly, electricity supply: the electricity required to charge all the new cars in the UK will require new power sources.  Especially base-load, as people charge their cars after getting home from work.  Technology and costs might improve in 15 years, but otherwise, anyone for more nuclear power stations?
Secondly, metals supply: significant new deposits will need to be found.  Wry & Dry is thinking of rare metals such as cobalt and lithium used in batteries for the electric vehicles and copper for the wiring.  
As for revenue, the UK government receives some £28 billion per annum from fuel taxes.  These taxes are more or less hidden in the price of fuel, and so motorists probably are not aware of their existence.  As EVs are phased in with what is to replace fuel taxes?
Wry & Dry dips his lid to Borisconi for his vision.  Which seems to be lacking in countries in the southern hemisphere that also have the Westminster bicameral system.
Changing energy mix
Wry & Dry is a keen observer of energy-source trends.  And came across a couple of charts that Readers might find interesting.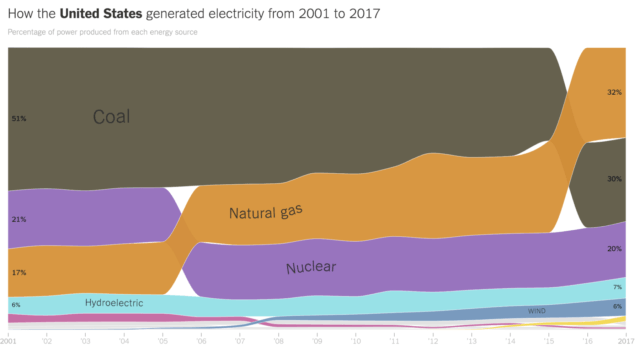 Unclear on the concept
The annual Washington Prayer Breakfast is a Christian forum for the political elite and also business and social leaders in the Yoo Ess Ay to meet and pray together.  It is not a forum for partisan politics.  Or, indeed, any politics.
Err, until now.  I-Want-Four-More-Years-Trump took the dais at the Prayer Breakfast yesterday and slammed into the Democrats, House Leader Pelosi and Mitt Romney, the only Republican to vote for I-Want-Four-More-Years-Trump's impeachment conviction.
Wry & Dry has a lot of time for Romney - who, like the late John McCain, has a strong sense of integrity.   But little time for the shambolic Democrats and less time for the time-serving Pelosi.  But nonetheless, I-Want-Four-More-Years-Trump's extraordinary personal attack confirmed, if there was ever any doubt, that the man has no Christian faith.
Many might find it difficult to follow Paul's exhortation, to pray "...for all those in authority, so that we might lead tranquil and quiet lives in all godliness and dignity." [2]
[2] 1 Timothy 2:2
Winning by others falling over I
Readers will remember that it was in the middle of last year that Wry & Dry bravely announced that Amy Klobuchar was his preference, and indeed tip, for Democratic challenger to I-Want-Four-More-Years-Trump.
Well, now that the first primary is over (Iowa) it seems that Amy polled a lot better than expected.  The simple way that Wry & Dry sees it is that Pete Buttigieg will keep on winning or near winning until there is a primary in a southern state.  And at each primary Sleepy Joe Biden will fall further behind.  His supporters will drift to either Bloomberg The Billionaire or Amy.  Bernie the Socialist and Elizabeth the Earnest will chew up each other, with Bernie winning.
When it becomes clearer that centrist Southern Democrats don't want Buttigieg and don't like Bloomberg, their votes will swing to Amy.  Sooner or later, people will realise that Bernie is unelectable.
Conclusion: Wry & Dry predicts that Amy, like Steven Bradbury [3], will sail through as all her opponents fall over.
[3]  Bradbury won the 1,000m speed skating event at the 2002 Winter Olympics after all his opponents crashed ina laster corner pile up.  See link here
Snippets from all over 
1.  Apple watch
a.  The Apple Watch outsold the entire Swiss watch industry in 2019.  
Wry & Dry comments:  An ultimately useless statistic, falling for the trap of comparing apples with jewellery.  

2.  Retail blues
Macey's, the iconic US department store chain, is to close 125 (or one fifth) of its stores. 
Wry & Dry comments:  It was tempted to blame global warming, but stuck with online shopping as the culprit.   
3.  Ford backs up
Shares in Ford motor fell 10% after it reported a disappointing 2020 outlook.

Wry & Dry comments:  And that is before factoring in any outworking of the coronavirus.
4.  Oily
The price of oil slid by 16% to $51 a barrel in January.  And the share price of Exxon Mobil fell to its lowest in 20 years.
Wry & Dry comments: The former is about China and coronavirus.  The latter has those problems plus longer term (20+ years) oil demand issues.
5.  The Hummer is back
The Hummer, the military-style SUV that was discontinued in 2009 with a sour reputation for polluting the planet is to be resurrected as an all-electric "super truck".  It will be ready for sale in late 2021.
Wry & Dry comments:  Next will be an electric fork.  To match the electric knife.  Sigh.     
And, to soothe your troubled mind ...
Miscellany 
Last words ...
"Sadly, Romney's decision was unsurprising as this display of self-serving political expedience has come to define his political career."

 -  White House 'Talking Points', issued after Senator Mitt Romney voted to find Trump guilty as impeached. Romney was the only Republican so to do.
Of course, Trump is never guilty of 'self-serving political expedience.'   
A lightly salted absurdity ...
Deepak, Wry & Dry's Uber driver ...
..greeted Wry & Dry with a yawn as he opened the door of the jalopy and Wry & Dry shuffled in alongside a large, and well-travelled suitcase.
"Sorry, it belongs to The Crocodile, Damshi, my mother-in-law. It's the last one, I didn't have time or motivation to drag it inside last night. She doesn't seem to understand the 30kg limit thing or that one suitcase is enough for one week," Deepak groaned, rolling his eyes.
"Speaking of which, did Damshi come home from her luxury retreat in Fiji with anything of the scaled varietal? Handbags, belts, or a wallet perhaps for her favourite son-in-law?" Wry & Dry said, giving the suitcase a friendly but curious prod. The smallest plume of dust emerged from the zip.  He sensed a not unpleasant but oddly earthy scent for a woman with such distinction and class. 
"No croc handbags, but Anjali said there was a huge fuss going through customs. And when my mother-in-law finally came out, she looked like a thundercloud and was muttering things in Hindi I would rather not repeat," Deepak chuckled.
"I see," said Wry & Dry, his curiosity aroused.
"She did bring back this very special tea that she found in a traditional Fijian market, just for me. In fact, Mr. Wry & Dry, I feel just a little guilty' maybe I have misjudged The Crocodile somewhat."
"How so?" asked Wry & Dry, with suspicion.
"Well, my mother-in-law was so kind last night. She brewed the tea and wouldn't let anyone else touch it. When Anjali tried, she got very cross indeed. It was for men of the world, she said. And, as I was the head of a growing household it was part of a mother-in-law's role to tend my needs," he puffed out his chest and then forged on.
"From now on The Crocodile said she would make me my special tea every night. To be honest, it doesn't taste great, but I haven't slept like that in years, and the evening just drifted by in a haze."
"We're here" quipped Wry & Dry as Deepak overshot the stop. He then backed up the car and nudged a signpost with a loud thud. On impact another plume emerged from the suitcase showering Wry & Dry's trousers in a fine powder.
"Bhains ki aulad," Deepak muttered as they both clambered out; "it means son of a buffalo, if you are wondering."
"I'll try to remember," said Wry & Dry, as his rheumy eyes travelled on a vertical trajectory, from Deepak's suit, slightly shiny from over-zealous ironing and down to his shoes; a brand-new pair of garish multi-coloured crocs.
"A curious combination Deepak" said Wry & Dry, thinking out loud.
"Psychedelic man, the mother-in-law bought them for me from in that Fijian market where she got the tea. Bet they're fakes," laughed Deepak as he inspected the damage to his rear-end.
And with a clunk in Wry & Dry's cognitive functions, it came together. That's not all Damshi bought from the market, he thought. 30kg of kava, that should keep Deepak subdued all year! He dusted the kava from his trousers and laughed heartily as he sauntered down the road.
[from the quill of Mrs Wry & Dry]
Cheers
Anthony 
First Samuel client events calendar
EVENTS FOR 2020
First Samuel Chief Investment Officer Events
"Managing for a Low-Interest Rate Future"
Most events are at full capacity. 

Please call Jess on (03) 8610 9222 if you need to cancel or make other arrangements 
11th Feb - ARIA, Sydney
12th Feb – Elyros, Camberwell
13th Feb – VITA, Kew
25th Feb – Chin Chin, Melbourne CBD
26th Feb - The Botanical, South Yarra
27th Feb – The Botanical, South Yarra
(Lunch & Dinner)
5th March – Stillwater, Dromana