Share-market jitters? Raking the Finnish forests. Men are better at...?
Share-market jitters: Wot? Me worried?
W&D feels obliged to open the batting with some comments about the current conniptions in the share-market.  This is the worst 5-month start to a fiscal year since 2011, when the ASX returned -8.2%.
Readers will know that 12 months later (i.e. 12 months to Nov-12) the ASX then returned 13.1%.
So W&D is not concerned: he has a 5-year plus investment horizon.  So why worry about 5 months?
But some Readers might be getting the jitters.  If so, once finished reading this edition of W&D, such Readers should click on the link and tuck into the comments from investment colleague Fleur.
The real jitters...
...are in the Peoples' Democratic Socialist State of Victoria.  We-the-people (Victorian division) go to the polls tomorrow. 
Sigh.
Chairman Dan will win, comfortably.  For all his sins.
W&D's question will be over the next four years what will be hidden beneath the publicity and excitement of the infrastructure construction boom?  Some Readers, for example, have expressed concern to W&D that Victoria will follow Tasmania's proposed-and-almost-legislation to have gender neutral birth certificates.  And the ability for people to change gender by statutory declaration.
W&D isn't worried by this.  It will be boon for failed AFL Women's League players to switch gender and play for the AFL.  Eddie McGuire [3] will be all for it...
Oh, Death.  Where is thy sting? 
Trump brings out the crowds
W&D has to dip his lid the Tarzan Trump.  The lad wasn't even running in the recent US 'mid-term' elections.  And yet his hectoring brought out the highest turnout for mid-term elections for 104 years.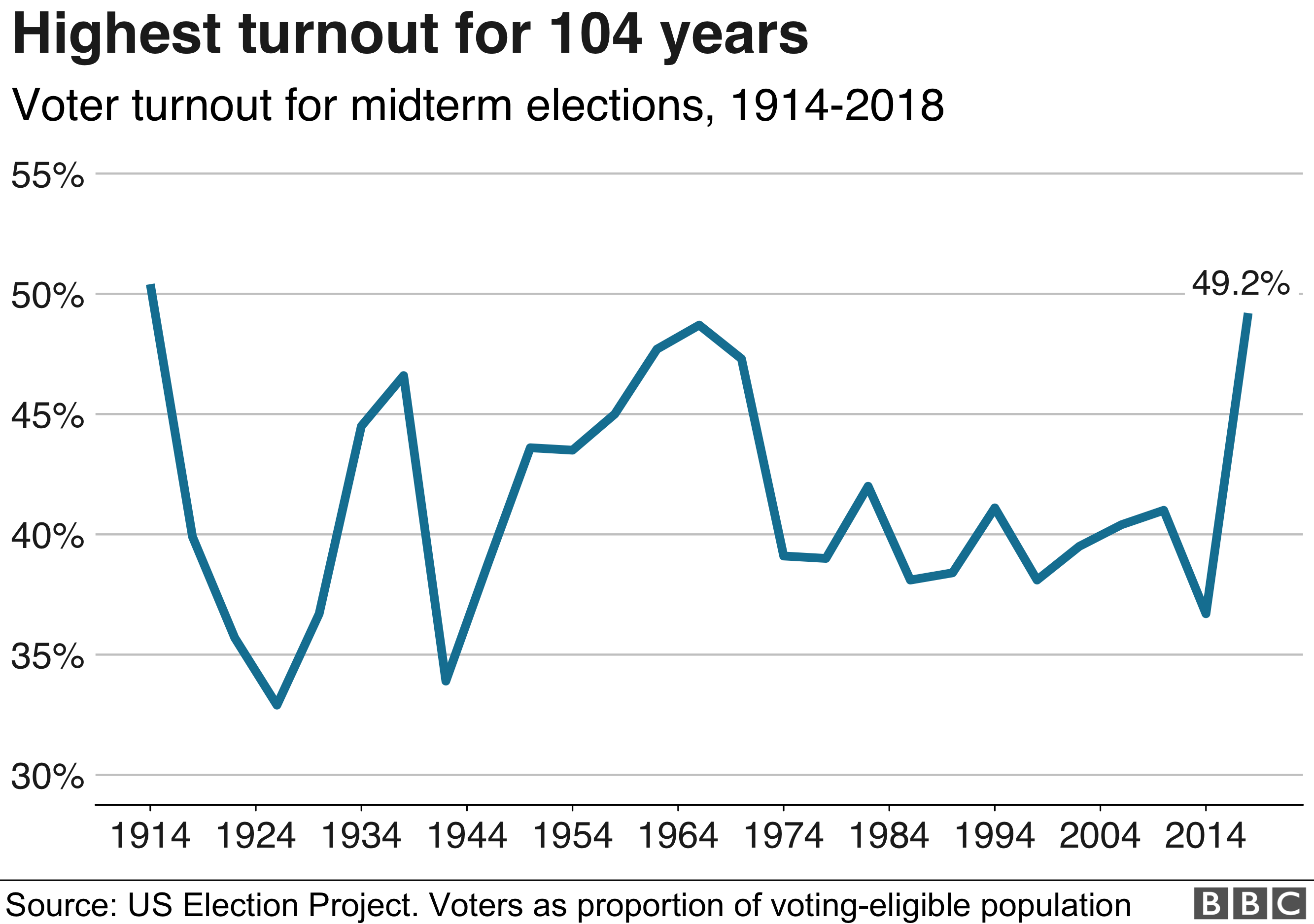 But it is 1914 in which W&D has interest, not 2018.  What brought out the voters as the First World War got underway?
Well, Readers will know that 1914 was the first election after the passing of the 17th amendment to the US Constitution.  And that that amendment established popular election of Senators by they-the-people of each state, rather than election by state legislatures.
And so they-the-people turned out in droves to exercise their right to vote for new senators.  But it didn't affect the election outcome: the Democrats retained control of both houses of Congress.        
The reasons for the constitutional change were many, not least of which was, this being the Yoo Ess Aye, that individual state legislators were easier to bribe than the entire adult population of a state. 
W&D considers that nothing has really changed.  The bribery has been replaced by pork-barreling.
Man are just better at...
W&D continues to encourage equality for the sexes, in every way.  He used to think that, given a level playing field, women and men would compete equally, and the outcomes not show statistically significant success towards one sex over the other.
Readers will know that W&D has deeply pondered this issue.  And is curious about the evermore widely used term 'gender harassment' to explain women's success in some fields being less than that of men. W&D has always found this weird.  And suggests that there are just some things at which women are better than men.  And vice-versa.   It's a question of biology.
And as evidence, W&D points to one area where there is a level playing field and yet men absolutely dominate women.  Scrabble.  Notwithstanding that 83% of Scrabble players are women (source: board-game maker Hasbro), only 2.5% of Scrabble championship winners are women.  And all eight finalists in this year's world championship were men. [1]
To put in jargon, 'gender harassment' does not explain the lack of 'gender proportionality' in Scrabble.  It's simply that, as a population, women are not as obsessively driven as men in, for example, nailing down useless facts.  Or admitting they have the facts wrong.  How many male readers have driven for hours, lost; but refusing to use satnav because they "know the way".  W&D, for example... oh, never mind...
Economic forecasting, Chinese method
Readers will be aware that China's Communist Party, beset by slowing growth, a trade war and a weak stock market, is taking steps to ensure that those who predict the economy's direction for a living take the state's interests into account. 
The head of the securities regulator met in Beijing with representatives from more than 30 brokerages and fund firms. His message: economists should strive for "higher-level thinking" and take into account the interests of the Party and the country when publishing research, so as not "to mislead market participants". 
Economists have always said, "On the one hand...  But on the other hand..."  But not any more.  Beijing will now tell them which hand it is to be.  That is, what the forecast should be. 
Perfect.  Why have 30 economists when just one will do.
W&D Readers heard it here first...
..a few weeks back.  The 'it' is the scandal engulfing the venerable Wall Street investment bank: Goldman Sachs.  It has to do with Goldman's questionable role in the raising of some $6 billion of debt for a Malaysian government body.  And a mere $4.5 billion of that has gone missing.  Readers will be aware that already two former Goldman Sachs' Managing Directors have been charged by US prosecutors. 
Well, now the fit has really hit the Shan.  An Abu Dhabi sovereign wealth fund has sued Goldman Sachs over the scandal, accusing the US bank of bribing its officials during a "massive global conspiracy".  And it's not as though Abu Dhabi doesn't have deeper pockets than Goldman's.  
2018 has been a bumper year globally for the legal profession.  2019 will be even better.
Snippets from all over 
1.  What is the collective noun for Maseratis?
The PNG government purchased 40 custom-made Maseratis for last weekend's APEC meeting in Port Moresby.  And at least a dozen didn't leave the warehouse.  Much outrage at the expense.
W&D comments:  Outrage?  Piffle.  The issue shouldn't have been about the cost.  PNG is a part of the British Empire.  Where were the Aston Martins or Range Rovers?  Or even a Mini?   
2.  Bitcoin: now that's a rout
Bitcoin, the initial crypto currency, is now trading at USD4,000, a 25% fall this week.  And almost 80% in less than 12 months.
W&D comments: Oh, dear.
3.  Meanwhile, back at the Forum
The European Commission and Italy have escalated their stand-off over Rome's expansionary budget.  A process has therefore begun to impose fines on Europe's fourth largest economy. The fines could total 0.2% of GDP (i.e. about A$500m).  
W&D comments:  This is farcical.  The EU doesn't want another Greek-style crisis.  But Italy's belligerence is driving it that way.  And, in any case, both Italy and the EU miss the point.  Italy's problem is based not on reckless spending, that is just a consequence.  The problems are rooted in appalling productivity, a scheloric local government; regional government quasi-sovereignty and outdated work practices.  And weather, food and wine that does little to motivate people to change.  
4.  Down at the car wash
Readers will know that following the recent US elections, the Democrats control the House.  And, as such, with a majority of votes, get to select the Speaker of the House, a powerful role.  The former Democrat Speaker, Nancy Pelosi, has put up her hand again.  But it's a wrinkled hand, her detractors say.  She is aged 78.
W&D comments:  The Democrats have a problem.  They don't need a civil war.  But Nancy, for reasons unfathomable to W&D, is not seen as a leader of tomorrow.  At least 16 Democrats have signed a letter saying they will not vote for her.  But if the House Republicans are really, really smart, they will vote for Nancy, thus (i) ensuring her election; and (ii) locking the House Democrats to what is seen as an ageing, 20th century warrior who fights yesteryear's battles.
5.  They the people ...
... of the UK want Prime Minister May to stay: 46% giving her the thumbs up and 34% the DCM.
W&D comments:  A week is a long time in politics [2].  Seven days ago the numbers were more-or-less reversed.
6.  Nice work.  If you can get it.
Readers may have seen that Denise Coats, the joint CEO of gambling company Bet365 had a salary of GBP223m last year.  But wait, there's more.  this year her salary will be GBP265m.  Her 50% ownership of the company also entitled her to a GBP45m dividend.
W&D comments: No glass ceiling in that industry.
Sad news
W&D notes with great sadness the passing of one of Australia's greatest cartoonists: Larry Pickering.  There was much media about him this week, but only a little on his annual Pickering's Playmates calendar.  This irreverent date-keeper was of naked politicians in various poses and was a best-seller for 14 years from 1978.  Pickering hilariously captured the essence of his subjects, stripped bare, as it were.  And in those days politicians didn't take themselves as seriously as they do today, with many asking for a signed copy of themselves as the Playmate of a Month.
His opinions were as crudely formed as some of his cartoons, but he wasn't afraid to speak and draw bluntly. Political correctness was an anathema to him. 
And Pickering's fertile mind wasn't the end of his fecundity: he had 11 children by 5 mothers.    
Tool
of the Week 
Podium finish goes to ... the Chair of the CBA, Catherine Livingstone.  Ms Livingstone was being slow roasted by Rowena Orr QC at the Royal Commission into banking.  And it was getting hot for the witness.  Especially when Ms Livingstone attempted to correct comments she had made earlier about her role on the board in questioning management about CBA's breach of anti-money laundering legislation (which eventually led the bank to being fined a mere $700,000,000).  Ms Livingstone said she challenged management at the board meeting in October 2016.  Then Ms Orr showed Ms Livingstone the minutes of that board meeting.  No such challenge was minuted. 
Ms Orr: "...do you accept that they [the minutes] didn't record a very significant exchange that you say occurred at this meeting but which we have no record of?" 
Ms Livingstone:  "I do accept that but I am also aware that I am giving evidence under oath."
All that was missing were the oxygen masks coming down as Ms Livingstone nosedived.
As one journalist delightfully put it yesterday: "Rowena Orr's questioning of CBA Chair Catherine Livingstone elicited a picture of variously greedy, week, and incompetent [CBA] directors and executives."
But, as W&D has muttered so often.  All of this doesn't really matter.  The thieves have long-since scarpered.
Deepak, W&D's Uber driver ...
... was most apologetic for not turning up last week.
"I am so sorry," he muttered, face abject with sincerity.  "But I had to fly to India.  Urgently.  Anjali's father died.  And she is so upset."
"And I am sorry to hear of this news," replied W&D comfortingly.   "Was he old?  Was this expected?"
"All deaths in India are expected, but this was sudden," shot back Deepak.  "He died at home, surrounded most of his family.  Anjali and I flew home for the funeral and cremation, which, as you know, is within 24 hours of death.  We then spread his ashes on the Ganges."
W&D nodded,
"And we waited the 10 days for the shraddha, before coming home."
"Forgive my ignorance," said W&D softly, "But what is a shraddha?"
"It's a Hindu ceremony, performed in honour of a deceased ancestor, 10 days after death.  It is intended to support and protect the spirits of the dead in their pilgrimage to the higher realms."
"I see," said W&D, not understanding at all.  "How is Anjali?  Is she upset?"
"Not half as upset as me," responded Deepak gravely.  "Her mother has decided to come to Australia to live permanently.  And live with us!"
"Oh, dear," said W&D soothingly.  "I guess it's back to the spare bedroom for you."
"Exactly," said Deepak with unhappiness spread across his face.  "Things are difficult enough as it is.  It's been a long time, as you would say - if you follow me.  It can only get worse."
"A fateful conclusion," said W&D cheerily as he unbuckled his seat belt.  "Look at it this way.  Anjali's mother will provide much needed help around the house.  Anjali will be less tired.  And will have more time for you.  Then just send your dear mother-in-law off to the movies one night."
Deepak's face lit.  "Ah, this will take my mind away from the collapsing price of bitcoin."
"Read my lips on this, Deepak.  Anjali will find out sooner or later," observed W&D as he strode off.  "Make hay whilst the sun is shining."  
And, to soothe your troubled mind...  
Miscellany 
Last words...
"The Finnish people do not have a forest fire problem.  They spend a lot of time on raking and cleaning." 
 -  Tarzan Trump, following the devastating California forest fires and lauding Finland for forest management. 
Which led to the following response from Finland:
Raking...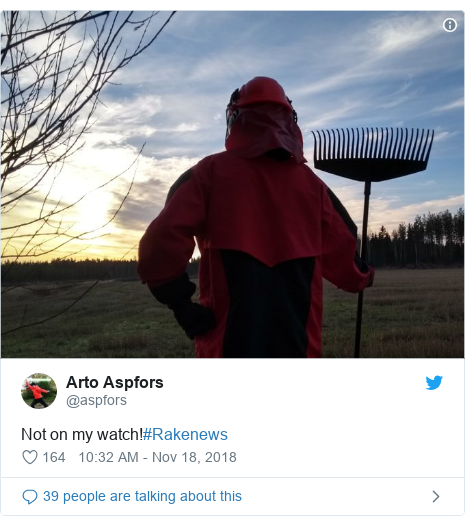 ..and cleaning...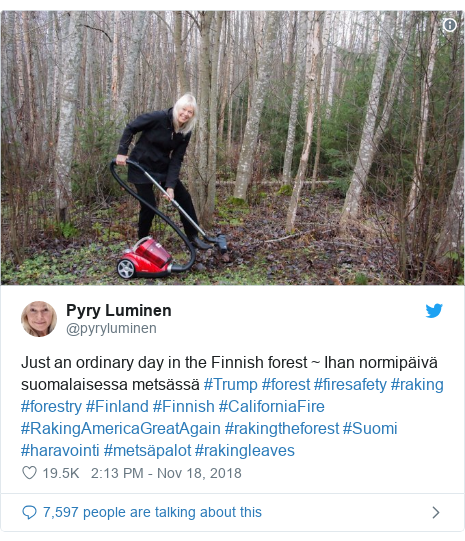 First Samuel client events calendar
Some lightly salted absurdities from all over ...
At the extreme left-hand end of the Bell Curve
A Clearfield, Pennsylvania man armed with a handgun entered the Pantry Petroleum on Bigler Avenue demanding money. The employees complied and the man fled the store with the money.  Fled on foot.
It had been snowing.  The police just followed his footprints in the snow.  To his home.   
(wjactv.com)
Guess what happened next?
Rose Becker, 35, of Jasper, Georgia, needed cash that she didn't have.  So she attempted to cash a fraudulent cheque at the local Delta Community Credit Union.  An employee spotted the fraud and called the police.  Rose fled, hopped into her car.  Her driver's licence had been suspended.  What happens next?
a.  The employees of the credit union trapped her in her car until the police arrived;
b.  The car wouldn't start, and she was soon arrested;
c.  The car started and she sped off.  She got away; or
d.  She sped off, running a red light, driving at over 140 kph through a school zone, before police caught her.       
Close.  But no cigar.  d. is correct.  Then it all went very pear-shaped, as cocaine was found in the car.  And while she was waiting to be questioned she tried to consume several bags of white powder.
(Busted locals.com)
Becker faces charges of identity fraud, forgery, narcotics possession, felony fleeing, speeding in a school zone, reckless conduct, going inside a guard line with drugs, suspended license, reckless driving and failure to maintain lane.  The cheque she tried to cash was for $10.  
Ingenious Russians 
Say no more.
Have a Wry & Dry weekend. 
Cheers!
Anthony
[1]  W&D's source for the data was a Wall Street Journal article by a Heather MacDonald, who, W&D assumes, is a woman. 
[2]  A nice sounding quote that was not said by Churchill.  It was in fact said by UK Labor Prime Minister Harold Wilson in a lobby briefing to journalists, in 1964.
[3]  Publicity shy President of the Collingwood Football Club.