Happy anniversaries: Trade war & Almost Grexit. Aggrieved Hall of Fame?
Happy anniversary 1
Readers will know that last Saturday was the first anniversary of the impositions of tariffs on Chinese imports by I-Wanna-Flex-My-Muscles-Trump.
W&D is as happy as the next man person to celebrate an anniversary.  Any reasonable excuse for a Waterford of 2007 Perrier-Jouët Belle Époque will do. 
But hang on.  Here we are 365+ days later and what is the outcome?  Retaliatory tariffs by the Chinese, an escalation of tariffs by IWFMM-Trump and IWFMM-Trump showing that he didn't understand who actually paid the tariffs (he said it was the Chinese; err, no.  It is the importer in the Yoo-Ess-Ay).
As W&D noted last week, the pride of G-1 and G-2 will prevent a sensible outcome.  The trenches are dug.  The barbed wire installed. 
This trade war will not end quickly.  There will be more anniversaries.
Happy anniversary 2
Speaking of anniversaries, Readers will also recall that it was almost exactly four years ago that Grexit (i.e. Greece leaving the eurozone) almost occurred.
The short story is that Greece was broke and was negotiating with the 'Troika' - the European Commission, the European Central Bank and the IMF to provide further debt relief [1].  Part of the bailout package was severe austerity measures.  Banks were closed across the country and Greece became the first developed country to fail to make an IMF loan repayment on time. 
The left-wing fire-brand Prime Minister (Alexis Tsipras) had earlier in the crisis rallied Greeks to confront international creditors.  Whilst M Macron and other were seeking compromise, Mrs Merkel and her Teutonic knights wouldn't have a bar of it.
And in the face of capital controls and the prospect of Greece leaving the eurozone, Tsipras' government capitulated to the Troika's austerity terms on 13th July 2015.
The Greeks have long memories.  Last Sunday, not in a mood to forgive that capitulation, they-the-Greek-people gave Tsipras the DCM.  A centre-right government was elected.
Readers will remember that between 2007 and 2015 Greece lost 25% of its economy, unemployment peaked at 28% and hundreds of thousands of Greeks moved abroad. 
But it looks as though Greece has come out the other side.  Sort of.  Economic growth has slowly returned, unemployment has come down (to 18%, but it's getting better) and in March 2019, the government sold 10-year bonds for the first time since before the bailout (i.e. 2010).
Sure, there is a long way to go.  But, delightfully, in spite of all the mistakes that were made by all sides, democracy survived, Greece remains in the eurozone, is a part of its institutions and it seems like the world has moved on.
But some things do not change.  You cannot take being Greek out of the Greeks.  On Monday, Greece's new Finance Minister's very first step was to request the bailout creditors ease the strict budget targets that were agreed as part of the bailout package.  
[1]  Readers will recall that the Troika skillfully managed to create a circle of funds to protect, essentially German and French, banks that were up to their ears with Greek debt.  The Troika lent funds to Greece as part of the bailout package, but the package required that the funds be used to repay bank debt.  The solvency of the banks was restored.  Greece's creditors became, effectively, the Troika.  To get the inside, if somewhat biased, story Readers are urged to read "Adults in the Room" by Yanis Varoufakis, the Greek Finance Minister who fought hardest against the Troika.
Meanwhile, just over the Aegean ...
... on Sunday, Sultan Erdogan abruptly gave Turkey's central bank chief the DCM.  The Sultan has been most unhappy for some time with the Chief Teller, who had supported higher interest rates (currently 24%) to combat rampant inflation (currently 19.5%) and to support the collapsing currency.  The Sultan doesn't like high interest rates.
And he said yesterday that Turkey's central bank will now provide "stronger support" for the government's economic programme.
In a televised address, the Sultan said that, thanks to a new system of governance that came into force last year, he now had the authority to "intervene" in the bank. W&D might be forgiven for asking who gives a televised address to the nation to announce the DCM of the central bank's boss?
But the Sultan doesn't act from a position of strength, as reported last week in W&D, his ruling party got blown out of the water in the mayoral re-election in Istanbul.
In the fashion of autocrats-under-pressure, more flexing of Sultanic muscle should be expected by Readers.   
No more bugs
With tears in his rheumy eyes, W&D advises Readers that Volkswagen is to stop producing the Beetle, after 74 years of production.
The car's original design was by Austrian engineer Ferdinand Porsche, the founder and namesake of fellow German marque, Porsche.
Readers will know that Porsche was commissioned by Hitler to create a "people's car" that would make motoring widespread among the German people.  But because of the Second World War, production of the Beetle didn't happen until 1945.
The last Beetle will roll off the assembly line at a VW factory in Mexico on Wednesday.
Sugar hit didn't last
Readers will recall that last week the Chief Teller of the Reserve Bank reduced Australia's key interest rate to 1%.
But the sugar hit was, well, just that.  Consumer confidence has fallen to its lowest level in almost two years.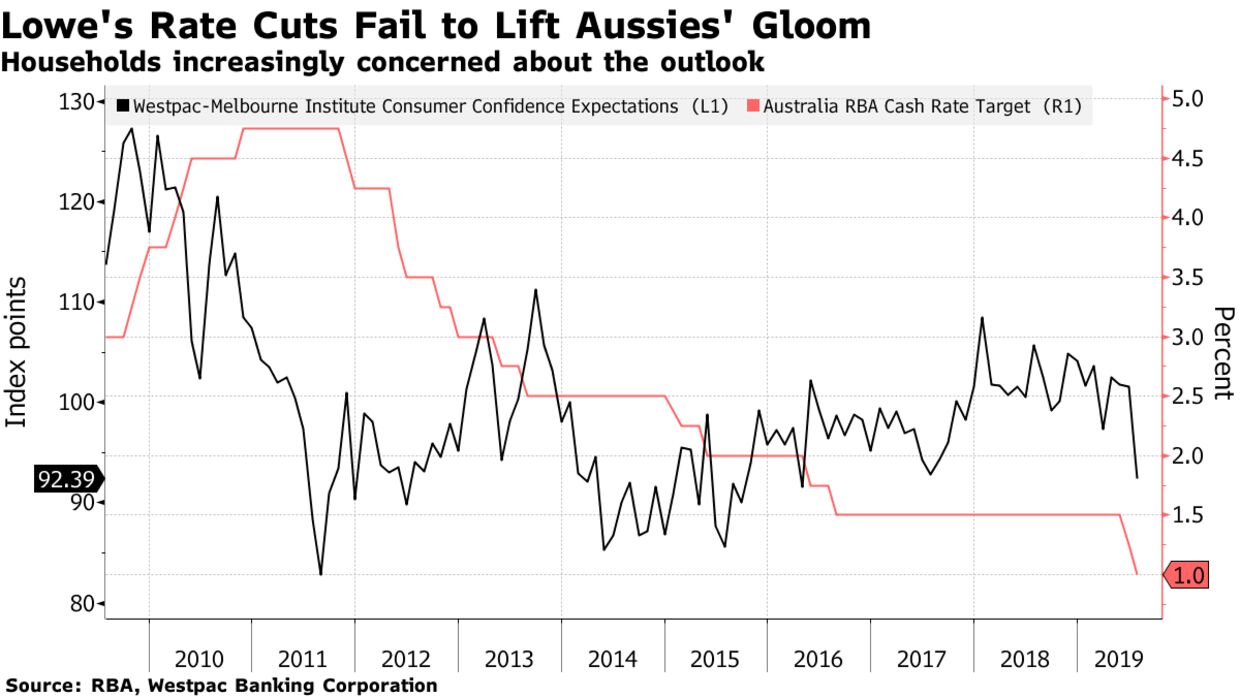 Economists are mystified by the unhappiness of consumers.
W&D is not.  The lowering of rates to this level suggests that the Chief Teller considers that things are not all that well in the economy.  And he is right (Readers might ponder the ongoing release of dismal economic data, such as declining car and retail sales).  
Not that 'things are crook in Tallarook'. Yet.  
But lowering interest rates is not going to magically change the effect of the business cycle.  In the long term, quite the opposite.  Lower interest rates have one massive effect: companies and individuals become lazy - they do not fix their balance sheets.
Companies do not take steps to improve their productivity.  And individuals either put off reducing debt or borrow more. 
Unclear on the concept
There have been four deaths in the mining industry in Queensland this year, the most recent last weekend.  But the responsible industry body, the Coal Mining Safety and Health Advisory Committee, hasn't met for at least four months. 
Because it has not yet filled its gender membership requirements. 
Sigh.
Aggrieved Hall of Fame candidate
W&D always thought that the Chinese were world leaders in being aggrieved.  But it is now clear that I-Am-Not-Thin-Skinned Trump may very well achieve Legend Status in W&D's Aggrieved Hall of Fame.
After it was reported that the UK Ambassador referred (in leaked cables) to I-Am-Not-Thin-Skinned Trump as insecure, the president held out nearly a full 48 hours before releasing a totally secure, composed and adult response:
"The wacky Ambassador that the U.K. foisted upon the United States is not someone we are thrilled with, a very stupid guy."  
Yesterday, the ambassador fell on his diplomatic sword. 
In the end, the ambassador was undone by a one-two from the West's leading populist combo, I-Am-Not-Thin-Skinned Trump himself and his acolyte, Borisconi, probably the UK's next PM.
The former froze him out of dealing with his government, while the latter refused to back him in a televised debate on the Conservatives' leadership contest.
I-Am-Not-Thin-Skinned Trump lives on, looking for further opportunities to take offence.
Dambuster? 
China's massive Three Gorges' Dam has become 'distorted', authorities say.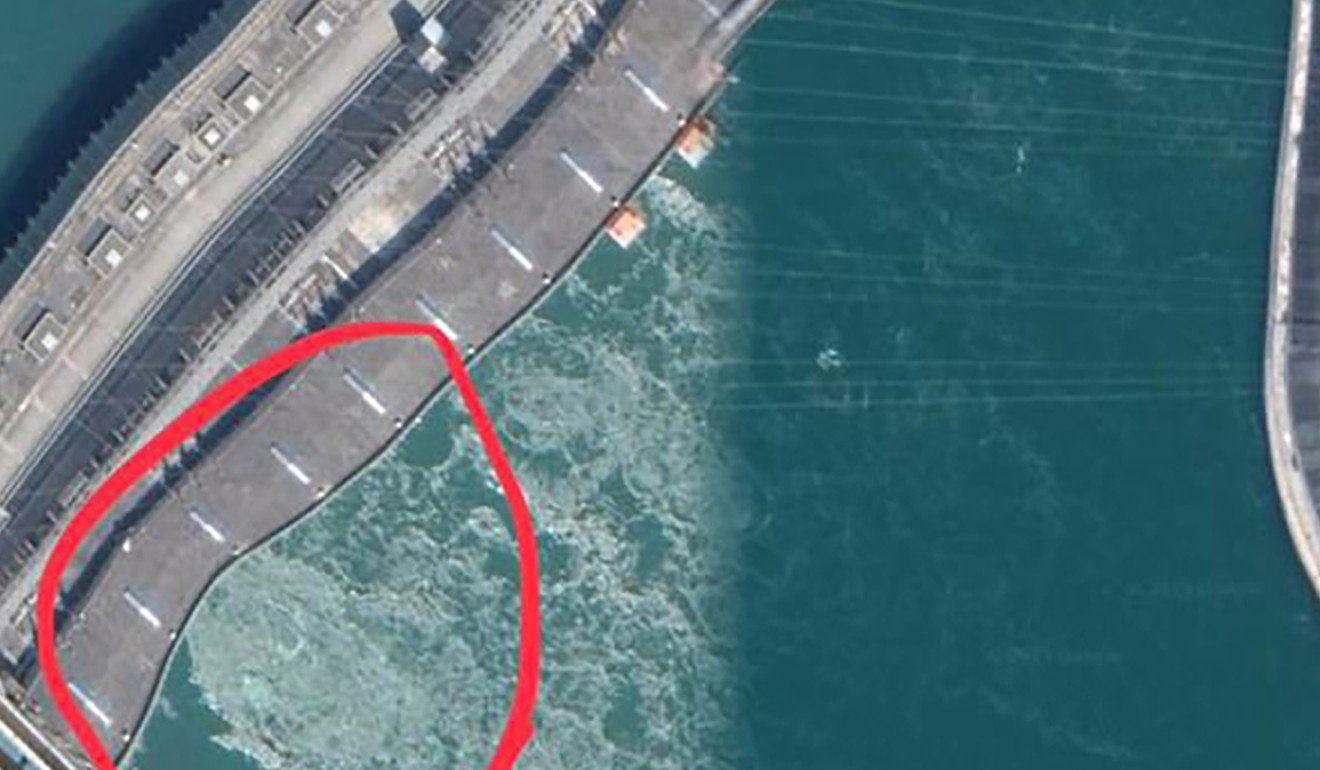 "The dam body is an elastic state...and the project is operating safely and reliably," was State media's dismissal, and saying that suggestions of a kink were an anti-China plot.
The plot thickens. That is one big kink ...
 ... perhaps a remnant from latter-day 617 Squadron activity.
Snippets from all over 
1.  Down at the car wash I
Boeing faced another setback after Flyadeal, a Saudi Arabian low-cost airline, cancelled its order for 50 of its 737-Max jets.  Flyadeal has ordered 30 A320neo jets from Airbus instead.
W&D comments:  W&D's man person in the Yoo-Ess-Ay says that it is possible that US regulators will tell Boeing that a 'software fix' will not not fix what is essentially an aerodynamically unsafe design.  And that either the engines will have to be remounted to where they should be, the wing re-designed and/or the undercarriage altered.  Sigh. 
2.  Down at the car wash II
Airbus has confirmed its first half aircraft deliveries climbed 28% to 389 from 309 in the prior-year period, putting it ahead of Boeing for the first time in eight years.  For the third straight month, the U.S. plane manufacturer reported no new orders of 737-Max aircraft.
W&D comments:  Boeing, Boeing ...
3.  Be happy in your work 
In the same week that the last VW Beetle rolled off the production line, Deutsche Bank, Germany's largest bank, and in 2007 the world's second largest, announced that it was giving 18,000 employees the DCM.
W&D comments:  This is massive.  
4.  Extradition bill "dead"
Addressing the weeks-long mass protests, Hong Kong leader Carrie Lam said Tuesday that the controversial extradition bill was "dead" though she didn't say whether she would withdraw the legislation. 
W&D comments:  Ms Lam is also dead as the colony's leader.
5.  Data pain
Around 500,000 of British Airways' customers had their personal data, including their credit card details, stolen by hackers last year.  On July 8th the Information Commissioner's Office (ICO), a British regulator, said it intended to fine the airline £183m for the data breach.  This is the biggest fine ever imposed for a data breach. 
W&D comments:  No longer a minimum of fuss from what was the world's favourite airline.
6.  China woes
China's economic growth is expected to fall to a near 30-year low in the June Quarter, as the full impact of US tariffs kick in.
W&D comments:  The forecast 6.2% figure for the world's second-largest economy is still large.
And, to soothe your troubled mind ...
Miscellany 
Last words ...
"[Wind turbines] shake, causing worms to come out of the soil. This is not a joke."
 -  Tsar Vlad, speaking at a global manufacturing conference.
W&D couldn't find any research that suggested that worms were under threat from wind turbines. Either (a) too much vodka; or (b) this is Tsar Vlad's Sputnik moment. [2]
[2] When the Soviet Union (i.e. sort of Russia today) launched the world's first artificial satellite in 1957, the world, especially the US government, was taken by surprise.  Sputnik was an amazing event, not only technologically, but also boosting President Khrushchev's popularity and global standing.  
First Samuel client events calendar
EVENTS FOR 2019
First Samuel Annual Forum
Date TBC shortly

with Special guest
Hon Josh Frydenberg, MP, Federal Treasurer

at Leonda, Hawthorn
Chief Investment Officer Dinners
Interstate Invitations - Sent
Melbourne - Invitations to be sent shortly, but please see what is already confirmed in the table below. There are also a few more to be arranged
Contact Jess at

responses@firstsamuel.com.au

to RSVP your preference of venue
| | | |
| --- | --- | --- |
| Venue | Seating | Date & Time |
| Stokehouse - St Kilda | Lunch & Dinner | 28th August 12pm & 6pm |
| Elyros - Camberwell | Dinner | 29th August 6pm |
| Chin Chin - Melbourne CBD | Dinner | 10th September 6pm |
| The Botanical Hotel - South Yarra | Lunch & Dinner | 11th September 12pm & 6pm |
A lightly salted absurdity ...
Deepak, W&D's Uber driver ...
... seemed pleased as W&D buckled in and asked about the 'granny-flat' his mother-in-law had bribed him into building. 
"How's the building works on the backyard Taj Mahal, Deepak?"
"Not fast enough," admitted Deepak.
A cheeky W&D leaned forward,  "And more importantly how is 'Saffron Seduction', still threatening you with the bricks?"
"Yes, she is.  But no matter, I'm a changed man," he said proudly. "No more seduction for me, I've more important things to consider."
W&D raised an eyebrow. "Go on" he prodded.
"We are going into property development, Mr W&D!  There is big money to be made."
W&D looked up from reading the Financial Times.  "But have you considered all the factors; will the cost of your borrowing in the long term be rewarded with a decent return on investment?  Investors think they have made a fortune, yet when you consider their return after taking out all of the costs, they would have been better off leaving those bricks well alone, Deepak, forgive the pun.
"And you know you can't sell a bedroom if you need a bit of cash."  W&D added dolefully having heard it all before.
"I've been to a seminar, so I have all the answers" Deepak countered proudly.
"And what does Anjali have to say?" W&D sighed.
"She is, how do you say in Australia, a wet … a wet …"
"... a wet blanket" W&D finished.
"Yes.  And there is a famous Hindi saying, Mr W&D: "when goddess Lakshmi is doing tilaka, do not go to wash your face".  It means when opportunity knocks you better take it before someone else does.  Anjali just does not understand business."
"Ah, maybe she wants to," W&D grinned.  He handed Deepak a document he found on the back seat.  "Forgive me for looking, but this looks like a completed application form for a Graduate Diploma of Finance."
W&D went on, "And if I have my Hindu gods and goddesses in a row, as it were, isn't Lakshmi, the goddess of wealth, fortune and property?  Wife of Vishnu?  It looks to me like Anjali wants to be in charge of your wealth, fortune and property.  Just sayin …"
Deepak's face prodded.  "Let's change the subject."
"Okay, what did you think of India's defeat in the World Cup semi-final," called W&D as he quickly alighted, before Deepak could ask about Australia's loss last night.
But Deepak wasn't listening, as he mumbled Hindi obscenities as W&D strode off.  
Cheers.  
Anthony