IKEA submarines. PNG now inside nine-dash-line. Tesla now a currency player.
Submarines from IKEA? 
Rumour is swirling that PM Jimmy Morrison will cancel Australia's (now) $90 billion submarine contract with the Croesus Turnbull-appointed French-government-owned shipbuilder Naval Group.  Readers will recall Wry & Dry's recent articles on this shambolic project.
But the problem doesn't appear to be the cost.  It's the lack of work for Australian companies in the building process.
It seems that we-the-taxpayer signed up for some 60% of the contract value to be awarded to local suppliers (mostly in Adelaide [1]).  But the French signed up for 60% of the size of the submarines to be built in Australia.  The use of French as the language in the contract clearly fooled our monolingual government. 
What we-the-taxpayer actually bought was a French IKEA solution.  Flat pack all of the parts.  Ship them to Adelaide with a few giant Allen keys, a set of impossible to read construction diagrams, a miniature mock-up of the finished product and a barrel of pork.  Plus, a health & safety sticker to put on the periscopes.
Voilà!
[1]  Of course this had nothing to do with the marginal Liberal seats in Adelaide at the time the contract was awarded, including that of Christopher Pyne, Minister for Defence Industry.
PNG now inside Nine-Dash-Line
Work with Wry & Dry on this.  Readers may not be aware of the notorious 'Nine-Dash Line'.  This undefined and vaguely located demarcation line is used by Emperor Xi and his cronies to justify their encroachment on millions of square kilometres of the South China Sea.   
The short history is that in 1947 a Chinese cartographer drew an 11-dash line on a map, around vast areas of the South China Sea.  This was done to represent his personal view of China's territory after the Second World War.  The Nationalist government liked the idea, but did little.  In 1952 the 11-dash line lost two dashes when in a moment of Communist camaraderie with Vietnam, Mao gave up China's claims over the Gulf of Tonkin.
The concept of the now Nine-Dash-Line lay dormant until 2009.  Then, in an extraordinary submission to the UN in May 2009 (in a dispute with Vietnam), China stated:
"China has indisputed (sic) sovereignty over the islands in the South China Sea and the adjacent waters, and enjoys sovereign rights and jurisdiction over the relevant waters as well as the seabed and subsoil thereof (see attached map).  The above position is consistently held by the Chinese government, and is widely known by the international community." 
The map, clearly showing the nine dashes, that was attached was:
The absurdity of the Nine-Dash-Line is shown by the southernmost 'dash' is James Shoal, an underwater shoal 22 metres below the surface and 35 kilometres from the coast of Malaysia!  And 1,700 kilometres from mainland China! 
Wry & Dry draws all of this to Reader's attention because of what is going on just 160 kilometres from mainland Australia.
In December, a Chinese company called the Fujian Zhonghong Fishery Company signed a Memorandum of Understanding with the government of PNG to build a $200 million "multi-functional fishery industrial park" on the island of Daru. 
The island of Daru is the closest Papua New Guinea community to Australia.  There isn't much there - not even fish. It is only slightly over 160 kilometres from the coast of Australia (i.e. Melbourne to Bendigo) and sits right on the Torres Strait that separates New Guinea and Australia.  
The Fujian Zhonghong Fishery Company is controlled by the government of Communist China. 


There are no important commercial fishing grounds anywhere near Daru. The island itself is poorly developed and its people impoverished.    There is no rational reason for the investment of this much money by the Chinese at this location from a business perspective.
Essentially, this will be a port. History suggests it will become a naval base. 
Successive Australian foreign ministers ignored PNG and other nearby neighbours, preferring instead the ego-filling trips to Paris, London and Washington.  That political clothes horse, the well-shod Julie Bishop, led the way in a preference for 20 hours in the sharp end of a Qantas A380 to a quick trip to the less comfortable Port Moresby.  The Chinese government emissaries have no qualms in bearing the uncomfortable.     
The Australian government seems to have ignored the Daru project.  But Wry & Dry wants it on the map, so to speak.
China's Nine-Dash-Line has stretched to Torres Strait.  Time for PM Jimmy Morrison's government to worry less about vaccination publicity and more about our longer-term security.    
Tesla now a currency player
Readers would be aware that the Tesla guru, Elon Musk, invested $1.5 billion of the company's cash into Bitcoin, that crypto currency the price of which has gone vertical.
Well, on Monday, it seemed certain that Tesla would make more income from Bitcoin in a month than from making electric vehicles in all of 2020.  Bitcoin's price had climbed over 60% in February until then, giving Tesla a profit of almost a one billion dollars.
But then on Tuesday, Musk weirdly tweeted that Bitcoin prices 'do seem high.'  It was a lose-lose tweet.  The price of Bitcoin fell 12% and the price of Tesla shares fell 9%. and last night Tesla fell another 8%.
Wry & Dry suspects the sell order is just waiting for the enter key to be tapped.  If it hasn't already.
The sky is falling I - seems like it
Actually, no.  It's parts of a Boeing 777 aircraft, from an engine failure on a plane flying across the Yoo-Ess-Ay.  The plane landed safely and everyone on the ground were safe. 
The residents of 1372 Main Street would have been, well, surprised on opening their front door.
Almost as much as Wry & Dry, when he read the below blog on a serious investment website commenting about Boeing's share price:
'I wonder if there's any way this could be anything other than sabotage by the Chinese, intending to cripple two of our leading defense contractors right after a change in government that promises to be weak on defense funding (and, frankly, weak on defense against major superpower enemies China and Russia) in favor of funding silly social programs."
Wry & Dry was delighted that there are some remaining in the Yoo-Ess-Ay with a sense of humour; a blogger's response:
"You could be on to something--but I'd like to confirm the story with my psychic before I buy in."
Or maybe it's something to do with the Nine-Dash-Line.
The sky is falling II - no
Not quite.  But astute Readers would have noticed last night's 3.5% Nasdaq sell-off.  Nasdaq is the US' technology-heavy stock exchange, holding the big (Microsoft), the profitless (Tesla) and a myriad of technology minnows.  Many very large companies listed on Nasdaq are in the S&P500 (which fell 2.5%) and Dow (down 1.7%) indices. 
The falls rolled across the Pacific this morning, with the ASX down 2% this afternoon. 
Q 1: What's going on?
Well, as sages have been saying for ages, an over-valued market will correct, for whatever reason.
This time, the reason is the bond market.  US government bond yields (i.e. interest rates) rose sharply, which means that bond prices fell sharply.
The share market prices of many companies have been under-pinned by low interest rates.  As interest rates rise, these companies become less attractive.
Q 2:  Why did bond rates rise?
A fear of inflation.  Investors are anticipating the flood of stimulus measures from the Federal Reserve and US Congress will lead to a rapid rebound in economic growth.  The government is trying to reflate the economy.
Q 3:  What about Australia?
How would share investors feel if they lost over 8% in a month?  Sad, Wry & Dry guesses.  Well, investors in 10-year Australian government bonds have lost over 8% in February, as bond yields have spiked. (Remember bond yields up = bond prices down).
A blend of (a) realisation that Australian bond yields had risen and (b) the falls in the S&P 500 caused some conniptions on the ASX.
Q. 4: Is the sky falling, then?
No.  There may be some short-term messiness with over-valued technology (e.g. Afterpay is down 10%) and other stocks, which might ripple more broadly for a short time. 
Generally, however, the market is trading about fair value.
The sky is falling III - yes
In the third test between India and England, England lost inside two days.  The last time it lost inside two days was in 1921, against Australia at Nottingham.
Royal Commission 
Chairman Dan has slammed the barn door after the casino horse bolted.  
But, the announcement of a Royal Commission into Melbourne's Crown-owned casino brought smiles to the Melbourne legal community.  Their general coffers did need filling, after the dry 2020.
All of the dastardly activities of the casino were well documented in the NSW government's Bergin inquiry (into whether or not Crown should get a gaming licence in Sydney).  For years, Melbourne's Crown Casino was given a virtual free hand by the Victorian government to ignore compliance, money-laundering, corruption and other nefarious acts.  So it was with egg-on-face that someone other than Chairman Dan announce the Royal Commission.
Wry & Dry fears an outcome similar to that of the inquiry into the hotel quarantine shambles (no-one was responsible) or that of the WHO into the source of Covid (there was no source, it just appeared). 
And that is that Crown Casino doesn't actually exist.  Like a Potemkin village [2] the glitzy building on Southbank is just an empty shell.  And no-one has ever worked there.  And so there was nothing to worry about for the Victorian government.
[2]  A Potemkin village is any construction the sole purpose of which is to provide an external façade to a country which is faring poorly, making people believe that the country is faring better. The term comes from stories of a fake portable village built solely to impress Empress Catherine II by her former lover Grigory Potemkin, during her journey to Crimea in 1787.  History suggests that she was impressed by another of his works. 
Cross benched
In a double act of treachery [3], lunatic Liberal backbencher and Covid conspiracy theorist Craig Kelly has decided that he doesn't like the view from the government benches on Planet Canberra.  And so has quit the Liberal Party - and will sit on the cross benches with other 'independents'.
He says the move to the cross benches will give him freedom to speak up on issues about which he feels strongly.
Err, wrong.  This is all about self-interest.  Kelly would not have won Liberal Party endorsement for his seat at the next election.  However, by standing as an independent he hopes to finish above Labor, The Greens and the Animal Justice Party on the ballot and receive enough of their second preferences to push his vote above the Liberal candidate.
Fat chance.  However, he might stand for the Senate, hoping to pick up the sixth spot for NSW from The Greens.
Kelly, prior to being elected in 2010, was effectively a furniture salesman for 30 years.  He has since had a political life seeking headlines with views that suggest his previous employment position significantly over-stated his IQ.
[3] Prior to each of the 2016 and 2019 elections Kelly was about to be dumped by Liberal party pre-selectors in his safe seat.  He asked for and obtained intervention from the PM of the day (Croesus Turnbull and then Jimmy Morrison).   In each case he was actively supported by former PM Abbott.     
Chart of the week
The US federal government debt leapt in 2020 by US$4.55 trillion (!) to US$27.9 trillion.  The debt is represented by government bonds (also known as Treasury securities).  Every dollar of increased debt is matched by someone or something buying a Treasury security.
Notwithstanding the massive increase in the value of Treasury securities issued, the value held by foreign holders has reduced from a peak of 34% of total debt in 2012 to 25% at the end of December.  And the big net seller has been Emperor Xi's piggy bank.  China now holds less than 4% of US Treasuries on issue.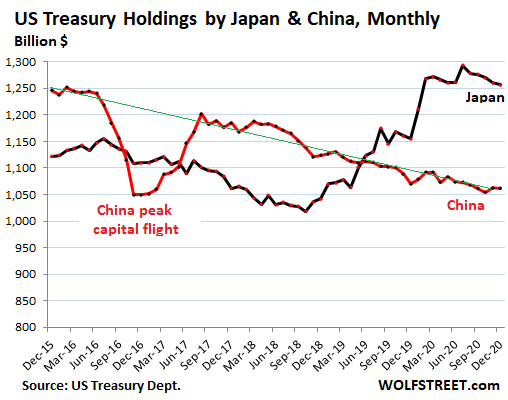 Just sayin'
Readers would be aware that Tesla, valued at over US$800 billion, has yet to make a profit from selling electric vehicles (EVs).  But it does sell them.  A lot of them in fact.
However, consider the following. 
Lucid Motors, a Silicon Valley company the luxury electric cars of which are due to cost as much as US$169,000, has not yet sold a single vehicle. But this week, the company announced plans for an IPO at a US$24 billion valuation.
Fisker Inc has also yet to sell an EV, has already listed and is valued at US$4 billion.  Ditto Nikola, valued at US$8.6 billion.
The world is excited about EVs.  Wry & Dry remembers 1999: the world was excited about the internet.  And then the dotcom bubble was pricked, without mercy.  Casualties still litter the courts. 
Just sayin'.
Headline of the Week I
"Victorian coroner calls for AFL players to donate their brains to science."  
    -  The Melbourne Age
How then will the footballers decide on the place of the next tattoo? 
Headline of the Week II
"Did nuclear spy devices in the Himalayas trigger India floods?"
   -   BBC News
Err, no.
Snippets from all over 
1.  Victoria's credit down-grade
Ratings agency Moody's has downgraded Victoria's credit rating from AAA to AA1, with a 'negative' outlook.
Wry & Dry comments:  Moody's said that the state's "governance has weakened, with policy priorities leading to a very sharp increase in the state's debt burden for a prolonged period, significantly diminishing the state's capacity to respond to future shocks."  The major words that Readers will have noticed is that "governance has weakened." That is damning.       
2.  LHR
Heathrow Airport has said that it plunged to a £2 billion loss in 2020, as passenger numbers fell 72.7% to 22.1 million, a level last seen in the 1970s.  
Wry & Dry comments:  Err, well, blend being an airport with Covid and the result is not unexpected.
3.  DCM in Texas 
The chairman, vice-chairman and three directors of the Texas electric grid operator have resigned, the Texas Public Utility Commission said. The executives, who all live outside Texas, had been criticised over the failure of the state power system during the recent cold snap that left millions without light, heat, and water.  
Wry & Dry comments:  In irony perhaps lost on many, the operator's name is the Electric Reliability Council of Texas.  
4.  Office vacancy
HSBC, Europe's biggest bank will vacate 40% of its offices in London and other cities around the world.
Wry & Dry comments:  It's all about WFH.  And note that NAB is completely abandoning its 800 and 500 Bourke Street, Melbourne buildings.
5.  Hong Kong sinks
Hong Kong unveiled its first stamp-duty increase on stock trades (to 0.13% from 0.10%) since 1993, sparking a broad selloff in the $7.6 trillion market.  The benchmark Hang Seng Index sank 2.6% 
Wry & Dry comments:  Can't blame those capitalist running dogs this time.
And, to soothe your troubled mind ...
Last words ...
"I don't know which is worse, Bitcoin at $50,000 or Tesla at (market cap of) $1 trillion." 
 - Charlie Munger, vice chairman of Berkshire Hathaway and Warren Buffett's long-time business partner, on Wednesday, dismissing the rocketing share price of Tesla (not quite at $1 trillion) and the recent Bitcoin frenzy.
Waxing lyrical, Munger went on, "Bitcoin reminds me of what Oscar Wilde said about fox hunting. He said it was the pursuit of the uneatable by the unspeakable."  Munger perhaps didn't realise that he was insulting Bitcoin investors.  Or perhaps he did.

A lightly salted absurdity ...
The Confederation of French Bakers has submitted an application for the baguette to be added to the U.N. rankings of 'intangible treasures'.  The baguette is just a mix of wheat flour, water, yeast and salt.  Readers can buy one kilo of baguettes in Paris for €3.52.  Treasure?
Cheers
Anthony