CBA: still at the laundry. 2017 Winner & Loser nominations. Canary.
CBA: still down at the laundry 
Last Friday, a homeless man walked into the unlocked premises of cash-handling company Loomis at Charles de Gaulle airport in Paris.  And wandered off with two bags of cash, which contained €300,000.  Massive oeuf sur le visage for Loomis.  Police were looking for the man in the poorer parts of Paris.
Which brings Wry & Dry to the CBA.
Wry & Dry noted yesterday's alarming claims against CBA. Has CBA become to money launderers what Loomis was to the homeless man in Paris? An open door. Those claims include that the bank was still breaching 'anti-money-laundering counter-terrorism financing' laws.
Oh, dear.
The latest allegations include that an organised crime syndicate laundered almost $42m through the CBA in just five months last year.  Not including $119,000 in September and October this year, a month after Austrac's first launched its lawsuit.
The partners of the CBA's lawyers would be upgrading the first class vacation flight to the new Emirates airlines 'private suites'.  Nice work if you can get it. 
CBA shareholders should be afraid.  Very afraid.
Wry & Dry 2017 Winner and Loser of the Year Awards
The W&D Winner of 2017 and Loser of 2017 Awards are really the acme of global awards.  Nobel Prizes, Oscars: move over.
Unlike all other awards, the W&D Awards are unencumbered by trashy gimmicks: such as trophies, cash or award ceremonies.  It's all about the prestige; of standing on the metaphorical podium, wrapped in the flag.
This year's winners will be announced next Friday.  And today the distinguished Nomination Panel (of one) has decided the short-listed names.  Of course, there can only be one winner.  But to even make the short-list is a massive honour in itself.
And the Nominees (with images by Patrick Cook) are:
Wry & Dry 2017 Loser of the Year - Nominations
Shorten, William Richard, federal Leader of the Opposition and Wannabee Prime Minister: for turning the extraordinary woes of the government into an increase in Labor's federal primary vote of just a one point.
Christensen, George Robert, National Party member for the House seat of Dawson in Queensland: for being complicit with two extreme right-wing journalists (Peta Credlin and Andrew Bolt) in an attempt to destabilise a government of which he is a part.
Trump, Donald John, 45th President of the Yoo Ess Ay: for having only 44,439,697 Twitter followers worldwide, a meagre 20th in the global rankings [1].  Surely his ravings deserve more.
Brokers & financial planners: who recommended that their retail clients invest in Telstra for the dividend.  Only to see the dividend slashed by 30% in August and the share price to halve in the last 30 months.  
Sydney, The Anglican Diocese of: for spending $1m of its parishioners funds to support the No vote in the SSM plebiscite.  At least the widow's mite went to the needy.
Wry & Dry 2017 Winner of the Year - Nominations
May, Theresa Mary; 76th Prime Minister of the United Kingdom: for turning back the clock to the reality that effective leadership is not bullying but the art of the possible, as shown in her successful (so far) Brexit negotiations.
Kim Jong-Un's chef: for successfully maintaining Kim's waistline.
Mohammed bin Salman, Saudi Arabia, Crown Prince of: for commencing the liberation of women in Saudi Arabia, by allowing them to drive cars.  He is also re-opening cinemas.  Amazing stuff!
Winners next week.  But there may be additional nominations...
Vassal state
The oft-quoted Churchill urged, "Study history, study history.  In history lies all the secrets of statecraft."  Not that W&D has pretensions about statecraft.  Just taking the long-view.  And the success for that is looking in the rear-view mirror.  
Which bring Readers to consider China.  Coincidentally, today's Economist magazine's leader is on China's 'sharp power'.  That is, tactics used to coerce and manipulate opinion abroad.
As the magazine says, "As China rises, it wants to shape the world to suit its interests. Sharp power is pervasive, breeds self-censorship and is hard to pin down."  
So W&D wishes Readers to consider how some Australians use their, or their company's/ businesses, economic dependence on China to justify what W&D considers are abhorrent behaviours.  Whilst one might rightly point the finger at Senator make-the-cheque-out-to-cash-Dastyari, W&D wishes to focus on the intersection of:
increasing denial of free speech by students and lecturers at universities who advocate policies favouring rights of any sort to Tibet, Taiwan or opposing the so-called Nine-Dash line (and attendant creation and occupation of islands in the South China Sea); and
kow-towing by universities to China, on the basis we shouldn't upset China as it's our biggest source of international educational revenue
Readers will be aware of at least four cases this year of academic staff at Australian universities being targeted in Chinese social media campaigns after complaints from Chinese international students about 'offensive' teaching material.  
Readers would also be aware of complaints that the new government measures curbing foreign interference may reduce the number of Chinese students. 
Of course, Chinese diplomats and media are furiously reacting, as they always do, in a most aggrieved manner, about any possible slight on China.    
The W&D long-view is about sovereignty.  The more we allow ourselves to compromise our sovereignty the more we become a vassal state. 
Just remembering someone's quote about people feeding the crocodile, hoping the crocodile will eat them last...  
Europe - the single uniting issue
The latest headline grabbing European news (in the UK, anyway) is about Brexit.  And the daily swings in the success/ failure of the latest negotiation.  It's become a bit of a yawn, as there are so many different points of view across Europe.
So, to avoid somnolence-at-his-tooled-leather-and-mahogany-desk, W&D has done some research as to the issues on which there might some common threads across Europe.
There is just one.
Curiously, there is a sense of economic reality, with globalisation given the thumbs up.
Canary in the coal mine
It's rare for financial news to make it to the suburban tabloids.  But even the Spencer Street Soviet Melbourne Age had headlines about the sale of Westfield's offshore shopping centre assets to a Paris based company.
Most media commented on the amazing success story of Frank Lowry (post-war, penniless, Jewish migrant).  Quite right, too.
Some commented on the massive price ($33 billion) and how cash from the sale will be reinvested in the commercial property sector.  That's a maybe.
W&D comments that this is a canary in the coal mine about retail property prices.  Lowry is a smart fella.  He and his sons have ridden out downturns before.  But they seem worried about the next one, whenever that may be.
Speaking of coal mines... NAB's virtue signalling
W&D continues to be bemused by Australian companies that signal to the globe their 'good citizen' virtuosity.  The latest is NAB, an Australian bank.
NAB has stated that it will not finance/ lend to new thermal (i.e. steaming, for generating electricity) coal developments.  But existing projects are okay, as is coal mining for coking (i.e. metallurgical, used in steel making).
W&D is moved to ask, why the difference?  Is it that those nasty left-wing/ Green protesters only focus on thermal coal?
Work with W&D on this.
a ton of coal used for steaming (i.e. to create electricity) produces the same amount of carbon dioxide as does a ton of coal used for coking (i.e. steel making) coal, i.e. about 368 kilograms per one million kilocalories.
the lower the moisture & ash content and the higher the carbon content of coal the higher its energy content.  So low moisture & ash/ high carbon content coal is better as a producer gets more heat for the same amount of coal.
brown (or soft) coal has a high moisture & ash/ low carbon content and is useful only for thermal coal.  Victoria's LaTrobe Valley is essentially Brown Coal Valley.  Brown coal is a big polluter.  But there is lots of it.
black (or hard) coal has a low moisture & ash/ high carbon content and is good for both thermal and coking coal.
the blacker (or harder) the coal, the better for generating heat.  And as it is more efficient (and has a higher carbon content, which is needed in making steel), the harder black coal is mostly used for coking coal.
the harder the coal, the lower the carbon dioxide emissions.  
So, if NAB were honest, it would say it will only finance coal mines where the coal has a high carbon energy content greater than a certain level.  Regardless of the use of the coal. 
But, well, NAB is a, err, bank.
Meanwhile in La La Land...
Readers will be aware that media mogul (don't Readers just lurv the word 'mogul') Rupert Murdoch is selling the entertainment assets of 21st Century Fox to Walt Disney Company.
Parts of the media world are excited that Rupert is getting out of the entertainment industry. 
Err, no.  Read the fine print.
It's a scrip for assets deal.  That is, the price for the 21st Century Fox entertainment assets is not cash, but shares in Disney.  Fox will end up with about 25% of Disney.  Which, given its share register, may mean control of Disney.  The next highest shareholders are passive investors (Vanguard at 6.7%) and Black Rock (5.9%).
That's not a bad deal for Rupert.  His family will indirectly hold just about 5% of Disney, but may have effective control.  There is not an indication if any Murdoch will be on the board or in management of Disney.
Rupert's not going anywhere. 
Deepak, W&D's Uber driver...
...was talking about Riot Blockchain. "Wow, did you see the price bounce when it changed its name from Bioptix Inc?" he asked W&D.  "But I haven't told Anjali yet that I have invested in it." 
W&D was concerned how he would take the news about to be delivered. "Yes, its share price is up 700% in the past three months.  But, Deepak, there are some things you need to know."
He looked worried as W&D told him the latest.
Riot purports to be "a leading blockchain company & only Nasdaq listed pure play blockchain company."  Hold the phone!  Only a few months ago, it operated "a life science tools company that provides an affordable solution for drug discovery scientists who require label-free, real-time detection of bio-molecular interactions."
What's going on? Riot paid approximately $12m to acquire Kairos Global Technology - a two-week-old crypto-mining company that owned only about $1.9m in crypto mining assets.  So, why the $8m premium?  Hmm.
But wait, there's more!  Kairos appears to have zero operations and zero website.  And had, in fact been in existence for two weeks prior to its acquisition by Riot.
But wait, there's even more!  Just after becoming Riot, the company paid a special dividend to certain shareholders.  That dividend depleted 63% of the company's cash.
"Deepak, this doesn't look good," W&D finished.
Deepak sighed. "Anjali will be furious.  And withdraw privileges," he wailed, as W&D alighted.  
Useless
It's a slow news week, so W&D is pleased to bring Readers the Most Useless Sign of the week: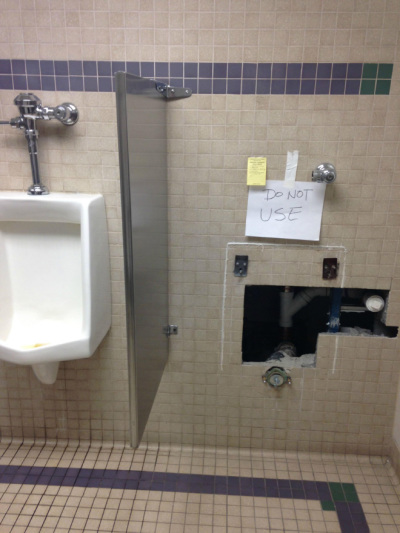 Speaking of slow weeks...
It must have been one (or many) at the Australian Bureau of Statistics.  The boffins there have analysed 10 years of birth data to determine the most common and least common birth dates. 
And the winner of the most frequently occurring birth date is 17th September.  W&D suggests that summer is not only about sun, surf and sand.
But even W&D could have predicted that the least frequently occurring birth date would be 29th February.  After which comes 25th December, 26th December and 26th January.  Which really tells us nothing other than obstetricians take their holidays very seriously.  Having gone to this trouble, a smart person at the ABS might have sought the least frequently occurring non-public holiday birth date.
Sigh.  Our taxes at work.
Elsewhere
Stellar employment growth of 62,000 jobs in November, thrice that estimated, has put a big grin on the face of Treasurer Jim Morrison. 
And be excited!  On Monday the Mid-Year Economic and Fiscal Outlook (MYEFO) will be released by Federal Treasury.  Expect an even bigger grin from Treasurer Morrison.  
And, to soothe your troubled mind...  
Miscellany 
Last words...
"He's a bit like Mr Bean."  
-   Joe Hockey, former Federal Treasurer and now Australian Ambassador to the USA, commenting in 2015 on Sam Dastyari, disgraced Labor Party Senator.
Others are not so charitable.
First Samuel client events calendar
Date 

Description

Details

2018 Events  (Invitations not yet sent)

Tue-29-May-18

Eat Street - food & wine fest

Sofitel

Wed-18-Jul-18

NGV Winter Masterpieces Exhibition

Masterworks from Moma (New York)

NGV

Tue-14-Aug-18

Forum - guest speaker TBA

Leonda
Some lightly salted absurdities from all over...
At the extreme left-hand end of the Bell Curve
Eugene Matusevitch, 34, committed a minor traffic infringement.  And ended up in a seven minute court hearing.  He got off lightly: a $50 fine, no conviction recorded and no loss of points.
But the lad couldn't let go.  And so sent the policeperson who was responsible for his fine a massive barrage of obscene texts and phone calls, that got increasingly threatening.  They knew who he was, as he texted from his own mobile phone.  
(Washington Post)  
That's obscene misuse of a phone, harassing electronic communication; etc.  Possible 10 years in the slammer.  Shooda settled for the $50 fine.   
Guess who said this 
"I will kill everyone on this plane."
a.  A terrorist;
b.  A suicidal pilot;
c.  A child on a plane when his mum says he cannot have a can of Coke; or
d.  Woman busted for smoking in the plane's toilet.  
Close.  But no cigar.  The correct answer is d.  She also tampered with the smoke detection device.  Southwest Airlines 2943 made an emergency landing.  The woman wasn't greeted by her family but instead by five gentlemen wearing blue uniforms and belts laden with devices.   
(Koin.com)  
Fake news?
James Howell, 32, a Welsh IT worker, started 'mining' Bitcoin on his laptop in 2009.  He mined 7,500 Bitcoins, which he saved in a wallet file on his computer hard-drive.
He forgot about it all.  And then threw out his hard-drive.  He now wants to recover his hard drive from the council tip.  And is seeking permission from the council that owns the landfill sit in Newport.
(metro.co.uk)  
That's $150m of hard drive.  W&D is not convinced that this isn't fake news.  If you put in the local newspaper that there was $150m of cash in the landfill, locals would be all over it.   
Have a wry and dry weekend
Anthony
[1]  Behind: Katy Perry (105m); Justin Bieber (103m), Barack Obama (96m); Taylor Swift (86m), etc.