Not the Royal Commission. Global tour. Lieutenant Cook?
Not the Royal Commission edition
Wry & Dry is heartily fed up with the revelations of the Banking Royal Commission.  And the media calls for banking heads to be lopped and impaled on spikes at the city gate. 
W&D has been making such calls for years.
And to add to the ennui, now it's all about the state and federal budgets (or simplified by the media to 'Winners & Losers').  All readers need to know is that (a) in state government budgets the costs of employment of state public servants will rise at about four times CPI (i.e. there are more of them on we-the-taxpayers' payroll and they get paid more); and (b) the federal budget doesn't matter as it has to be passed by the Senate.  So Jimmy Morrison would do better to put the lot on black at the casino. 
So, for a break, W&D this week is going to take a Lieutenant Cook's tour (first class, of course) of miscellaneous goings on.  And not mention the Royal Commission.  Or the CBA.
Washington: France 1 Germany 0
Tsar Trump had a busy week last week.  First was the darling President of France, M Macron.  Then came the slightly more dour Chancellor of Germany, Ms Merkel.
The contrast in welcomes could not have been more striking.  M Macron concluded an elaborate three-day state visit complete with a black-tie dinner and a review of the troops, as well as copious backslapping, hand-holding and kissing. 
Ms Merkel got a hand shake.  Not even a kiss on the cheek (but that's always risky).  And Trump didn't mention the war.
And then M Macron went Down Under to review more things, this time Lucy Turnbull's legs.  Whilst he was away...
UK: that ain't a captain
Captain Cook wasn't a captain when he discovered Australia.  Readers will know this, but apparently, the Australian government doesn't.
Last weekend Treasurer Jimmy Morrison announced that a new monument to Cook is going to be erected at Botany Bay, to cost $50m.
Trouble is that Cook was only a Lieutenant in 1770 when he discovered what was to become Australia.  It wasn't until 1775 that he was promoted to Post-Captain, a now obsolete form of Captain in the Royal Navy.  
W&D muses the reason why 'Captain Cook' is used is that the government fears that with Australian educational standards as they are, few would be able to correctly pronounce 'Lieutenant Cook' [1].
Venezuela: mañana 
If you have massive economic problems and huge overseas debt but the world's largest reserves of oil and oil makes up most of the country's revenue, you'd think you'd do something about getting the oil out of the ground (the red line in the chart, below):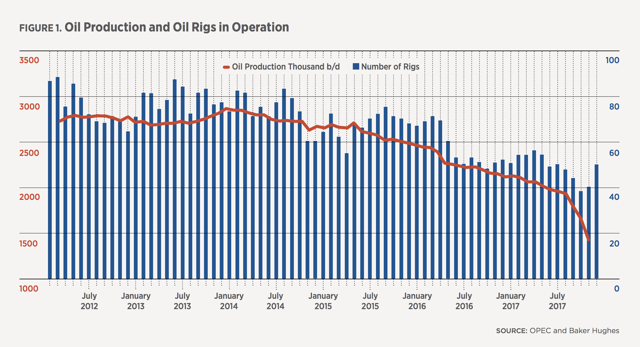 Well, mañana.
Venezuela used to be known for two things: a colourful history of coups and counter-coups that underwrote many a Hollywood script; and more winners of Miss World and Miss Universe contests than any other country.  Not that W&D ever paid much attention to the latter.
But Venezuela is now known as the world's economic basket case. 
GDP fell by 16% in 2016, 14% in 2017 and is expected to fall by 18% in 2018.  Inflation was 112% in 2016, 2,400% in 2017 and in 2018 is expected to be over 13,000%!  
The homicide rate is the world's second highest, the kidnapping rate the highest and 84% of the population live in poverty.
But what about the oil, W&D hears readers ask?  Well, oil production is collapsing, primarily because of deteriorating infrastructure, but also because foreign joint-venture partners are pulling out. 
It won't take much for more than the usual demonstrators to oust the socialist government.  Expect President Maduro to flee to a friendly country.
Italy: cycling in Asia
Readers will know that W&D is a keen student of sports, but has trouble with the MAMIL (Middle Aged Men In Lycra) sport.  It's when the sport becomes a commuting mode (mostly for men).  And in a self-righteous manner, too: "Traffic light!  What traffic light?"
But the genuine sport of cycling is impressive.  Especially going up and down those hills, days after day, week and after week.  Stamina akin to French trade unionists.
So Readers will know of the trinity of great bike races: Tour de France, Giro d'Italia and Vuelta a España.  And that in some years a race has commenced outside the home country.  But never outside Europe.  Until now.
This year, Giro d'Italia is starting in Israel, tonight in fact.  Cyclists will pass through more history in their three days there than in the rest of the tour in Italy.  And on day four the tour resumes from Catania, in Sicily, home to the airport closest to Mrs W&D's favourite town of Taormina.
W&D notes that Giro d'Italia will maintain the tradition of having 'podium girls', ignoring the trend of Formula One motor vehicle racing and of darts, neither of which W&D would consider to be a sport.
Japan: MUFG? 
Readers would have been as curious as was W&D to see an ad in the Financial Review for MUFG Bank.  Whaaaat?
With the name 'CBA' somewhat on the nose with government, regulators, shareholders and customers (a pretty strong cohort to upset), could MUFG Bank be the new name chosen by the Board.  A 'fresh start', perhaps.
W&D struggled to devise the words behind the acronym for what used to be CBA.  Perhaps it stood for "Mucked-Up, now the Force for Good Bank". 
Alas, no such luck.  MUFG is the name chosen by a seriously creative advertising agency to represent the current commercial business of the merged Japanese banks of Mitsubishi Bank, Bank of Tokyo, Sanwa Bank and Tokai Bank.
W&D couldn't help but think of its pronunciation: Muff Gee Bank.  Muff?  Gee!
Could there possibly be a more clumsy name for a bank?  Especially as the Muff Gee Bank is the fifth largest in the world (the top four are all Chinese).    
Italy: PISA is not a city
It's the Programme for International Student Assessment, an OECD run global test of over half a million acned 15-year-old students.  And it's the basis for assessing how a country's educational system compares to others, in science, maths and reading.
Work with W&D on this.  Readers will be aware of the release of Gonski 2.0, the latest output of recommendations to the federal government to improve Australian educational outcomes.  Part of the data used in the report is from PISA.
The PISA results tell a compelling story: Australia is rapidly falling behind.
(Readers may wish to go to this link for the latest results.  And use the website to compare Australia to other countries.)
Interestingly, Australia rates highly in the areas of outcomes for immigrant children, social background equity and girls versus boys equity.  
Gonski 2.0's release promoted a massive range of comments from the government, teachers, experts and would-be-experts.  Most commented on the content of the report and its recommendations.  And what should or could be done about, for example, curriculum.  
And, surprisingly, there was only one begging bowl put out.  And unsurprisingly, it was from Queensland.  Its Education Minister (Ms Grace Grace)'s well thought out response could be summed up in four words: "give us more money."
Sigh.
UK: Flat Earthers arise
W&D is pleased to advise that there are still people who believe that the earth is flat.  And to this end, last weekend paid £107 for a three-day ticket to the UK's first Flat Earth Convention.
This is an exciting event and W&D wonders when and where the first Australian equivalent will be held.  And who will attend.
Actually, the venue is easy - somewhere in Queensland.  Gotta keep travel costs down.  Date-wise, perhaps in the parliamentary recess.  Which leads to the obvious conclusion as to who should attend...
Okay, if it's not that obvious W&D will give Readers the whisper.  Sshh: all paid up members of the Greens, Pauline Hanson and her party (W&D has forgotten its name), Tony Abbott and Barnaby Joyce.
Pakistan: Imran can
Readers will recall one of the greatest all-around cricketers is Imran Khan of Pakistan [2].  As revered BBC commentator John Arlott once mentioned, Khan "touched the skirts of genius."  And they weren't the only skirts he touched.  But that's another matter.
However, Readers will be aware of the spectacular demise of Nawaz Sharif, Pakistan's former Prime Minister, who was last year tossed out over corruption charges.  Well, Khan wants his job. 
It won't be easy.  As is often the case in Pakistan, it's a dynastic thing: Khan's major opponent will be Sharif's younger brother, Shehbaz.
Khan's third wife is Bushra Maneka, who is a faith healer, and is said to have told him of a dream in which it was revealed he would become prime minister only if he married her.
Why does W&D's mind turn to Barnaby Joyce? 
Korea: fair trade
Continuing the search for the arcane, W&D can reveal that in exchange for North Korea agreeing to suspend all missile launches and nuclear tests, South Korea responded equally: it stopped blasting propaganda, including k-pop music, across the border with the North.
Fair trade?
Deepak, W&D's Uber driver, was talking about Facebook...
... and its move to create a dating platform. 
"If I go on it, will Anjali find out?" he asked as soon as W&D hopped in his car. "Of course, I'd just be curious.  I'd never cheat on Anjali."
"Well," responded W&D, "You might not live to.  Hell hath no fury like a woman scorned [3]. And Facebook has a track record of selling personal data.  Privacy is not the foremost concern of Mr Zuckerberg.  Imagine the price for a blend of personal data and a dating site emails."
Deepak wasn't daunted, "But surely Mr Zuckerberg has learned from his privacy mistakes."
W&D laughed, "Read his lips and then his track record. Firstly, his announcement of the dating site started with: "There are 200 million people on Facebook who list themselves as single.  And if we are committed to building meaningful relationships, then this is perhaps the most meaningful of all." Good grief, how sanctimonious.  So he, and Facebook, are committed to 'building meaningful relationships'?  Let me tell you, Deepak, he is only committed to one relationship: his net wealth."
"Mr. W&D, you mentioned his track record.  Aside from Facebook's Cambridge Analytica privacy breach, what else is there?" asked Deepak, seeming to be a supporter of Facebook.
"Oh, Deepak," signed W&D.  "Wasn't the release of data on 87 million Facebook users enough?  Well if not, consider that Facebook now owns WhatsApp, the world's largest messaging app.  When Facebook bought WhatsApp in 2014 (for US$19 billion!) WhatsApp founders were assured that WhatsApp data wouldn't be merged with Facebook's.  But Facebook pressured enormously and so Whatsapp changed its terms of service to give users' phone numbers to Facebook.  That is the thin end of the wedge. How many people read the email that announces that 'Terms of Service' have changed?"
"So are you saying that data on the upcoming Facebook Dating Site might either be sold or used inappropriately?" asked a worried Deepak.  "I'm not so sure about that.  Mr Zuckerberg seems a nice young man."
"A fatal conclusion," W&D muttered as he got out of Deepak's car. "He probably is a very nice man.  But the guy's in it for the dosh, he has zero ethics.  And, importantly, what if somehow Anjali found out that you went on his dating site?"
"I'd be doomed," wailed Deepak, "Anjali would do more than withhold privileges, she'd probably bring out the bricks."
"As it should be", concluded W&D as he strode off.  "Deepak, I told you last week, this marriage thing is a 24/7 job.  Forget Facebook and go and buy some flowers."  
And, to soothe your troubled mind...  
Miscellany 
Last words...
"$50 billion subs purchase needs more attention than a media release." 

-   Richard Marles, Labor frontbencher, in a media release.
Sigh. 
First Samuel client events calendar
Date 

Description

Details

2018 Events  

Tue-29-May-18

Eat Street - food & wine fest - Invitations sent

Sofitel

Wed-18-Jul-18

NGV Winter Masterpieces Exhibition

Masterworks from Moma (New York)

NGV

Tue-14-Aug-18

Forum - guest speaker TBA

Leonda
Some lightly salted absurdities from all over...
At the extreme left-hand end of the Bell Curve
Matthew Mitchell, in 2006, was out of prison on parole.  He decided that he didn't want to go back to the slammer.  So he scarpered.
And was never seen of again.  Until he decided to rob a home, in the same state as his original offence (Vermont).  And was caught.   It was then that outstanding warrant from 12 years ago was discovered.
(WCAX3)
If only he had moved to another state.  Or kept a 'low profile'.  But he didn't.
Guess why 
Schools in the UK are removing analog clocks from examination halls and replacing them with digital clocks.  Why? 
a.  Teachers got fed up with changing the batteries in the analog clocks;
b.  There was a workplace health and safety issue with the ticking of the analog clocks;
c.  It followed a directive from the EU; or
d.  Students can't tell the time using an analog clock.    
Close.  But no cigar.  d. is correct.  UK students cannot tell the time.  Malcolm Trobe, deputy general secretary at the Association of School and College Leaders (ASCL), said students have become accustomed to using digital devices. "They are used to seeing a digital representation of time on their phone, on their computer."
(UK Telegraph)
Lace-up shoes will be the next to go.     
But I already had the tickets 
Cristina Pavon-Baker, a 17-year-old from Georgia, USA, was using Snapchat while she drove 170 kph in a 100 kph zone.  Her Mini Cooper flipped, crashing into a tree and killing her friend, 18-year-old Makayla Penn.
The girl is facing felony-level vehicular homicide charges and was granted bail pending trial and ordered, amongst other things, to surrender her passport.
But she wants her passport back.  Her lawyer asked the judge if she could keep her passport.
"Why?" asked the judge.
Her lawyer replied, "So she could go on a cruise, sir."
"Why?" asked the judge
"Because," replied her lawyer, "she already has the tickets."
The judge replied, "It's a one-word answer: forget it."
(Sacbee.com)
Have a Wry & Dry weekend. 
Anthony
[1]  Levf-tenant, not Loo-tenant. The pronunciation problem arises probably because Americans wish to exhibit knowledge of the French language and hence pronounce the 'lieu' as the French do.  But the earliest examples of 'lieutenant' in the Oxford English Dictionary are all from Scotland, and it seems even then that the "Levf-tenant" pronunciation was being used.  Readers will be familiar with John Barbour's "The Brus" (a 14th century narrative poem about Robert the Bruce), which has "luftenand".  Moreover, an Old French rending of lieu was "luef". The British pronunciation was still used in the USA in 1793.
[2]  Khan is considered to be in the top seven all-rounders in the game's history: with Sobers (West Indies), Kallis (South Africa), Miller (Australia), Hadlee (New Zealand), Botham (England) and Dev (India).  
[3]  First written as "Heav'n has no Rage, like Love to Hatred turn'd, Nor Hell a Fury, like a Woman scorn'd." in the 1697 play The Mourning Bride (Act III Scene 2) by William Congreve.