Greece is back! Bernardi and Culleton. Your taxes not at work.
Thank God for the Greeks!  Just as Wry & Dry was panicking that quality news would diminish with the quietening of Tsar Trump headlines, like a bad drachma, Greece has come back to the fiscal headlines.
Yes, readers, W&D knows that you thought that Greece's fiscal problems were over.  Or at least kept hidden until after the German elections in September.
Well fear not.  W&D senses this is the αρχή of the τέλος [1]of W&D paying for his Athenian souvlaki in euros.  See later for all the scoop.
Meanwhile, Australian company profit reporting 'season' has begun, with companies reporting on their profit performances for the six months to 31-Dec-16.  Companies owned by First Samuel clients did well.  See Investment Matters for more. 
Your taxes not at work.  Ever vigilant, W&D can report that as many as one-third of Australian university students who enrolled in 2006 failed to complete their course after six years.  And the numbers didn't get much better after nine years.  See later, below.  
The share-market remains overvalued, but is not buoyant.  W&D urges readers to be cautious about the price at which you invest your hard-earned.  The below chart is a clear proof-statement of the folly of buying over-valued stocks:
Readers who invest: get with the programme!  The message from the US is just as relevant for Australia.  The critical determinant of your long-term return is buying shares that are inexpensive.
Speaking of long-term, readers would have to think that a guaranteed 6 years of paid employment ($200,000 p.a. plus perks) without accountability or responsibility is a good gig.  Well that is what Quisling South Australian Senator Cory Bernadi has arranged for himself on resigning from the Liberal Party.  Bernadi, who W&D places so far to the right of the soup spoon as to be off the table, has much in common with Vidkun Quisling, the Second World War Norwegian traitor.   Do your own research.
And to continue the theme, W&D notes that the High Court confirmed that former One Nation WA Senator Rod Culleton now has to get the bus down to Centrelink, rather than taking the limmo to Parliament House.  
Former Senator Rod Culleton and his parliamentary career
The former Senator is nothing if not a fighter.  He has commenced a fund-raising campaign on gofundme.com.  W&D is not quite sure on what the funds will be spent.  And neither is his website.  But donors can be assured of probity as 'All funds will go directly to an authorised protective trust account.'
W&D's understanding is that a 'protective trust' is one established to provide or care for a person with a disability.  As might have been observed in Monty Python, "Say no more."  [2] But, not encouragingly, this morning the campaign was a mere $97,980 short of its $100,000 goal.  That's $84.17 raised per day since the campaign started.  At this rate he will reach his target on 16-Apr-2020.  W&D guesses interest in him might have waned by then, but nonetheless wishes him good luck with his projects.
But W&D doesn't wish Rachel Siewert, Green senator and spokeswoman (not spokesperson?) on Aboriginal affairs good luck with her projects.  The good Senator moved the Senate to move the date of Australia Day.  The Liberal, National, Labor and cross-bench Senators were not so moved.  W&D's issue is not the date itself, but the mover's characterisation of Australia Day as 'Invasion Day.'  If the desired outcome is to change the date, then surely a more successful approach would be not to take the 'victim/ grieving' route, but one of a nation-forming event.   
A last word on Australian politics: W&D observed last week that PM Turnbull had eaten raw meat over the summer.  And on Wednesday parliament was finally treated to the raw meat working its way into the PM's persona.  Mr Turnbull's display of invective and derision (of Opposition Leader William Shorten) hasn't been seen since the days of Costello and Keating.  As that phlegmatic, if somewhat biased observer, former Labor numbers' man Graham Richardson observed, "Every one of Shorten's weaknesses was dealt with brutally, and Turnbull's brevity with the one-liners was incredibly effective."
But Turnbull now has to actually do stuff.  However, his performance was quite timely, as the Newspoll earlier in the week had seen One Nation eating the Liberal's lunch.  Labor's primary vote was unchanged at 36%.  The resulting 2-party-preferred vote (54/46 Labor's way) is an aberration as One Nation's preferences wouldn't fall as they did at the last election.  It's a bit complicated but it has to do with One Nation's preferences in Queensland that gave Labor two previously thought-of-as-unwinnable seats [3].  
Prior to Turnbull's stunning performance, Labor was basking in the disintegration of the right-wing of the Liberals and rise of One Nation, in much the same way that Labor has seen the Greens erode the vote to its left.  At least the Greens have a triple-digit-IQ leader. 
Meanwhile, across the Pacific, Main Street America was very enthused to hear Tsar Trump proclaim that there would be "massive tax cuts for the middle class," as recently as last week.
Main Street would also have been excited by Tsar Trump's assertion that the Obamacare replacement will "take care of everybody," and that it will do so for less money.  W&D ponders that these two developments would be extremely positive developments for the US economy and the market.  And Americans clearly took him at his word.  Just look at the boost in Consumer Confidence since he was elected: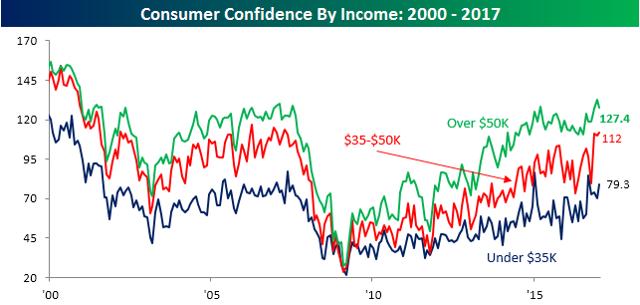 Source:  US Conference Board Survey 31-Jan-17
What was notable in the report was that the greatest surge in confidence came from the income level of $35-$50,000, which constitutes a large segment of America's middle class. A thriving middle class is a critical component to a strengthening economy that has sustainable growth.
But will Tsar Trump deliver?
W&D's simplistic economic chain is this: Corporate revenues and profits are largely dependent on the rate of US economic growth, and this may be curtailed under Tsar Trump's trade policies.  The rate of economic growth is largely dependent on consumer spending.  Consumer spending is fueled by income growth.  If the majority of the benefits of tax reform go to corporations and wealthy households, that money will be saved, invested or used to repurchase stock and pay dividends.  This does not spur economic activity.
Say no more.
Clearly Senator Derryn Hinch reads W&D.   Readers will recall last year that W&D lambasted the Victorian Senator with an overworked liver for messing up the industrial relation reforms proposed by the government.  Without going into those details, Hinch clearly was going to Damascus over the summer when the scales fell from his eyes and he saw the folly of his ways.  He will now support the very sensible IR reforms, that will do much to reduce the effectiveness of the corrupt (and massively expensive to we-the-taxpayer) CFMEU.
W&D likes an MP who admits that he was wrong.
However, W&D doesn't like MPs who continue to have their snouts in the we-the-taxpayers' trough.  
Readers may not have heard of Queensland LNP Senator Ian Macdonald.  The good Senator has occupied the plush red seats of the Upper House for 27 years, without distinction.  He is aged 71.  When he retires, he will have an annual superannuation pension equivalent to W&D having a $3.3m superannuation fund.  But he wants more.  He wants to keep the extraordinarily lucrative Life Gold Pass.  PM Turnbull has just scrapped this perk.  The perk provides unlimited free business class flights for certain ex-MPs and their spouses for the term of the MP's natural life.
But wait, there's more!  An entitled ex-MP books and pays for the travel and then claims back the expense from the Treasury.  So, guess who gets the frequent flyer points/ miles?  Time for Senator Macdonald to return to his hometown of Ayr, that alphabetically powerful town of 8,000 citizens, about half way between Brisbane and Torres Strait.  W&D notes that the Wikipedia entry for Ayr lists 'Notable people from Ayr.'  W&D scanned the list of nine notables.  Senator Macdonald's name was nowhere to be found.  (But Cold Chisel's Don Walker was).  
Speaking of allegations of snouts and troughs, W&D reads that Ahmed Fahour, the CEO of Australia Post, skillfully negotiated a compensation package of some immensity.  He has been paid some $23m since he took the top postie's whistle six years ago.  And he will get a retirement payout of at least $4.3m.  
But the media aggrievance misses the point.  AustPost's modest profit would have been a massive loss without Mr Fahour's strategic changes.   When W&D looks at the extraordinarily high payments to bank CEO's over the years for them presiding over glorified building societies with a penchant for ripping off financial-advice seeking customers, W&D thinks that AustPost (and its customers and the taxpayer) has got a much better deal than the banks' customers and shareholders.   
Meanwhile, in spite of having the President of the Yoo-Ess-Ay as its most prominent client, Twitter's share price took a $1 billion dive last night after it reported widening losses and revenues that fell short of expectations.  Tsar Trump's prolific tweeting failed to boost the fortunes of the social media company, which reported its slowest quarterly revenue growth since going public in 2013.
Twitter, which has never made a profit, now has had 10 successive quarter of slowing revenue growth.  So much for the Trump Bump.
As noted above, readers can elsewhere ponder: how long before Greece reverts to the drachma; and your taxes, err, not at work.
And, of course, Miscellany to soothe your troubled mind. 
[1]  The beginning of the end.
[2]  Monty Python's Flying Circus, 17-Feb-2007.
[3]  Longman and Herbert