High Court decision. New Fool on the Hill. Gregorian, not Julian
Their Honours had a decent lunch and then said that...
...Barnaby had got the DCM.  He is a New Zilinder, after all.
And four other MPs also got the DCM.  But those four are, or were, Senators.  And will automatically be replaced by members of their own parties.  Barnaby, being a House member, will have his seat open to a by-election.
This decision will take Tsar Trump off the front pages in the weekend media.  And there will be much speculation about the government losing its majority for a short time, and even longer if the subsequent by-election is lost.  And that the government is in crisis.
Err, wrong.  Well, on the numbers' matter.  There are five crossbenchers in the House.  At least one, Cathy McGowan has pledged to support the government.  And another, Bob Katter, the nutter from FNQ, will.  A third, Andrew Wilkie has previously given Croesus Turnbull his assurance that he will back the government on supply and confidence.  
On this basis, Croesus Turnbull and his government are safe until the next election.  You won't see that detail in the media.  But William Shorten will make merry hell.
As for Barnaby, it's back to the bush.  
At last, Tsar Trump surrenders the weekly Fool-on-the-Hill award to...
...the South Pacific's newest Peoples' Socialist Republic, New Ziland.
Wry & Dry knew that the newly elected New Ziland government (a Middle-earth three-legged creature with Labour; New Ziland First and Greens legs) would provide rich material.  But what an opening night when new PM Ms Ardern announced some policies.  Like the opening night of Hair, what was revealed was popular and folksy but the underpinnings were neither substantial or stimulating.  Consider these:
"All school students will get driving lessons paid for by the state."     
W&D applauds this major policy initiative.  Having seen New Zilanders drive on Australia's roads, it is clear that early intervention is required.  And who better to pay for it than they-the-New-Ziland-taxpayer?
In a somewhat confusing policy, any foreign investment that involved more than 5 hectares of land would be vetted by a government body.  "We will stop foreign buyers from buying homes in our existing housing market," Ms Ardern confirmed.
Hold the phone: New Ziland homes are on land greater in size than 5 hectares?
Minority-partner NZ First's horse-racing policy would also be adopted.  That policy, among other things, promises a new racing division with a minimum prize-money guarantee. That will be paid for by the taxpayer.
This government could take Tsar Trump off the headlines. 
Speaking of Tsars...
...much ado will be made this week of the 100th anniversary of the October 1917 Russian Revolution that brought the communists to power.  And the overthrow of Tsar Nicholas II (and subsequent assassination of him, his wife, son and four daughters). Even the august Economist magazine has a leader on it, this week.
Err, wrong.
Russia used the Julian calendar at the time.  The date according to the now almost-globally used Gregorian calendar [1] was 7th November 2017.
W&D's Uber driver...
...was talking stocks.  Deepak is a very active online trader, who only ever talks about his successes but is always curious.  What going on in the US market, he asked?  He did hold a few exciting stocks.
W&D's response was caution.  There is the beginning of a sense of euphoria, simply because the market has done nothing but go up for 10 years.
W&D observed to Deepak that the US stock-market was about 60% overvalued (P/E of 26 compared to an average of 16).
The US market (i.e. S&P 500) has gone for 242 trading days (i.e. about 11.5 months) without a 3% correction, topping the record of 241 days set in 1995.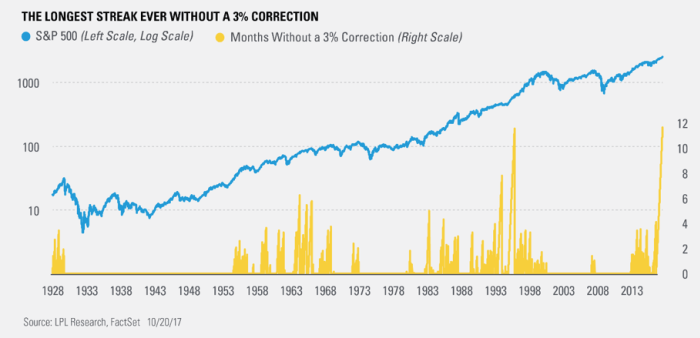 Not convinced?  The S&P 500 has gone 332 trading days since the last 5% fall, a record only exceeded on three other occasions.
This has a lot to do with indiscriminate passive fund investing.
But W&D told Deepak that the Australian market was only about 10% over-valued.  Always careful not to give personal financial advice in a tuk-tuk [2] (as Deepak calls his Toyota), W&D suggested caution about investing in the US, unless he wanted to punt the currency.   
"Oh, my goodness, no," Deepak responded as W&D alighted his tuk-tuk, "my Anjali would never allow me to take risks."  
Catalonitis now infecting Italy
Whatever those independent thinkers in Catalonia were thinking (and W&D considers they were and are not thinking too deeply) has seeped across the Pyrenees, around the corner and across the Alps to Italy.
More than 90% of voters in Lombardy, home to Italy's financial capital Milan, and the adjacent Veneto region around Verona and Venice, last weekend voted for 'more autonomy' in a non-binding referendum.  Lombardy and Veneto are two of Italy's richest regions, accounting for almost one-third of Italy's wealth.
And their gripe? 
As old as unification itself (1871): that Italy's north is subsidising the poorer south: they spend much more in taxes to Rome than they get back in public spending.  The northerners want to roughly halve their contribution to Rome.
Nice deal.  If you can get it.
But neither region wishes to leave Italy.  Yet.

Let W&D give Readers the whisper.  When he was last in Florence (in Tuscany, also part of the 'North') he asked a shop-keeper if she were Italian or European.  "Non Italiani o Europei, sono Toscana!" was the furious (but polite) response.   And that regional loyalty was a message repeated wherever W&D and Mrs W&D travelled in Italy.  Even in the more laid-back Sicily.
What's going on?
Well, to W&D's mind, one of the original benefits of unification of tribes was security.  Most of Europe has been marched over by other tribes from over the valley or over the horizon for centuries.  So defensive strength from a grouping of tribes that had a few common elements (language, customs, geography, religion, etc) made some sense as a defence against other tribes.
But such agglomeration loses relevance to people brought up in a world of more-or-less peace and increasing prosperity.  The sense is that the tribe to be feared is a long way away (the tribes still fear Russia) or one that uses asymmetrical warfare (i.e. terrorists).  So, aside from the Football World Cup (a quadrennial sporting event hosted to the country that pays the highest bribes to the jury), why should Italy's disparate tribes be united? 
The noise for autonomy will morph into cries for independence. 
Meanwhile, back in the top-right-hand corner of Spain (i.e. Catalonia) things are getting very messy.  Could there soon be a shot that is heard around the world [3]?
Bidding for Amazon
That perceived uncaring bulldozer about to squash Australian retailers, Amazon, is seeking to build a massive second HQ (with up to 50,000 employees).  And has asked cities across North America to put in proposals.  Of course, fiscal incentives are in the schedule of requirements, along with the city having a metropolitan area with at least one million inhabitants.
Bidding closed yesterday.  The winner will be announced next year.  This is going to be a bigger event than the announcement of an Olympic City (only three bid for 2020) or World Cup country (four bid for 2018 and five for 2022), as some 238 Canadian, American and Mexican cities have submitted proposals.
Clearly, some of the bidders didn't read the fine print.  To W&D's understanding, there are not 238 cities in North American with more than one million inhabitants.
There are just 57.
By the way, W&D has saved Amazon the struggle of shortlisting; and recommends a list of Austin, Chicago and Boston.  The bookies' favourite is Atlanta ($3 or 2/1).
ANZ: more vigorously not defending 
ANZ bank unfurled the white flag on Monday.  And agreed with ASIC, the corporate Labrador, that it was guilty of 'unconscionable conduct', i.e. allowing its money-market traders to rig the market's short-term bench-market interest rate [4].  ANZ will cough up about $60m to the government's coffers.
NAB and Westpac were still negotiating. 
Rio: expected to vigorously defend even more
W&D last week alerted Readers to the US corporate bulldog (SEC: Securities and Exchange Commission) charging former executives of mining company Rio with all sorts of sins to do with Rio's failed $3.7 billion investment in a Mozambique coal mine.  And asked the question as to why Australia's corporate Labrador remained asleep in the kennel.
Well, ASIC awoke this week.  Well, sort of.  And sheepishly (can a Labrador do anything sheepishly?) announced that it was possible that Australian criminal charges might also be laid against Rio and its executives.
W&D is not holding his breath.
Mind you, neither are aggrieved US investors.  Some have lawyered-up and commenced a class action against Rio.  Expect that to be settled.
Universities and research funding
Readers will be aware that W&D has been beating the drum about universities being ranked on the basis of their research spending rather than on employment outcomes of their graduates. 
Well, W&D has been pouring over the Productivity Commission's 1,100 page 'Shifting the Dial' report. 
Deep in the report, the PC said that universities were too focussed on research, and accused them of 'gladiatorial obsession' with the international research-based university rankings, at the expense of good teaching.
Hear!  Hear!
W&D's nightmares resume
Former Australian PM Keven Rudd returned from his principal place of residence (New York) to launch the first volume of his memoirs: Not For the Fainthearted.
His return has caused W&D's nightmares to return.  W&D feels compelled to remind readers of the shambolic but feel-good thought-bubbles that morphed into policy.  And the swamp of chaos into which government slowly sank.  And aided and abetted by undoubtedly the worst treasurer Australia has ever had: Wayne Swan.  
At least the Ruddster had the decency to quit politics, unlike his successor PM: Tony Abbott.  Or Wayne Swan.  Each of whom continues to languish on the back-benches, earning a comfortable living, adding no value and keeping younger and brighter persons from entering parliament.    
W&D seeks solace from the Ruddster's return.  And so has moved to uncork a bottle of Perrier-Jouët.  
And, to soothe your troubled mind...  
Miscellany 
Last words...
"Having a noncompetitive local (company) tax rate is a bad idea in the long run." 
-   Jamie Dimon, CEO of JP Morgan, a large US bank, in a talk to local corporate heavy-weights.
Not speaking his own book, of course...
First Samuel client events calendar
Date 

Description

Details

See below       

Chief Investment Officer Dinners


Invitations Sent

Tue-14-Nov
Centenove, Kew
FULL
Wed-22-Nov
Donovans, St Kilda
Lunch & Dinner (FULL)
Tue-28-Nov
Elyros, Camberwell
Filling 
Wed-29-Nov
Bottega, Melbourne CBD
FULL
Sometimes cancellations occur, so please call Jess if you now wish to attend.
 
 
 

2018 Events  (Invitations not yet sent)

Tue-29-May-18

Eat Street - food & wine fest

Sofitel

Wed-18-Jul-18

NGV Winter Masterpieces Exhibition

Masterworks from Moma (New York)

NGV

Tue-14-Aug-18

Forum - guest speaker TBA

Leonda
Some lightly salted absurdities from all over...
At the extreme left-hand end of the Bell Curve
Cody Hulse, 25, was visiting his girlfriend and their newborn daughter (born that day) in the Excela Health Westmoreland Hospital in Pennsylvania.  Meanwhile, nearby, a car was stopped and searched.  The car was full of heroin and drug-related paraphernalia, with the occupants saying they had just bought the stuff from a man at the Excela Health Westmoreland Hospital. 
Police went to the maternity room and confronted Hulse, who acknowledged selling the drugs and who also had 34 bags of heroin in his pocket.
Charges include not only possession and trafficking heroin but also endangering the welfare of children. 
(AP)  
There goes Father of the Year possibility. 
This is weird... 
The U.K. government has blasted the United Nations for using the term "pregnant women" in a new version of the International Covenant on Civil and Political Rights, claiming the term excludes transgender people who have given birth and is therefore disrespectful.
But Britain says the terminology is unfair because they believe women aren't the only ones who can give birth. And the term "pregnant women" might "exclude transgender people who have given birth." 
(Daily Wire)
Run that past W&D, again...
Guess the outcome 
There are six living US Presidents (Carter, Bush Snr, Clinton, Bush Jnr, Obama and Trump).  Last Saturday a benefit concert for the victims of hurricanes Harvey, Irma and Maria were held in Texas.  Which President didn't attend?
a.  Bush Snr, he's aged 93, in a wheelchair and seriously not well;
b.  Bush Jnr, he forgot it was on; 
c.  Clinton, he had a date prior commitment; or
d.  Trump, the serving US President.
Close.  But no cigar.  The correct answer is d.  Trump was playing golf at his gold course in Virginia.
(New York Times)
Have a wry and dry weekend
Anthony
[1]  The Gregorian calendar is internationally the most widely used civil calendar. It is named after Pope Gregory XIII, who introduced it in October 1582.
The calendar was a refinement to the Julian calendar involving a 0.002% correction in the length of the year. The motivation for the reform was to stop the drift of the calendar with respect to the equinoxes and solstices—particularly the northern vernal equinox, which helps set the date for Easter. The change required the removal of 10 days from the Julian calendar.
[2]  A Three-wheeled auto-rickshaw.  Readers may have seen the movie: The Best Exotic Marigold Hotel.
[3]  Readers will know that, originally, the phrase comes from the opening stanza of Ralph Waldo Emerson's "Concord Hymn" (1837) and refers to the first shot of the American Revolutionary War (1775). 
[4]  The rate is the Bank Bill Swap Rate or BBSW.  W&D can inform readers that when he was inaugural Chairman of the Australian Swap Dealers Association (later to merge with AFMA), he devised BBSW as the fairest way to identify a benchmark market rate, similar to Libor (the London equivalent).  But in those days (mid-1980s) dealers were a little more honest, if a little less sober.