Phishing isn't fishing
Since March 2020, we have all managed multiple aspects of our lives online. Working, meeting up with friends and family, shopping, and banking – all of these daily activities have required a screen, logins and passwords.
The cost of this convenience has been the dramatic increase in the reported number of scams, phishing attacks and data breaches across the country.
According to the Government's Scamwatch website, Australians have reported a record $211 million in losses to scams so far this year, an 89% increase from last year. The most significant increase in losses has been due to phishing scams (261 per cent).
Phishing scams are attempts by scammers to trick you into giving out personal information such as your bank account numbers, passwords and credit card details.
How this scam works
A scammer contacts you pretending to be from a legitimate organisation that you may have dealt with – a business, bank, the Government, or a telephone or internet provider. They may contact you via phone, email or text message.
They will usually ask you to provide or confirm your details. Alternatively, the scammer may alert you to 'suspicious or unauthorised activity' on your account.
This type of scam sees an exponential increase during the festive season. In fact, you may have already received calls claiming that a large purchase has been made in another state or country through your Amazon account. The scammer will then ask you to share or confirm your credit card number.
Spot the red flags
1. Robotic recorded greeting: No legitimate business will call you with an impersonal pre-recorded message. In fact, a business you know and trust will ensure you're speaking to a real person, especially if it is to discuss something serious.
2. Alarming message and tone: When you read or hear an alarming message about having been hacked and had your data compromised, you are probably being targeted in a scam. Should you receive a call like this, even if you believe it may be legitimate, it's best to hang up and call the company back on the number you find on their website's contact page.
3. Inconsistent email address: Check that the email addresses are consistent and the same as a known true email from the sender. For example, the below is clearly not a legitimate First Samuel email address.
The Sender's real email address can be checked by hovering the mouse over the email address.
If you have not had any previous contact with the sender then it is highly likely to be a phishing email.
Companies rarely send emails from generic email hosts such as outlook.com or gmail.com, preferring to use their own domain name. This is what we do; you will always receive our emails from @firstsamuel.com.au
4. Incorrect grammar and spelling: Companies take pride in the information they disperse and generally ensure that the grammar and spelling are correct.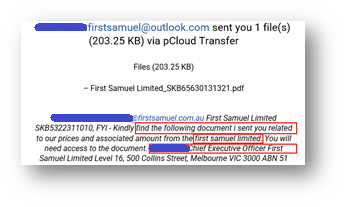 5. Impersonal greeting or salutation: Most companies sending emails will use personalised greetings rather than a generic or no greeting.5. Impersonal greeting or salutation: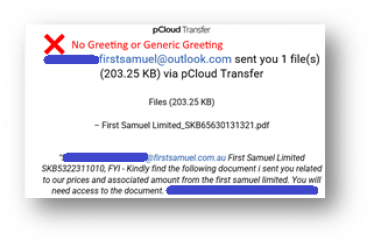 How First Samuel protects your data
We have a duty of care to safeguard your personal information and we take it extremely seriously. Our systems have strong security measures in place including two factor authentication and password management tools and we use every means possible to make sure the personal information you give us is safe, so it can't be misused or accessed without authorisation.
Moreover, you will always receive a phone call from First Samuel – most probably from your Private Client Adviser – to confirm a payment to a third party (but not to your registered bank account, the ATO or your accountant) or if we receive any request that seems suspicious or out of the ordinary. And, should you receive an irregular email from us, we request that you do the same.
We would much rather you call us than spend any time worrying about having been targeted by a phishing scam.
If you have been the target of such a scam, please take the following actions:
If you think you have provided your account details to a scammer, contact your bank or financial institution immediately.
Don't fight this alone. Many people feel embarrassed at having fallen for a scam or think it unnecessary to seek help. It's important to understand that these attacks come via professional and organised scammers, and anyone could fall prey.
We encourage you to report scams to the ACCC via the report a scam page. Please include details of the scam contact you received, for example, email or screenshot.
Please check out the Scamwatch website for further information on protecting yourself from scams and where to get help.
And lastly, spread the word to your friends and family to protect them.