The Markets
This week: ASX v Wall Street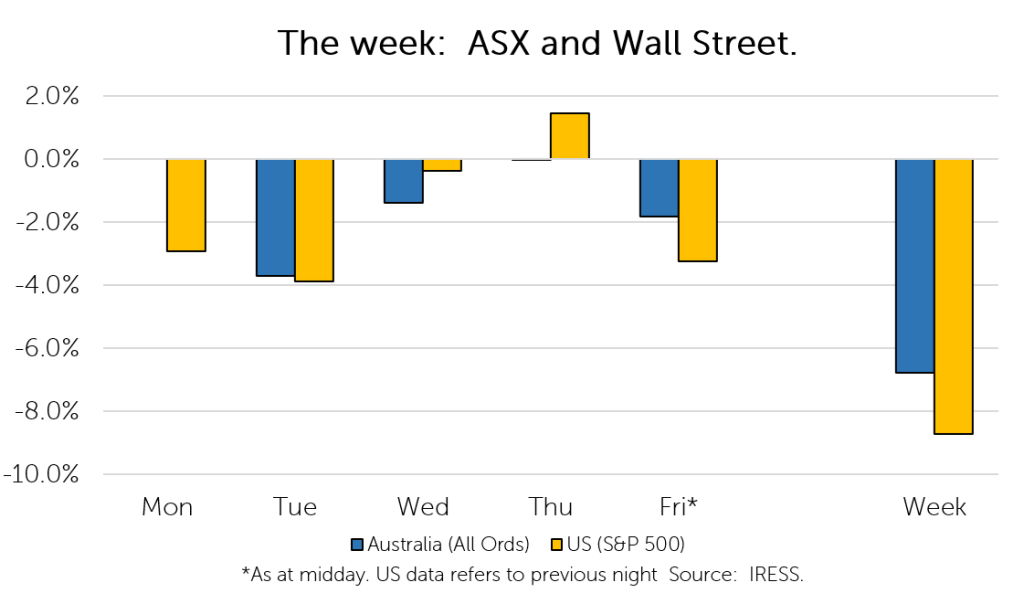 FYTD: ASX v Wall Street
---
Because of the current market volatility, this week's edition of Investment Matters has been truncated. It will be augmented by a Special Investment Update video from Craig Shepherd, First Samuel's Chief Investment Officer. That email will be sent later today.
In his autobiography Breathe: A Life in Flow, Rickson Gracie, considered one of the most influential practitioners of Brazilian Jiu Jitsu, describes a breakthrough moment in his martial arts career – the moment he learned how to breathe:
"I was able to focus with absolute clarity and my senses grew sharper, as did my awareness of my body and surroundings…Everything I have earned today was at least partially a result of breathing – my best performance, my emotional control, my ability to endure. Breathing gave me all of this."
The statement sounds a little trite, a little "new age" and a little, well, obvious. But over the past few decades we have begun to rediscover just how important breathing is.
The first revelation was in the mid 60's, when it was discovered that many of us suffer from intermittent closure of the upper airway while we sleep (described as obstructive sleep apnoea).
This results in a lack of oxygen (intermittent hypoxia), disturbed sleep and changes in pressure within the chest cavity. Amongst other things.
In the early 80s a simple solution was devised, the introduction of continuous positive airway pressure (CPAP) through a mask, to keep the airway open.
It was only two decades later that we began to realise how important this intervention was. Several papers demonstrated associations between obstructive sleep apnoea and high blood pressure and later, studies showed a link to an increased prevalence of coronary heart disease, heart failure and stroke.
And so, while it is hard to imagine we underestimated the importance of breathing, we did. For decades.
Clients' investment in Fisher and Paykal Healthcare asks whether we are once again underestimating the important of breathing, this time, in the hospital setting.
A brief background
Fisher & Paykel became involved in healthcare in the 1960s and has a long history of use in hospitals. In 2001, Fisher & Paykel healthcare was spun out of the original Fisher & Paykel appliance business.
The company develops innovations to improve patient care in the developed world and has a wide distribution network for these products across over 120 countries.
Currently, Fisher and Paykel focuses on respiration/humidification systems and masks, in the hospital and homecare settings.
The Homecare segment (approximately 25% of revenue), distributes the products from the first revolution in breathing mentioned above: CPAP machines and masks.
However, what we are more excited about is the Hospital segment (approximately 75% of revenue). The products the company distributes in the hospital setting are listed below. Broadly they can be split into two components: "hardware", which consists of the systems themselves, and "consumables": the masks, tubing and nasal cannulas that are attached to these systems for personal use.
The "hardware and consumables" model is a powerful one we have seen across other investments, namely, Nanosonics.
While the initial sale of hardware is revenue generative, each unit generates a long tail of higher margin consumables sales, which effectively turn into a recurring revenue base across the life of the device.
Source: Fisher and Paykal
Fisher and Paykel is a world leader is in high flow nasal cannulation (HFNC), an alternative to conventional oxygen therapy (delivered by a mask). Unlike conventional oxygen therapy, HNFC delivers high pressure, warm, humidified, oxygenated air is delivered to patients in need of respiratory support (see below).
Traditionally, these devices have been used in intensive care (ICU) and neonatal intensive care (NICU) settings.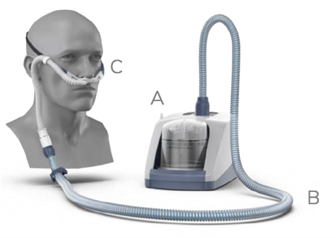 Above: The components of Fisher and Paykel's AIRVO2 HFNC system comprising A) air-oxygen blender and turbine-driven flow generator; B) heating inspiratory circuit; and C) nasal cannula

Source: Fisher and Paykel Healthcare
The COVID question
There was previously a reluctance to adopt HFNC outside of the intensive care setting. However, Fisher and Paykel was thrust into the "COVID beneficiary" bucket early in the pandemic.
During this time, it became evident that treating COVID patients with breathing issues (acute respiratory distress syndrome) with mechanical ventilation was associated with higher rates of death.
As a result, hospitals switched to HFNC on masse. And so, HFNC finally made its way out of the ICU into other areas of hospitals (including emergency), pulling forward what some analysts estimated was 6 years of hardware sales.
And while it may take time for the weight of clinical evidence to mount, there are clear physiological mechanisms that underpin HFNC's superiority relative to non-invasive and conventional ventilation.
In plain English HFNC provides advantages in terms of:
Higher gas flow and better clearance of mucus through the humidification and warming of air
More predictable delivery of oxygen (concentration)
Better clearance of carbon dioxide
Positive pressure increases the surface area of lungs available for gas exchange
Reduced work of breathing
These features mean that HFNC looks particularly promising in patients with chronic obstructive pulmonary disease exacerbations (COPD) and congestive heart failure (CHF).
While we have seen many "COVID beneficiaries" fail to translate the increased activity over the last two years into a longer-term, structural benefit to their businesses, we see that COVID has provided Fisher and Paykel an opportunity for a stepwise change in HFNC adoption.
With a significant amount of hardware purchased over the last two years, the company has a huge opportunity to convert this to a longer-term tail of high-margin consumable sales.
This is in addition to the substantial new product development that Fisher and Paykel continues to undertake, as showcased in its recent Investor Day, which we attended.
The company has a strong history of R&D, producing clinician led solutions over many decades and continually making significant investments in research and development (approximately $150m per annum).
Fisher and Paykel's growth aspirations have been supercharged by COVID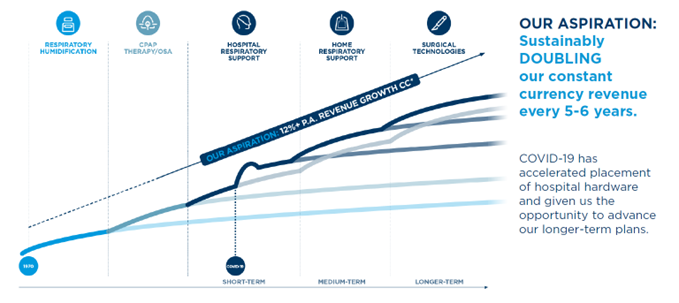 Source: Fisher and Paykel Healthcare
Conclusion
A new position in portfolios, we see that Fisher and Paykel has a long runway for future growth. This runway has been widened by COVID, which has seen a strong uptake of HFNC in the hospital setting.
The position provides an exposure to what we see as a quality company with a demonstrated history of strong value creation. This value creation has been underpinned by an unwavering commitment to research and development, a strong relationship with practitioners and a solutions-led focus.