The Markets
This week: ASX v Wall Street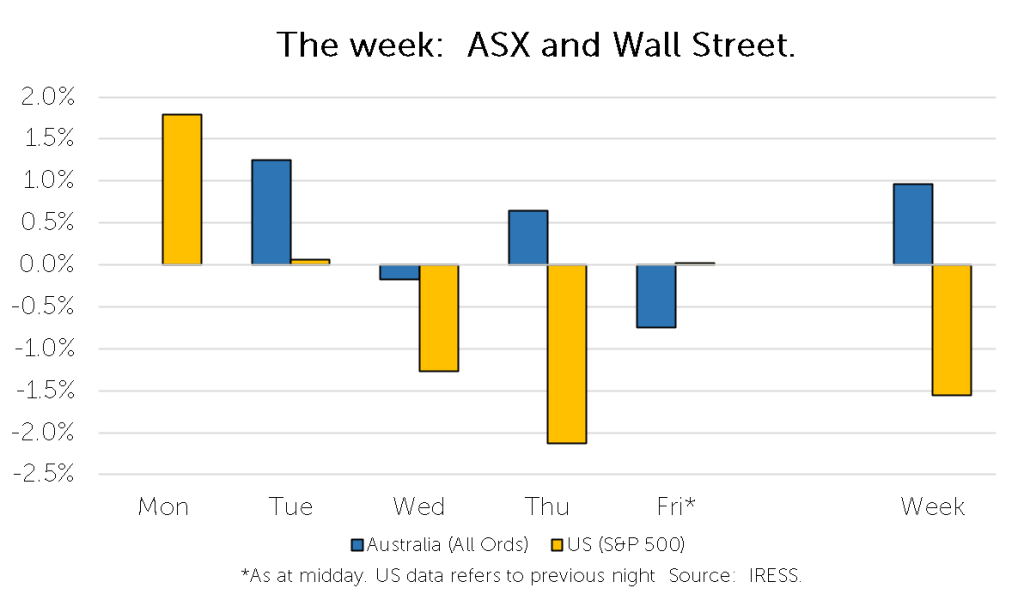 FYTD: ASX v Wall Street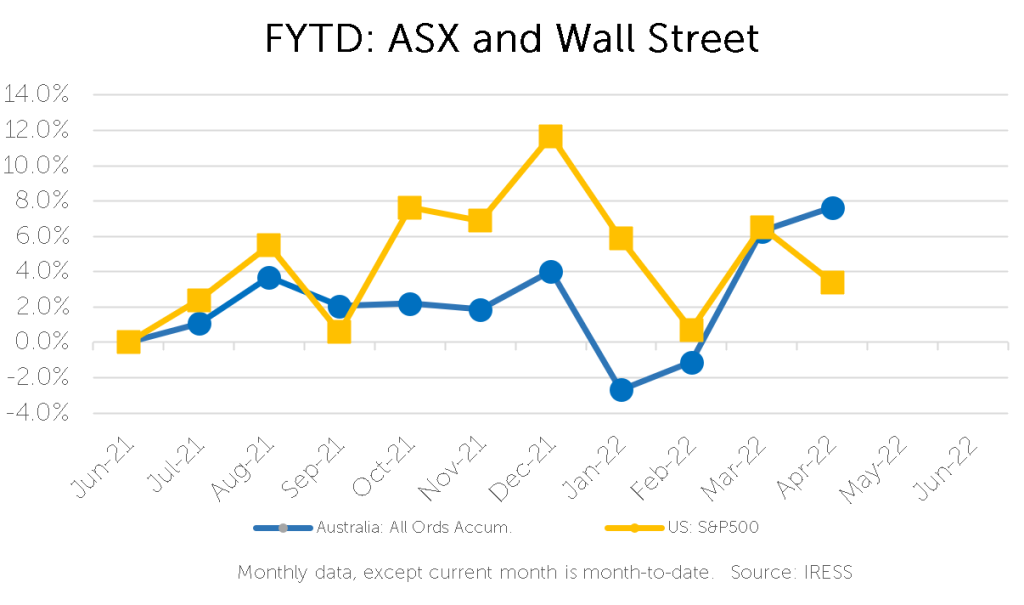 ---
We first posed the question mid last year: "Are we entering deal Nirvana?".
Almost 12 months later, the ASX cupboards are looking a little bare.
The trials and tribulations of 2020 produced an intoxicating mix of record low interest rates (i.e., funding costs) and depressed equity prices. It has therefore not surprised us that private equity firms (as well as the engorged industry superfunds looking to emulate them) have raided the ASX boards.
According to White & Case, deal activity in 2021 totalled approximately $365 billion – more than double the previous high in 2007. Some familiar names, many of them ASX stalwarts, are now missing from the ASX including Sydney Airport, AfterPay, Coca Cola Amatil and Village Roadshow.
In sum, we have seen private markets willing to recognise value where public markets wouldn't. Client portfolios have benefited from this activity: with takeovers of Intega, Cardno and Boral (well, a de-facto takeover).
Another name may soon be added to this list in Ramsay Healthcare, a recent addition to client portfolios. On Wednesday a consortium led by private equity firm KKR & Co made an indicative, non-binding takeover bid for Ramsay at $88 per share.
This is a 37% premium to its previously traded price and what would represent a more than 30% return to clients over their short period of ownership.
We look at the takeover proposal and the implications for shareholders.
The particulars
We are still in the early days of a potential transaction, which remains conditional on a due diligence period, regulatory approval (including Foreign Investment Review Board approval) and shareholder approval.
However, KKR's bid for $88 per share (less an upcoming dividend of $0.485 per share) is expected to give shareholders the option of receiving cash or script (that is, shares in the newly formed takeover vehicle). We will provide our thoughts on this as the deal progresses.
Furthermore, part of any cash distribution is expected to be in the form of a fully franked special dividend – which will help distribute Ramsay's mammoth $832m franking balance.
Yet, if history is anything to go by, it may be premature to consider this KKR's final offer.
KKR's bid on Thursday is not without precedent. In fact, KKR previously bid for private hospital operator Healthscope.
While ultimately unsuccessful, what ensued several years afterwards was a hotly contested bidding war between BGH Capital and Brookfield, waged over a 12-month period, that saw Brookfield best BGH's offer by close to 6%.
We are not ruling out that this will be the case here once again and note that KKR's due diligence period as part of the bid is "non-exclusive".
The end game?
The $88 per share bid for Ramsay is at what we see as a reasonable price for the business (and above its all-time high). Therefore, what might be the consortium's end game?
We suspect the answer may lie in the latent value in Ramsay's property portfolio. There has recently been a healthy appetite for property assets in the healthcare space, which provide a low volatility, pseudo government backed source of income (or thought of another way, are a pseudo public asset).
This stability in income of course, lends itself to higher potential levels of debt (or gearing) – which in the current market is readily available at relatively low levels of interest.
If we apply the prices (or "cap rates") these properties have been fetching to Ramsay's portfolio, we could see its properties could fetch between $3.8-$11.8bn.
This is nothing to sneeze at, given the proposed bid's implied equity value of $20bn.
Of course, we know there is no such thing as a free lunch. Owned property would have to be replaced with leases. However, a would-be acquirer may find that a well-timed sale given current market dynamics (low funding costs and buoyant prices) may put them well ahead in the long term.
Ramsay carries a significant amount of its property on balance sheet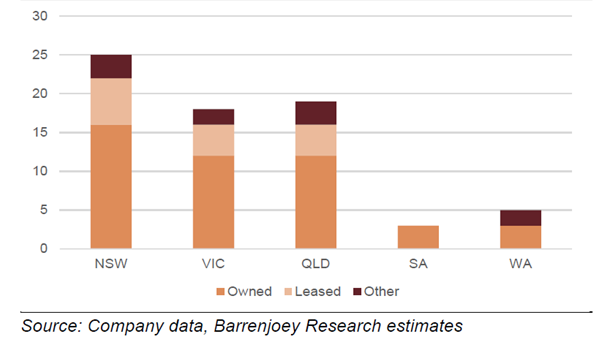 The next step
Given recent history in the space (i.e. the bidding war for Healthscope), we are happy to sit and wait for the dust to settle, should a revised offer or competing bid eventuate.
In the meantime, KKR will continue their due diligence process and begin to go through the motions as the bid moves to a binding, non-conditional offer.
There is relative confidence that some transaction will eventuate with the Paul Ramsay Foundation (circa 19% holder) supportive of the proposal.
We will keep readers informed as the process progresses.
Overall, the experience reiterates to us the mantra readers have often heard us muttering to ourselves: value is eventually recognised, either on market or off.
---