The Markets
This week: ASX v Wall Street
FYTD: ASX v Wall Street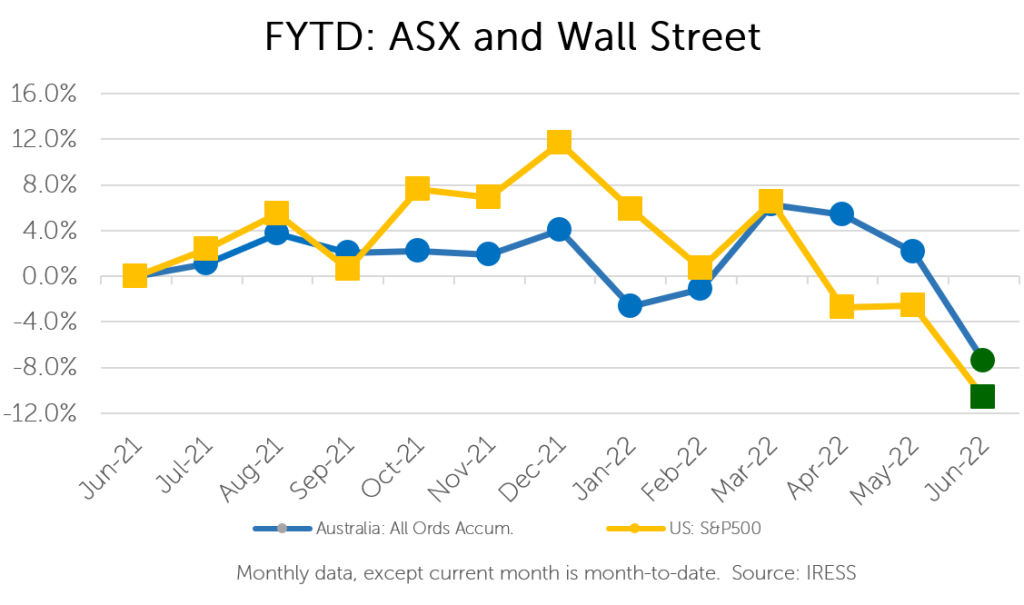 ---
The news headlines this morning point out what is obvious to most of our client base – it has been a turbulent year in markets.
However, in some instances, nuance has been the sacrificial lamb at the financial journalist's altar.
We thought it prudent to help anchor some of the sensationalism we have seen in the headlines. Sensationalism that, admittedly, has helped flatter the performance of a particular subsector of investment managers, in what has been a difficult year.
For instance, several outlets have reported headline returns of -10% for the ASX300. This figure ignores the impact of dividends. If we were to account for these, the ASX300 fell by only -6.7%.
June was indeed a large contributor to this, with the ASX300 falling by almost 9%. However, price falls accelerated towards the end of the month, which we suspect was motivated by tax considerations.
Returns across clients' Australian Equities sub-portfolios in FY-22 have been relatively pleasing, all things considered, handily outperforming the market. And while we await the official tallying of fund returns, we suspect that portfolios have performed in the top quartile of funds for the financial year.
We are particularly pleased with performance given the large divergence in returns between large companies (those with a large market capitalization) and small companies (those with a small market capitalization) we have seen: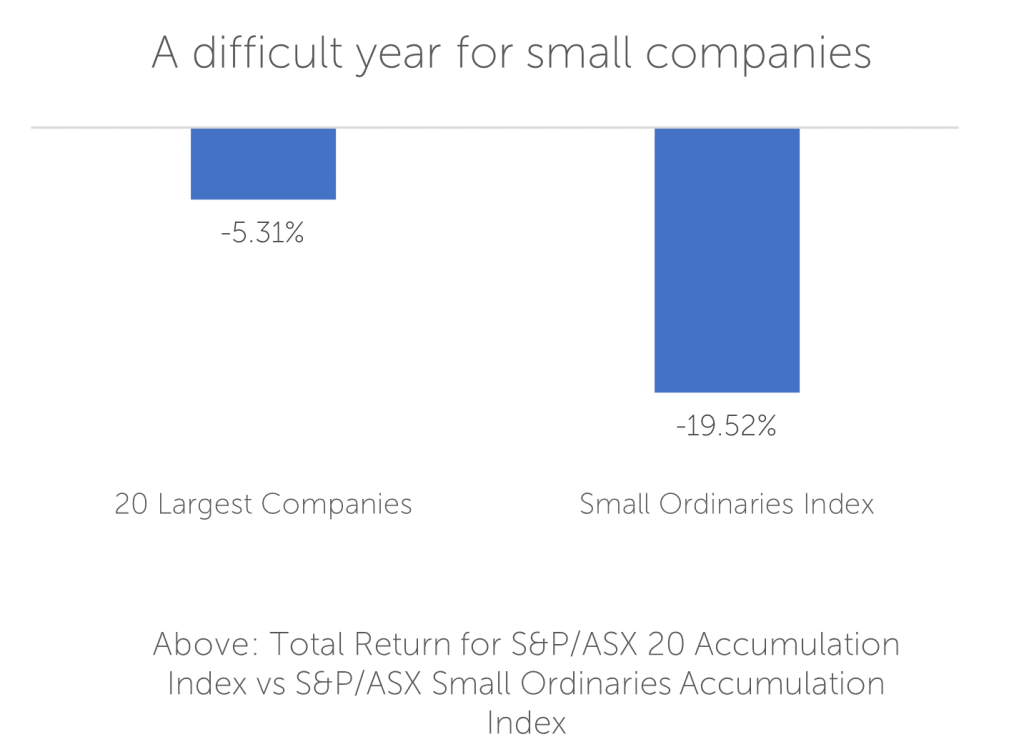 As clients are aware, First Samuel has historically had a leaning towards smaller companies as a source of returns. Therefore, the relative performance of Australian Equities given the backdrop for smaller companies this financial year has been better than it appears.
Furthermore, clients have seen significant outperformance across the Property and Income Securities sub-portfolios, which has resulted in a greater preservation of capital.
We look forward to providing a more comprehensive update on performance in our upcoming monthly CIO video: "FY-22 Wrap-Up", as well as upcoming Flash Reports and Personal Investment reviews.
An update on Innovate Access
This week, we revisit a long-held position in portfolios: Innovate Access (formerly Mr Rental).
While Innovate Access is a single entity, it has been developing several differentiated offerings under its umbrella, which have since evolved into three distinct businesses.
These functionally distinct businesses have matured to a point where we see that they can be structurally separated, and new capital partners introduced.
We believe that this separation and restructure will provide better long-term outcomes – that is, the parts should be greater value than the whole.

Separation: A re-introduction to three businesses
The journey for Innovate Access (formerly Mr Rental) has seen what once purely a consumer leasing business evolve into three functionally distinct business, with three offerings, serving three distinct markets.
These three businesses are: Solv'd (a furniture staging business, Mr Rental New Zealand (a franchise model that carries on in the vein of the original Mr Rental Australia business) and Gimmie (a hybrid consumer finance product).

Solv'd is a business that provides furniture to decorators in Queensland.
This leverages the company's extensive experience in managing inventory and utilising third-party logistics to provide a more seamless experience.
Once again, Innovate Access' focus has been to deliver this service transparently and flexibly.
Solv'd offers flat rates and transparent pricing. Additionally, the business provides a unique and extensive range for decorators.
The business has grown rapidly, with Solv'd already accounting for a significant proportion of the home staging market across the Gold Coast. Revenues in the year ending June 2022 were up 200%+ on the previous year.
Solv'd has now been functionally and structurally separated from Innovate Access group, which opens it to opportunities such as introducing new capital partners or a formal sales process.
While Mr Rental's operations in Australia have wound down, the New Zealand offshoot of the franchise model continues to thrive. The team has been able to continue to generate significant value, and the standalone business is now being readied for sale.
Mr Rental New Zealand continues to employ Mr Rental's existing consumer leasing model.
The franchise network currently turns over approximately $7m per annum, across 15 regions (including some company-owned regions).
Under this model, consumers are able to rent home appliances, white goods, electronic goods, furniture and computers to consumers and small businesses.
Each franchisee is responsible for the operation of their store within the franchise system and for the acquisition and management of their pool of rental assets.
As the franchisor, Mr. Rental New Zealand operates a capital light model that sees it earn income through franchise fees and royalties.
The progress made in this business has provided an opportunity for the long-held MRRENTALNOTES to be repaid. This security previously capitalised interest due. These notes will be repaid in full in July including accumulated interest.
The significant cash flow delivered by the Mr Rental New Zealand business will be returned to clients through a newly established security (MRNZSECCN.UNL). This new security pays a cash coupon of greater than 7% and will be a quality addition to clients' portfolios.

Gimmie melds two finance solutions to bring consumers a transparent, flexible offer.
Its online marketplace allows consumers to purchase household items across a wide range of categories: from furniture to air conditioners.
Consumers have the option to either (a) pay the "Cash Price" within 90 days – with no interest or penalties or (b) pay the "Plan Price" with fixed payments over 1 or 2 years.
While buy now, pay later (BNPL) and 'pay by instalment' are by no means new concepts, there are few products that provide the flexibility of these solutions combined.
More importantly, the Gimmie difference is the product's radical transparency: there are no hidden fees or charges. All fees and charges are outlined to consumers upfront in a single number – the "Plan Price".
In contrast to legacy rental models, Gimmie is targeting the informed, aspirational consumer who wants a no-fuss, transparent and honest experience.
Furthermore, unlike several BNPL providers, Gimmie is a regulated provider of credit and holds an Australian Credit License. Credit is only extended after taking into consideration a customer's financial circumstances.
However, like some BNPL providers, Gimmie is in a challenging operating environment. Listed companies such as Humm (formerly Flexigroup), Zip (Zip Money), Splitit and Sezzle have seen their share prices fall significantly over this financial year:
| | |
| --- | --- |
| Company | FY-22 Return |
| Sezzle (ASX: SZL) | -97% |
| Zip Co (ASX: ZIP) | -94% |
| Splitit (ASX: SPT) | -75% |
| Humm (ASX: HUM) | -55% |
Source: IRESS, First Samuel
Likewise, the environment for retailers may be more challenging moving forward, as we have seen reflected in the share prices of ASX-listed retailers (see below).
| | |
| --- | --- |
| Company | FY-22 Return |
| Kogan (ASX:KGN) – Online | -76% |
| Temple and Webster (ASX:TPW) – Online | -69% |
| City Chic (ASX:CCX) | -67% |
| Accent Group (ASX:AX1) | -56% |
| Super Retail Group (ASX:SUL) | -34% |
| Kathmandu (ASX:KMD) | -32% |
Source: IRESS, First Samuel
The holding value of Gimmie (within the Innovate Access Group) has been written down, as part of an updated asset-backed valuation. From the 30th of June the price of MRRENTALGROUP.UNL equity will be reduced by 50%. Any additional equity will be raised at this price.
Taking the next step
As part of the restructure, two existing securities MRRENTALNOTES.UNL and SOLVDWCF.UNL will be repaid. A third, the existing Gimme Working Capital Facility (MRGSECWCF.UNL) will also be fully repaid, and a new facility generated in the new financial year to house loans written post-June 30th.
Furthermore, there will be a reduction in the carrying value of MRRENTALGROUP.UNL (as discussed above).
The result is, after the completion of transactions over the coming weeks, clients will hold the following securities (depending on their asset allocation):
| | | | |
| --- | --- | --- | --- |
| Business | Security type | Code | Sub-portfolio |
| Gimmie | Working capital facility | TBA | Income securities |
| Gimmie (Innovate Access) | Equity | MRRENTALGROUP.UNL | Australian equities |
| Solv'd | Equity | SOLVD.UNL | Alternatives |
| Mr Rental New Zealand | Convertible Note | MRNZSECCN.UNL | Income securities |
The new securities in this list are: SOLVD.UNL which represents 100% equity ownership in Solv'd, a secured convertible note extended to Mr Rental New Zealand in MRNZSECCN.UNL (as mentioned above) and a new working capital facility which is yet to be established.
The restructuring represents the development of Innovate Access. It opens a variety of options for each business to explore, including potential sale and the introduction of new capital partners.
For further detail or should you have any questions about the transactions involved, please do not hesitate to contact your Personal Client Advisor.