Whilst pouring your Perrier-Jouët Belle Époque…
Admiral-General Morrison wants to spend up on defence. What has the government been doing?
Tsar Vlad: on the couch.
Sleepy Joe's stagflation
Cathay: not so terrific.
The Man Who Never Was now is.
If Tsar Vlad was really smart…
Ukraine: How many Russian soldiers does it take to change a Ukrainian light bulb?
Unclear on the concept: Humanitarian corridor to… inhumanity.
History: Like father, like son
Geography: What if we invade Russia to get back our islands?
Habits: How the gods mock us.
Whilst enjoying your Perrier-Jouët Belle Époque…
Admiral-General Marshall Morrison
Admiral-General Morrison is hardly the very model of a modern Major-General. With little knowledge, one suspects, of "…information vegetable, animal and mineral", much less "fights historical, from Marathon to Waterloo, in order categorical." [1].
Only of what needs to be done to win an election.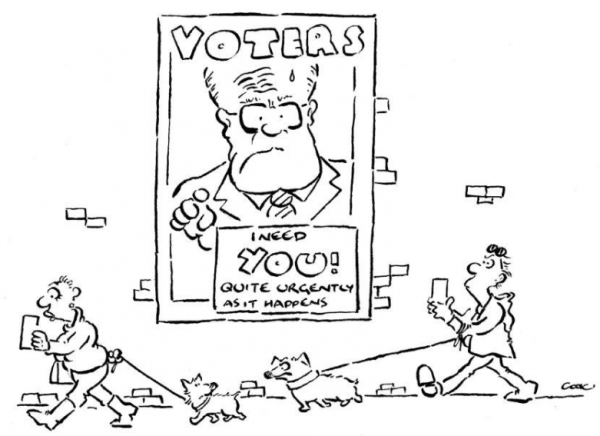 When John Howard left office, Australia's defence spending was about a paltry 2% of GDP. The Rudd/ Gillard/Rudd governments reduced this to 1.6% (the lowest since 1938); clearly pink batts would have been ideal to soften the blow of a missile from an unfriendly neighbour. The Abbott/Turnbull/Morrison governments lifted this to 2.1%. Just enough to defend the area between the flags [2] from an invader.
But all is not lost. Not yet. After Croesus Turnbull disastrously chose French underwater tin cans, Admiral-General Morrison correctly chose UK/US long-range submarines. But made in Adelaide, by a company that a former minister of defence said couldn't build a canoe, much less wield an Allen Key.
Not only would the Adelaide-build add billions to the cost, but also delay delivery until Australia had reached net zero [3]. But, of course, there's all of those votes in South Australia.
This week Admiral-General Morrison said he wants to build a new $10 billion submarine base somewhere in New South Wales or Queensland. That'll be another 20 years, just to choose the site. Imagine not only the fighting between the two states, but also consideration to be given to environmental issues, diversity of workforce and land rights.
But wait, there's more. On Wednesday he announced a further $38 billion to increase the number of fighting folk by 18,500 by 2040.
What's going on? It's called an election.
[1] "I am the Very Model of a Modern Major-General" from The Pirate of Penzance by Gilbert & Sullivan.
[2] That is, between the lifesaving flags between which it is safe to swim, but not invade.
[3] 2050.
On the couch
Wry & Dry's man person in Moscow managed to bug the office of Tsar Vlad's psychiatrist. This is a verbatim transcript:
Doktor Freudripov: Tell me, for how long have you had this desire to invade another country?
Tsar Vlad: You misunderstand. I have no desire to invade any country.
Doktor Freudripov: I see. So how would you then describe the attack that Russian forces are making on the sovereign state of Ukraine?
Tsar Vlad: You misunderstand. There is no sovereign state of Ukraine. There is a part of Russia called Ukraine. Everybody knows this.
Doktor Freudripov: I see. And can you then explain why the Russian army is then destroying buildings within what you now call Russia and killing its citizens?
Tsar Vlad: You misunderstand. This is a peace-keeping operation.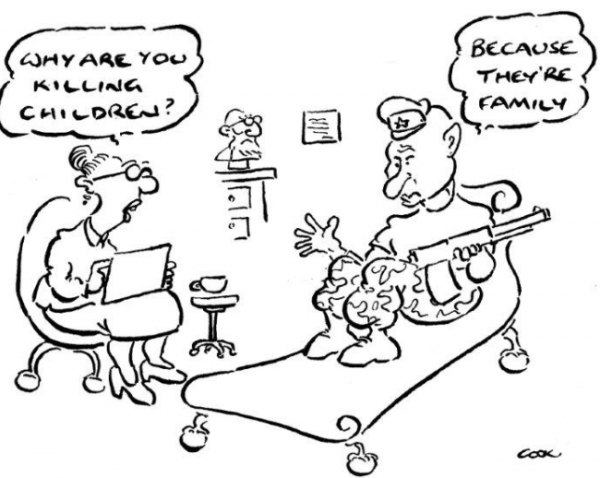 Doktor Freudripov: I see. It is often said that in international relations, there are no good choices, only the least bad one. Do you agree?
Tsar Vlad: You misunderstand. This peace-keeping operation in the Russian oblast [4] of Ukraine is a good choice. It's good for me. It's good for my place in history.
Doktor Freudripov: I see. There are reports that the peacekeeping force in Ukraine is smaller than what is required.
Tsar Vlad: You misunderstand. I asked Siri and she said 190,000 cannon fodder, sorry, soldiers would be plenty.
Doktor Freudripov: I see. You appear to be in sole command of everything. But what happens if you suddenly die.
Tsar Vlad: You misunderstand. I will live forever.
Doktor Freudripov: I see. A lot of people are then worried about the codes used to start a nuclear war. What if you are away, for example, in your dacha in Sochi?
Tsar Vlad: You misunderstand. My colleagues know that I keep the codes in a jar by the door.
Doktor Freudripov: I see. I'm sorry, but your time is up for today. That will be one hundred US dollars for today's appointment.
Tsar Vlad. I see. But I will pay you in roubles.
Doktor Freudripov: You misunderstand. I only accept US dollars.
[Sound of gunfire.]
Tsar Vlad: You misunderstood.
[4] An administrative division or region in Russia and the former Soviet Union.
[Readers with a sense of humour should see the movie The Death of Stalin, along with The Party the funniest of all movies. Watch the trailer below. Impolite language alert in the trailer.]
Sleepy Joe's stagflation
Just as Sleepy Joe was enjoying his role as Defender Of The Free World, Uniter of NATO, Champion of Ukraine, etc, along comes a massive domestic problem. Inflation.
It was announced last night that US CPI rose by 7.9% in the year to the end of February; the highest in 40 years. Ouch.
And this is before Tsar Vlad invaded Ukraine and forced up the price of oil (and all its derivative products), natural gas, coal, and commodities like wheat.
The wicked blend of pent-up demand of money not spent in covid, Sleepy Joe's massive fiscal stimulus, low interest rates and supply-chain blockages is now a big migraine for him.
The mix gets worse. Economic growth is expected to slow with the downstream effects of the sanctions on Russia and the sharp increase in prices of business inputs (e.g. oil, coal).
"Stagflation" is now the new black, unrecognised by Millennials. Stagflation is rising prices and slowing growth. Is this 1970s déjà vu all over again?
Sleepy Joe will blame Tsar Vlad. Of course. The US mid-term elections are a long way off (November), but Wry & Dry sees many of Sleepy Joe's congressional colleagues getting the DCM.
Cathay not so terrific
Wry and Dry doesn't need to again focus on the woes of Hong Kong and Emperor Xi's marionette Carrie Lam. But there is merit in considering the fate of Cathay Pacific, the colony's Special Administrative Region's flag carrier. [5]
Cathay has been bleeding cash throughout the covid crisis. The cash drain has increased with Hong Kong now virtually isolated by air as the Carrie Lam's covid management plan has turned to custard. The city now lacks both the checks of a democratic system and the centralised control the Communist Party enjoys on the mainland.
Cathay's woes continue: yesterday it announced a USD703 million loss and that it is losing cash of almost USD200m per month. It is flying at passenger levels of 2% of pre-pandemic.
Wry & Dry's man person in Hong Kong says the city is rife with rumours that Cathay would be taken over by its emperor-owned shareholder Air China. Cathay's second-largest investor with a 29.99% share, Air China can't raise its stake without bidding for the entire company, because of a 2006 shareholding agreement.
The Beijing-based carrier has downplayed that possibility, as well, with a Non-Executive Director saying a takeover "has never been in the minds of anyone in Air China."
Never say never. Cathay's is still majority-owned by Swire Pacific Ltd., a two century-old British conglomerate with deep roots in the colonial era. That's something that would still discombobulate Emperor Xi.
[5] Cathay Pacific planes do not carry any flag. It used to carry the Union Jack.
The Man Who Never Was now is
These last three years, Anthony Albanese, the Leader of the Opposition, better known as The Man Who Never Was, has proved that he is now The Man Who Now Is. He emerged this week from three years of meditation to stamp his economic position to the mast.
He will follow a pro-business approach in the mould of Hawke/ Keating. Err, will he therefore aid an increase in productivity by abandoning the industrial relations changes introduced by Julia Gillard?
He said he will have a conservative economic approach. Hold the phone. The last leader of Labor who promised to be an economic conservative was The Ruddster. And look how that turned out.
Jimmy Morrison has the National Party around his neck. Albo has the socialist left (and the Greens) around his.
Be careful for what you wish.
If Tsar Vlad was really smart…
… he wouldn't wait for the West to ban imports of Russian oil. He'd pro-actively ban its export. For two reasons.
Firstly, why export oil if you cannot use the proceeds (because of sanctions)?
Secondly, it would inflict massive economic pain on the west.
Russian oil exports 8.4% of world production. It would take the West and OPEC a long time to replace the 7.5 million barrel per day that Russia produces.
During the first oil crisis, Arab producers cut production by about 9% of global supply. Oil prices trebled.
All Tsar Vlad has to do is worry about the effect a huge loss of income will have on the Russian government and its people. But, has he ever worried about the wellbeing of the Russian people?
Meanwhile, in a hemisphere a long way away…
… the good folk of South Korea have elected a hard-line conservative president: Yoon Suk-yeol.
Mr Yoon has promised a tougher line on North Korea than his predecessor, promising technology to be able to launch a pre-emptive attack on the north in case of an imminent nuclear threat.
"As we have seen in Ukraine, a country's national security and peace cannot be protected by paper and ink," he said. Indeed.
However, Readers should not take this at face value. Wry & Dry sees the threat more as a prod to China to keep North Korea's madman leader under control.
Good luck with their projects.
How many Russian soldiers does it take to change a Ukrainian light bulb?
Ukraine is a big place. With some 43 million people left, Russia has deployed almost 200,000 soldiers to invade and possibly occupy it. That's about 4 soldiers for every 1,000 inhabitants.
That may not be enough.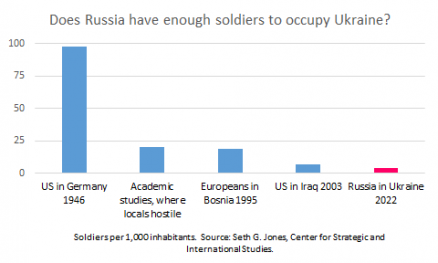 Ukrainians are fighting effectively and sacrificially. Russia may need many more boots on the ground. It's got about another 800,000 available. Only about 300,000 of the total are regular soldiers (i.e. not conscripts). And it seems that the conscripts would rather be back in the Motherland…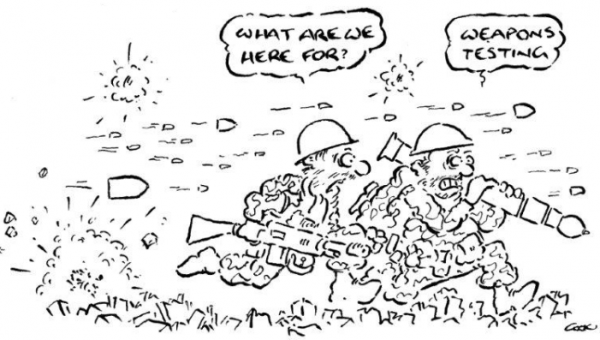 If Ukrainians continue to fight tooth and nail for their country, Tsar Vlad may have to be even more brutal. And just raze the country and its people.
Q: How many Russian soldiers does it take to change one Ukrainian light bulb?
A: Two. One to hold the bulb, and one to drink vodka until the room spins.
Unclear on the concept
Tsar Vlad offered "humanitarian corridors" to Ukrainians seeking to escape the Russian bombardment.
It has now come to light that the proposed corridors led to cities in Belarus and Russia.
History
Readers will recall the shambles of the rule of former president of the Philippines, Ferdinand Marcos. Not only was he one of the most corrupt rulers of any country in any year [6], but his wife, Imelda, amassed the world's largest collection of shoes"[7]. It was known as the conjugal dictatorship.
Well, the bad news for The Philippines is that their son Ferdinand Junior is favourite to be the next president. But it gets worse. Ferdinand, also known as 'Bongbong', has as his running mate Sara Duterte-Carpio. She is the daughter of the incumbent, who is notorious for his brutal drugs war and limited by the constitution to a single six-year term in Malacanang palace.
Bongbong seems as dishonest and corrupt as his father. From small matters such as lying that he had a BA in PPE from Oxford and an MBA from Wharton (failed the former, dropped out of the latter). To larger matters, such as on landing in Hawaii he tried to withdraw funds from one of his bank accounts at Credit Suisse. The bank said, no way. Perhaps the bank didn't have the $200m in cash that he wished to withdraw.
He has avoided conviction for 'plunder' of $1.9m and $3.8m from government development funds. He was also convicted and sentenced to jail for tax evasion, but the jail part was overturned on appeal.
Like father, like son. Don't cry for me, Philippines.
[6] An estimated $10 billion was stolen from The Philippines by the Marcos family in his 14-year reign under the martial law that he declared. When he and Imelda fled into exile in 1986, the used two C-141 transport planes. They packed 23 wooden crates; 12 suitcases and bags, and various boxes, whose contents included enough clothes to fill 67 racks; 413 pieces of jewellery, including 70 pairs of jewel-studded cufflinks; 24 gold bricks, and more than $15m in cash.
[7] Over 3,000 pairs.
Geography
The Second Word War closed when Japan surrendered on 15 August 1945. Three days later Russia annexed/ invaded the Kuril Islands, a chain running north from Hokkaido to Kamchatka Peninsula. The annexation also included the four southernmost islands in the chain (the closest of which is just 24 kilometres from Hokkaido). These islands were part of Japan and occupied by Japanese people. The islands are known as the Northern Territories by Japan.
Russia deported all Japanese citizens from the four islands by the early 1950s.
Japan has always claimed that the annexation by Russia was illegal, as did the US.
How would Tsar Vlad feel if Japan said it now wished to reoccupy that territory that was a part of Japan.
Habits
How the gods mock us. Taking a character such as Warne and leaving the malevolent monster that is Putin.
Readers might have viewed the over 500 comments in the venerable The Times. Wry & Dry remains surprised at the great affection with which he was viewed by the Brits.
As a cricketer, Warne touched the skirts of genius. And they weren't the only skirts he touched. Just like the only other cricketing genius: Gary Sobers. [8]
And enough has been written already by better scribes than Wry & Dry. Other than, "Bowling, Shane."
[8] Bradman was a machine, not a genius.
Snippets from all over
China: small growth is the new black
China has set a 5.5% GDP growth rate for 2022, its lowest in 30 years.
Wry & Dry comments: It's a stab in the dark.
EU plans to cut Russian energy imports
The European Union plans to cut Russian gas imports by two-thirds within a year as it seeks to reduce its 40% dependency.
Wry & Dry comments: Russia also supplies 25% of the EU's oil.
Get me outa here!
A survey conducted by the Levada Centre, an independent Russian pollster, between February 17th and 21st – that is, in the week before Mr Putin's invasion – found that 43% of Russians between the ages of 18 and 24 wanted to leave the country for good.
Wry & Dry comments: And that's before the invasion.
EV joint-venture
Japanese corporate giants Honda and Sony have formed a joint venture to develop electric vehicles.
Wry & Dry comments: To be called Sonda? Or perhaps Hony?
Buddy, I'll pay you in roubles
President Putin has issued a decree that holders of Russian debt must receive interest payments in roubles. Debt holders must open a special account with the Central Bank of Russia, which will determine the exchange rate at which the USD interest debt will be converted from roubles.
Wry & Dry comments: The fiscal screws are tightening. This is a nice try, but as the debt is denominated in USD, it is a USD amount that must be paid, not an amount to reflect the rouble's 30% devaluation in the last two weeks.
Data
US inflation hit 7.9% in the year to end February, a 40-year high
Amazon announced a 20-for-1 stock split, a stock that was priced at $2,785 is now priced at $139.25.
Inflation in the eurozone accelerated to 5.8% in February from 5.1% in January.
The price of oil touched $139, the highest since 2008, early in the week, but has now retreated to $122.
And, to soothe your troubled mind…
Wry & Dry's Quote
"I did get to see Mr Rudd at the first G20 summit in London going between President Obama, the Chinese delegation… to try and get some common interest. One of the things I witnessed there was, first-hand, Australia punching above our weight."

Anthony Albanese, Leader of the Federal Opposition, speaking of former Labor leaders.
Wry & Dry comments: Albo misunderstood Rudd's role. Rudd, a Mandarin speaker, was acting as an interpreter. Rudd, of course, would believe he was negotiating.
PS A reminder that the opinions in Wry & Dry do not necessarily represent those of First Samuel, its employees, or directors.
Cheers
Anthony